Abstract
The COVID-19 pandemic has negatively impacted the worldwide economy, affecting businesses' productivity and market demand. As a result of this negative impact, several organisations decided to repurpose their manufacturing processes to first fabricate necessary equipment (e.g. ventilators, masks), whereas others decided to penetrate in a new market and elaborate new products with the same available processes. Therefore, the purpose of this project was to develop a repurposing strategic plan considering scenario analyses for possible yet uncertain post-pandemic futures in a kitchen equipment manufacturing company (KEMC). To address this aim, the authors conducted an action research using the innovative DMADV (define–measure–analyse–design–verify) problem-solving methodology and business strategy tools (SWOT/PESTLE and Hoshin Kanri) to achieve this goal. As a result, the authors identified four different products to repurposing KEMC manufacturing operations: Ghost Kitchen, Touchless Style Design Products, Ventless Hood Systems and Touch-Free Style Beverage and Ice Machines. The product opportunity evaluation matrix showed Ghost Kitchen as the best business alternative; therefore, organisation leaders elaborated a strategic plan to introduce Ghost Kitchen products to KEM portfolio. However, after analysing this proposal, the organisation's headquarters considered a different facility to implement the Ghost Kitchen project. From a theoretical perspective, this paper support previous research work showing evidence that customer needs changes during crisis time creating new business opportunities. On the other hand, the originality and paper practical contribution of this paper is found in the integration methodologies and tools from two different fields, such a continuous improvement and strategic planning.
Access options
Buy single article
Instant access to the full article PDF.
USD 39.95
Price excludes VAT (USA)
Tax calculation will be finalised during checkout.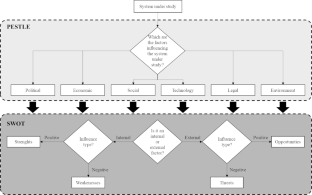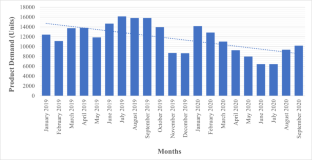 References
Ackerman M, vander Waldt G, Botha D (2018) Mitigating the socio-economic consequence of mine closure. J South Afr Inst Min Metall 118(4):439–447. https://doi.org/10.17159/2411-9717/2018/v118n4a14

Afthonidis EP, Tsiotras GD (2014) Strategies for business excellence under an economic crisis. TQM J 26(6):610–624. https://doi.org/10.1108/TQM-10-2012-0078

Antony J (2002) Design for six sigma: a breakthrough business improvement strategy for achieving competitive advantage. Work Study 51(1):6–8. https://doi.org/10.1108/00438020210415460

Barlow J, Vodenska I (2021) Socio-economic impact of the COVID-19 pandemic in the U.S. Entropy 23(6):673–695. https://doi.org/10.3390/e23060673

Buheji M, Cunha K, Costa, Beka G, de Mavric B, Yein M, TC (2020) Am J Econ 10(4):213–224

Cabage N, Zhang S (2013) The smarter startup: A better approach to online business for entrepreneurs. New Rivers, San Francisco, CA

Charm T, Coggins B, Robinson K, Wilkie J (2020) The great consumer shift: Ten charts that show how US shopping behavior is changing. https://www.mckinsey.com/business-functions/marketing-and-sales/our-insights/the-great-consumer-shift-ten-charts-that-show-how-us-shopping-behavior-is-changing. Accessed: 22 September 2021

Christodoulou A, Cullinane K (2019) Identifying the main opportunities and challenges from the implementation of a port enery management system: a SWOT/PESTLE analysis. Sustainability 11:1–15

Choudhary N (2019) Strategic analysis of cloud kitchen–A case study. Manage Today 9(3):184–190

Choularton R (2007) Contingency planning and humanitarian action. A review of practice. Humanitarian Pract Netw 59:1–45

El Informador (2020) Quieren restaurantes por el desplome en las ventas. https://www.informador.mx/economia/Quiebran-restaurantes-por-el-desplome-en-las-ventas--20200413-0021.html Accessed: 22 July 2020

Euromonitor(2020) Coronavirus pandemic to rewrite the future of businesses. Euromonitor International. https://www.euromonitor.com/coronavirus-pandemic-to-rewrite-the-future-of-businesses/report. Accessed: 23 August 2021

Ferreira PGC, Oliveira FLC, Souza RC (2015) The stochastic effects on the Brazilian Electrical Sector. Energy Econ 49:328–335. https://doi.org/10.1016/j.eneco.2015.03.004

Grupo S (2019) MÉXICO: POLÍTICA Y ECONOMÍA. julio 22, 2020, de Santander Sitio web: https://santandertrade.com/es/portal/analizar-mercados/mexico/politica-y-economia

Hevia C, Neumeyer P (2020) COVID-19 in Developing Economies. In: Djankov S, Panizza U (eds) A perfect storm: COVID-19 in emerging economies, 1st edn. CEPR Press, London, pp 25–37

Hill C, Jones G, Schilling M (2014) Strategic management: An integrated approach. Cengage Learning, Stamford

Hill T, Westbrook R (1997) SWOT analysis: It's time for a product recall. Long Range Plann 30:40–52

INEGI (2020) SISTEMA DE INFORMACIÓN ECONÓMICA. https://www.banxico.org.mx/tipcamb/main.do?page=inf&idioma=sp Accessed: 22 july 2020

International Trade Administration (2020) Mexico–Country Commercial Guide. https://www.trade.gov/country-commercial-guides/mexico-trade-agreements Accessed: 21 September 2021

Kantur D, Iseri-Say A (2012) Organizational resilience: A conceptual integrative framework. J Manag Organ 18(6):762–773

Kelp R, Becker H(2020) Managing costs in times of COVID-19: Focus on transformation, rather than reactive cost cutting in manufacturing industries. OliverWyman. https://www.oliverwyman.com/our-expertise/insights/2020/nov/manufacturing-industries-2030/by-function-new-sources-of-value/managing-costs-in-times-of-covid-19.html. Accessed: 23 August 2021

Kubiak T (2012) The Certified Six Sigma Master Black Belt Handbook. ASQ Quality Press, Milwaukee

Li C, Mirosa M, Bremer P (2020) Review of online food delivery platforms and their impacts on sustainability. Sustainability 12:1–17

Liu W, Beltagui A, Ye S (2021) Accelerated innovation through repurposing: exaptation of design and manufacturing in response to COVID-19. R D Manag 51(4):410–426. https://doi.org/10.1111/radm.12460

Loh KL, Yusof SM (2020) Blue Ocean leadership activities improve firm performance. Int J Lean Six Sigma 11(2):359–375

Lopez-Gomez C, Corsini L, Leal-Ayala D, Fokeer S(2020) COVID-19 critical supplies: The manufacturing repurposing challenge. United Nations Industrial Development Organization 1–7. https://www.unido.org/news/covid-19-critical-supplies-manufacturing-repurposing-challenge. Accessed: 25 August 2021

Markets and Markets (2020) Gesture recognition and touchless sensing market by technology (touch-based and touchless), production (sanitary equipment, touchless biometric), type (online, offline) industry and geography–Global forecast to 2025. https://www.marketsandmarkets.com/Market-Reports/touchless-sensing-gesturing-market-369.html#:~:text=The%20touchless%20sensing%20 market%20es,%20programs%20deployed%20by%20the%20government. Accessed: 29 September 2021

Martin A, Markhvida M, Hallegatte S, Walsh B (2020) Socio-economic impacts of COVID-19 on household consumption and poverty. Econ Disasters Clim Change 4(3):453–479. https://doi.org/10.1007/s41885-020-00070-3

Medina A(2020) Comercio electrónico: el 'boom' que llegó para quedarse, pero aún tiene un reto. https://www.forbes.com.mx/negocios-e-commerce-el-boom-que-llego-para-quedarse-pero-aun-tiene-un-reto/ Accessed: 22 july 2020

Menon A, Bharadwaj SG, Adidam PT, Edison SW (1999) Antecedents and consequences of marketing strategy making: a model and a test. J Mark 68:18–40

Mexico Daily Post (2021) Dams in Nuevo Leon are empty; authorities warn about possible water shortage in Monterrey. https://mexicodailypost.com/2021/04/27/dams-in-nuevo-leon-are-empty-authorities-warn-about-possible-water-shortage-in-monterrey/ Accessed: 21 September 2021

Morales Y(2020) El PIB habría caído 17.94% en el II Trim; en el 2020 la contracción será de 8.97%: especialistas. https://www.eleconomista.com.mx/economia/Especialistas-preven-caida-de-8.97-del-PIB-de-Mexico-en-2020-y-desplome-de-17.94-en-2T-encuesta-Banxico-20200701-0033.html Accessed: 22 July 2020

Morgan Stanley (2020) COVID-19 Era Serves Up Big Changes for U.S. Restaurants. https://www.morganstanley.com/ideas/coronavirus-restaurant-trends. Accessed: 22 September 2021

Morrison M(2020) Innovation: The Lasting Legacy of the COVID-19 Crisis - Industry Analysis by Loyale Healthcare. Cision PRWeb. https://www.prweb.com/releases/innovation_the_lasting_legacy_of_the_covid_19_crisis_industry_analysis_by_loyale_healthcare/prweb17051171.htm. Accessed: 22 July 2020

O'Dempsey T (2009) Fair training: a new direction in humanitarian assistance. Prog Dev Stud 9(1):81–86

O'Callaghan S (2011) Leading after a crisis. Hum Resource Manage Int Digest Vols 1(9):3–4

Ohno T (2013) Taiichi Ohno's Workplace Management. McGraw-Hill, New York, NY

Okorie O, Subramoniam R, Charnley F, Patsavellas J, Widdfield D, Salonitis K (2020) Manufacturing in th time of COVID-19: an assessment of barriers and enablers. IEEE Eng Manage Rev 48(3):167–175. https://doi.org/10.1109/EMR.2020.3012112

Perri J(2021) Which company is winning the restaurant food delivery war?. Recuperado de: https://secondmeasure.com/datapoints/food-delivery-services-grubhub-uber-eats-doordash-postmates/. Accessed: 22 September 2021

Secretaria de Economía (2018) Que son los acuerdos de promicion y protección reciproca de las inversiones. https://www.gob.mx/se/articulos/que-son-los-acuerdos-de-promocion-y-proteccion-reciproca-de-las-inversiones-appris Accessed: 21 September 2021

Shahnewaz S(2020) Business Trends That Will Impact Growth After Coronavirus (COVID-19). https://www.m2sys.com/blog/workforce-management/business-trends-that-will-impact-growth-after-coronavirus-covid-19/. Accessed: 22 September 2021

Shahin A (2008) Design for Six Sigma (DFSS): lessons learned from world-class companies. Int J Six Sigma Compet Advant 4(1):48–59. https://doi.org/10.1504/IJSSCA.2008.01842

Shrader CB, Mulford CL, Blackburn VL (1989) Strategic and operational planning, uncertainty, and performance in small firms. J Small Bus Manage 27(4):45–60

Simpkins RA (2009) How great leaders avoid disaster: The value of contingency planning. Bus Strategy Ser 10(2):104–108. https://doi.org/10.1108/17515630910942241

Skare M, Sariano DR, Porada-Rochori M (2021) Impacto of COVID-19 on the travel and tourism industry. Technol Forecast Soc Chang 163(2):1–14. https://doi.org/10.1016/j.techfore.2020.120469

Song HJ, Yeon J, Lee S (2021) Impact of the COVID-19 pandemic: Evidence from the U.S. restaurant industry. Int J Hosp Manag 92:1–7

Spacios I (2020) Cocinas integrales inteligentes–¿Qué son y por qué debería tener una? https://www.spaciosintegrales.com/que-son-cocinas-integrales-inteligentes-bogota/#:~:text=Por%20definici%C3%B3n%2C%20son%20aquellas%20cuyos,a%20trav%C3%A9s%20de%20tel%C3%A9fonos%20inteligentes Accessed: 22 July 2020

Srdjevic Z, Bajcetic R, Srdjevic B (2012) Identifying the criteria set for multriceria decision making based on SWOT/PESTLE analysis: a case study of reconstructing a water intake structure. Water Resour Manage 22:3379–3393

Statista (2020) Change in food and beverages consumption through selected home delivery apps during the coronavirus (COVID-19) outbreak in Mexico from March to May 2020. https://www.statista.com/statistics/1136299/change-purchases-online-food-delivery-apps-coronavirus-mexico/ Accessed: 21 September 2021

Stringer ET (2007) Action Research. SAGE Publications, Thousand Oaks, CA

Suarez-Barraza MF, Ramis-Pujol J, Kerbache L (2011) Thoughts on kaizen and its evolution: Three different perspectives and guiding principles. Int J Lean Six Sigma 2(4):288–308

Suarez-Barraza MF, Miguel-Davila JA (2020) Kaizen-Kata, a problem-solving approach to public service health care in Mexico. A multiple-case study. Int J Environ Res Public Health 1:1–18

Sullivan-Taylor B, Wilson DC (2009) Managing the threat of terrorism in British travel and leisure organizations. Organ Stud 30(2–3):251–276

Technavio(2018) Global Commercial Ventless Cooking Equipment Market 2018–2022. https://www.technavio.com/report/global-commercial-ventless-cooking-equipment-market-analysis-share-2018. Accessed: 28 September 2021

Tennant C, Roberts P (2001) Hoshin Kanri: Implementing the catchball process. Long Range Plann 34:287–308

Villafranco G(2017) 5 estrategias para impulsar las ventas de tu negocio. Forbes Mexico. https://www.forbes.com.mx/5-estrategias-impulsar-las-ventas-negocio/. Accessed: 23 August 2021

Wilson WJ, Eilertsen S (2010) How did strategic planning help during the economic crisis? Strategy Leadersh 38(2):5–14. https://doi.org/10.1108/10878571011029000

Wilson DC, Branicki L, Sullivan-Taylor B, Wilson AD (2010) Extreme events, organizations and the politics of strategic decision making. Acc Audit Acc J 23(5):699–721

World Economic Forum (2018) The Future of Jobs Report 2018. http://www3.weforum.org/docs/WEF_Future_of_Jobs_2018.pdf. Accessed: 22 September 2021

World Economic Forum (2020) 10 technology trends to watch in the COVID-19 pandemic. https://www.weforum.org/agenda/2020/04/10-technology-trends-coronavirus-covid19-pandemic-robotics-telehealth/. Accessed: 22 September 2021

World Population Report (2020) Pollution by country 202. https://worldpopulationreview.com/country-rankings/pollution-by-country. Accessed: 21 September 2021

Yin RK (2008) Case Study Research: Design and Methods (Applied Social Research Methods). SAGE Publications, Thousand Oaks, CA
Ethics declarations
Conflict of interest
The authors whose names are listed immediately above certify that they have NO affiliations with or involvement in any organization or entity with any financial interest (such as honoraria; educational grants; participation in speakers' bureaus; membership, employment, consultancies, stock ownership, or other equity interest; and expert testimony or patent-licensing arrangements), or non-financial interest (such as personal or professional relationships, affiliations, knowledge or beliefs) in the subject matter or materials discussed in this manuscript.
Additional information
Publisher's Note
Springer Nature remains neutral with regard to jurisdictional claims in published maps and institutional affiliations.
About this article
Cite this article
González-Aleu, F., Hernandez, J.V., Ramirez, R. et al. Strategic planning for repurposing kitchen equipment production operations during COVID-19 pandemic. Oper Manag Res 15, 1241–1256 (2022). https://doi.org/10.1007/s12063-022-00292-6
Received:

Revised:

Accepted:

Published:

Issue Date:

DOI: https://doi.org/10.1007/s12063-022-00292-6
Keywords
COVID-19

Operational planning

Ghost kitchen

DMADV

Hoshin Kanri