Abstract
The aim of this paper is to present empirical evidence about the relationship between Agri-fresh Food Supply Chain Quality (AFSCQ) practices and Organizational Sustainability (OS) outcomes. Organizational Sustainability embraces economic, environment and social sustainability. Based on literature review, a set of AFSCQ practices has been identified to create a theoretical model and to setup their relationship to OS as Economic Sustainability (ECS), Social Sustainability (SOS) and Environmental Sustainability (ENS). The measurement scales of AFSCQ practices and measures of OS were established in four stages: initial instrument development; structured interviews and utilization of Q-sort method; wide-ranging data collection by survey questionnaire; and analysis to confirm reliability and validity. Finally, Structural Equation Modeling (SEM) was utilized to validate the model with survey data collected from Indian agri-fresh food industry. The study developed relationships between AFSCQ and OS. Specifically, Customer Focus (CF) and Supplier Management(SM), both have direct and indirect influence on OS while Top Management Leadership and Commitment to AFSCQ, Internal Management(IM) and Supply Chain Integration Management using IT(SCIMIT) have indirect and direct influences on OS, respectively. The results also show that AFSCQ practices should be executed as an integrated coordination instead of independent practices, wherein they co-operate with each other and enrich OS. The empirical outcomes of this paper give evidence to count the AFSCQ as a reliable medium for OS. The AFSCQ practices are favorable to develop organizational sustainability, and then improve economic, social and environmental performance indirectly. The suggested model establishes the relationship between AFSCQ and OS. Additionally, the model's justification to utilize the Indian agri-fresh food industry gave significant insights both from theoretic and realistic perspectives.
Access options
Buy single article
Instant access to the full article PDF.
USD 39.95
Price excludes VAT (USA)
Tax calculation will be finalised during checkout.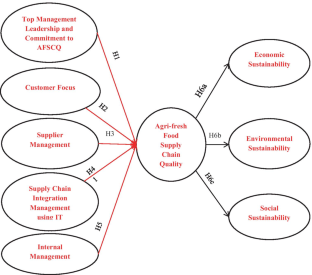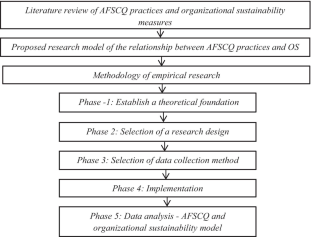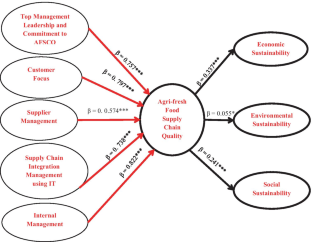 References
Aggarwal S, Srivastava MK (2016) Towards a grounded view of collaboration in Indian agri-food supply chains: A qualitative investigation. Br Food J 118(5):1085–1106

Adeyeye SAO (2017) The role of food processing and appropriate storage technologies in ensuring food security and food availability in Africa. Nutr Food Sci 47(1):122–139

Aghazadeh SM (2004) Improving logistics operations across the food industry supply chain. Int J Contemp Hosp Manag 16(4):263–268

Ahire SL, Ravichandran T (2001) An innovation diffusion model of TQM implementation. IEEE Trans Eng Manage 48(4):445–464

Akhtar P, Tse YK, Khan Z, Rao-Nicholson R (2016). Data-driven and adaptive leadership contributing to sustainability: Global agri-food supply chains connected with emerging markets. Int J Prod Eco 181(Part B): 392–401

Alfaro JA, Rabade LA (2009) Traceability as a strategic tool to improve inventory management: a case study in the food industry. Int J Prod Econ 118(1):104–110

Ali J, Kapoor S, Moorthy J (2010) Buying behavior of consumers for food products in an emerging economy. Br Food J 112(2):109–124

An J, Cho SH, Tang CS (2015) Aggregating smallholder farmers in emerging economies. Prod Oper Manag 24(9):1414–1429

Armstrong JS, Overton TS (1977) Estimating nonresponse bias in mail surveys. J Mark Res 14(3):396–402

Azoury KS, Miyaoka J (2013) Managing production and distribution for supply chains in the processed food industry. Prod Oper Manag 22(5):1250–1268

Banterle A, Cavaliere A, Carraresi L, Stranieri S (2014) Food SMEs face increasing competition in the EU market: Marketing management capability is a tool for becoming a price maker. Agribusiness 30(2):113–131

Beulens AJ, Broens DF, Folstar P, Hofstede GJ (2005) Food safety and transparency in food chains and networks relationships and challenges. Food Control 16(6):481–486

Blanthorne C, Jones-Farmer LA, Almer ED (2006) Why you should consider SEM: a guide to getting started. In Advances in accounting behavioral research. Emerald Group Publishing Limited

Blundel RK, Hingley M (2001) Exploring growth in vertical inter-firm relationships: small-medium firms supplying multiple food retailers. J Small Bus Enterp Dev 8(3):245–265

Bosona TG, Gebresenbet G (2011) Cluster building and logistics network integration of local food supply chain. Biosys Eng 108(4):293–302

Cagliano AC, De Marco A, Rafele C, Bragagnini A, Gobbato L (2016) Analysing the diffusion of a mobile service supporting the e-grocery supply chain. Bus Process Manag J 21(4):928–963

Chen ZL, Pundoor G (2009) Integrated order scheduling and packing. Prod Oper Manag 18(6):672–692

Chrysochou P, Chryssochoidis G, Kehagia O (2009) Traceability information carriers. The technology backgrounds and consumers' perceptions of the technological solutions. Appetite 53(3):322–331

Comrey AL, Lee HB (1992) A First Course in Factor Analysis. Inc., Publishers, Hillsdale, NJ, Lawrence Eribaum Associates

Corallo A, Latino ME, Menegoli M, Striani F (2020) What factors impact on technological traceability systems diffusion in the agrifood industry? An Italian survey. J Rural Stud 75:30–47

Devalkar SK, Seshadri S, Ghosh C, Mathias A (2018) Data science applications in Indian agriculture. Prod Oper Manag 27(9):1701–1708

Ellram LM (1995) A managerial guideline for the development and implementation of purchasing partnerships. Int J Purch Mater Manag 31(1):9–16

Falk RF, Miller NB (1992) A primer for soft modeling. University of Akron Press

Fritz M, Schiefer G (2009) Tracking, tracing, and business process interests in food commodities: A multi-level decision complexity. Int J Prod Econ 117(2):317–329

Flynn BB, Sakakibara RG, Bates KA, Flynn EJ (1990) Empirical research methods in operations management. J Oper Manag 9(2):250–284

Fornell C, Larcker DF (1981) Evaluating structural equation models with unobservable variables and measurement error. J Mark Res 18(1):39–50

Foster ST Jr (2008) Towards an understanding of supply chain quality management. J Oper Manag 26(4):461–467

Foster ST Jr, Wallin C, Ogden J (2011) Towards a better understanding of supply chain quality management practices. Int J Prod Res 49(8):2285–2300

Gold S, Hahn R, Seuring S (2013) Sustainable supply chain management in "Base of the Pyramid" food projects—A path to triple bottom line approaches for multinationals? Int Bus Rev 22(5):784–799

Gong W, Li D, Liu X, Yue J, Fu Z (2007) Improved two - grade delayed particle swarm optimisation (TGDPSO) for inventory facility location for perishable food distribution centres in Beijing. N Z J Agric Res 50(5):771–779

Gopal PRC, Thakkar J (2016) Sustainable supply chain practices: an empirical investigation on Indian automobile industry. Prod Plan Control 27(1):49–64

Gotschol A, De Giovanni P, Vinzi VE (2014) Is environmental management an economically sustainable business? J Environ Manage 144:73–82

Govindan K (2018) Sustainable consumption and production in the food supply chain: A conceptual framework. Int J Prod Econ 195:419–431

Grant DB, Trautrims A, Wong CY (2013) Sustainable Logistics and Supply Chain Management, London: principles and practices for sustainable operations and management. Kogan Page

Hair JF, Black WC, Babin BJ, Anderson RE, Tatham RL (2006) Multivariate data analysis. 6, Upper Saddle River, NJ: Pearson Prentice Hall

Han C, Dong Y, Dresner M (2013) Emerging market penetration, inventory supply, and financial performance. Prod Oper Manag 22(2):335–347

Hendricks KB, Singhal VR (2014) The effect of demand–supply mismatches on firm risk. Prod Oper Manag 23(12):2137–2151

Hong J, Liao Y, Zhang Y, Yu Z (2019) The effect of supply chain quality management practices and capabilities on operational and innovation performance: Evidence from Chinese manufacturers. Int J Prod Econ 212:227–235

Hugos MH (2018) Essentials of supply chain management. John Wiley & Sons

Hutcheson G, Sofroniou N (1999) The multivariate social scientist: introductory statistics using generalized linear models. Thousand Oaks. CA: SAGE

Iliopoulos C, Theodorakopoulou I, Lazaridis P (2012) Innovation implementation strategies for consumer driven fruit supply chains. Br Food J 114(6):798–815

Jack C, Anderson D, Connolly N (2014) Innovation and skills: implications for the agri-food sector. Educ Train 56(4):271–286

Jan Hofstede G, Fritz M, Canavari M, Oosterkamp E, van Sprundel GJ (2010) Towards a cross-cultural typology of trust in B2B food trade. Br Food J 112(7):671–687

Janvier-James AM (2012) A new introduction to supply chains and supply chain management: definitions and theories perspective. Int Bus Res 5(1):194–207

Jie F, Parton KA, Cox RJ (2013) Linking supply chain practices to competitive advantage: An example from Australian agribusiness. Br Food J 115(7):1003–1024

Joshi R, Banwet DK, Shankar R (2009) Indian cold chain: modeling the inhibitors. Br Food J 111(11):1260–1283

Kalia A, Parshad VR (2015) Novel trends to revolutionize preservation and packaging of fruits/fruit products: microbiological and nanotechnological perspectives. Crit Rev Food Sci Nutr 55(2):159–182

Kamble SS, Gunasekaran A, Gawankar SA (2020) Achieving sustainable performance in a data-driven agriculture supply chain: A review for research and applications. Int J Prod Econ 219:179–194

Kaplan RS, Norton DP (1992) The balanced scorecard-measures that drive performance. Harv Bus Rev 70:71–79

Kaynak H, Hartley JL (2008) A replication and extension of quality management into the supply chain. J Oper Manag 26(4):468–489

Ketzenberg M, Bloemhof J, Gaukler G (2014) Managing perishables with time and temperature history. Prod Oper Manag 24(1):54–70

Ketzenberg M, Ferguson ME (2008) Managing slow-moving perishables in the grocery industry. Prod Oper Manag 17(5):513–521

Khan SAR, Yu Z (2020) Assessing the eco-environmental performance: an PLS-SEM approach with practice-based view. Int J Logist Res Appl 1–19

Khan SAR, Yu Z, Sarwat S, Godil DI, Amin S, Shujaat S (2021) The role of block chain technology in circular economy practices to improve organisational performance. Int J Logis Res Appl 1–18

Khan SAR, Sharif A, Golpîra H, Kumar A (2019) A green ideology in Asian emerging economies: From environmental policy and sustainable development. Sustain Dev 27(6):1063–1075

Khan SAR, Jian C, Zhang Y, Golpîra H, Kumar A, Sharif A (2019) Environmental, social and economic growth indicators spur logistics performance: From the perspective of South Asian Association for Regional Cooperation countries. J Clean Prod 214:1011–1023

Khan SAR, Qianli D (2017) Impact of green supply chain management practices on firms' performance: an empirical study from the perspective of Pakistan. Environ Sci Pollut Res 24(20):16829–16844

Khan SAR, Zhang Y, Kumar A, Zavadskas E, Streimikiene D (2020a) Measuring the impact of renewable energy, public health expenditure, logistics, and environmental performance on sustainable economic growth. Sustain Dev 28(4):833–843

Khan SAR, Zhang Y, Anees M, Golpîra H, Lahmar A, Qianli D (2018) Green supply chain management, economic growth and environment: A GMM based evidence. J Clean Prod 185:588–599

Khan SAR, Yu Z, Sharif A, Golpîra H (2020b) Determinants of economic growth and environmental sustainability in South Asian Association for Regional Cooperation: evidence from panel ARDL. Environ Sci Pollut Res 27(36):45675–45687

Khan SAR, Yu Z, Golpîra H, Sharif A, Mardani A (2021) A state-of-the-art review and meta-analysis on sustainable supply chain management: Future research directions. J Clean Prod 278:123357

Khuntia J, Saldanha TJ, Mithas S, Sambamurthy V (2018) Information technology and sustainability: Evidence from an emerging economy. Prod Oper Manag 27(4):756–773

Kronborg Jensen J, BalslevMunksgaard K, StentoftArlbjorn J (2013) Chasing value offerings through green supply chain innovation. Eur Bus Rev 25(2):124–146

Lakhal L, Pasin F, Limam M (2006) Quality management practices and their impact on performance. Int J Quality Reli Manag 23(6):625–646

Lambert DM (2017) The supply chain management and logistics controversy. Emerald Group Publishing Limited, In Handbook of logistics and supply chain management

Lazaridesa HN (2011) Food processing technology in a sustainable food supply chain. Procedia Food Science 1:1918–1923

Leech NL, Barrett KC, Morgan GA (2005) SPSS for intermediate statistics: Use and interpretation. Psychology Press

Li D, Wang X, Chan HK, Manzini R (2014) Sustainable food supply chain management. Int J Prod Econ 152:1–8

Li S, Ragu-Nathan B, Ragu-Nathan TS, Subba Rao S (2006) The impact of supply chain management practices on competitive advantage and organizational performance. Omega 34(2):107–124

Liu AH, Bui M, Leach M (2013) Considering Technological Impacts When Selecting Food Suppliers: Comparing Retailers' Buying Behavior in the United States and Europe. J Bus Bus Mark 20(2):81–98

Mangla SK, Luthra S, Rich N, Kumar D, Rana NP, Dwivedi YK (2018) Enablers to implement sustainable initiatives in agri-food supply chains. Int J Prod Econ 203:379–393

Mani V, Jabbour CJC, Mani KT (2020) Supply chain social sustainability in small and medium manufacturing enterprises and firms' performance: Empirical evidence from an emerging Asian economy. Int J Prod Econ 227:107656

Manning L, Baines RN, Chadd SA (2006) Quality assurance models in the food supply chain. Br Food J 108(2):91–104

Mellat-Parast M (2013) Supply chain quality management, an inter-organizational learning perspective. Int J Qual Rel Manag 30(5):511–529

Mergenthaler M, Weinberger K, Qaim M (2009) Quality assurance programs and access to international markets: the case of horticultural processors in Vietnam. Int J Supply Chain Manag 14(5):359–368

Mokhtar ARM, Genovese A, Brint A, Kumar N (2019) Supply chain leadership: A systematic literature review and a research agenda. Int J Prod Econ 216:255–273

Mutonyi S, Beukel K, Gyau A, Hjortso CN (2016) Price satisfaction and producer loyalty: the role of mediators in business to business relationships in Kenyan mango supply chain. Br Food J 118(5):1067–1084

Nakandala D, Samaranayake P, Lau H, Ramanathan K (2017) Modelling information flow and sharing matrix for fresh food supply chains. Bus Process Manag J 23(1):108–129

Nunnally JC, Bernstein IH, Berge JMT (1967) Psychometric theory, vol 226. McGraw-Hill, New York

Ottesen GG (2006) Do upstream actors in the food chain know end-users' quality perceptions? Findings from the Norwegian salmon farming industry. Int J Supply Chain Manag 11(5):456–463

Paksoy T, Pehlivan NY, Ozceylan E (2012) Application of fuzzy optimization to a supply chain network design: a case study of an edible vegetable oils manufacturer. Appl Math Model 36(6):2762–2776

Parwez S (2014) Supply chain dynamics of Indian agriculture: reference to information technology and knowledge management. Stewart Postharvest Rev 10(1):1–5

Pieter van Donk D, Akkerman R, van der Vaart T (2008) Opportunities and realities of supply chain integration: the case of food manufacturers. Br Food J 110(2):218–235

Rajaguru R, Matanda MJ (2009) Influence of inter-organisational integration on business performance: The mediating role of organisational-level supply chain functions. J Enterp Inf Manag 22(4):456–467

Raykov T, Widaman KF (1995) Issues in applied structural equation modeling research. Struct Equ Modeling 2(4):289–318

Reardon T, Timmer CP (2014) Five inter-linked transformations in the Asian agrifood economy: food security implications. Glob Food Sec 3(2):108–117

Rimmington M, Carlton Smith J, Hawkins R (2006) Corporate social responsibility and sustainable food procurement. Br Food J 108(10):824–837

Robinson CJ, Malhotra MK (2005) Defining the concept of supply chain quality management and its relevance to academic and industrial practice. Int J Prod Econ 96(3):315–337

Romano P, Vinelli A (2001) Quality management in a supply chain perspective: strategic and operative choices in a textile-apparel network. Int J Oper Prod Manag 21(4):446–460

Rong A, Akkerman R, Grunow M (2011) An optimization approach for managing fresh food quality throughout the supply chain. Int J Prod Econ 131(1):421–429

Routroy S, Behera A (2017) Agriculture supply chain: A systematic review of literature and implications for future research. J Agribusiness Dev Emerging Eco 7(3):275–302

Ruparathna R, Hewage K (2015) Sustainable procurement in the Canadian construction industry: current practices, drivers and opportunities. J Clean Prod 109:305–314

Salin V (1998) Information technology in agri-food supply chains. Int Food Agribusiness Manag Rev 1(1030–2016–82457):329–334

Samuel D, Hines P (1999) Designing a supply chain change process: a food distribution case. Int J Ret Dis Manag 27(10):409–420

Saxena KBC, Sahay BS (2000) Managing IT for world-class manufacturing: the Indian scenario. Int J Inf Manage 20(1):29–57

Schaltegger S, Burritt R (2014) Measuring and managing sustainability performance of supply chains: Review and sustainability supply chain management framework. Int J Supply Chain Manag 19(3):232–241

Shan J, Zhu K (2013) Inventory management in China: an empirical study. Prod Oper Manag 22(2):302–313

Shukla M, Jharkharia S (2013) Agri-fresh produce supply chain management: a state-of-the-art literature review. Int J Oper Prod Manag 33(2):114–158

Siddh MM, Soni G, Jain R (2018) Assessment of top management leadership and commitment to improve perishable food supply chain quality. Int J Int Enterp 5(1–2):97–107

Siddh MM, Soni G, Gadekar G, Jain R (2014) Integrating lean six sigma and supply chain approach for quality and business performance. Business and Information Management (ICBIM), 2014 2nd International Conference on (pp. 53–57). IEEE

Siddh MM, Soni G, Jain R (2015) Perishable food supply chain quality (PFSCQ) a structured review and implications for future research. J Adv Manag Res 12(3):292–313

Siddh MM, Soni G, Jain R, Sharma MK (2018b) Structural model of perishable food supply chain quality (PFSCQ) to improve sustainable organizational performance. Benchmarking: An International Journal 25(7):2272–2317

Siddh MM, Soni G, Jain R, Sharma MK, Yadav V (2017) Agri-fresh food supply chain quality (AFSCQ): a literature review. Ind Manag Data Syst 117(9):2015–2044

Sila I, Ebrahimpour M, Birkholz C (2006) Quality in supply chains: an empirical analysis. Supply Chain Management: an International Journal 11(6):491–502

Singh RK (2014) Assessing effectiveness of coordination in food supply chain: A framework. Int J Info Sys Suppl Chain Manag (IJISSCM) 7(3):104–117

Singh RK, Luthra S, Mangla SK, Uniyal S (2019) Applications of information and communication technology for sustainable growth of SMEs in India food industry. Resour Conserv Recycl 147:10–18

Soler C, Bergstrom K, Shanahan H (2010) Green supply chains and the missing link between environmental information and practice. Bus Strateg Environ 19(1):14–25

Soni G, Kodali R (2012) A critical review of empirical research methodology in supply chain management. J Manuf Technol Manag 23(6):753–779

Soucie WG (1997) Efficient consumer response meets the industrialization of agriculture. Agribusiness (1986–1998). 13(3):349–355

Tajbakhsh A, Hassini E (2015) A data envelopment analysis approach to evaluate sustainability in supply chain networks. J Clean Prod 105:74–85

Taylor DH (2006) Demand management in agri-food supply chains: an analysis of the characteristics and problems and a framework for improvement. Int J Logis Manag 17(2):163–186

Touboulic A, Walker H (2015) Theories in sustainable supply chain management: a structured literature review. Int J Phys Distrib Logist Manag 45(1/2):16–42

Ulwick AW (2005) What customers want: Using outcome-driven innovation to create breakthrough products and services. McGraw-Hill Companies

Van der Vorst JG, Beulens AJ (2002) Identifying sources of uncertainty to generate supply chain redesign strategies. Int J Phys Distrib Logist Manag 32(6):409–430

Venkatraman N (1989) The concept of fit in strategy research: Toward verbal and statistical correspondence. Acad Manag Rev 14(3):423–444

Voldrich S, Wieser P, Zufferey N (2017) Competitive and timely food supply combined with operational risk. Supply Chain Forum: an International Journal 18(1):2–6

Wang CLPK, Ahmed. (2004) The development and validation of the organizational innovativeness construct using confirmatory factor analysis. Eur J Innov Manag 7(4):303–313

Wilkinson J (2015) Food security and the global agrifood system: Ethical issues in historical and sociological perspective. Glob Food Sec 7:9–14. https://doi.org/10.1016/j.gfs.2015.12.001

Yakovleva N, Sarkis J, Sloan T (2012) Sustainable benchmarking of supply chains: the case of the food industry. Int J Prod Res 50(5):1297–1317

Yu W, Chavez R, Feng M, Wiengarten F (2014) Integrated green supply chain management and operational performance. Int J Supply Chain Manag 19(5/6):683–696

Yu Z, Khan SAR (2021) Evolutionary game analysis of green agricultural product supply chain financing system: COVID-19 pandemic. Int J Logis Res Appl 1–21

Zeng J, Phan CA, Matsui Y (2013) Supply chain quality management practices and performance: An empirical study. Oper Manag Res 6(1–2):19–31

Zhang H, Zhang J, Zhang RQ (2020) Simple Policies with Provable Bounds for Managing Perishable Inventory. Prod Oper Manag 29(11):2637–2650
Additional information
Publisher's Note
Springer Nature remains neutral with regard to jurisdictional claims in published maps and institutional affiliations.
The original online version of this article was revised: In this article the author name Man Mohan Siddh was incorrectly written as Manmohan Siddh. Several affiliations were incorrect.
About this article
Cite this article
Siddh, M., Kumar, S., Soni, G. et al. Impact of agri-fresh food supply chain quality practices on organizational sustainability. Oper Manag Res 15, 146–165 (2022). https://doi.org/10.1007/s12063-021-00196-x
Received:

Revised:

Accepted:

Published:

Issue Date:

DOI: https://doi.org/10.1007/s12063-021-00196-x
Keywords