Abstract
Operating room (OR) scheduling is one of the most important tasks for hospital managers in terms of improving efficiency in hospitals. In this study, scheduling policies for elective and emergency procedures that minimize the total expected cost of OR operations are investigated. A simulation optimization approach is used to develop schedules and evaluate the operational impact of reserving capacity for emergency patients in an OR system. In order to mitigate the possible negative effects of unused capacity should a lower than expected number of emergency cases arrive, assigning any unused capacity to standby patients is examined. This study looks at the effect of hospital size in terms of the number of surgeries performed, mean surgery duration, and the variability in surgery duration on scheduling policy based on empirical data from three hospitals. Specifically, we investigate the best policies in terms of OR efficiency with and without reserved capacity for emergency arrivals and different probabilities for standby patient availability.
Access options
Buy single article
Instant access to the full article PDF.
US$ 39.95
Tax calculation will be finalised during checkout.
Subscribe to journal
Immediate online access to all issues from 2019. Subscription will auto renew annually.
US$ 79
Tax calculation will be finalised during checkout.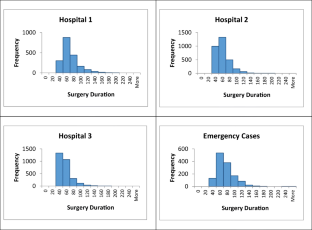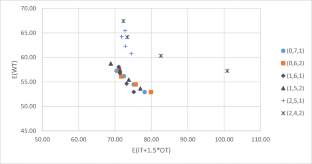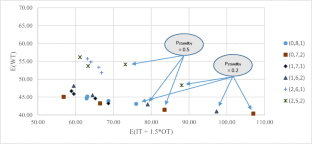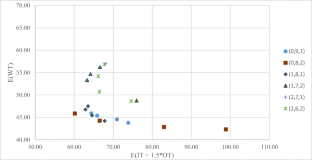 References
Andradóttir S (2006) Simulation optimization with countably infinite feasible regions: efficiency and convergence. ACM Trans Model Comput Simul 16:357–374

Azeri-Rad S, Yontef A, Aleman DM, Urbach DR (2014) A simulation model for perioperative process improvement. Oper Res Health Care 3:22–30

Batun S, Denton BT, Huschka TR, Shaefer AJ (2011) Operating room pooling and parallel surgery processing under uncertainty. INFORMS J Comput 23:220–237

Bhattacharyya T, Vrahas MS, Morrison SM, Kim E, Wiklund RA, Smith RM, Rubash HE (2006) The value of the dedicated orthopaedic trauma operating room. J Trauma Acute Care Surg 60:1336–1340

Canadian Institute for Health Information. (2005) Improving the health of young Canadians - Canadian population health initiative. Retrieved from CIHI website: https://secure.cihi.ca/free_products/IHYC05_webRepENG.pdf. Accessed 29 June 2020

Cardoen B, Demeulemeester E, Beliën J (2010) Operating room planning and scheduling: a literature review. Eur J Oper Res 201:921–932

Cayirli T, Gunes ED (2014) Outpatient appointment scheduling in presence of seasonal walk-ins. J Oper Res Soc 65:512–531

Denton B, Gupta D (2003) A sequential bounding approach for optimal appointment scheduling. IIE Trans 35:1003–1016

Dexter F, Macario A, Traub RD (1999) Optimal sequencing of urgent surgical cases. J Clin Monit Comput 15:153–162

Erdem E, Qu X, Shi J (2012) Rescheduling of elective patients upon the arrival of emergency patients. Decis Support Syst 54:551–563

Erdogan SA, Denton BT (2011) Surgery planning and scheduling. Wiley Encyclopedia of Operations Research and Management Science. https://onlinelibrary.wiley.com/doi/abs/10.1002/9780470400531.eorms0861

Ferrand YB, Magazine MJ, Rao US (2014) Managing operating room efficiency and responsiveness for emergency and elective surgeries – a literature survey. IIE Trans Healthc Syst Eng 4:49–64

Fu MC (2002) Optimization for simulation: theory vs. practice. INFORMS J Comput 14:192–215

Gerchak Y, Gupta D, Henig M (1996) Reservation planning for elective surgery under uncertain demand for emergency surgery. Manag Sci 42:321–334

Gul S, Denton BT, Fowler JW, Huschka T (2011) Bi-criteria scheduling of surgical services for an outpatient procedure center. Prod Oper Manag 20:406–417

Gupta D, Denton B (2008) Appointment scheduling in health care: challenges and opportunities. IIE Trans 40:800–819

Jebali A, Alouane ABH, Ladet P (2006) Operating rooms scheduling. Int J Prod Econ 99:52–62

Jung KS, Pinedo M, Sriskandaraja C, Tiwari V (2019) Scheduling elective surgeries with emergency patients at shared operating rooms. Prod Oper Manag 28:1407–1430

Klassen KJ, Yoogalingam R (2009) Improving performance in outpatient appointment services with a simulation optimization approach. Prod Oper Manag 18:447–458

Klassen KJ, Yoogalingam R (2014) Patient unpunctuality: strategies for appointment policy design. Decis Sci 45:881–911

Lamiri M, Xie X, Zhang S (2008a) Column generation approach to operating theater planning with elective and emergency patients. IIE Trans 40:838–852

Lamiri M, Xie X, Dolgui A, Grimaud F (2008b) A stochastic model for operating room planning with elective and emergency demand for surgery. Eur J Oper Res 185:1026–1037

M'Hallah R, Al-Roomi AH (2014) The planning and scheduling of operating rooms: a simulation approach. Comput Ind Eng 78:235–248

May JH, Spangler WE, Strum DP, Vargas LG (2011) The surgical scheduling problem: current research and future opportunities. Prod Oper Manag 20:392–405

Persson MJ, Persson JA (2010) Analysing management policies for operating room planning using simulation. Health Care Manag Sci 13:182–191

Pham DN, Klinkert A (2008) Surgical case scheduling as a generalized job shop scheduling problem. Eur J Oper Res 185:1011–1025

Saremi A, Jula P, ElMekkawy T, Wang GG (2013) Appointment scheduling of outpatient surgical services in a multistage operating room department. Int J Prod Econ 141:646–658

Statistics Canada. (2020) About the Canadian Institute for Health Information (CIHI). Retrieved from http://www.statcan.gc.ca/pub/82-221-x/2011002/abc-eng.htm. Accessed 29 June 2020

Testi A, Tanfani E, Torre G (2007) A three-phase approach for operating theatre schedules. Health Care Manag Sci 10:163–172

Van Essen JT, Hans EW, Hurink JL, Oversberg A (2012) Minimizing the waiting time for emergency surgery. Oper Res Health Care 1:34–44

Wullink G, Van Houdenhoven M, Hans EW, van Oostrum JM, van der Lans M, Kazemier G (2007) Closing emergency operating rooms improves efficiency. J Med Syst 31:543–546
Additional information
Publisher's note
Springer Nature remains neutral with regard to jurisdictional claims in published maps and institutional affiliations.
About this article
Cite this article
Xiao, Y., Yoogalingam, R. Reserved capacity policies for operating room scheduling. Oper Manag Res (2021). https://doi.org/10.1007/s12063-020-00172-x
Received:

Revised:

Accepted:

Published:
Keywords
Operating room scheduling

Simulation optimization

Reserved capacity

Emergency arrivals

Standby patients