Abstract
By convention, performance measurement from the business perspective is executed using the accounting standard costing and variance analysis doctrine. However, this practice is hardly theoretical, as it does not measure performance per se; what it is measuring is simply the actual activities and their pre-determined standards. According to theory and good practice, performance measurement is concerned with how strategy is translated into work via the different organizational structures and initiatives down to operations, using appropriate methods and procedures, and typically, the steps consist of specifying of objectives (goals), cascading them down the hierarchy, using standards in measuring progress (or deviation from goals), and rewarding performance. That is, strategy translation is a practical endeavor just like any OM activities. Since it is apparent that there is no conceptually established standard on performance measurement from the business perspective, we develop a performance measurement standard system (PMStd) based on the well-tested Classical Test Theory (CTT) as used by many non-business practitioners. Using a case study methodology, the PMStd is implemented in an emerging Chinese mobile phone manufacturer, and the results suggest that vital performance information on operations can be pinpointed and analyzed for actions to be taken to remedy weaknesses in order to improve performance.
Access options
Buy single article
Instant access to the full article PDF.
USD 39.95
Price includes VAT (USA)
Tax calculation will be finalised during checkout.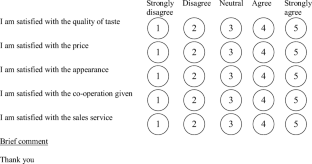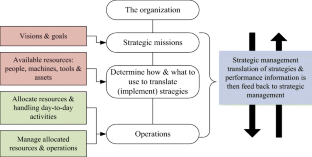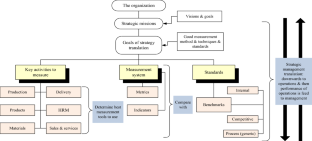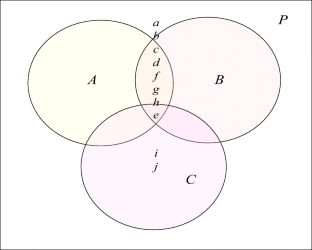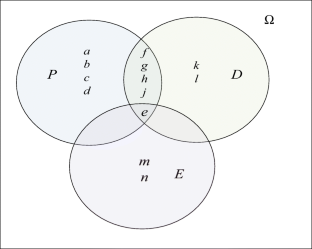 References
Accounting Standards Board (ASB) (1997) Financial reporting standard (FRS) no 3. In: Reporting Financial Performance. Accounting Standard Board, London

Agarwal R (2015) Standard Costing: Problems, Characteristics & Limitations, http://www.yourarticlelibrary.com/accounting/standard-costing/standardcosting-problems-characteristics-and-limitations/52834/

Aguirre-Urreta M, Marakas M (2008) Comparing conceptual modeling techniques: a critical review of the EER vs. OO empirical literature. Database Adv Inf Syst 39(2):9–32

American College of Nurse-Midwives, 2015. http://www.midwife.org/index.asp? bid=59&cat=2 &button

Anderson K, McAdam R (2004) A critique of benchmarking and performance measurement: Lead or lag? Benchmarking: An Int J 11(5):465–483

Arrfelt M, Wiseman R, McNamara G, Hult T (2015) Examining a key corporate role: the influence of capital allocation competency on business unit performance. Strateg Manag J 36(7):1017–1034

Asmussen C (2015) Strategic factor markets, scale free resources, and economic performance: the impact of product market rivalry. Strateg Manag J 36(12):1826–1844

Bejar I (2008) Standard setting: what is it? Why is it important? Connections 7(1):1–6

Bejar I, Braun H, Tannenbaum R (2007) A prospective, predictive and progressive approach to standard setting. In: Lissitz RW (ed) Assessing and modeling cognitive development in school: intellectual growth and standard setting. Maple Grove. Jam Press, MN

Bohrnstedt G (2010) An overview of measurement in the social sciences. American Institutes for Research, Washington DC

Booth A (2006) Counting what counts: performance measurement and evidence-based practice. Perform Meas Metrics 7(2):63–74

Bromwich M, Bhimani A (1994) Management accounting: pathways to Progress. Chartered Institute of Management Accountants, London

Buckheit, JB, Donoho, DL. 1995. Stanford University, WaveLab and Reproducible Research

Camp RC (1989) Benchmarking–the search for industry best practices that Lead to superior performance. ASQS Quality Press, Milwaukee

Chinosi M, Trombetta A (2012) BPMN: an introduction to the standard. Comp Standards Interfaces 34:124–134

Choong KK (2013a) Are PMS meeting the measurement needs of BPM? A literature review. Bus Process Manag J 19(3):535–574

Choong KK (2014) Has this large number of performance measurement publications contributed to its understanding? A systematic review for research and applications. J Production Res 52(14):4174–4197

Choong KK (2018) Use of mathematical measurement in improving the accuracy (reliability) & meaningfulness of performance measurement in businesses & organizations. Measurement. 127:184–205

Chua WF (2007) Accounting, measuring, reporting and strategizing–re-using verbs: a review essay. Acc Organ Soc 32:487–494

Cizek G (2001) Setting performance standards: concepts, methods and perspectives. Lawrence Erlbaum Associates, Mahwah

Cizek G (ed) (2012) Setting performance standards: foundations, methods and innovations. Routledge, NY

Cizek G, Bunch MB (2007) Standard setting: a guide to establishing and evaluating performance standards on tests. Sage, Thousand Oaks

Clifford S (2005) So many standards to follow, so little payoff. Inc Magazine, May. http://www.inc.com/magazine/20050501/management.html.

Cook T, Campbell D (1979) Quasi-experimentation: design and analysis for field settings. Rand McNally, Chicago

De Zoysa A, Kanthi H (2007) The impact of owner/managers' mentality on financial performance of SMEs in Japan: An empirical investigation. J Manag Dev 26(7):652–666

Docking DS, Dowen RJ (1999) Market interpretation of ISO 9000 registration. J Acc Res 22(2):147–160

Farrell C (1992) A national customer satisfaction barometer: the Swedish experience. J Mark 56(1):6–11

Farrell C, Johnson M, Anderson E, Cha JB (1996) The American customer satisfaction index: nature, purpose, and findings. J Mark 60(4):7–18

Farrell, J, Simcoe, T. 2009. Choosing the rules for consensus standardization. http://ssrn.com/abstract =1396330. Retrieved 16 Dec 2010

Ferrara S, Marianne P, Johnson E (2008) Matching the judgmental task with standard setting panelist expertise: the item-descriptor (id) matching method. J Appl Test Tech 9(1):1–22

Financial Accounting Standard Board (FASB) (1984) Statement of financial accounting concepts (SFAC) no 5. In: Recognition and Measurement in Financial Statements of Business Enterprises. Conn, December, FASB, Norwalk

Finkelstein S (2003) Why smart executives fail and what you can learn from their mistakes. Penguin Group, New York

Fitz-enz J (2002) How to measure human resource management. McGraw-Hill, NY

Flyvbjerg B (2011) Case Study in N. Denzin and Y. Lincoln (Eds.). The Sage handbook of qualitative research, thousand oaks, CA. Chap 17:301–316

Fomel S, Claerbout J (2009) Guest Editors' introduction: reproducible research. Comput Sci Eng 11(1):5–7

Fong PS, Shen Q, Cheng E (2001) A framework for benchmarking the value management process. Benchmarking: An Int J 8(4):306–316

Fournier, M. 2011. Standard costing not always right, Society of Cost Management, http://www.costmgmt.org/standard-costing-not-always-right/

Franco M, Bourne MCS (2003) Business Performance Measurement Systems: A Systematic Review, proceedings of the 10th EurOMA conference. Lake Como, Italy

Francis J (2008) Philosophy of mathematics. Global Vision Publishing House, New Delhi

Franceschini F, Maurizio G, Domenico M (2007) Management by measurement. Springer-Verlag, Berlin

Freytag P, Hollensen S (2001) The process of benchmarking, benchlearning and benchaction. TQM Mag 13(1):25–33

Gage NL, Berliner D (1991) Educational psychology (5th ed.). Boston, Houghton, Mifflin

Gilbert, TF. 1974. Levels and Structure of Performance Analysis. Praxis corporation technical series - no. 1. The praxis corporation, Morristown

Graves S, Moran J (1994) The pitfalls associated with strategic and operational planning. Qual Manag Forum 20(4):1–4

Hackett Group 2015 Process Benchmarking paves the way to Process Improvement, http://www.thehackettgroup.com/process-benchmarking/

Haynes S, Richard D, Kubany E (1995) Content validity in psychological assessment: a functional approach to concepts and methods. Psychol Assess 7(3):238–247

Hill N, Brierley J, MacDonald R (2003) How to measure customer satisfaction. Gover Publishing, Hampshire

Hitta M, Carnes C, Xu K (2016a) A current view of resource based theory in operations management: a response to Bromiley and Rau. J Oper Manag 41:107–109

Hitta M, Xu K, Carnes C (2016b) Resource based theory in operations management research. J Oper Manag 41:77–94

Hoa J, Wub A, Wu Y (2014) Perforrmance measures, consensus on strategy implementation, and performance: evidence from the operational-level of organizations, Accounting. Organizations Soci 39(1):38–58

Homburg C, Nasev J, Plank P (2018) The impact of cost allocation errors on Price and product-mix decisions. Rev Quant Finan Acc 51(2):497–527

Intelligentsia Worldwide 2014 Competitive Benchmarking, http://www.intelligentsia.net/our-services/competitive-analysis/competitive-benchmarking/

Jarzabkowski P, Spee A (2009) Strategy-as-practice: a review and future directions for the field. Int J Manag Rev 11(1):69–95

Jensen A, Sage P (2000) A systems management approach for improvement of organization performance measurement systems. Inf Knowledge Syst Manag 2(1):33–61

Johnson HT, Kaplan RS (1987) Relevance lost–the rise and fall of management accounting. Harvard Business School Press, Boston

Johnson G, Scholes K, Whittington R (2008) Exploring corporate strategy. FT Prentice Hall, Essex

Joshi PL (2001) The international diffusion of new management accounting practices: the case of India. J Int Account Audit Taxat 10(1):85–109

Kane M (1994) Validating the performance standards associated with passing scores. Rev Educ Res 64(3):425–461

Kane M (2006) Validation. In: Brennan RL (ed) Education measurement. American Council on Education. Praeger, Westport

Kaplan RS (2001) Strategic performance measurement and management in nonprofit organizations. Nonprofit Manag Leadership 11(3):253–370

Kaplan RS (2012) The balanced scorecard: comments on balanced scorecard commentaries. J Account Organizational Change 8(4):539–545

Kaplan RS, Norton DP (1992) The balanced scorecard: measures that drive performance. Harv Bus Rev 70(1):71–79

Kaplan RS, Norton DP (1996) Using the balanced scorecard as a strategic management system. Harv Bus Rev 85(7–8):150–161

Kaplan RS, Norton DP (2001a) The strategy-focused organization. In: The strategy-focused organization. Harvard Business School Publishing, Boston

Kaplan RS, Norton DP (2001b) Transforming the balanced scorecard from performance measurement to strategic management: part I. Account Horiz 15(1):87–104

Kaplan RS, Norton DP (2004) Strategy maps: converting intangible assets into tangible outcomes. Harvard Business School Press, Boston

Kim D-Y, Kumar V, Kumar U (2012) Relationship between quality management practices and innovation. J Oper Manag 30:295–315

Kipp M (2004) Why head-in-the-sand leadership sinks the ship. J Bus Strat 25(5):63–64

Krishnamurthy S, Patel R, Kaushal A (2005) Marketing research: a magazine of management and applications. Am Marketing Assoc 17(4):20–25

Lawshe CH (1975) A quantitative approach to content validity. Pers Psychol 28(4):563–575

Liu W, Meng W, Mingers J, Tang N, Wang W (2012) Developing a performance management system using soft systems methodology: a Chinese case study. Eur J Op Res 223(2):529–540

Lord FM, Novick MR (1968) Statistical theories of mental test scores. Addison-Wesley Publishing Company, Reading

Lucas M (1997) Standard costing and its role in today's manufacturing environment. Manag Account 75(4):32–34

MacLennan A (2010) Strategy execution: translating strategy into actions in complex organizations. Routledge, London

Mackelpranga A, Habermann M, Swink M (2015) How firm innovativeness and unexpected product reliability failures affect profitability. J Op Manag 38:71–86

Magretta J, Stone N (2002) What management is: how it works and why it's Everyone's business. Free Press, New York

McCardle J, Rousseau M, Krumwiede D (2019) The effects of strategic alignment and competitive priorities on operational performance: the role of cultural context. Oper Manag Res 12:4–18

Mckinsley Quarterly (2012), By Stephen Hall, Dan Lovallo, and Reinier Musters. How to put your money where your strategy is. http://www.mckinsey.com/business-functions/strategy-and-corporate-finance/our-insights/how-to-put-your-money-where-your-strategy-is

Melnyk S, Stewart D, Swink M (2004) Metrics and performance measurement in operations management: dealing with the metrics maze. J Op Manag 22(3):209–218

Miller D (1990) The Icarus paradox: how exceptional companies bring about their own downfall. HarperCollins, New York

Mintzberg H (1994) The fall and rise of strategic planning. Harv Bus Rev 72(1):107–114

Nag R, Hambrick D, Chen M (2007) What is strategic management, really? Inductive derivation of a consensus definition of the field. Strateg Manag J 28(9):935–955

Ndofar H, Sirmon D, He X (2015) Utilizing the firm's resources: how TMT heterogeneity and resulting faultlines affect TMT tasks. Strateg Manag J 36(7):1656–1674

Neely, A. Kennerley, D. and Martinez, V. 2005. Does the balanced scorecard work: an empirical investigation. Centre for Business Performance, Cranfield School of Management, Cranfield, Bedfordshire

Neely A, Richards A, Mills J, Platts P, Bourne M (1997) Designing performance measures: a structured approach. Int J Operations Product Manag 17(11):1131–1152

Neff T, Citrin J (2001) Lessons from the top: the search for America's best leaders. Doubleday, NY

Nixon B, John B (2012) The paradox of strategic management accounting. Manag Account Res 23(3):229–244

Oh H (1999) Service quality, customer satisfaction, and customer value: a holistic perspective. Hospital Manag 18(1):67–82

Olhager J, Shafrer S (2018) Editorial: passing the touch of operations management research. Oper Manag Res 11:67–68

Osterwalder, A., Pigneut, Y. 2009, Business Model Generation. http://www.businessmodelgeneration.com/. Accessed 8 Dec 2016

Penman S (2010) Accounting for value. Columbia University Press, NY

Pilkington A, Meredith J (2009) The evolution of the intellectual structure of operations management-1980−2006: a citation/co-citation analysis. J Oper Manag 27:185–202

Polit D, Beck C (2006) The content validity index: are you sure you know what's being reported? Critique and recommendations. Res Nurs Health 29(5):489–497

Powers W (1973) Behavior: the control of perception. Aldine Publishing Company, Chicago Management Accounting

Rafique, S. 2014. Standard cost-management by exception. Retrieved 23 March 2020

Rees W (1995) Financial analysis. Prentice Hall Europe, Trowbridge

Resnick H (2011) Translating strategy into execution, Emerald Group publishing. UK, Bingley http://www.emeraldgrouppublishing.com/learning/management_thinking/articles/pdf/

Ross J, Ziebart D, Meder A (2018) A new measure of firm-group accounting closeness. Rev Quant Finan Acc

Samson D, Kalchschmidt M (2019) Looking forward in operations management research. Oper Manag Res 12:1–3

Seddon J (2000) The case against ISO 9000. Oak Tree Press, London

Serrat O (2010) The perils of PM, knowledge solutions. Asian Dev. Bank, Manila

Shetty Y (1993) Aiming high: competitive benchmarking for superior performance. Long Range Plan 26(1):39–44

Sirmon D, Hitt M, Ireland R, Gilbert B (2011) Resource orchestration to create competitive advantage: breadth, depth and life cycle effects. J Manag 37:1390–1412 Resource Orchestration to Create Competitive Advantage

Smith M, Bititci U (2017) Interplay between performance measurement and management, employee engagement and performance. Int J Op Prod Manag 37(9):1207–1228

Spendolini M (1992) The benchmarking process. Compensation Benefits Rev 24(5):21–29

Sull D, Hornkes R, Sull C (2015) Why strategy execution unravels—and what to do about it. Harv Bus Rev 93(3):58–66

Teece DJ, Pisano G, Shuen A (1997) Dynamic capabilities and strategic management. Strat Manag J 18:509–533

Tittle C, Hill R (1967) Attitude Measurement and Prediction of Behaviour: An Evaluation of Conditions and Measurement Techniques. Sociometry 30(2):199–213

Tsolakis N, Singh JS (2018) Mapping supply dynamics in renewable feedstock enabled industries. Oper Manag Res 11:83–104

Urlocker, Z. (2012) Forbes News, Customer Satisfaction by the Numbers: An Industry Breakdown, http://www.forbes.com/sites/ciocentral/2012/04/19/customer-satisfaction-by-the-numbers

Thomas T (2016) Motivating revisions of management accounting systems: an examination of organizational goals and accounting feedback. Acc Organ Soc 53(1):1–16

Thornock T (2016) How the timing of performance feedback impacts individual performance. Acc Organ Soc 55(1):1–11

Tobias L (2005) Standardization and expectations. Springer-Verlag, Berlin

Trochim W (1989a) An introduction to concept mapping for planning and evaluation. Evaluation Prog Plann 12(1):1–6

Trochim W (1989b) Concept mapping: soft science or hard art? Evaluation Program Plann 12(1):87–110

Trochim, W. 2006. The Research Methods Knowledge Base. http://www.socialresearchmethods.net/

Tworek H, Müller SM. 2015 Introduction to special issue on "the governance of international communications: business, politics, and standard-setting in the nineteenth and twentieth centuries". J Policy History [Internet] 27(3)

University of California Institute for Digital Research & Education, 2016. SPSS FAQ, What does Cronbach's alpha mean? http://www.ats.ucla.edu/stat/spss/faq/alpha.html. Retrieved 12 Sept 2016

University of California. 2003. The Partnership for Performance. http://www.ucop.edu/ucophome/businit. Retrieved 15 Apr 2010

US NIST (National Institute of Standards and Technology) (2012) Baldrige Performance Excellence Program, US Department of Commerce, Washington DC, http://www.nist.gov/index.html. Accessed 6 Jan 2012

Wouters M, Sportel M (2005) The role of existing measures in developing and implementing performance measurement system. Int J Oper Prod Manag 25(11):1062–1082

Zeller R, Carmines E (1980) Measurement in the social sciences: the link between theory and data. Cambridge University Press, NY
Acknowledgments
The authors wish to thank the Editor-in-Chief Prof. Matteo Kalchschmidt as well as an anonymous referee for their constructive feedback that improved this paper.
Additional information
Publisher's note
Springer Nature remains neutral with regard to jurisdictional claims in published maps and institutional affiliations.
About this article
Cite this article
Choong, K.K., Islam, S.M. A new approach to performance measurement using standards: a case of translating strategy to operations. Oper Manag Res 13, 137–170 (2020). https://doi.org/10.1007/s12063-020-00159-8
Received:

Revised:

Accepted:

Published:

Issue Date:
Keywords
Performance measurement

Metrics and indicators

Performance measurement standard system

Test theory

Measuring strategy translationX