Abstract
Although some researchers have recently studied green practices in restaurants, scant previous research has analyzed the impact of these practices on overall performance in this field. Moreover, these studies have generally focused on mega-sized restaurants in the United States. The primary objective of this study is therefore to examine the motivations for the adoption of green practices in restaurants in Spain and the impact of this adoption on firm performance. The results are based on a survey completed by 374 small restaurant managers. Structural equation modeling was used to analyze links between the studied dimensions. The findings indicate that green practices have a strong positive direct influence on operational performance and competitiveness in Spanish restaurants and that they indirectly influence overall firm performance. Therefore, the results of this paper suggest that being proactive about environmental issues can provide restaurants with a great number of benefits that improve firm competitiveness and performance.
This is a preview of subscription content, log in to check access.
Access options
Buy single article
Instant access to the full article PDF.
US$ 39.95
Tax calculation will be finalised during checkout.
Subscribe to journal
Immediate online access to all issues from 2019. Subscription will auto renew annually.
US$ 99
Tax calculation will be finalised during checkout.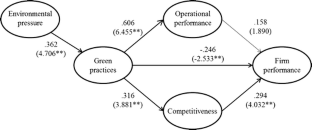 References
Alonso-Almeida MM (2012) Water and waste management in the Moroccan tourism industry: the case of three women entrepreneurs. Women Stud Int Forum 35:343–353

Alonso-Almeida MM, Bremser K (2013) Strategic responses of the Spanish hospitality sector to the financial crisis. Int J Hosp Manag 32:141–148

Alonso-Almeida MM, Rodriguez-Antón JM (2011) Organisational behaviour and strategies in adoption of certified management systems. An analysis of the Spanish hotel industry. J Clean Prod 19:1455–1463

Alonso-Almeida MM, Rodríguez-Antón JM, Rubio-Andrada L (2012) Reasons for implementing certified quality systems and impact on performance: an analysis of the hotel industry. Serv Ind J 32:919–936

Alvarez-Gil MJ, Burgos-Jiménez J, Cespedes-Lorente JJ (2001) Analysis of environmental management, organizational context and performance of Spanish hotels. Omega 29:457–471

Bagur-Femenias L, Llach J, Alonso-Almeida MM (2013) Is the adoption of environmental practice a strategic decision for small service companies? An empirical approach. Manage Decis 51(1):41–62

Barclay D, Thompson R, Higgins C (1995) The partial least squares (PLS) approach to causal modeling: personal computer adaptation and use as an illustration. Technol Stud 2:285–309

Black K (2012) Impact-range performance analysis and asymmetry analysis for improving quality of Korean food attributes. Int J Hosp Manag 31:535–543

Blanco E, Rey-Maquieira J, Lozano J (2009) Economic incentives for tourism firms to undertake voluntary environmental management. Tour Manag 30:112–122

Briggs S, Sutherlanda J, Drummond S (2007) Are hotels serving quality? An exploratory study of service quality in the Scottish hotel sector. Tour Manag 28:1006–1019

Carmona-Moreno E, Cespedes-Lorente J, de Burgos-Jimenez J (2004) Environmental strategies in Spanish hotels: contextual factors and performance. Serv Ind J 24:101–130

Chan WW (2009) Environmental measures for hotels' environmental management systems ISO 14001. Int J Cont Hosp Manag 21:542–560

Chan ESW, Hawkins R (2010) Attitude towards EMSs in an international hotel: An exploratory case study. Int J Hosp Manag 29:641–651

Chan ESW, Wong SCK (2006) Motivations for ISO 14001 in the hotel industry. Tour Manag 27:481–492

Choi G, Parsa HG (2006) Green practices II: measuring restaurant managers' psychological attributes and their willingness to charge for the "Green Practices". J Food Bus Res 9:41–63

Clark D (1999) What drives companies to seek ISO 14000 certification? Pollut Eng Int Summer 7:14–15

Climent S (2010) La calidad y su coste. Cont Dir 11:145–171

Côté R, Booth A, Louis B (2006) Eco-efficiency and SMEs in Nova Scotia, Canada. J Clean Prod 14:542–550

Cuatrecasas L (2010) La competitividad de los procesos productivos de acuerdo con un enfoque de gestión. Análisis de las pérdidas de productividad. Cont Dir 11:39–62

Dahlmann F, Brammer S, Millington A (2008) Environmental management in the United Kingdom: new survey evidence. Manage Decis 46:264–283

Enz CA, Siguaw JA (1999) Best hotel environmental practices. Cornell Hotel Rest A 40:72–77

EUROSTAT (2012) Statistics explained: accommodation and food service statistics, European Commission, Brussels. (http://epp.eurostat.ec.europa.eu/portal/page/portal/eurostat/home/)

Gavronski I, Ferrer G, Paiva EL (2008) ISO 14001 certification in Brazil: motivations and benefits. J Clean Prod 16:87–94

Gombault M, Versteege S (1999) Cleaner production in SMEs through a partnership with (local) authorities: successes from the Netherlands. J Clean Prod 7:249–261

Han H, Hsu LJ, Lee J, Sheu C (2011) Are lodging customers ready to go green? An examination of attitudes, demographics, and eco-friendly intentions. Int J Hosp Manag 30:345–355

Hillary R (2004) Environmental management systems and the smaller enterprise. J Clean Prod 12:561–569

Hoejmose S, Brammer S, Millington A (2013) An empirical examination of the relationship between business strategy and socially responsible supply chain management. Int J Oper Prod Manag 33(5):589–621

Hofer C, Cantor DE, Dai J (2012) The competitive determinants of a firm's environmental management activities: evidence from US manufacturing industries. J Oper Manag 30:69–84

Holmström J, Romme AGL (2012) Guest editorial: five steps towards exploring the future of operations management. Oper Manag Res 5:37–42

Hsieh YC (2012) Hotel companies' environmental policies and practices: a content analysis of their web pages. Int J Cont Hosp Manag 24:97–121

Hu H, Parsa HG, Self J (2010) The dynamics of green restaurant patronage. Cornell Hosp Q 51:344–362

Hyun SS, Kim W (2011) Dimensions of brand equity in the chain restaurant industry. Cornell Hosp Q 52:429–437

Ilomaki M, Melanen M (2001) Waste minimisation in small and medium-sized enterprises—do environmental management systems help? J Clean Prod 9:209–217

Jacobs BW, Singhal VR, Subramanianet R (2010) An empirical investigation of environmental performance and the market value of the firm. J Oper Manag 28(5):430–441

Jang YJ, Kimb WG, Bonn MA (2011) Generation Y consumers' selection attributes and behavioral intentions concerning green restaurants. Int J Hosp Manag 30:803–811

Jani D, Han H (2011) Investigating the key factors affecting behavioral intentions. Evidence from a full-service restaurant setting. Int J Cont Hosp Manag 23:1000–1018

Kassinis GI, Soteriou AC (2003) Greening the service profit chain: the impact of environmental management practices. Prod Oper Manag 12:386–403

Kincaid C, Baloglu S, Mao Z, Busser J (2010) What really brings them back? The impact of tangible quality on affect and intention for casual dining restaurant patrons. Int J Cont Hosp Manag 22:209–220

Konar S, Cohen MA (2001) Does the market value environmental performance? Rev Econ Stat 83:281–289

Lee K (2009) Why and how to adopt green management into business organizations? The case study of Korean SMEs in manufacturing industry. Manage Decis 47:1101–1121

Lee S, Singal M, Kang KH (2013) The corporate social responsibility–financial performance link in the U.S. restaurant industry: do economic conditions matter? Int J Hosp Manag 32:2–10

Llach J, Bagur-Femenías L, Alonso-Almeida MDM, Perramon J (2012) Joint impact of quality and environmental practices on firm performance in small service businesses: an empirical study of restaurants. J Clean Prod 44:96–104

Llena F (2007) El papel de la contabilidad en la gestión medioambiental de la empresa: propuestas y evidencia empírica. Cont Dir 7:103–134

Longart P (2010) What drives word-of-mouth in restaurants? Int J Cont Hosp Manag 22:121–128

López-Gamero MD, Molina-Azorín JF, Claver-Cortés E (2009) The whole relationship between environmental variables and firm performance: competitive advantage and firm resources as mediator variables. J Environ Manag 90:3110–3121

Malhotra NK (2004) Marketing research and applied orientation, 4th edn. Prentice Hall, New Jersey

Mohamed ST (2001) The impact of ISO 14000 on developing world businesses. Renew Energ 23:579–584

Molina-Azorín JF, Claver-Cortes E, Pereira-Moliner J, Tarí JJ (2009) Environmental practices and firm performance: an empirical analysis in the Spanish hotel industry. J Clean Prod 17:516–524

Noone BM, Kimes SE, Mattila AS, Wirtz J (2007) The effect of meal pace of customer satisfaction. Cornell Hotel Rest A 48:231–245

Nunnally JC, Bernstein IH (1994) Psychometric theory. McGraw-Hill, New York

Park S, Lee S (2009) Financial rewards for social responsibility: a mixed picture for restaurant companies. Cornell Hosp Q 50:168–179

Pereira-Moliner J, Claver-Cortés E, Molina-Azorín JF, Tarí JJ (2012) Quality management, environmental management and firm performance: direct and mediating effects in the hotel industry. J Clean Prod 37:82–92

Raykov T, Marcoulides G (2000) A first course in Structural Equation Modeling. Lawrence Erlbaum Associates, New Jersey

Robinot E, Giannelloni JL (2010) Do hotels' "green" attributes contribute to customer satisfaction? J Serv Mark 24:157–169

Rodríguez-Antón JM, Alonso-Almeida MM (2011) Quality certification systems and their impact on employee satisfaction in services with high levels of customer contact. Total Qual Manag Bus 22:145–157

Rodríguez-Antón JM, Alonso-Almeida MM, Celemín M, Rubio L (2012) Use of different sustainability management systems in the hospitality industry. The case of Spanish hotels. J Clean Prod 22:76–84

Ruddell S, Stevens JA (1998) The adoption of ISO 9000, ISO 14001, and the demand for certified wood products in the business and institutional furniture industry. For Prod J 48:19–26

Schermelleh-Engel K, Moosbrugger H, Müller H (2003) Evaluating the fit of structural equation models: tests of significance and descriptive Goodness-of-Fit measures. Psychol Res 8:23–74

Schumacker R, Lomax R (2004) A beginner's guide to structural equation modeling, 2nd edn. Lawrence Erlbaum Associates Inc, New Jersey

Sharma S, Henriques I (2005) Stakeholder influences on sustainability practices in the Canadian forest products industry. Strateg Manag J 26:159–180

Smith JS, Karwan KR, Markland RE (2012) An empirical investigation of the effectiveness of an integrated service recovery system. Oper Manag Res 5:25–36

Spanish National Statistics Institute (2012) Encuesta anual de servicios (CNAE-2009). Instituto Nacional Estadística, Madrid

Susskind AM (2002) I told you so! Restaurant customers' word-of-mouth communication patterns. Cornell Hotel Rest A 43:75–85

Susskind AM (2010) Guest service management and processes in restaurants: what we have learned in fifty years. Cornell Hosp Q 51:479–482

Susskind AM, Kaemar MK, Borhgrevink CP (2007) How organizational standards and coworker support improve restaurant service. Cornell Hotel Rest A 48:370–384

Tarı JJ, Claver-Cortes E, Pereira-Moliner J, Molina-Azorin JF (2010) Levels of quality and environmental management in the hotel industry: their joint influence on firm performance. Int J Hosp Manag 29:500–510

Trung DN, Kumar S (2005) Resource use and waste management in Vietnam hotel industry. J Clean Prod 13:109–116

Tzschentke NA, Kirk D, Lynch PA (2008) Going green: decisional factors in small hospitality operations. Int J Hosp Manag 27:126–133

UNEP-United Nations Environment Programme (2006) Greening shops and saving costs. UNEP DTIE, Paris

Vachon S, Klassen RD (2006) Extending green practices across the supply chain. The impact of upstream and downstream integration. Int J Oper Prod Manag 26(7):795–821

Vieregge M, Scanlon N, Huss J (2007) Marketing locally grown food products in globally branded restaurants: do customers care? J Foodserv Bus Res 10:67–82

Wagner M (2005) How to reconcile environmental and economic performance to improve corporate sustainability: corporate environmental strategies in the European paper industry. J Environ Manag 76:105–118

Wang R (2012) Investigations of important and effective effects of green practices in restaurants. Soc Behav Sc 40:94–98

Yong J, Wilkinson A (2003) From Kyoto to Singapore: the adoption of quality management in the services sector in Singapore. Total Qual Manag Bus 14:849–873

Zailani SHM, Eltayeb TK, Oman S, Hsu C, Tan KC (2012) The impact of external institutional drivers and internal strategy on environmental performance. Int J Oper Prod Manag 32(6):721–745

Zeng SX, Meng XH, Yin HT, Tam CM, Sun L (2010) Impact of cleaner production on business performance. J Clean Prod 18:975–983
About this article
Cite this article
Perramon, J., Alonso-Almeida, M.d.M., Llach, J. et al. Green practices in restaurants: Impact on firm performance. Oper Manag Res 7, 2–12 (2014). https://doi.org/10.1007/s12063-014-0084-y
Received:

Revised:

Accepted:

Published:

Issue Date:
Keywords
Green practices

Environmental practices

Firm performance

Tourism sector

Green performance

Environmental impact