Abstract
Aid organizations, governments and even citizens in emerging/developing countries have long complained about the efficacy of developmental projects. Given the vast resources being plowed into developmental activities and the dire needs, it is imperative that such projects are cost-effective, finish on time and provide the specified deliverables. Unfortunately, the procedure to guide such projects is not well developed. In this research, we rely on qualitative case study methodology to provide possible insights to project managers. We examined a total of eight cases related to developmental projects in India. Through these cases, we identify five project management components including: project characteristics, external environment, internal project elements, project management process, and project outcomes. The constructs within each element and the relationships amongst them provide guidance to development agencies in terms of project size, project goals, resource availability, infrastructure, stakeholder variance and organizational flexibility. These constructs influence the internal elements of a project including the level of information, complexity and uncertainty/risk. In turn, the internal elements affect the project outcomes of duration, costs, and deliverables. This research provides guidance to agencies in their project management process in terms of team integration and interactions, communication, and networking with local communities and organizations, all of which can influence standard project outcomes (duration, cost and deliverables), while also helping to build reputation to garner additional funding.
This is a preview of subscription content,
to check access.
Access this article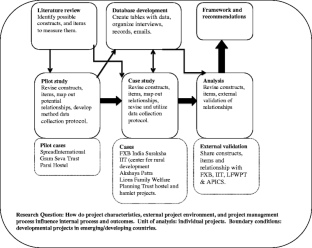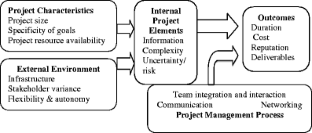 Notes
name withheld for confidentiality reasons.
References
Abbasi G, Al-Mharmah H (2000) Project management practice by the public sector in a developing country. Int J Proj Manag 18(2):105–110

Achterkamp M, Vos J (2008) Investigating the use of the stakeholder notion in project management literature, a meta-analysis. Int J Proj Manag 26(7):749–757

Adenfelt M (2010) Exploring the performance of transnational projects: shared knowledge, coordination and communication. Int J Proj Manag 28(6):529–538

Ahsan K, Gunawan I (2010) Analysis of cost and schedule performance of international development projects. Int J Proj Manag 28(1):68–78

Assudani R, Kloppenborg TJ (2010) Managing stakeholders for project management success: an emergent model of stakeholders. J Gen Manage 35(3):67–80

Baccarini D (1996) The concept of project complexity—a review. Int J Proj Manag 14(4):201–204

Bendoly E, Swink M (2007) Moderating effects of information access on project management behavior, performance and perceptions. J Oper Manag 25(3):604–622

Bryde JD (2003) Project management concepts, methods and application. Int J Oper Prod Manag 23(7):775–793

Campion MA, Pepper EA, Medsker GJ (1996) Relations between team characteristics and effectiveness: a replication and extension. Pers Psychol 49:429–452

Cockburn A (2000) Selecting a project's methodology. IEEE Softw 17(4):64–71

Diallo A, Thuillier D (2004) The success dimensions of international development projects: the perceptions of African project coordinators. Int J Proj Manag 22(1):19–31

Easterly W (2006) The white man's burden. The Penguin Press, New York

Editorial (2006) Towards a theory of project management: the functions of project management. Int J Proj Manag 24(2):187–189

Eisenhardt KM (1989) Building theories from case study research. Acad Manag Rev 14(4):532–550

Eweje J, Turner R, Muller R (2012) Maximizing strategic value from megaprojects: the influence of information-feed on decision-making by the project manager. Int J Proj Manag 30(6):639–651

Fox S (2009) Information and communication design for multi-disciplinary multi-national projects. Int J Manag Proj Bus 2(4):536–560

Galbraith JR (1977) Organization design. Addison-Wesley, Reading

Hobbs B, Miller R (2002) The strategic front end of large infrastructure projects: A process of nesting governance. In: Proceeding of PMI Research Conference. Seattle, USA, pp 41–46

Hong S (1997) Project management in globalizing economies. Proj Manag J 28(4):6–7

Khang DB, Moe TL (2008) Success criteria and factors for international development projects: a life-cycle-based framework. Proj Manag J 39(1):72–84

Koskela L, Howell G (2002) The underlying theory of project management is obsolete. In: Proceedings of PMI research conference. Seattle, USA, pp 293–301

Lewis MW, Welsh MA, Dehler GE, Green SG (2002) Product development tensions: exploring contrasting styles of project management. Acad Manag J 45(3):546–564

Martin N, Pearson M, Furumo K (2007) Is project management: size, practices and the project management office. J Comput Inf Syst 47(4):52–60

McCutcheon DM, Meredith JR (1993) Conducting case study research in operations management. J Oper Manag 11(3):239–256

Meredith J (1998) Building operations management theory through case and field research. J Oper Manag 16(4):441–454

Ochieng EG, Price AD (2009) Framework for managing multicultural project teams. Eng Constr Archit Manag 16(5):527–534

Olsson NOE, Magnussen OM (2007) Flexibility at different stages in the life cycle of projects: an empirical illustration of the "freedom of maneuver". J Proj Manag 38(4):25–32

Pope A, Prasad S (1998) The measurement of international inventory systems. Logist Inf Manag 11(6):375–385

Raftery J (1994) Risk analysis in project management. Routledge, Chapman and Hall, London, UK

Randolph WA, Posner BZ (1988) What every manager needs to know about project management. Sloan Manag Rev 29(4):65–73

Rice MP, O'Connor GC, Pierantozzi R (2008) Implementing a learning plan to counter project uncertainty. Sloan Manag Rev 49(2):54–62

Romig DA (1996) Breakthrough teamwork. Outstanding results using structured teamwork. Irwin Professional Publishing, Chicago

Scott-Young C, Samson D (2008) Project success and project team management: evidence from capital projects in the process industries. J Oper Manag 26(6):749–766

Shenhar A, Dvir D (1996) Toward a typological theory of project management. Res Policy 25(4):607–632

Skulmoski GJ, Hartman FT (2010) Information systems project manager soft competencies: a project-phase investigation. Proj Manag J 41(1):61–80

Söderlund J (2004) Building theories of project management: past research, questions for the future. Int J Proj Manag 22(3):183–191

Sohail M, Baldwin AN (2004) Performance indicators for 'micro-projects' in developing countries. Constr Manag Econ 22(1):11–23

Steinfort P (2010) Understanding the antecedents of project management best practice-lessons to be learned from aid relief projects. PhD, School of Property, Construction and Project Management, RMIT University, Melbourne

Turner J (2006) Towards a theory of project management: the functions of project management. Int J Proj Manag 24(3):187–189

Voss C, Tsikriktsis N, Frohlich M (2002) Case research in operations management. Int J Oper Prod Manag 22(2):195–219

Ward S, Chapman C (2011) How to manage project opportunity and risk: Why uncertainty management can be a much better approach than risk management. Wiley, Hoboken, NJ

Wellins RS, Wilson R, Katz AJ, Laughlin P, Day CR Jr, Price D (1990) Self-directed teams: a study of current practice. DDI, Pittsburgh

Woolcock M, Narayan D (2000) Social capital; implications for development theory, research and policy. World Bank Res Obs 15(2):225–250

Wozniak TM (1993) Significance vs. capability: Fit for use project controls. Proceedings of 1993 American Association of Cost Engineers International, Dearborn, Michigan, A.2.1–8

Yin RK (2003) Case study research: design and methods, 3rd edn. Sage Publications, Thousand Oaks

Zwikael O, Unger-Aviram E (2010) HRM in project groups: the effect of project duration on team development effectiveness. Int J Proj Manag 28(5):413–421
Appendix A: Questions prepared for field case study post pilot study
Appendix A: Questions prepared for field case study post pilot study
Size— How would you define the initial size of your project (dollar value of the project, the number of people involved, and the number of components)?
Resource Availability—What monetary and human resources were necessary for the successful implementation of this project?
Stakeholders—What stakeholders were involved in the set up of your project? How would you classify the relationship between the organization and the stakeholder (personal or professional)? Was there a previous relationship between your organization and the stakeholders that were involved in the set up of your project? Did the length of relationship affect their involvement? Have your relationships with your initial stakeholders continued to the present?
Quality of Infrastructure—What was the quality of physical infrastructure of your organization could rely upon? What is the soft infrastructure of your organization?
Information—How do you make information available to your project team members? How is information shared with your stakeholders? How much information was obtained before the beginning of the project? How was information gathered along the way?
Complexity—How would you classify the complexity of the initial set up of the project? Was there a dead line for completion?
Uncertainty—What type of uncertainty did you face? How you minimize uncertainty? How did uncertainty affect outcomes?
Degree of systematic methodology—Did any members of your team use any methods for decision making?
Team building—How did team members interact during the set up of the project?
Quality of Communication—How was information communicated within the team? How was information communicated with stakeholders?
Networking—Before the set up of the project, did you interact with the surrounding organizations?
Flexibility—Did the possibility of change in ground conditions affect the decisions made during the set up of the project? Was it important for the project team to remain flexible during the set up of the project?
Percent of deliverables not met—How does your organization measures the deliverables of the project? Stakeholder requirements?
Total Duration—What aspects of the set up of your project contributed to the delay of completion of the project if any? Did a lack of resources affect the duration of the project?
Total Cost—Did the final cost of the implementation of the project exceed the expected cost? Did this affect the duration of the project?
About this article
Cite this article
Prasad, S., Tata, J., Herlache, L. et al. Developmental project management in emerging countries. Oper Manag Res 6, 53–73 (2013). https://doi.org/10.1007/s12063-013-0078-1
Received:

Revised:

Accepted:

Published:

Issue Date:

DOI: https://doi.org/10.1007/s12063-013-0078-1
Keywords