Abstract
Interruptions to the server in an outpatient clinic environment have received limited attention in the appointment scheduling literature. However, explicitly modeling interruptions on the part of the doctor may have an impact on the optimal appointment schedule and consequently, on patient waiting times. This is explored with a simulation optimization model that is based on data from time studies and interviews with medical professionals from multiple outpatient clinics. The results show a "plateau-dome" scheduling rule for practical implementation to be robust for low interruption rates and a traditional dome pattern for higher levels of interruptions. In addition, if clinic operations are such that doctors are able to adjust their behavior to complete all work during the session, then the schedule is invariant to changes in the interruption rate.
Access options
Buy single article
Instant access to the full article PDF.
US$ 39.95
Tax calculation will be finalised during checkout.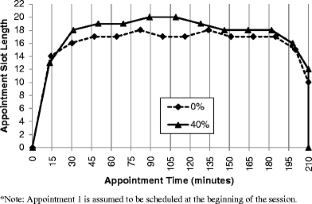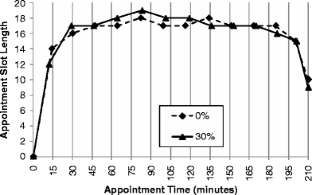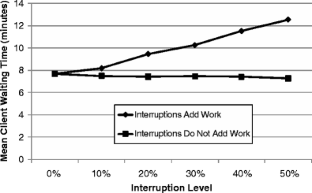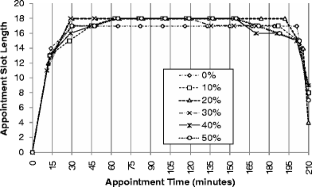 References
Andradόttir S (2002) Simulation optimization: integrating research and practice. INFORMS J Comput 14:216–219

Azadivar F, Tompkins G (1999) Simulation optimization with qualitative variables and structural model changes: a genetic algorithm approach. Eur J Oper Res 113:169–182

Blanco White MJ, Pike MC (1964) Appointment systems in outpatients' clinics and the effect on patients' unpunctuality. Med Care 2:133–145

Brahimi M, Worthington DJ (1991) Queuing models for out-patient appointment systems: a case study. J Oper Res Soc 42:733–746

Cayirli T, Veral E (2003) Outpatient scheduling in health care: a review of literature. Prod Oper Manag 12:519–549

Cayirli T, Veral E, Rosen H (2006) designing appointment scheduling systems for ambulatory -care services. Health Care Manage Sci 9:47–58

Cayirli T, Veral E, Rosen H (2008) assessment of patient classification in appointment system design. Prod Oper Manag 17:338–353

Denton B, Gupta D (2003) A sequential bounding approach for optimal appointment scheduling. IIE Trans 35:1003–1016

Fetter R, Thompson J (1966) Patients' waiting time and doctors' idle time in the outpatient setting. Health Serv Res 1:66–90

Fries B, Marathe V (1981) Determination of optimal variable-sized multiple-block appointment systems. Oper Res 29:324–345

Fu M (2002) Optimization for simulation: theory vs. practice. INFORMS J Comput 14:192–215

Glover F (1994) Genetic algorithms and scatter search: unsuspected potentials. Stat Comput 4:131–140

Ho C, Lau H (1992) Minimizing total cost in scheduling outpatient appointments. Manage Sci 38:1750–1764

Ho C, Lau H (1999) Evaluating the impact of operating conditions on the performance of appointment scheduling rules in service systems. Eur J Oper Res 112:542–553

Huang G, Linton J, Yeomans JS, Yoogalingam R (2005) Policy planning under uncertainty: efficient starting populations for simulation optimization methods applied to municipal solid waste management. J Environ Manag 77:22–34

Jansson B (1966) Choosing a good appointment system: a study of queues of the type (D/M/1). Oper Res 14:292–312

Kelton WD, Sadowski RP, Sturrock D (2007) Simulation with Arena (4th ed). McGraw-Hill, USA

Klassen KJ, Rohleder TR (1996) Scheduling outpatient appointments in a dynamic environment. J Oper Manag 14:83–101

Klassen KJ, Rohleder TR (2004) Outpatient appointment scheduling with urgent clients in a dynamic, multi-period environment. Int J Serv Ind Manag 15:167–186

Klassen KJ, Yoogalingam R (2009) Improving performance in outpatient appointment services with a simulation optimization approach. Prod Oper Manag. Forthcoming, available online in January 2009.

Law AM, Kelton WD (2000) Simulation modeling and analysis (3rd ed). McGraw-Hill, New York, NY

Lehaney B, Clarke SA, Paul RJ (1999) A case of intervention in an outpatients department. J Oper Res Soc 50:877–891

Linton J, Yeomans JS, Yoogalingam R (2002) Policy planning using genetic algorithms combined with simulation: the case of municipal solid waste. Environ Plann B, Plann Des 29:757–778

Liu L, Liu X (1998) Block appointment systems for outpatient clinics with multiple doctors. J Oper Res Soc 49:1254–1259

Lopez-Garcia L, Posada-Bolivar A (1999) A simulator that uses Tabu search to approach the optimal solution to stochastic inventory models. Comput Ind Eng 37:215–218

Marti R, Laguna M, Glover F (2006) Principles of scatter search. Eur J Oper Res 169:359–372

Mercer A (1960) A queuing problem in which arrival times of the customers are scheduled. J R Stat Soc Ser B 22:108–113

O'Keefe R (1985) Investigating outpatient departments: implementable policies and qualitative approaches. J Oper Res Soc 36:705–712

OptQuest (2007) OptTek Systems, Inc. Available at http://www.opttek.com/index.htm. Accessed May 2007

Pegden CD, Rosenshine M (1990) Scheduling arrivals to queues. Comput Oper Res 17:343–348

Pierreval H, Tautou L (1997) Using evolutionary algorithms and simulation for the optimization of manufacturing systems. IIE Trans 29:181–189

Rising E, Baron R, Averill B (1973) A system analysis of a university health service outpatient clinic. Oper Res 21:1020–1047

Robinson L, Chen R (2003) Scheduling doctors' appointments: Optimal and empirically-based heuristic policies. IIE Trans 35:295–307

Rohleder TR, Klassen KJ (2000) Using client-variance information to improve dynamic appointment scheduling performance. Omega 28:293–305

Stein W, Côté M (1994) Scheduling arrivals to a queue. Comput Oper Res 22:607–614

Teleb R, Azadivar F (1994) A methodology for solving multi-objective simulation optimization problems. Eur J Oper Res 72:135–145

Vissers J (1979) Selecting a suitable appointment system in an outpatient setting. Med Care 12:1207–1220

Vissers J, Wijngaard J (1979) The outpatient appointment system: design of a simulation study. Eur J Oper Res 3:459–463

Wang P (1993) Static and dynamic scheduling of customer arrivals to a single-server system. Nav Res Logist 40:345–360

Wang P (1997) Optimally scheduling n customer arrival times for a single-server system. Comp Oper Res 24:703–716
Appendix A
Appendix A
About this article
Cite this article
Klassen, K.J., Yoogalingam, R. An assessment of the interruption level of doctors in outpatient appointment scheduling. Oper Manag Res 1, 95–102 (2008). https://doi.org/10.1007/s12063-008-0013-z
Received:

Revised:

Accepted:

Published:

Issue Date:
Keywords
Appointment scheduling

Outpatient clinics

Simulation optimization