Abstract
Injurious falls, especially those leading to bone fracture are major causes of death and disability among older people. The aim was to identify the factors and conditions associated with falls leading to fracture (FLF) among older adults in a developing country. The data was collected in 2019 and analyzed in 2020. In total, 300 patients and 590 age- and sex-matched controls were selected from two referral hospitals, and the eligible older individuals who were under the same family physicians of the patients respectively. Significant and direct associations observed between the risk of FLF and cardiovascular diseases, hobby during leisure time, current employment, vertigo, history of falling during the past five years and smoking (P < 0.05 for all). On the other hand, sleep quality, BMI, history of work under sunlight, education, vision acuity and duration of night sleep were inversely associated with the risk of FLF (P < 0.05 for all). FLF is highly predictable with several behavioral, environmental, and health-related factors. Making home and work safer places for older adults, conducting routine vision acuity test, adequate and quality sleeping in day and night, and quitting smoking may reduce the risk of falling among older adults. The results also suggested that the history of falls is a strong predictor of FLF.
Access options
Buy single article
Instant access to the full article PDF.
USD 39.95
Price excludes VAT (USA)
Tax calculation will be finalised during checkout.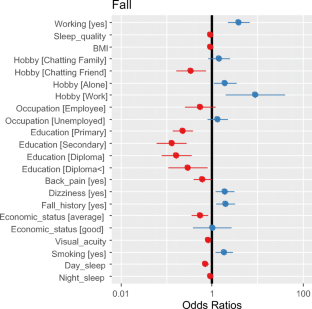 Data Availability
The datasets generated and/or analyzed during the current study are not publicly available due to its being the intellectual property of Shiraz University of Medical Sciences but are available from the corresponding author on reasonable request.
Abbreviations
OR:

Odds ratio

CI:

Confidence interval

CVDs:

Cardiovascular diseases

BMI:

body mass index
References
Aghaee, M. A., Norouzi, S., Mousavi, M. S., & Vakilzadeh, A. K. (2016). Traumatic Injuries Caused by fall in the Elderly Referred to the Emergency Department; an Epidemiologic Study. Iranian Journal of Emergency Medicine, 3(3), 109–114.

Almegbel, F. Y., Alotaibi, I. M., Alhusain, F. A., Masuadi, E. M., Al Sulami, S. L., Aloushan, A. F., & Almuqbil, B. I. (2018). Period Prevalence, Risk Factors and Consequent Injuries of Falling Among the Saudi Elderly Living in Riyadh, Saudi Arabia: A Cross-Sectional Study. BMJ Open, 8(1), e019063.

Al-Salem, M. (1987). A new Snellen's Visual Acuity Chart with 'Indian' Numerals. British Journal of Ophthalmology, 71(12), 923–925.

Arden, N. K., Crozier, S., Smith, H., Anderson, F., Edwards, C., Raphael, H., & Cooper, C. (2006). Knee Pain, Knee Osteoarthritis, and the Risk of Fracture. Arthritis Care & Research: Official Journal of the American College of Rheumatology, 55(4), 610–615.

Balatsouras, D., Koukoutsis, G., Fassolis, A., Moukos, A., & Apris, A. (2018). Benign Paroxysmal Positional Vertigo in the Elderly: Current Insights. Clinical Interventions in Aging, 13, 2251–2266.

Barban, F., Annicchiarico, R., Melideo, M., Federici, A., Lombardi, M., Giuli, S., et al. (2017). Reducing Fall Risk with Combined Motor and Cognitive Training in Elderly Fallers. Brain Sciences, 7(2), 19.

Callis, N. (2016). Falls Prevention: Identification of Predictive Fall Risk Factors. Applied Nursing Research, 29, 53–58.

Colenbrander, A. (2002). Visual standards: aspects and ranges of vision loss with emphasis on population surveys. Paper presented at the Report prepared for the International Council of Ophthalmology at the 29th International Congress of Ophthalmology Sydney, Australia

Coughlin, S. S. (1990). Recall Bias in Epidemiologic Studies. Journal of Clinical Epidemiology, 43(1), 87–91.

Duray, M., & Genç, A. (2017). The Relationship between Physical Fitness and Falling Risk and Fear of Falling in Community-Dwelling Elderly People with Different Physical Activity Levels. Turkish Journal of Medical Sciences, 47(2), 455–462.

Ehrlich, J. R., Hassan, S. E., & Stagg, B. C. (2019). Prevalence of Falls and Fall-Related Outcomes in Older Adults with Self-Reported Vision Impairment. Journal of the American Geriatrics Society, 67(2), 239–245.

Esmaieli, R., Saeedi, Z. A., Esmaili, M., & Kaveh, J. (2013). A Review Study on Effective Factors in Prevention of Falling and Osteoporosis Fracture in Elderly People. Rehabilitation Medicine, 1(4).

Feldman, F., & Chaudhury, H. (2008). Falls and the Physical Environment: A Review and a new Multifactorial Falls-Risk Conceptual Framework. Canadian Journal of Occupational Therapy, 75(2), 82–95.

Fernández, L., Breinbauer, H. A., & Delano, P. H. (2015). Vertigo and Dizziness in the Elderly. Frontiers in Neurology, 6, 144.

Gilasi, H., Soori, H., Yazdani, S., & Taheri Tenjani, P. (2015). Fall-Related Injuries in Older People in Kashan. Journal of Paramedical Sciences & Rehabilitation, 4(3), 74–82.

Hajek, A., & König, H.-H. (2017). The Association of Falls with Loneliness and Social Exclusion: Evidence from the DEAS German Ageing Survey. BMC Geriatrics, 17(1), 204.

Kannus, P., Palvanen, M., & Niemi, S. (2001). Time Trends in Severe Head Injuries Among Elderly Finns. Jama, 286(6), 673–674.

Lee, S.-B., Kim, J.-H., Cho, M.-H., Choe, E.-S., Kim, K.-S., & Shim, S.-M. (2017). Impact of Commercial Cigarette Smoke Condensate on Brain Tissue Co-Cultured with Astrocytes and Blood–Brain Barrier Endothelial Cells. Journal of Toxicology and Environmental Health, Part A, 80(10–12), 533–541.

Locke, G. R. T., Nicholas J, Weaver, A. L., & Zinsmeister, A. R. (1994). A new Questionnaire for Gastroesophageal Reflux Disease. Paper Presented at the Mayo Clinic Proceedings.

Mahmoodabad, S. S. M., Zareipour, M., Askarishahi, M., & Beigomi, A. (2018). Effect of the Living Environment on falls among the Elderly in Urmia. Open Access Macedonian Journal of Medical Sciences, 6(11), 2233–2238.

Mazur, K., Wilczyński, K., & Szewieczek, J. (2016). Geriatric falls in the Context of a Hospital Fall Prevention Program: Delirium, Low Body Mass Index, and Other Risk Factors. Clinical Interventions in Aging, 11, 1253.

Min, Y., & Slattum, P. W. (2018). Poor Sleep and Risk of Falls in Community-Dwelling Older Adults: A systematic Review. Journal of Applied Gerontology, 37(9), 1059–1084.

Mozaffari, N., Mohammadi, M. A., & Samadzadeh, S. (2018). Effect of Fall Care Behaviors Training on Fear of Falling among the Elderly People Referred to Health Centers: A Double-Blind Randomized Clinical Trial. Journal of Hayat, 220–232.

Neslihan, L., & Belgin, A. (2013). Domestic Environmental Risk Factors Associated with Falling in Elderly. Iranian Journal of Public Health, 42(2), 120.

Nilsson, M., Eriksson, J., Larsson, B., Odén, A., Johansson, H., & Lorentzon, M. (2016). Fall Risk Assessment Predicts Fall-Related Injury, Hip Fracture, and Head Injury in Older Adults. Journal of the American Geriatrics Society, 64(11), 2242–2250.

O'Neil, C. A., Krauss, M. J., Bettale, J., Kessels, A., Costantinou, E., Dunagan, W. C., & Fraser, V. J. (2018). Medications and Patient Characteristics associated with Falling in the Hospital. Journal of Patient Safety, 14(1), 27–33.

Patel, D., Steinberg, J., & Patel, P. (2018). Insomnia in the Elderly: A Review. Journal of Clinical Sleep Medicine: JCSM: Official Publication of the American Academy of Sleep Medicine, 14(6), 1017–1024.

Pengpid, S., & Peltzer, K. (2018). Prevalence and risk factors associated with injurious falls among community-dwelling older adults in Indonesia. Current gerontology and geriatrics research

Pfortmueller, C., Lindner, G., & Exadaktylos, A. (2014). Reducing Fall Risk in the Elderly: Risk Factors and Fall Prevention, a Systematic Review. Minerva Medica, 105(4), 275–281.

Poh, F. J., & Shorey, S. (2020). A Literature Review of Factors Influencing Injurious Falls. Clinical Nursing Research, 29(3), 141–148.

Rockwood, K., Song, X., MacKnight, C., Bergman, H., Hogan, D. B., McDowell, I., & Mitnitski, A. (2005). A Global Clinical Measure of Fitness and Frailty in Elderly People. Canadian Medical Association Journal, 173(5), 489–495.

Sadri Damirchi, E., Behbuei, S., & Mojarrad, A. (2018). Role of Performance in the Stroop test in Anticipation of Anxiety and Aggression in the Elderly in Ardabil. Salmand: Iranian Journal of Ageing, 13(1), 38–49. https://doi.org/10.21859/sija.13.1.38.

Saftari, L. N., & Kwon, O.-S. (2018). Ageing Vision and Falls: A Review. Journal of Physiological Anthropology, 37(1), 11.

Sherrington, C., Fairhall, N., Kirkham, C., Clemson, L., Howard, K., Vogler, C., et al. (2016). Exercise and Fall Prevention Self-Management to Reduce Mobility-Related Disability and Falls after Fall-Related Lower Limb Fracture in Older People: Protocol for the RESTORE (Recovery Exercises and STepping on afteR FracturE) Randomised Controlled Trial. BMC Geriatrics, 16(1), 34.

Sherrington, C., Fairhall, N., Wallbank, G., Tiedemann, A., Michaleff, Z. A., Howard, K., Clemson, L., Hopewell, S., & Lamb, S. (2020). Exercise for Preventing Falls in Older People Living in the Community: An Abridged Cochrane Systematic Review. British Journal of Sports Medicine, 54(15), 885–891.

Sørensen, L. T., Jørgensen, S., Petersen, L. J., Hemmingsen, U., Bülow, J., Loft, S., & Gottrup, F. (2009). Acute effects of Nicotine and Smoking on Blood Flow, Tissue Oxygen, and Aerobe Metabolism of the Skin And Subcutis. Journal of Surgical Research, 152(2), 224–230.

Takada, S., Yamamoto, Y., Shimizu, S., Kimachi, M., Ikenoue, T., Fukuma, S., et al. (2017). Association between Subjective Sleep Quality and Future Risk of Falls in Older People: Results from LOHAS. The Journals of Gerontology: Series A, 73(9), 1205–1211.

Tsonga, T., Michalopoulou, M., Kapetanakis, S., Giovannopoulou, E., Malliou, P., Godolias, G., & Soucacos, P. (2016). Risk Factors for Fear of Falling in Elderly Patients with Severe Knee Osteoarthritis before and one year after total Knee Arthroplasty. Journal of Orthopaedic Surgery, 24(3), 302–306.

Vakili, V., Taghipour, A., Mosa Farkhani, E., Bahrami, H. R., & Pirizadeh, E. (2019). Risk factors for Falls among Older People: A Population-Based Case-Control Study. Elderly Health Journal, 5(2), 84–91.

Valtorta, N. K., Moore, D. C., Barron, L., Stow, D., & Hanratty, B. (2018). Older Adults' Social Relationships and Health Care Utilization: A Systematic Review. American Journal of Public Health, 108(4), e1–e10.

Vergara, I., Vrotsou, K., Orive, M., Garcia-Gutierrez, S., Gonzalez, N., Las Hayas, C., & Quintana, J. M. (2016). Wrist Fractures and their Impact in Daily Living Functionality on Elderly People: A Prospective Cohort Study. BMC Geriatrics, 16(1), 11.

Wada, M., Takeshima, T., Nakamura, Y., Nagasaka, S., Kamesaki, T., Kajii, E., & Kotani, K. (2017). Association between Smoking and the Peripheral Vestibular Disorder: A Retrospective Cohort Study. Scientific Reports, 7(1), 1–8.

Wang, C.-Y., Fu, S.-H., Wang, C.-L., Chen, P.-J., Wu, F.-L., & Hsiao, F.-Y. (2016). Serotonergic Antidepressant use and the Risk of Fracture: A Population-Based Nested Case–Control Study. Osteoporosis International, 27(1), 57–63.

Wu, H., & Ouyang, P. (2017). Fall Prevalence, Time Trend and its Related Risk Factors among Elderly People in China. Archives of Gerontology and Geriatrics, 73, 294–299.

Yadollahi, M., Zamani, M., Jamali, K., Mahmoudi, A., Rasaee, M. A., & Kashkooe, A. (2019). A Survey of Accidental Fall-Induced Injuries and Mortality in a Central Trauma Hospital in Iran: 2015-2016. Trauma Monthly, 24(2), 1–6.

Yang, N.-P., Hsu, N.-W., Lin, C.-H., Chen, H.-C., Tsao, H.-M., Lo, S.-S., & Chou, P. (2018). Relationship between Muscle Strength and fall Episodes among the Elderly: The Yilan Study, Taiwan. BMC Geriatrics, 18(1), 90.

Yeolekar, A. M., & Yeolekar, M. (2016). Vertigo in the Elderly. Indian Journal of Medical Specialities, 7(1), 23–28.
Funding
Shiraz University of Medical Sciences financially supported this study, Shiraz, Iran. (Grant number: 18241).
Ethics declarations
Ethics Approval and Consent to Participate
The participants were assured that their information is used for research proposes only. Because of the illiteracy of a considerable number of the patients, verbal consent was obtained from the participants. The study protocol was reviewed and approved by the ethical committee of Shiraz University of Medical Sciences.
Consent for Publication
Not Applicable.
Competing Interests
The authors declare no conflict of interest.
Additional information
Publisher's Note
Springer Nature remains neutral with regard to jurisdictional claims in published maps and institutional affiliations.
About this article
Cite this article
Ardaneh, M., Fararouei, M. & Hassanzadeh, J. Factors Contributing to Falls Leading to Fracture among Older Adults. Population Ageing 16, 121–135 (2023). https://doi.org/10.1007/s12062-021-09326-6
Received:

Accepted:

Published:

Issue Date:

DOI: https://doi.org/10.1007/s12062-021-09326-6
Keywords