Abstract
This study examines the dynamics of family management for child care in Korea by measuring the gap between a mother's actual and preferred hours of care. We assumed that there was a significant discrepancy between actual hours and preferred hours spent caring for young children. This gap, a deviation from preferred amount of care hours, may contribute to a mother's psychological stress or emotional frustration, and it is therefore crucial to be able to manage time or financial resources in order to reduce the discrepancy. The study employed data of Korean mothers who are the primary caregivers to their young children (age 0–9) from the 2018 Family Survey for Child Care (n = 484). Preliminary analyses revealed that mothers tended to spend more hours than they would choose to, on child care. The study finds that the working mothers were not very different from non-working mothers in experiencing the gap in care time. We found that the elderly parents' time and resources could play a significant role in decreasing it. This study also showed that income-related factors, household income, mother's income contribution, and mother's autonomy for income management were the most crucial factors in reducing the gap between actual amount of care time and preferred amount of care time.
Access options
Buy single article
Instant access to the full article PDF.
US$ 39.95
Tax calculation will be finalised during checkout.
Subscribe to journal
Immediate online access to all issues from 2019. Subscription will auto renew annually.
US$ 79
Tax calculation will be finalised during checkout.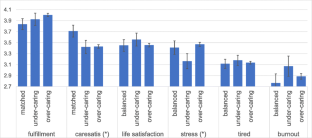 Notes
1.

Remaining children who are not enrolled in the ECEC program are cared by family members (e.g. for child's health or family wants of take care of child at home). Since the "Free Child Care" policy has launched, government has been providing a care allowance to the family member whose child does not attend/receive the care facilities service.
References
Baldassar, L., & Merla, L. (2014). Introduction: Transnational family caregiving through the lens of circulation. In Transnational families, migration and the circulation of care: Understanding mobility and absence in family life (pp. 3–24). Routledge.

Başlevent, C., & Kirmanoğlu, H. (2014). The impact of deviations from desired hours of work on the life satisfaction of employees. Social Indicators Research, 118(1), 33–43.

Baxter, J. (1992). Domestic labour and income inequality. Work, Employment, and Society, 6, 229249.

Becker, G. (1985). Human capital, effort, and the sexual division of labor. Journal of Labor Economics, 3(1), S33–S58.

Bittman, M., England, P., Folbre, N., Sayer, L., & Matheson, G. (2003). When does gender trump money? Bargaining and time in household work. American Journal of Sociology, 109, 186–121.

Böheim, R., & Taylor, M. P. (2004). Actual and preferred working hours. British Journal of Industrial Relations, 42(1), 149–166.

Cantor, M. H. (1979). Neighbors and friends: an overlooked resource in the informal support system. Research on Aging, 1(4), 434–463.

Cha, S.E. (2013) The trend of child care time in Korea. 2013Korean Social Trend (pp.52–61). Deajun: Korean Statistical Office.

Cha, S. E., & Song, Y. J. (2017). Time or money: the relationship between educational attainment, income contribution, and time with children among Korean fathers. Social Indicators Research, 134(1), 195–218.

Cha, S. E., Eun, K. S., Jun, J., & Fisher, K. (2015). Time allocation and work-life balance among Korean married women: comparison with 7 nations in MTUS (Multinational Time Use Studies) data. Journal of Korean Official Statistics, 20(1), 24–48.

Child Care Statistics (2018). Korea Child Care Promotion Institute (retrieved from: https://www.kcpi.or.kr/site/hp3/contents/data_n/reference04_1.jsp

Choi, I. H. (2014). The impact of grandparenting on life satisfaction among female older adults: focusing on the effects of grandmothers' willingness to care and subjective perceptions of grandparenting. Family and Culture, 26(4), 118–138.

Choi, S. W., Yellow Horse, A. J., & Yang, T. C. (2018). Family policies and working women's fertility intentions in South Korea. Asian Population Studies, 14(3), 251–270.

Coltrane, S. (1997). Family man: Fatherhood, housework, and gender equity. New York: Oxford University Press.

Connelly, R., & Kimmel, J. (2009). Spousal influences on parents' non-market time choices. Review of Economics of the Household, 7(4), 361–394.

Costa, D. L. (2000). The wage and the length of the work day: from the 1890s to 1991. Journal of Labor Economics, 18(1), 156–181.

Craig, L. (2007). How employed mothers in Australia find time for both market work and child care. Journal of Family and Economic Issues, 28, 69–87.

Craig, L., & Brown, J. (2016). The multitasking parent: Time penalties, dimensions, and gender differences. In The economics of multitasking (pp. 33–59). New York: Palgrave Macmillan.

Donga News (2019). Afraid of Sole Child Care. retrieved from: http://www.donga.com/news/article/all/20170725/85507428/1

Dotti Sani, G. M., & Treas, J. (2016). Educational gradients in parents' child-care time across countries, 1965–2012. Journal of Marriage and Family, 78(4), 1083–1096.

England, P. (2005). Emerging theories of care work. Annual Review of Sociology., 31, 381–399.

Folbre, N. (2006). Measuring care: Gender, empowerment, and the care economy. Journal of human development, 7(2), 183–199.

Folbre, N. (Ed.). (2012). For love or money: Care provision in the United States. Russell Sage Foundation.

Geist, C., & Ruppanner, L. (2018). Mission impossible? New housework theories for changing Families. Journal of Family Theory & Review, 10(1), 242–262.

Gupta, S. (2006). Her money, her time: women's earnings and their housework hours. Social Science Research, 35(4), 975–999.

Guryan, J., Hurst, E., & Kearney, M. (2008). Parental education and parental time with children. Journal of Economic Perspectives, 22(3), 23–46.

Han, G. (2019). Trends of Family and Households in Korea. Korean Social Trend 2019. Deajun: Korean Statistical Research Institute. http://sri.kostat.go.kr

Henz, U. (2019). Fathers' involvement with their children in the United Kingdom. Demographic Research, 40, 865–896.

Jacobs, J. A., & Gerson, K. (2001). Overworked individuals or overworked families? Explaining trends in work, leisure, and family time. Work and Occupations, 28(1), 40–63.

Jacobs, J. A., & Gerson, K. (2004). The time divide: work, family, and gender inequality. Journal of Industrial Relations, 41(1), 149–166.

Kan, M. Y., & Hertog, E. (2017). Domestic division of labour and fertility preference in China, Japan, South Korea, and Taiwan. Demographic Research, 36, 557–588.

Kang, Y. J. (2011). The psychosocial well-being of grandparents raising their grandchildren: the role of resources, type of care and perception of caregiving. Koran Journal of Population Studies, 34(1), 73–97.

Killewald, A. (2011). Opting out and buying out: wives' earnings and housework time. Journal of Marriage and Family, 73(2), 459–471.

Kim, S., & Jin, M. (2016). Change in factors associated with parental time spent on care of preschoolers and its implication for family policy. Journal of Korean Home Management Association, 34(5), 1~19.

Kim, H., & Kamo, Y. (2018). Women's socioeconomic characteristics and marriage intention in Korea. Presented inn PAA 2018 Annual Meeting. PAA.

Lee, J. (2013). Providing and utilizing child care by grandmothers in South Korea : grandmothers' and employed mothers' relationship experiences. Journal of Korean Home Management Association, 31(2), 1–24.

Moen, P., & DePasquale, N. (2017). Family care work: a policy-relevant research agenda. International Journal of Care and Caring, 1(1), 45–62.

Noh, H. J. (2014). The arrangement of de-familalization and Familialism by class. Social Welfare Policy, 46(3), 213–238.

Otterbach, S. (2010). Mismatches between actual and preferred work time: empirical evidence of hours constraints in 21 countries. Journal of Consumer Policy, 33(2), 143–161.

Pollmann-Schult, M., & Reynolds, J. (2017). The work and wishes of fathers: actual and preferred work hours among German fathers. European Sociological Review, 33(6), 823–838.

Razavi, S. (2007). The political and social economy of care in a development context: Conceptual issues, research questions and policy options (No. 3). United Nations Research Institute for Social Development.

Reynolds, J. (2003). You can't always get the hours you want: mismatches between actual and preferred work hours in the US. Social Forces, 81(4), 1171–1199.

Reynolds, J. (2004). When too much is not enough: Actual and preferred work hours in the United States and abroad. In Sociological Forum (Vol. 19, No. 1, pp. 89–120). Kluwer Academic Publishers-Plenum Publishers.

Sayer, L. C., Bianchi, S. M., & Robinson, J. P. (2004). Are parents investing less in children? Trends in mothers' and fathers' time with children. American Journal of Sociology, 110(1), 1–43.

Song, S. M., Cha, S. E., Choi, Y. H., & Jung, Y. K. (2015). Effects of grandparenting roles and generativity on depression among grandmothers providing care for grandchildren. Korean Journal of Community Living Science, 26(2), 387–403.

Statistics Korea (2019) 2019 Birth and death statistics tentative result summery. Official Report for Media (2020. 02.26).

Stewart, M. B., & Swaffield, J. K. (1997). Constraints on the desired hours of work of British men. The Economic Journal, 107(March), 520–535.

Van Echtelt, P. E., Glebbeek, A. C., & Lindenberg, S. M. (2006). The new lumpiness of work: explaining the mismatch between actual and preferred working hours. Work, Employment and Society, 20(3), 493–512.

Wooden, M., Warren, D., & Drago, R. (2009). Working time mismatch and subjective well-being. British Journal of Industrial Relations, 47(1), 147–179.

Wunder, C., & Heineck, G. (2013). Working time preferences, hours mismatch and well-being of couples: are there spillovers? Labour Economics, 24, 244–252.

Yoon, S. Y. (2016). Is gender inequality a barrier to realizing fertility intentions? Fertility aspirations and realizations in South Korea. Asian Population Studies, 12(2), 203–219.
Acknowledgements
The initial version of this paper was presented in a workshop at the University of Oxford on January 9th, 2020. The authors appreciate the discussant and participants in that workshop for their valuable comments.
Funding
This work was part of Care Work and the Economy Project and it was funded by the William and Flora Hewlett Foundation.
Ethics declarations
Conflict of Interest
The authors declare that they have no conflict of interest.
Ethical Approval
This article used 2018 Family Survey data for Child Care. This survey data was was approved by Seoul National University IRB at June 2018 (IRB code: SNU 1804/003–002).
Additional information
Publisher's Note
Springer Nature remains neutral with regard to jurisdictional claims in published maps and institutional affiliations.
About this article
Cite this article
Cha, SE., Eun, KS. Family Dynamics of Child Care in Korea: Strategies to Relieving the Gap Between Mother's Actual and Preferred Hours of Care. Population Ageing (2021). https://doi.org/10.1007/s12062-020-09321-3
Received:

Accepted:

Published:
Keywords
Actual amount of actual child care time

Preferred amount of care time

Father's contribution

Grandparent's support

Unmet needs

Negotiated obligation