Abstract
The issues of older adults outliving family members and living alone with no family support or existing social networks raise concerns on the health and wellbeing needs of this particular population group. This article explores the concept of orphaned older adults within the healthcare context through an integrative review of literature. The review utilized online health databases and online publishing platforms for grey literature. Eight articles focusing on elder orphans within the healthcare literature were included in this review. Four emerging themes were identified: characteristics of the older adult orphan; healthcare and clinical oversight; older adult orphans' support services; and 'older adult orphan' as an advocacy healthcare terminology. Elder orphans are vulnerable older adults who may have current stable health status, yet are at risk of health-related issues which could hinder their decision making ability in the future. The conceptualization of becoming orphaned in advanced age opens an important dialogue in the healthcare sector and encourages attention from health professionals to consider and to be more aware of this vulnerable population group among older people. It is important that the use of this otherwise non-clinical term defining orphancy in older age or even those at risk be more visible and accepted, for the purpose of clinical assessment and coordination of care for both acute and long-term/community settings. Health professionals and clinicians act as advocates when screening and assessment for older adult orphans are undertaken at all levels and across healthcare settings.
This is a preview of subscription content, log in to check access.
Access options
Buy single article
Instant access to the full article PDF.
US$ 39.95
Price includes VAT for USA
Subscribe to journal
Immediate online access to all issues from 2019. Subscription will auto renew annually.
US$ 99
This is the net price. Taxes to be calculated in checkout.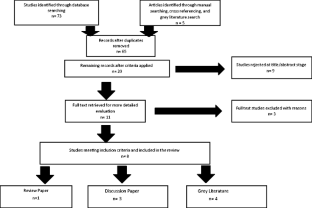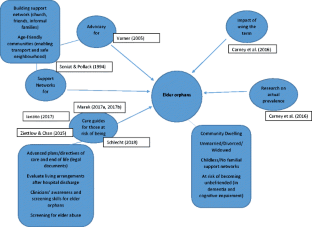 References
Allen, R. S., & Wiles, J. L. (2013). How older people position their late-life childlessness: A qualitative study. Journal Of Marriage & Family, 75(1), 206–220. https://doi.org/10.1111/j.1741-3737.2012.01019.x.

Bagshaw, D., Adams, V., Zannettino, L., & Wendt, S. (2015). Elder mediation and the financial abuse of older people by a family member. Conflict Resolution Quarterly, 32(4), 443–480. https://doi.org/10.1002/crq.21117.

Bull, M. J., & Roberts, J. (2001). Components of a proper hospital discharge for elders. Journal of Advanced Nursing, 35(4), 571–581.

Carney, M. T., Fujiwara, J., Emmert, B. E., Liberman, T. A., & Paris, B. (2016). Elder orphans hiding in plain sight: A growing vulnerable population. Current Gerontology and Geriatrics Research, 2016, 1–11.

Ching-Yu, C. (2006). Living alone: The choice and health of older women. Journal of Gerontological Nursing, 32(9), 16.

Christensen, K., Doblhammer, G., Rau, R., & Vaupel, J. W. (2009). Ageing populations: The challenges ahead. The Lancet, 374(9696), 1196–1208.

Farrell, T. W., Widera, E., Rosenberg, L., Rubin, C. D., Naik, A. D., Braun, U., ... & Shega, J. (2017). AGS position statement: making medical treatment decisions for unbefriended older adults. Journal of the American Geriatrics Society, 65(1), 14.

Geber S. (2018). Are you ready for Solo Agers and Elder Orphans? [Blog]. Retrieved from http://www.asaging.org/blog/are-you-ready-solo-agers-and-elder orphans#.WkT8TI4j5YQ.twitter? platform=hootsuite

Hutchison, B. G. (1993). Critical appraisal of review articles. Canadian Family Physician, 39, 1097.

Ianzito, C. (2017) Elder Orphans: How to Plan for Aging without a Family Caregiver. [Blog] http://www.aarp.org/home-family/caregiving/info-2016/caregiving-tips-when-aging-alone.html?intcmp=CRC-FEED

Johannesen, M., & Logiudice, D. (2013). Elder abuse: A systematic review of risk factors in community-dwelling elders. Age and Ageing, 42(3), 292–298.

Johnstone, M. J. (2014). Caring about the unbefriended elderly. Australian Nursing and Midwifery Journal, 21(9), 20.

Lachs, M. S., & Pillemer, K. (2004). Elder abuse. The Lancet, 364(9441), 1263–1272.

Lubitz, J., Cai, L., Kramarow, E., & Lentzner, H. (2003). Health, life expectancy, and health care spending among the elderly. New England Journal of Medicine, 349(11), 1048–1055.

Marak, C. (2017a). Elder Orphans' Have a Harder Time Aging in Place. [Blog]. Retrieved from https://www.nextavenue.org/elder-orphans-harder-aging-place/?utm_source=sumome&utm_medium=twitter&utm_campaign=sumome_share

Marak, C. (2017b). The Aging & Alone Care Needs & Preferences. Today's Caregiver, 22–23.

McDaniel, J., & Clark, P. (2009). The new adult orphan: Issues and considerations for health care professionals. Journal of Gerontological Nursing, 35(12), 44–49. https://doi.org/10.3928/00989134-20090930-02.

Moye, J., & Naik, A. D. (2011). Preserving rights for individuals facing guardianship. JAMA, 305(9), 936–937.

Moye, J., Catlin, C., Kwak, J., Wood, E., & Teaster, P. B. (2017). Ethical Concerns and Procedural Pathways for Patients Who are Incapacitated and Alone: Implications from a Qualitative Study for Advancing Ethical Practice. In HEC Forum (pp. 1–19). Springer Netherlands.

Penning, M. J., Liu, G., & Chou, P. H. B. (2014). Measuring loneliness among middle-aged and older elders: The UCLA and de Jong Gierveld loneliness scales. Social Indicators Research, 118(3), 1147–1166.

Petersen, M., & Parsell, C. (2015). Homeless for the first time in later life: An Australian study. Housing Studies, 30(3), 368–391.

Podnieks, E., Pillemer, K. N., Phillip, J., Shillington, T., & Frizzel, A. (1990). National survey on abuse of the elderly in Canada: The Ryerson study (Vol. 492). Toronto: Ryerson Polytechnical Institute.

Pope, T. M. (2014). Legal briefing: Elder orphans and the Unbefriended: Making medical decisions for unrepresented patients without surrogates. The Journal of Clinical Ethics, 26(2), 180–188.

Professional news. (2002). Bed blocking campaign could mean older people are dying alone. British Journal of Nursing, 11(17), 1117.

Revealed: Sad plight of the thousands of elderly left alone in homes 'without letters, visits or calls' in their final years (2010). Daily Mail Australia. Retrieved from http://www.dailymail.co.uk/news/article-1328425/Thousands-elderly-left-homes-letters-visits-calls-final-years.html

Schlecht, A. (2018). More people aging alone as 'elder orphans'. In The Olympian Retrieved from http://www.theolympian.com/news/local/article192820524.html.

Shaw, B. A., Fors, S., Fritzell, J., Lennartsoon, C., & Agahi, N. (2017). Who lives alone during old age? Trends in the social and functional disadvantages of Sweden's solitary living older adults. Research on Aging, 01640275177.

Soniat, B., & Pollack, M. (1994). Elderly orphans with Alzheimer's disease: Non-traditional support systems. Clinical Gerontologist, 14(1), 33–44.

Torraco, R. J. (2005). Writing integrative literature reviews: Guidelines and examples. Human Resource Development Review, 4(3), 356–367.

Varner, J. (2005). The elder orphans: Who are they? The Alabama Nurse, 32(3), 19.

Walker, C., Hogstel, M., & Curry, L. (2007). For CE credit: Hospital discharge of older elders. The American Journal of Nursing, 107(6), 60–71.

Whittemore, R., & Knafl, K. (2005). The integrative review: Update methodology. Journal of Advanced Nursing, 52(5), 546–553.

World Health Organization (2016). World health statistics 2016: Monitoring health for the SDGs sustainable development goals. World Health Organization.

Ziettlow, A. & Cahn, N. (2015). The future of elder orphans [The Blog of the Institute of Family Studies]. Retrieved from https://ifstudies.org/blog/the-future-of-elder-orphans
Ethics declarations
Conflict of Interest
The authors declare no conflict of interest.
About this article
Cite this article
Montayre, J., Montayre, J. & Thaggard, S. The Elder Orphan in Healthcare Settings: an Integrative Review. Population Ageing 12, 515–532 (2019). https://doi.org/10.1007/s12062-018-9222-x
Received:

Accepted:

Published:

Issue Date:
Keywords
Elder orphans

Health and social support services

Caregiving

Older adult assessment