Abstract
In the scientific and the public debate demographic ageing is sometimes perceived as an unstoppable "grey tide" which will inevitably lead to a conflict between the old and young generation. In this paper we empirically evaluate whether we find any evidence for an intergenerational conflict in Europe and which factors might influence its severity. In particular, we answer the following questions. (1) Is there a conflict between the interests of the younger and the older generation? (2) Does the strength of the conflict increase with population ageing? And finally, (3) can a policy of Active Ageing, i.e. better integrating older generations into society, moderate the conflict? We answer these questions in a comparative study of 27 European countries using data from the Eurobarometer 2009. Our results show a moderate conflict between generations. Compared to spending preferences of the younger generation, older people are more likely to support increased spending for old age at the expense of educational spending. Contrary to expectation, generational conflict does not increase with population ageing. Linking country differences in the strength of the generational conflict to the degree of population ageing with multilevel regression techniques we do not find any evidence that the conflict is increasing In a final step of our analysis we evaluate the potential of generational policies - measured with the Active Aging Index - to mitigate the generational conflict. Intergenerational conflict is weaker when older people actively participate in the political life and are visible in society, suggesting Active Aging policies as a means to mitigate intergenerational conflict
This is a preview of subscription content, log in to check access.
Access options
Buy single article
Instant access to the full article PDF.
US$ 39.95
Price includes VAT for USA
Subscribe to journal
Immediate online access to all issues from 2019. Subscription will auto renew annually.
US$ 99
This is the net price. Taxes to be calculated in checkout.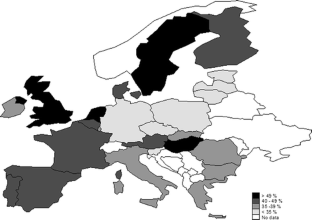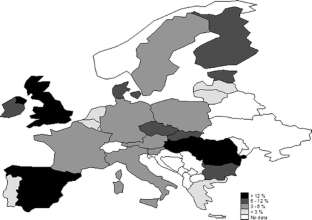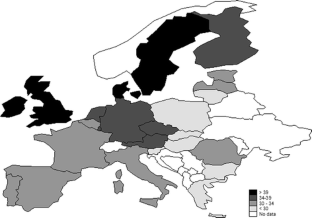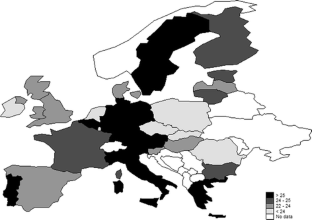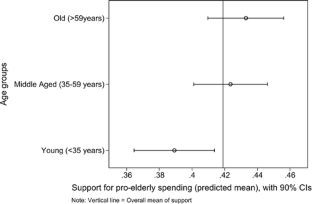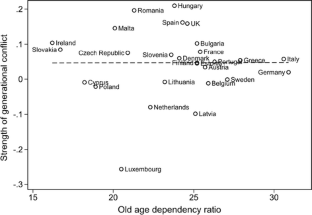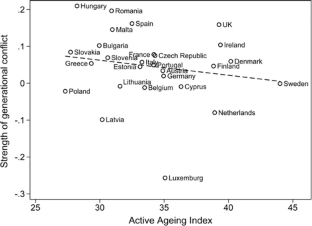 Notes
1.

1Consisting of four sub-indexes it ranges from 0 to 100. The higher the scores the older people participate in employment and social activities and the higher is their capacity to actively age. The four sub-indices are: Employment, Participation in Society, Independent, Healthy and Secure Living, and Capacity for Active Ageing. Indicators for the first sub-index are employment rate of older workers. The second is measured by indictors in the field of voluntary activities. The Independent, Healthy and Secure Living sub-index summarizes different indictors in the area of health and income. The last sub-index consists of life-expectancy and educational indicators. These four sub-indexes are added up to the overall AAI.
References
Berry, C. (2014). Young people and the ageing electorate: breaking the unwritten rule of representative democracy. Parliamentary Affairs, 67(3), 708–725.

Bonoli, G., & Häusermann, S. (2009). Who wants what from the welfare state? European Societies, 11(2), 211–232.

Busemeyer, M. R., Goerres, A., & Weschle, S. (2009). Attitudes towards redistributive spending in an era of demographic ageing: the rival pressures from age and income in 14 OECD countries. Journal of European Social Policy, 19(3), 195–212.

D'Addio, A. C., Keese, M., & Whitehouse, E. (2010). Population ageing and labour markets. Oxford Review of Economic Policy, 26(4), 613–635.

Emery, T. (2012). Intergenerational conflict: evidence from Europe. Journal of Population Ageing, 5(1), 7–22.

Esping-Andersen, G., & Sarasa, S. (2002). The generational conflict reconsidered. Journal of European Social Policy, 12(1), 5–21.

European Commission (2009): The 2009 Ageing Report: economic and budgetary projection for the EU-27 Member States (2008–2060). Luxembourg: Office for Official Publications of the European Communities.

Eurostat (2015): The EU in the World. Luxembourg: Office for Official Publications of the European Communities.

Fong, C. M., Bowles, S., & Gintis, H. (2005). Reciprocity and the welfare state. In H. Gintis (Ed.), Moral sentiments and material interests. The foundations of cooperation in economic life (pp. 277–302). Cambridge: MIT Press.

Goerres, A. (2008). Reforming the Welfare state in times of grey majorities: the myth of an oppositin between younger and older voters in Germany. German Policy Studies 4(3):131--156.

Goerres, A., & Prinzen, K. (2012). Using mixed methods for the analysis of individuals. A review of necessary and sufficient conditions and an application to welfare state attitudes. Quality & Quantity, 46, 415–450.

Goerres, A., & Tepe, M. (2010). Age-based self-interest, intergenerational solidarity and the welfare state: a comparative analysis of older people's attitudes towards public childcare in 12 OECD countries. European Journal of Political Research, 49(6), 818–851.

Hofäcker, D., Hess, M., & Naumann, E. (2015). Changing retirement transitions in times of paradigmatic political change: towards growing inequalities? In C. Torp (Ed.), Challenges of aging: retirement, pensions, and intergenerational justice (pp. 205–226). Houndmills: Palgrave Macmillan.

Hox, J. J. (2010). Multilevel analysis: techniques and applications. New York. NY: Routledge.

Iversen, T., & Soskice, D. (2001). An asset theory of social policy preferences. American Political Science Review, 95, 875–893.

Jaeger, M. M. (2013). The effect of macroeconomic and social conditions on the demand for redistribution: A pseudo panel approach. Journal of European Social Policy, 23(2), 149--163.

Keck, W., & Blome, A. (2008). Is there generational cleavage in Europe?: age-specific perceptions of elderly care and of the pension system. In J. Alber, T. Fahey, & C. Saraceno (Eds.), Handbook of quality of life (pp. 73–99). London: Routledge.

Kinder, D. R., & Kiewiet, D. R. (1981). Sociotropic politics: the American case. British Journal of Political Science, 11(02), 129–161.

Kohli, M. & Kühnemund, H. (2005): Die zweite Lebenshälfte. Gesellschaftliche Lage und Partizipation im Spiegel des Alters-Survey. Wiesbaden: VS Verlag für Sozialwissenschaften.

Kotlikoff, J., & Burns, S. (2004). The Coming of a Storm. Cambridge: MIT Press.

Lain, D. & Vickerstaff, S. (2014): Working beyond retirement age: lessons for policy. In Harper, S., & Hamblin, K. (Eds.). (2014). International handbook on ageing and public policy (pp. 242–255). Edward Elgar Publishing.

Luttmer, E. F. P., & Singhal, M. (2011). Culture, context, and the taste for redistribution. American Economic Journal-Economic Policy, 3(1), 157–179.

Mau, S. (2004). The moral economy of welfare states: Britain and Germany compared. London: Routledge.

Mau, S., & Veghte, B. (2007). Social justice, legitimacy and the welfare state. Aldershot: Ashgate Publishing Ltd.

Mehlkop, G., & Neumann, R. (2012). The explanation of preferences for family benefits. Empirical evidence of the interplay between rational choice and attitudes towards family and children. Zeitschrift für Soziologie, 41(3), 182–206.

Moody, H. R. (2006). Aging: concepts and controversies. Thousand Oaks: Pine Forge Press.

Naumann, E. (2014a): Raising the retirement age: retrenchment, feedback and attitudes. In Kumlin, S. & Stadelmann-Steffen, I. (Eds.). How welfare states shape the democratic public: policy feedback, participation, voting and attitudes (pp. 223–243). Edward Elgar Publishing.

Naumann, E. (2014b). Increasing conflict in times of retrenchment? Attitudes towards healthcare provision in Europe between 1996 and 2002. International Journal of Social Welfare, 23, 276–286.

Naumann, E. (2016). Do increasing reform pressures change welfare state preferences? An experimental study on population ageing, pension reform preferences, political knowledge and ideology. Ageing& Society. doi:10.1017/ S0144686X15001129.

OECD. (2011): Pensions at a Glance 2011: Retirement-income Systems in OECD and G20 Countries. OECD.

Pierson, P. (2001). The new politics of the welfare state. Oxford: Oxford University Press.

Sachweh, P. (2012). The moral economy of inequality. Popular views on income differentiation, poverty, and wealth. Socio-Economic Review, 10(3), 419–445.

Street, D., & Cossman, J. (2006). Greatest generation or greedy geezers? Social spending preferences and the elderly. Social Problems, 53(1), 75–96.

Svallfors, S. (1997). Worlds of welfare and attitudes to redistribution: a comparison of eight western nations. European Sociological Review, 13(3), 283–304.

Svallfors, S. (2008). The generational contract in Sweden: age-specific attitudes to age-related policies. Policy and Politics, 36(3), 381–396.

Tepe, M., & Vanhuysse, P. (2009). Are aging OECD welfare states on the path to gerontocracy? Evidence from 18 democracies, 1980–2002. Journal of Public Policy, 29(1), 1–28.

Walker, A., & Maltby, T. (2012). Active ageing: a strategic policy solution to demographic ageing in the European Union. International Journal of Social Welfare, 21, 117–130.

Wendt, C., Mischke, M., & Pfeifer, M. (2011). Welfare states and public opinion: perceptions of healthcare systems, family policy and benefits for the unemployed and poor in Europe. Cheltenham: Edward Elgar.

Wilke, C., & Börsch-Supan, A. (2009). Zur mittel- und langfristigen Entwicklung der Erwerbstätigkeit in Deutschland. Zeitschrift für Arbeitsmarktforschung, 41(1), 29–48.

Wlezien, C. (1995). The public as thermostat - dynamics of preferences for spending. American Journal of Political Science, 39(4), 981–1000.

Zaidi, A., Gasior, K., Hofmarcher, M., Lelkes, O., Marin, B., Rodrigues, R., Schmidt, A., Vanhuysse, P., & Zolyomi, E. (2012). Active ageing index 2012: concept, methodology and final results. Vienna: European Centre Vienna.
Electronic supplementary material
About this article
Cite this article
Hess, M., Nauman, E. & Steinkopf, L. Population Ageing, the Intergenerational Conflict, and Active Ageing Policies – a Multilevel Study of 27 European Countries. Population Ageing 10, 11–23 (2017). https://doi.org/10.1007/s12062-016-9161-3
Received:

Accepted:

Published:

Issue Date:
Keywords
Intergenerational conflict

Active aging

AAI

Ageing societies

Pension policies

Eurobarometer