Abstract
Between 2009 and 2011, fieldwork was undertaken for the first wave of the Irish Longitudinal Study on Ageing (TILDA). Extensive information was collected on about 8,500 individuals aged 50 and over and living in Ireland, covering topics such as economic circumstances and health. One of the features of Ireland's older population is the remarkably high proportion of returned migrants, that is, former emigrants who have returned to live in Ireland. This is reflected in the TILDA sample with over 20 % being returned migrants. Given the large number of returned migrants in the TILDA sample and the fact that the respondents are older, it has been possible to use the data to provide insights into different dimensions of migration at different points in the life-cycle. This paper provides a review of this work to date. Three issues are addressed. First, what circumstances contributed to the decision to emigrate? Second, was there evidence that living away produced psychological stress? Third, do return migrants suffer from social isolation on their return? The data suggest that the return migrants were more likely to have suffered abuse as children, to have been more prone to alcohol problems and to be more socially isolated currently.
Access options
Buy single article
Instant access to the full article PDF.
US$ 39.95
Tax calculation will be finalised during checkout.
Subscribe to journal
Immediate online access to all issues from 2019. Subscription will auto renew annually.
US$ 79
Tax calculation will be finalised during checkout.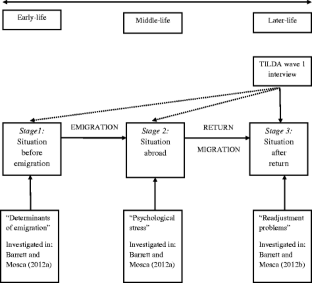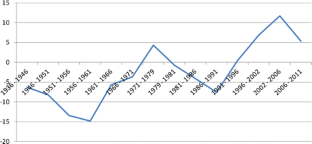 Notes
1.

Migrants who were diagnosed before migration are excluded from the sample.

2.

In TILDA self-completion questionnaire, respondents are asked to state: 1) if they ever felt that they should cut down on drinking (cut); 2) if people have ever annoyed them by criticizing their drinking (annoyed); 3) if they ever felt bad or guilty about drinking (guilty); 4) if they have ever taken a drink first thing in the morning to steady their nerves or get rid of an hangover (eye-opener). The test score varies from a minimum of zero to a maximum of four: zero if the respondent answers no to all the fours questions, four in the opposite case.

3.

This index includes four components, expressed in terms of dichotomous variables: a) one if the individual is married or cohabiting, zero otherwise; b) one if the individual has at least two children, relatives or friends she feels close to, zero otherwise; c) one if the individual attends religious services at least once per month; zero otherwise; d) one if the individual participates in any groups (such as a sports or social group or club, a voluntary association, a self-help or charitable body), zero otherwise. Each connection type is scored either zero or one and the four scores are summed to create four levels (0–4) of social connection or engagement: most isolated (0–1), moderately isolated (2), moderately integrated (3) and most integrated (4).

4.

Four negatively-worded questions and one positively-worded question are used: how often do you feel lack of companionship? How often do you feel left out? How often do you feel isolated from others? How often do you feel lonely? How often do you feel in tune with the people around you? The frequency of the outcome variable is assessed as: hardly ever or never; some of the time; or often.
References
Aichberger, M. C., Schouler-Ocak, M., Mundt, A., et al. (2010). Depression in middle-aged and older first generation migrants in Europe: results from the Survey of Health, Ageing and Retirement in Europe (SHARE). European Psychiatry, 25(8), 468–475.

Barrett, A. (2005). Irish migration: characteristics, causes and consequences. In K.F. Zimmermann (Ed.), European Migration: What Do We Know? (pp. 89–112). Oxford: Oxford University Press.

Barrett, A., & Goggin, J. (2010). Returning to the question of a wage premium for returning migrants. National Institute Economic Review, 213(1), 43–51.

Barrett, A., & Mosca, I. (2012a). The psychic costs of migration: evidence from Irish return migrants. Journal of Population Economics. doi:10.1007/s00148-012-0438-4.

Barrett, A., & Mosca, I. (2012b). Social isolation, loneliness and return migration: evidence from older Irish adults. IZA Discussion Paper 6331. http://ftp.iza.org/dp6331.pdf. Accessed 8 January 2013.

Berkman, L. F., & Syme, S. L. (1979). Social networks, host resistance, and mortality: a nine-year follow-up study of Alameda County residents. American Journal of Epidemiology, 109, 186–204.

Bhugra, D. (2004). Migration and mental health. Acta Psychiatrica Scandinavica, 109, 243–258.

Bovenkerk, F. (1973). On the causes of Irish emigration. Sociologia Ruralis, 13, 263–275.

Cerase, F. P. (1967). A study of Italian migrants returning from the U.S.A. International Migration Review, 1(3), 67–74.

Cerase, F. P. (1970). Nostalgia or disenchantment: considerations on return migration. In S. M. Tomasi & M. H. Engel (Eds.), The Italian experience in the US (pp. 217–239). New York: Center for Migration Studies.

Cerase, F. P. (1974). Expectations and reality: A case study of return migration from the United States to Southern Italy. International Migration Review, 26, 245–262.

Christou, A. (2006). American dreams and European nightmares: experiences and polemics of second-generation Greek-American returning migrants. Journal of Ethnic and Migration Studies, 32(5), 831–845.

Cochrane, B., & Bal, S. S. (1989). Mental hospital admission rates of migrants to England: a comparison of 1971 and 1981. Social Psychiatry and Psychiatric Epidemiology, 24(1), 2–11.

Coid, J. W., Kirkbride, J. B., Barker, D., et al. (2008). Raised incidence rates of all psychoses among migrant groups: findings from the East London first episode psychosis study. Archives of General Psychiatry, 65(11), 1250–1258.

Commander, M. J., Odell, S., Sashidharan, S. P., & Surtees, P. G. (1999). Psychiatric morbidity in people born in Ireland. Social Psychiatry and Psychiatric Epidemiology, 34(11), 565–569.

Conroy, R. M., Golden, J., Jeffares, I., et al. (2010). Boredom-proneness, loneliness, social engagement and depression and their association with cognitive function in older people: a population study. Psychology, Health & Medicine, 15(4), 463–473.

Constable, N. (1999). At home but not at home: Filipina narratives of ambivalent returns. Cultural Anthropology, 14(2), 203–228.

Delaney, L., Fernihough, A., & Smith, J. (2011). Exporting poor health: the Irish in England. RAND Working Paper WR-863. http://www.rand.org/content/dam/rand/pubs/working_papers/2011/RAND_WR863.pdf. Accessed 11 December 2012.

Efstratios, L., Anastasios, M., & Anastasios, K. (2012). Return migration: evidence from a reception country with a short migration history. European Urban and Regional Studies. doi:10.1177/0969776412444507.

Geary, P. T., & O'Grada, C. (1989). Post-war migration between Ireland and the United Kingdom: Models and estimates. In I. Gordon & A. P. Thirwall (Eds.), European Factor mobility: trends and consequences. London: McMillan.

Glass, T. A., De Leon, D. F., Bassuk, S. S., et al. (2006). Social engagement and depressive symptoms in late life: longitudinal findings. Journal of Aging and Health, 18(4), 604–628.

Gmelch, G. (1986). The readjustment of return migrants in Western Ireland. In R. King (Ed.), Return migration and regional economic problems (pp. 152–170). London: Croom Helm.

Gmelch, G. (1987). Return migration to rural Ireland. In H. Buechler (Ed.), Migrants in Europe: the role of family, labor and politics (pp. 265–282). Westport: Greenwood Press.

Grenade, L., & Boldy, D. (2008). Social isolation and loneliness among older people: issues and future challenges in community and residential settings. Australian Health Review, 32(3), 468–478.

Harrison, L., & Carr-Hill, R. (1992). Alcohol and disadvantage among the Irish in Britain. London: Federation of Irish Societies.

Hawkley, L. C., Thisted, R. A., Masi, C. M., et al. (2010). Loneliness predicts increased blood pressure: 5-year cross-lagged analyses in middle-aged and older adults. Psychology and Aging, 25(1), 132–141.

Hughes, J. G., & Walsh, B. M. (1976). Migration flows between Ireland, the United Kingdom and the rest of the world, 1966-71. European Demographic Information Bulletin, 7, 125–149.

King, R. (1986). Return migration and regional economic development: An overview. In R. King (Ed.), Return migration and regional economic problems (pp. 1–37). London: Croom Helm.

Kitchens, J. M. (1994). Does this patient have an alcohol problem? Journal of the American Medical Association, 272(22), 1782–1787.

Labrianidis, L., & Kazazi, B. (2006). Albanian return migrants from Greece and Italy: their impact upon spatial disparities within Albania. European Urban and Regional Studies, 13(1), 59–74.

Leavey, G., Sembhi, S., & Livingston, G. (2004). Older Irish migrants living in London: identity, loss and return. Journal of Ethnic and Migration Studies, 30(4), 763–779.

Long, L., & Oxfeld, E. (2004). Coming home: refugees, migrants and those who stayed behind. Philadelphia: University of Pennsylvania Press.

Mayfield, D., McLeod, G., & Hall, P. (1974). The CAGE questionnaire: validation of a new alcoholism screening instrument. The American Journal of Psychiatry, 131(10), 1121–1123.

McGrath, F. (1991). The economic, social and cultural impacts of return migration to Achill Island. In R. King (Ed.), Contemporary Irish migration. Dublin: Geographical Society of Ireland.

Mullen, K., Williams, R., & Hunt, K. (1996). Irish descent, religion, and alcohol and tobacco use. Addiction, 91(2), 243–254.

Nazroo, J. (1997). Ethnicity and mental health. London: P.S.I.

Ni Laoire, C. (2007). The 'green green grass of home'? Return migration to rural Ireland. Journal of Rural Studies, 23, 332–344.

Ni Laoire, C. (2008). Complicating host-newcomer dualisms: Irish return migrants as home-comers or newcomers? Translocations: Migration and Social Change, 4(1), 35–50.

O'Grada, C., & Walsh, B. M. (1994). The economics effects of emigration: Ireland. In B. J. Ash (Ed.), Emigrations and its effects on the sending country. Santa Monica: RAND.

O'Luanaigh, C., & Lawlor, B. A. (2008). Loneliness and the health of older people. International Journal of Geriatric Psychiatry, 23, 1213–1221.

Oblak-Flander, A. (2011). Population and Social Conditions. Eurostat statistics in focus, 1/2011.

Odegaard, O. (1932). Emigration and insanity. Acta Psychiatrica Neurologica, 4(1), 206.

Pearson, M., Madden, M., & Greenslade, L. (1991). Generations of an invisible minority: the health and well-being of the Irish in Britain. Liverpool: Institute of Irish Studies.

Rodriguez, C. J., Elkind, M. S., Clemow, L., et al. (2011). Association between social isolation and left ventricular mass. American Journal of Medicine, 124(2), 164–170.

Russell, D. (1996). The UCLA loneliness scale (Version 3): reliability, validity, and factor structure. Journal of Personality Assessment, 66, 20–40.

Ryan, L. (2004). Family matters: (e)migration, familial networks and Irish women in Britain. The Sociological Review, 52(3), 351–370.

Ryan, L. (2008). Becoming nurses: Irish women, migration and identity through the life course. In L. Ryan & W. Webster (Eds.), Gendering migration: masculinity, femininity and ethnicity in post-war Britain (pp. 121–135). Aldershot: Ashgate.

Seeman, T., Miller-Martinez, D., Stein-Merkin, S., et al. (2010). Histories of social engagement and adult cognition in middle and late life: the Midlife in the U.S. study. The Journal of Gerentology, 66B(suppl 1), 141–152.

Silveira, E., Skoog, I., Sundh, V., et al. (2002). Health and well-being among 70-year-old migrants living in Sweden - results from the H 70 gerontological and geriatric population studies in Gotenborg. Social Psychiatry and Psychiatric Epidemiology, 37, 13–22.

Sinclair, I., Parker, R., Leat, D., et al. (1990). The kaleidoscope of care: a review of research on welfare provision for elderly people. London: HMSO.

Sirven, N., & Debrand, T. (2008). Social participation and healthy ageing: an international comparison using SHARE data. Social Science & Medicine, 67, 2017–2026.

Sjaastad, L. (1962). The costs and returns of human migration. Journal of Political Economy, 70, 80–93.
About this article
Cite this article
Barrett, A., Mosca, I. Early-life Causes and Later-life Consequences of Migration: Evidence from Older Irish Adults. Population Ageing 6, 29–45 (2013). https://doi.org/10.1007/s12062-012-9078-4
Received:

Accepted:

Published:

Issue Date:
Keywords
Early-life causes

Later-life consequences

Return migrants

Older adults

Ireland