Abstract
Environmental equity (EE) has become internationally recognized as an important research field, but in Japan limited quantitative research is available. In this paper we report the results of a quantitative study that tested whether objective and perceived accessibility to parks is disproportionately distributed between the affluent and the poor in Osaka Prefecture, Japan. Perceived accessibility is considered to be a more accurate accessibility measure which reflects the socio-cultural background of people. We find inequities in both accessibility measures, and using multiple logistic regression analysis, we clarified that perceived accessibility is shaped by a range of factors (i.e., income level, objective accessibility to parks, and people's perceptions of traffic accidents, crime, and the level of scenic beauty in the neighboring area). Our results provide some insight into remediation measures for the environmental inequity of perceived accessibility. Simply establishing a new urban park may not sufficiently increase the perceived accessibility of socioeconomically deprived groups. Identifying the underlying mechanisms that could explain how poverty-related factors undermine the perceived park accessibility or improving the quality of neighboring area are also important to ensure the effectiveness of remediation measures.
Access options
Buy single article
Instant access to the full article PDF.
US$ 39.95
Tax calculation will be finalised during checkout.
Subscribe to journal
Immediate online access to all issues from 2019. Subscription will auto renew annually.
US$ 79
Tax calculation will be finalised during checkout.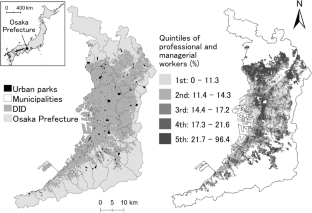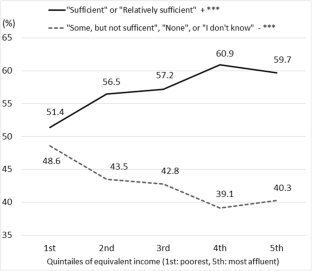 References
Ball, K., Jeffery, R. W., Crawford, D. A., Roberts, R. J., Salmon, J., & Timperio, A. F. (2008). Mismatch between perceived and objective measures of physical activity environments. Preventive Medicine, 47(3), 294–298.

Bates, D., Mächler, M., Bolker, B. M., & Walker, S. C. (2015). Fitting linear mixed-effects models using lme4. Journal of Statistical Software, 67(1), 1–48.

Been, V. (1994). Locally undesirable land uses in minority neighborhoods: Disproportionate siting or market dynamics? The Yale Law Journal, 103(6), 1383–1422.

Bullard, R. D. (1990). Dumping in Dixie: Race, class, and environmental quality. Boulder: Westview.

Bullard, R. D., & Wright, B. H. (1987). Blacks and the environment. Humboldt Journal of Social Relations, 14(1/2), 165–184.

Dalton, A. M., Wareham, N., Griffin, S., & Jones, A. (2016). Neighbourhood greenspace is associated with a slower decline in physical activity in older adults: A prospective cohort study. SSM -Population Health, 2, 683–691.

Dougherty, G., Pless, I. B., & Wilkins, R. (1990). Social class and the occurrence of traffic injuries and deaths in urban children. Canadian Journal of Public Health, 81, 204–209.

Dunlap, R., & Mertig, A. G. (1992). American environmentalism: The US environmental movement, 1970–1990. New York: Taylor & Francis.

Environmental Protection Agency (1992). Environmental equity: Reducing risk for all communities. Washington, DC: USEPA.

ESRI. 2018. http://desktop.arcgis.com/en/arcmap/latest/extensions/network-analyst/service-area.htm. Last accessed on 10th April 2019.

Fujikawa, K. (2016). Reconstruction of community life in the villages near Fukushima nuclear plant after the lifting of the evacuation order: From the standpoint of environmental justice. Bulletin of Institute of Sociology and Social Work, Meiji Gakuin University, 46, 149–161 (in Japanese).

General Accounting Office (1983). Siting of hazardous waste landfills and their correlation with racial and economic status of surrounding communities, GAO/RCED83-168. Washington, DC: United States General Accounting Office.

Geospatial Information Authority of Japan. 2018. http://nlftp.mlit.go.jp/ksj/gml/datalist/KsjTmplt-P13.html. Last accessed on 15th April 2019.

Hanibuchi, T., Kawachi, I., Nakaya, T., Hirai, H., & Kondo, K. (2011). Neighborhood built environment and physical activity of Japanese older adults: Results from the Aichi Gerontological Evaluation Study (AGES). BMC Public Health, 11, 657.

Harada, M. (2007). Toward revival of Minamata. Tokyo: Nippon Hyoron Sha (in Japanese).

Hilsdon, M., Coombes, E., Griew, P., & Jones, P. (2015). An assessment of the relevance of the home neighbourhood for understanding environmental influences on physical activity: How far from home do people roam? International Journal of Behavioral Nutrition and Physical Activity, 12(100), 100.

Hirata, F. (2004). Creation of urban green spaces. Tokyo: Asakura Press (in Japanese).

Iijima, N. (1984). Environmental problems and the victims' movement. Tokyo: Gakubunsha (in Japanese).

Ikuta, S. (2007). Environmental justice and communal language: Examining the discourse of the Mimai-kin contract over Minamata disease. Kanazawa Law Review, 49(2), 115–135 (in Japanese).

Jones, A. P., Brainard, J., Bateman, I. J., & Lovett, A. A. (2009a). Equity of access to public parks in Birmingham, England. Environmental Research Journal, 3(2), 237–256.

Jones, A. P., Hillsdon, M., & Coombes, E. (2009b). Greenspace access, use, and physical activity: Understanding the effects of area deprivation. Preventive Medicine, 49(6), 500–505.

Kaczynski, A. T., Potwarka, L. R., Smale, B. J. A., & Havitz, M. E. (2009). Association of Parkland proximity with neighborhood and park-based physical activity: Variations by gender and age. Leisure Science, 31(2), 174–191.

Kajita, T. (1988). Technocracy and social movement: Sociology of countervailing complementarity. Tokyo: University of Tokyo Press (in Japanese).

Kaplan, R. (1993). The role of nature in the context of the workplace. Landscape and Urban Planning, 26, 193–201.

Kendrick, D. (1993). Prevention of pedestrian accidents. Archives of Disease in Childhood, 68, 669–672.

Maas, J., Verheij, R. A., Groenewegen, P. P., Vries, S. D., & Spreeuwenberg, P. (2006). Green space, urbanity, and health: How strong is the relation? Journal of Epidemiology & Community Health, 60, 587–592.

Maas, J., Verheij, R. A., de Vries, S., Spreeuwenberg, P., Schellevis, F. G., & Groenewegen, P. P. (2009). Morbidity is related to a green living environment. Journal of Epidemiology & Community Health, 63, 967–973.

Montolio, D., & Planells-Struse, S. (2015). When police patrols matter. The effect of police proximity on citizens' crime risk perception. Journal of Economic Psychology, 50, 73–93.

Nakamata, T., & Abe, T. (2016). The effects of security camera, past littering, environment, and signboards on littering prevention. The Japanese Journal of Psychology, 87(3), 219–228 (in Japanese).

Nakaya, T. (2011). Health and place: A review of neighbourhood studies of geographical inequalities in health. Japanese Journal of Human Geography, 63(4), 360–377 (in Japanese).

O'Neill, M. S., Jerrett, M., Kawachi, I., Levy, J. I., Cohen, A. J., Gouveia, N., Wilkinson, P., Fletcher, T., Cifuentes, L., & Schwartz, J. (2003). Health, wealth, and air pollution: Advancing theory and methods. Environmental Health Perspective, 111(16), 1861–1870.

Orru, K., Nordin, S., Harzia, H., & Orru, H. (2018). The role of perceived air pollution and health risk perception in health symptoms and disease: A population-based study combined with modelled levels of PM10. International Archives of Occupational and Environmental Health, 91(5), 581–589.

Osaka Prefectural Government. 2012. Questionnaire for green spaces in Osaka Prefecture. http://www.pref.osaka.lg.jp/kannosomu/midoritorikumi/index.html. Last accessed on 10th March 2019.

Parks, S., Housemann, R., & Brownson, R. (2003). Differential correlates of physical activity in urban and rural adults of various socioeconomic backgrounds in the United States. Journal of Epidemiology and Community Health, 57(1), 29e35.

Pearce, D. W. (2006). Framework for assessing the distribution of environmental quality. In Y. Serret & N. Johnstone (Eds.), The distributional effects of environmental policy (pp. 23–78). Cheltenham: Edward Elgar.

Pearce, J. R., Richardson, E. A., Mitchell, R. J., & Shortt, N. K. (2010). Environmental justice and health: The implications of the socio-spatial distribution of multiple environmental deprivation for health inequalities in the United Kingdom. Transactions of the Institute of British Geographers, 35, 522–539.

Peña-García, A., Hurtado, A., & Aguilar-Luzón, M. C. (2015). Impact of public lighting on pedestrians' perception of safety and well-being. Safety Science, 78, 142–148.

Rankavat, S., & Tiwari, G. (2016). Pedestrians risk perception of traffic crash and built environment features – Delhi, India. Safety Science, 87, 1–7.

Rothman, L., Buliung, R., To, T., Macarthur, C., Macpherson, A., & Howard, A. (2015). Associations between parents' perception of traffic danger, the built environment and walking to school. Journal of Transport & Health, 2(3), 327–335.

Saha, R., & Mohai, P. (2005). Historical context and hazardous waste facility siting: Understanding temporal patterns in Michigan. Social Problems, 52, 618–648.

Shimada, T., Suzuki, M., & Harada, Y. (2004). Fear of crime and perceived risk: The causes and structures. Japanese Journal of Sociological Criminology, 29, 51–64 (in Japanese).

Shoji, H., & Miyamoto, K. (1964). Tremendous pollution. Tokyo: Iwanami Shoten (in Japanese).

Sister, C., Wilson, J., & Wolch, J. (2007). The green visions plan for 21st century Southern California. 15. Park congestion and strategies to increase park equity. California: University of Southern California GIS Research Laboratory and Center for Sustainable Cities.

Takano, T., Nakamura, K., & Watanabe, M. (2002). Urban residential environments and senior citizens' longevity in megacity areas: The importance of walkable green spaces. Journal of Epidemiology and Community Health, 56(12), 913–918.

Talen, E., & Anselin, L. (1998). Assessing spatial equity: An evaluation of measures of accessibility to public playgrounds. Environment and Planning A, 30(4), 595–613.

Tanaka, K. (2001). An evaluation of living convenience based on accessibility by individual attributes: A case study in Iwaki City, Fukushima prefecture. Geographical Review of Japan Series A, 74(5), 264–286 (in Japanese).

Terada, R. (2006). Social construction and the environmental justice framing among residents' activism against an industrial waste landfill site. Meiji University Journal of Psycho-Sociology, 1, 34–50 (in Japanese).

Uesugi, M., & Yasumoto, S. (2018). Disparities in accessibility to neighborhood facilities from perspectives of socio-economic residential segregation in Japanese metropolitan area. Journal of the City Planning Institute of Japan, 53(3), 311–318 (in Japanese).

Van den Berg, M., Van Poppel, M., Van Kamp, I., Andrusaityte, S., Balseviciene, B., Cirach, M., Danileviciute, A., Ellis, N., Hurst, G., Masterson, D., Smith, G., Triguero-Mas, M., Uzdanaviciute, I., De Wit, P., Van Mechelen, W., Gidlow, C., Grazuleviciene, R., Nieuwenhuijsen, M. J., Kruize, H., & Maas, J. (2016). Visiting green space is associated with mental health and vitality: A cross-sectional study in four European cities. Health & Place, 38, 8–15.

Verbeek, T. (2018). The relation between objective and subjective exposure to traffic noise around two suburban highway viaducts in Ghent: Lessons for urban environmental policy. Local Environment, 23(4), 448–467.

de Vries, S., van Dillen, S. M., Groenewegen, P. P., & Spreeuwenberg, P. (2013). Streetscape greenery and health: Stress, social cohesion and physical activity as mediators. Social Science & Medicine., 94, 26–33. https://doi.org/10.1016/j.socscimed.2013.06.030.

Wang, D., Brown, G., Zhong, G., Liu, Y., & Mateo-Babiano, I. (2015a). Factors influencing perceived access to urban parks: A comparative study of Brisbane (Australia) and Zhongshan (China). Habitat International, 50, 335–346.

Wang, D., Brown, G., Liu, Y., & Mateo-Babiano, I. (2015b). A comparison of perceived and geographic access to predict urban park use. Cities, 42, 85–96.

Wang, D., Brown, G., & Liu, Y. (2015c). The physical and non-physical factors that influence perceived access to urban parks. Landscape and Urban Planning, 133, 53–66.

Wolch, J., Wilson, J. P., & Fehrenbach, J. (2005). Parks and park funding in Los Angeles: An equity mapping analysis. Urban Geography, 26(1), 4–35.

World Health Organization (WHO). 2004. World report onroad traffic injury prevention: Summary. https://www.who.int/violence_injury_prevention/publications/road_traffic/world_report/summary_en_rev.pdf. Last accessed 5 May 2019.

Yasumoto, S., Jones, A. P., Yano, K., & Nakaya, T. (2012). Virtual City models for assessing environmental equity of access to sunlight: A case study of Kyoto, Japan. International Journal of Geographical Information Science, 26(1), 1–13.

Yasumoto, S., Jones, A. P., & Shimizu, C. (2014). Longitudinal trends in equity of park accessibility in Yokohama, Japan: An investigation into the role of causal mechanisms. Environment and Planning A, 46(3), 682–699.

Zimerman, R. (1993). Social equity and environmental risk. Risk Analysis, 13(6), 649–666.
Funding
This study was supported by Japan Society for the Promotion of Science (JSPS) KAKENHI Grant Number JP17K12864 (Grant-in-Aid for Young Scientists [B]) and Grant Number JP20H00040 (Grant-in-Aid for Scientific Research [A]).
Ethics declarations
Conflict of Interest
The authors declare that they have no conflict of interest.
Additional information
Publisher's Note
Springer Nature remains neutral with regard to jurisdictional claims in published maps and institutional affiliations.
About this article
Cite this article
Yasumoto, S., Nakaya, T. & Jones, A.P. Quantitative Environmental Equity Analysis of Perceived Accessibility to Urban Parks in Osaka Prefecture, Japan. Appl. Spatial Analysis (2020). https://doi.org/10.1007/s12061-020-09360-5
Received:

Accepted:

Published:
Keywords
Environmental equity

Perceived accessibility

Urban parks

Geographic information systems

Japan