Abstract
Pulmonary sclerosing pneumocytoma is a rare benign neoplasm of the lung, commonly occurs in middle-aged persons with a marked female predominance. Earlier, it was known as sclerosing hemangioma. Here, we present a case of pulmonary sclerosing pneumocytoma which was diagnosed as carcinoid of the lung, based on imaging, in a 14-year-old female. Besides radiology, the uniqueness of this case lies in the young age (14 years) of the patient. She was presented with a 3.3 × 2.5 × 2.2 cm soft tissue density mass with a tiny speck of calcification in the anterior basal segment of the lower lobe of the right lung. Based on imaging findings on fluorodeoxyglucose positron emission tomography (FDG PET) scan and DOTANOC scan, a diagnosis of carcinoid was made. We performed a video-assisted thoracoscopic right lower lobectomy. Histopathological examination showed features of pulmonary sclerosing pneumocytoma. Surgery is an established method of treatment for pulmonary sclerosing pneumocytoma. Enucleation, lobectomy, sleeve resection are possible treatment options. To define the role of adjuvant therapy, further direct evidence is required. The metastatic potential of this disease is yet to be established.
Access options
Buy single article
Instant access to the full article PDF.
US$ 39.95
Tax calculation will be finalised during checkout.
Subscribe to journal
Immediate online access to all issues from 2019. Subscription will auto renew annually.
US$ 79
Tax calculation will be finalised during checkout.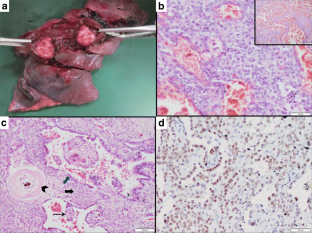 References
1.

Liebow AA, Hubbell DS. Sclerosing hemangioma (histiocytoma, xanthoma) of the lung. Cancer. 1956;9:53–75.

2.

Devouassoux-Shisheboran M, Hayashi T, Linnoila RI, Koss MN, Travis WD. A clinicopathologic study of 100 cases of pulmonary sclerosing hemangioma with immunohistochemical studies: TTF-1 is expressed in both round and surface cells, suggesting an origin from primitive respiratory epithelium. Am J Surg Pathol. 2000;24:906–16.

3.

Illei PB, Rosai J, Klimstra DS. Expression of thyroid transcription factor-1 and other markers in sclerosing hemangioma of the lung. Arch Pathol Lab Med. 2001;125:1335–9.

4.

Lovrenski A, Vasilijević M, Panjković M, et al. Sclerosing pneumocytoma: a ten-year experience at a Western Balkan University Hospital. Medicina (Kaunas). 2019;55:27.

5.

Travis WD, Brambilla E, Nicholson AG, et al. The 2015 World Health Organization classification of lung tumors: impact of genetic, clinical and radiologic advances since the 2004 classification. J Thorac Oncol. 2015;10:1243–60.

6.

Shin SY, Kim MY, Oh SY, et al. Pulmonary sclerosing pneumocytoma of the lung: CT characteristics in a large series of a tertiary referral center. Medicine (Baltimore). 2015;94:e498. https://doi.org/10.1097/MD.0000000000000498.

7.

Tanaka I, Inoue M, Matsui Y, et al. A case of pneumocytoma (so-called sclerosing hemangioma) with lymph node metastasis. Jpn J Clin Oncol. 1986;16:77–86.

8.

Miyagawa-Hayashino A, Tazelaar HD, Langel DJ, Colby TV. Pulmonary sclerosing hemangioma with lymph node metastases: report of 4 cases. Arch Pathol Lab Med. 2003;127:321–5.

9.

Kim KH, Sul HJ, Kang DY. Sclerosing hemangioma with lymph node metastasis. Yonsei Med J. 2003;44:150–4.

10.

Fayers RW, Lim TS, Havlat MF. Pulmonary sclerosing pneumocytoma (sclerosing haemangioma): radical radiation therapy. J Med Imaging Radiat Oncol. 2016;60:693–5.
Ethics declarations
Ethics approval
Not applicable being a clinical case report with no experimental therapies.
Consent to participate
Informed written consent was taken before surgery as per institutional policy.
Consent for publication
Consent for publication was taken from the mother (legal guardian) of the patient.
Conflict of interest
The authors declare no competing interests.
Additional information
Publisher's note
Springer Nature remains neutral with regard to jurisdictional claims in published maps and institutional affiliations.
About this article
Cite this article
Mandal, A., Kumar, S., Chhebbi, M. et al. Pulmonary sclerosing pneumocytoma mimicking carcinoid on preoperative imaging in a 14-year-old female. Indian J Thorac Cardiovasc Surg (2021). https://doi.org/10.1007/s12055-021-01153-w
Received:

Revised:

Accepted:

Published:
Keywords
Pulmonary sclerosing pneumocytoma

VATS

Lobectomy