Abstract
Introduction
The emergence of minimally invasive thoracic surgery has positively impacted postoperative recovery. Robotic-assisted thoracoscopic surgery (RATS) has been shown to have equivalent short- and long-term outcomes as compared with video-assisted thoracoscopic surgery (VATS). The introduction of RATS offers a three-dimensional high-definition image, improved ergonomics, and wristed movement. The purpose of this paper was to define the learning curve of RATS.
Methods
This study is a retrospective review of a single surgeon's RATS experience in a community hospital. All patients who underwent RATS between December 2011 and April 2014 were included. The cohort was divided into 2 groups: "early" and "late." These groups were created based on the date before or after February 2013, respectively. Data is presented as means and percentages. Significance was defined as a P value < 0.05. All categorical variables were evaluated with Fisher's exact t test and all continuous variables were compared via a paired t test.
Results
Seventy-nine patients were identified with a mean age of 59. There were 39 patients in the early group and 40 in the late. Rates of conversion to open thoracotomy (13% vs 10%, P = 0.74) and operative time (180 vs 204 min, P = 0.34) did not demonstrate any statistical significance between the two cohorts. Postoperative morbidity (21% vs 28%, P = 0.60) and mortality (3% vs 0%, P = 1.00) were equivalent between both groups. There was a higher percentage of lobectomies performed during the late group (38% vs 65%, P = 0.02). Furthermore, these lobectomies were performed at a faster rate in the late group.
Conclusion
Based on our experience, the complexity of the operations that can be performed robotically increased with the number of operations performed without an impact on postoperative morbidity and mortality.
Access options
Buy single article
Instant access to the full article PDF.
USD 39.95
Price excludes VAT (USA)
Tax calculation will be finalised during checkout.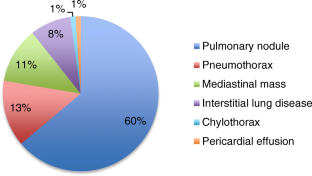 References
Roviaro G, Rebuffat C, Varoli F, Vergani C, Mariani C, Maciocco M. Videoendoscopic pulmonary lobectomy for cancer. Surg Laparosc Endosc. 1992;2:244–7.

Kirby TJ, Mack MJ, Landreneau RJ, Rice TW. Initial experience with video-assisted thoracoscopic lobectomy. Ann Thorac Surg. 1993;56:1248–52.

McKenna RJ. Lobectomy by video-assisted thoracic surgery with mediastinal node sampling for lung cancer. J Thorac Cardiovasc Surg. 1994;107:879–81.

McKenna RJ, Wolf RK, Brenner M, Fischel RJ, Wurnig P. Is lobectomy by video-assisted thoracic surgery an adequate cancer operation? Ann Thorac Surg. 1998;66:1903–8.

Swanson S, Miller DL, McKenna RJ, et al. Comparing robot-assisted thoracic surgical lobectomy with conventional video assisted thoracic surgical lobectomy and wedge resection: results from multihospital database. J Thorac Cardiovasc Surg. 2014;147:929–37.

Louie B, Farivar AS, Aye RW, Vallieres E. Early experience with robotic lung resection results in similar operative outcomes and morbidity when compared with matched video-assisted thoracoscopic surgery cases. Ann Thorac Surg. 2012;93:1598–604.

Kent M, Wang T, Whyte R, Curran T, Flores R, Gangadharan S. Open, video -assisted thoracic surgery, and robotic lobectomy: review of a national database. Ann Thorac Surg. 2014;97:236–42.

Rocco G, Internullo E, Cassivi SD, Van Raemdonck D, Ferfuson MK. The variability of practice in minimally invasive thoracic surgery for pulmonary resections. Thorac Surg Clin. 2008;18:235–47.

Veronesi J. Robotic lobectomy and segmentectomy for lung cancer: results and operating technique. J Thorac Dis. 2015;7:S122–30.

Cerfolio RJ, Bryant AS, Skylizard L, Minnich DJ. Initial consecutive experience of completely portal robotic pulmonary resection with 4 arms. J Thorac Cardiovasc Surg. 2011;142:740–6.

Park BJ, Melfi F, Mussi A, et al. Robotic lobectomy for non-small cell lung cancer (NSCLC): long-term oncologic results. J Thorac Cardiovasc Surg. 2012;143:383–9.

Veronesi G, Galetta D, Maisonnueve P, et al. Four-arm robotic lobectomy for the treatment of early-stage lung cancer. J Thorac Cardiovasc Surg. 2010;140:19–25.

Bapoje SR, Whitaker JF, Schulz T, Chu ES, Albert RK. Preoperative evaluation of the patient with pulmonary disease. Chest. 2007;132:1637–45.

Kim MP. Robotic lobectomy leads to excellent survival in lung cancer patients. J Thorac Dis. 2018;10:S3184–S3185. https://doi.org/10.21037/jtd.2018.07.123.

Emmert A, Straube C, Buentzel J, Roever C. Robotic versus thoracoscopic lung resection: A systematic review and meta-analysis. Medicine (Baltimore). 2017;96:e7633.

Jang HJ, Lee HS, Park SY, Zo JI. Comparison of the early robot-assisted lobectomy experience to video-assisted thoracic surgery lobectomy for lung cancer:a single-institution case series matching study. Innovations. 2011;6:305–310. https://doi.org/10.1097/imi.0b013e3182378b4c.

Arnold BN, Thomas DC, Bhatnagar V,et al. Defining the learning curve in robot-assisted thoracoscopic lobectomy. Surgery. 2019;165:450–454.
Ethics declarations
Conflict of interest
The authors declare that they have no conflict of interest.
Ethical approval
All procedures performed in studies involving human participants were in accordance with the ethical standards of the institutional and/or national research committee and with the 1964 Helsinki declaration and its later amendments or comparable ethical standards. It should be noted that this was a retrospective study and the study design, review, and analysis was in compliance with our institution's ethical standards for retrospective studies.
Human and animal rights and informed consent
This article does not contain any studies with animals performed by any of the authors. Informed consent was obtained from all individual participants included in the study. No identifying information is present in the presented work.
Additional information
Publisher's note
Springer Nature remains neutral with regard to jurisdictional claims in published maps and institutional affiliations.
Presented as a poster in the 52nd Annual Meeting of the Eastern Cardiothoracic Surgical Society (ECTSS), Palm Beach, FL, October 10, 2014
About this article
Cite this article
Karnik, N., Yang, X., Goussous, N. et al. A community hospital's experience with robotic thoracic surgery. Indian J Thorac Cardiovasc Surg 36, 142–147 (2020). https://doi.org/10.1007/s12055-019-00848-5
Received:

Revised:

Accepted:

Published:

Issue Date:

DOI: https://doi.org/10.1007/s12055-019-00848-5
Keywords
Robotic thoracic surgery

Learning curve

Lobectomy