Abstract
Background and objectives
Prior to 2008, when it was withdrawn, aprotinin use in cardiac surgery patients was associated with reduced bleeding and blood utilization, but studies linked its administration to increased patient mortality. We investigated (a) blood/blood product utilization between 2008 and 2013 at our community hospital heart center according to the type of surgery performed following the withdrawal of aprotinin and (b) clinical variables associated with increased patient blood utilization.
Materials and methods
Seven hundred nine patients were retrospectively investigated for blood/blood product utilization. Variables examined were patient age, body surface area (BSA), gender, preoperative creatinine level, hematocrit level, total cell saved blood (CSB) administered, cardiopulmonary bypass (CPB) time, type of surgical procedure performed, and preoperative clopidogrel usage. Variables (categorical and continuous) were placed into a forward stepwise regression model for the continuous outcome, packed red blood cell (PRBC) utilization. The stepwise function utilized a P value threshold of 0.25 for entering the model and 0.1 for leaving the model.
Results
For coronary artery bypass graft (CABG) surgery, use of PRBC was 29.26 % (0.75/1.44), of platelets was 14.18 % (0.24/0.72), of fresh frozen plasma (FFP) was 7.34 % (0.19/0.78), and of cryoprecipitate was 10.63 % (0.23/0.97) among our patient sample. [Data expressed as percent patient utilization, mean/S.D. in units transfused]. Increased age, smaller BSA, higher preoperative creatinine level, lower preoperative hematocrit level, longer CPB time, and increased CSB administration was associated with increased PRBC administration (P < 0.0001).
Conclusion
At our community heart surgery center, with a multidisciplinary blood conservation program in place, expected increase in blood/blood product utilization following aprotinin withdrawal was not experienced.
Access options
Buy single article
Instant access to the full article PDF.
US$ 39.95
Tax calculation will be finalised during checkout.
Subscribe to journal
Immediate online access to all issues from 2019. Subscription will auto renew annually.
US$ 79
Tax calculation will be finalised during checkout.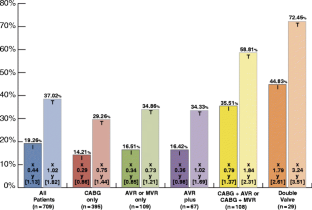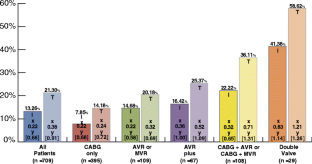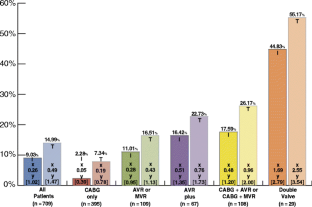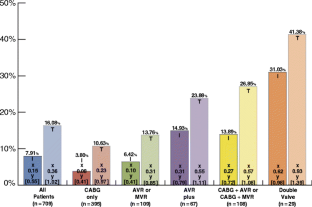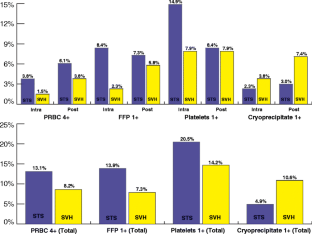 References
1.

Society of Thoracic Surgeons Blood Conservation Guideline Task Force, Ferraris VA, Ferraris SP, Saha SP, Hessel II EA, Hessel EA, et al. Perioperative blood transfusion and blood conservation in cardiac surgery: the Society of Thoracic Surgeons and the Society of Cardiovascular Anesthesiologists clinical practice guideline. Ann Thorac Surg. 2007;83:S27–86.

2.

Fergusson DA, Hébert PC, Mazer CD, et al. A comparison of aprotinin and lysine analogues in high-risk cardiac surgery. N Engl J Med. 2008;358:2319–31.

3.

Engoren MC, Habib RH, Zacharias A, Schwann TA, Riordan CJ, Durham SJ. Effect of blood transfusion on long-term survival after cardiac operation. Ann Thorac Surg. 2002;74:1180–6.

4.

Horvath KA, Acker MA, Chang H, et al. Blood transfusion and infection after cardiac surgery. Ann Thorac Surg. 2013;95:2194–201.

5.

Levi M, Cromheecke ME, de Jonge E, et al. Pharmacological strategies to decrease excessive blood loss in cardiac surgery: a meta-analysis of clinically relevant endpoints. Lancet. 1999;354:1940–7.

6.

Mangano DT, Tudor IC, Dietzel C. Multicenter Study of Perioperative Ischemia Research Group, Ischemia Research and Education Foundation. The risk associated with aprotinin in cardiac surgery. N Engl J Med. 2006;354:353–65.

7.

Bennett-Guerrero E, Zhao Y, O'Brien SM, et al. Variation in use of blood transfusion in coronary artery bypass graft surgery. JAMA. 2010;304:1568–75.

8.

Rubens FD, Boodhwani M, Mesana T, Wozny D, Wells G, Nathan HJ, et al. The cardiotomy trial: a randomized, double-blind study to assess the effect of processing of shed blood during cardiopulmonary bypass on transfusion and neurocognitive function. Circulation. 2007;116:I89–97.

9.

Sharma AD, Al-Achi A, Seccombe JF, Hummel R, Preston M, Behrend D. Does incorporation of thromboelastography improve bleeding prediction following adult cardiac surgery? Blood Coagul Fibrinolysis. 2014;25:561–70.

10.

Dixon B, Santamaria JD, Reid D, et al. The association of blood transfusion with mortality after cardiac surgery: cause or confounding? (CME). Transfusion. 2013;53:19–27.

11.

Hogervorst E, Rosseel P, van der Bom J, et al. Tolerance of intraoperative hemoglobin decrease during cardiac surgery. Transfusion. 2014;54:2696–704. doi:10.1111/trf.12654.

12.

DeSantis SM, Toole JM, Kratz JM, et al. Early postoperative outcomes and blood product utilization in adult cardiac surgery: the post- aprotinin era. Circulation. 2011;124:S62–9.

13.

Wang X, Zheng Z, Ao H, et al. Effects of aprotinin on short-term and long-term outcomes after coronary artery bypass grafting surgery. Ann Thorac Surg. 2010;89:1489–95.

14.

Ranuccia M, European Association of Cardiothoracic Anaesthesiologists (EACTA). Perioperative haemostasis and coagulation management in cardiac surgery: a European survey. Eur J Anaesthesiol. 2007;24:1–13. doi:10.1017/S0265021507000579.

15.

McMullan V, Alston RP. The effect of the suspension of the license for aprotinin on the care of patients undergoing cardiac surgery: a survey of cardiac anesthesiologists' and surgeons' opinions in the United Kingdom. J Cardiothorac Vasc Anesth. 2010;24:418–21.

16.

Spiess BD. Pro: the practice of cardiac anesthesia has changed after the withdrawal of aprotinin. J Cardiothorac Vasc Anesth. 2010;24:875–8. doi:10.1053/j.jvca.2010.07.009.

17.

Brevig J, McDonald J, Zelinka ES, Gallagher T, Jin R, Grunkemeier GL. Blood transfusion reduction in cardiac surgery: multidisciplinary approach at a community hospital. Ann Thorac Surg. 2009;87:532–9.

18.

Xydas S, Magovern CJ, Slater JP, et al. Implementation of a comprehensive blood conservation program can reduce blood use in a community cardiac surgery program. J Thorac Cardiovasc Surg. 2012;143:926–35.

19.

Shore-Lesserson L, Manspeizer HE, DePerio M, Francis S, Vela-Cantos F, Ergin MA. Thromboelastography-guided transfusion algorithm reduces transfusions in complex cardiac surgery. Anesth Analg. 1999;88:312–9.

20.

Sharma AD, Behrend D, Seccombe JF, et al. Can a multidisciplinary cardiac surgery blood conservation program succeed? A single center, 6 year, 687 patient retrospective blood/blood product utilization review. J Thromb Haemost. 2014;12:80.

21.

Robich MP, Koch CG, Johnston DR, et al. Trends in blood utilization in United States cardiac surgical patients. Transfusion. 2014. doi:10.1111/trf.12903.

22.

Wilson CT, Fisher ES, Welch HG, Siewers AE, Lucas FL. U.S. trends in CABG Hospital volume: the effect of adding cardiac surgery programs. Health Aff. 2007;26:162–8.

23.

HHS. National blood collection and utilization survey, Department of Health and Human Services. The 2011 National Blood Collection and Utilization Survey Report. Washington, DC: HHS; 2013.
Ethics declarations
Conflict of interest
The authors declare that they have no competing interests.
Research involving human participants and or animals
The study was approved by St. Vincent Hospital ethics committee and has been performed in accordance with the ethical standards as laid down in the 1964 Declaration of Helsinki and its later amendments or comparable ethical standards.
Informed consent
For this retrospective study, informed consent was not required.
Ethics approval
All procedures performed in our study involving human participants were in accordance with the ethical standards of the institutional and/or national research committee and with the 1964 Helsinki declaration and its later amendments or comparable ethical standards.
About this article
Cite this article
Sharma, A.D., Al-Achi, A., Behrend, D. et al. Adult cardiac surgery blood/blood product utilization in the post aprotinin era: an 855 patient, community hospital, retrospective experience. Indian J Thorac Cardiovasc Surg 32, 87–96 (2016). https://doi.org/10.1007/s12055-015-0413-2
Received:

Revised:

Accepted:

Published:

Issue Date:
Keywords
Bleeding

Coagulation

Transfusion