Abstract
This paper provides an overview of the Malaysian Energy Efficiency regulatory framework as well as current financing and incentive mechanisms available to the building sector. The review has found that some of the existing financing schemes have been successful while others could leverage on other existing schemes to improve its effectiveness. The review will explore the strengths and gaps of the available schemes and will propose some ways to increase the uptake up rate of the schemes. The potential impact of the proposed recommendations will be discussed supported by projected energy and CO2 reductions.
This is a preview of subscription content, log in to check access.
Access options
Buy single article
Instant access to the full article PDF.
US$ 39.95
Price includes VAT for USA
Subscribe to journal
Immediate online access to all issues from 2019. Subscription will auto renew annually.
US$ 99
This is the net price. Taxes to be calculated in checkout.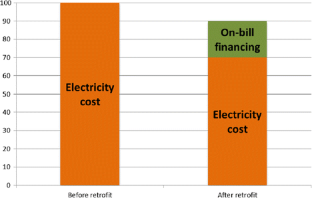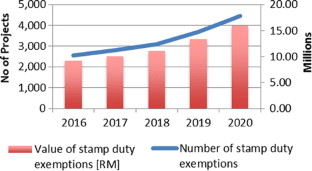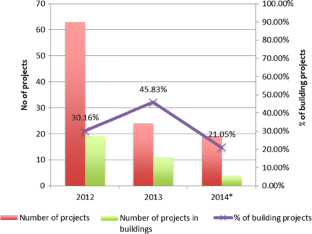 Notes
1.

http://meih.st.gov.my/statistics?p_auth = 7oYtNmME&p_p_id = Eng_Statistic_WAR_STOASPublicPortlet&p_p_lifecycle = 1&p_p_state = maximized&p_p_mode = view&p_p_col_id = column-1&p_p_col_pos = 1&p_p_col_count = 2&_Eng_Statistic_WAR_STOASPublicPortlet_execution = e1s1&_Eng_Statistic_WAR_STOASPublicPortlet__eventId = ViewStatistic3&categoryId = 4&flowId = 7

2.

3.

4.

World Energy Council 2013 Energy Efficiency policies

5.

6.

SAVE scheme final report, SEDA, 2012

7.

SAVE scheme final report, SEDA, 2012

8.

9.

10.

MGTC-GTFS scheme application data

11.

MGTC-GTFS presentation for Financial institution outreach, June 2014

12.

Interviews conducted with Sharon Ruba (Project Director) and Mark Lancaster (Chief Executive Officer) of Tune Hotels Group in March 2015

13.

MGTC-GTFS scheme application data

14.

GBI data obtained from Green Building Index Sdn Bhd

15.

GBI data obtained from Green Building Index Sdn Bhd and stakeholder feedback during interviews

16.

GBI data obtained from Green Building Index Sdn Bhd

17.

Internal modeling with building stock data published by valuation and property services department of Malaysia (http://napic.jpph.gov.my/)

18.

19.

Energy Commission data on technical analysis of the applications
References
DeT'serclaes, P. (2010). Money matters: mitigating risks to spark private investment in energy efficiency. Paris: OECD/IEA.

Downs, A., Chittum, A., Hayes, S., Neubauer, M., Nowak, S., Vaidyanathan, S., Farley, K., & Cui, C. (2013). The 2013 state energy efficiency scorecard. Washington, DC: American Council for an Energy-Efficient Economy http://aceee.org/research-report/e13k.

Friedrich, K., Eldridge, M., & York, D. (2009). Saving energy cost-effectively: a national review. Washington, DC: ACEEE.

Kats G, Menkin A, Dommu J and Debold M, Energy efficiency financing—models and strategies. Capital E for the Energy Foundation, 2011, accessed July 2017. http://newbuildings.org/sites/default/files/EnergyEfficiencyFinancing_ModelsStrategies201110.pdf

Kushler, M., & Neme, C. (2010). Is it time to ditch the TRC? Examining concerns with current practice in benefit-cost analysis. In proceedings of the 2010 ACEEE summer study on energy efficiency in buildings. Washington, DC: ACEEE.

Kushler, M., Nowak, S., & Witte, P. (2012). A national survey of state policies and practices for the evaluation of ratepayer-funded energy efficiency programs. Washington, DC: ACEEE.

Kushler, M., York, D., & Witte, P. (2004). Five years in: an examination of the first half-decade of public benefits energy efficiency policies. Washington, DC: ACEEE.

Limaye, D.R., Addario, P.J.D., Patankar, M., Ensystems, M.P. & Kumar, B.A. (2012) Financing industrial energy efficiency in India : lessons learned and directions for the future.

Lazard. (2013). Levelized cost of energy analysis: version 7.0. New York: Lazard.

MacLean, J.C. & Purcell, D.H. (2014) Strategies for energy efficiency finance.

Malo et al(2012) Building performance institute Europe in 2012, Energy Efficiency Policies in Buildings – The Use of Financial Instruments at Member State Level.

Morgan, P. (2012) A decade of decoupling for US energy utilities: rate impacts, designs, and observations. Accessed July 2017. http://www.raponline.org/wp-content/uploads/2016/05/gracefulsystems-morgan-decouplingreport-2012-dec.pdf

Panayotou, T. (1994). Economic instruments for environmental management and sustainable development. Nairobi: Paper presented at UNEP's Expert Group Meeting on the Use and Application of Economic policy Instruments for Environmental Management.

PwC(2014) Green Technology Master Plan Study on the impact of green incentives in Malaysia.

Streitferdt, V., Surapong, C. & Streitferdt, V. and Surapong, C. (2014) Public efforts to mobilize private energy efficiency finance: lessons learned from the Energy Efficiency Revolving Fund of Thailand, 5th Joint international Conference on Energy and the Environment, pp. 36–42.

Taylor (2012) Next steps for financing energy efficiency in China.

Taylor, R. P., Govindarajalu, C., Levin, J., Meyer, A. S., & Ward, W. A. (2008). Financing energy efficiency: lessons from Brazil, China, India and beyond. Washington DC: The World Bank.

Woolf, T., Malone, E., Kallay, J., & Takahashi, K. (2013). Energy efficiency cost-effectiveness screening in the northeast and mid-Atlantic states. Cambridge: Synapse Energy Economics.

Woolf, T., Malone, E., Takahashi, K., & Steinhurst, W. (2012). Best practices in energy efficiency program screening: how to ensure that the value of energy efficiency is properly accounted for. Prepared for the National Home Performance Council by synapse energy economics. Cambridge: Synapse Energy Economics.

World Energy Council 2013, World Energy Perspective Energy Efficiency Policies—what works and what does not.

Zhang S (2013) On-Bill Financing: Encouraging Energy Efficiency, Center for climate and energy solutions, http://www.c2es.org/publications/bill-financing-encouraging-energy-efficiency
Ethics declarations
Conflict of interest
The authors declare that they have no conflict of interest
About this article
Cite this article
Hor, K., Rahmat, M.K. Analysis and recommendations for building energy efficiency financing in Malaysia. Energy Efficiency 11, 79–95 (2018). https://doi.org/10.1007/s12053-017-9551-2
Received:

Accepted:

Published:

Issue Date:
Keywords
Energy efficiency

Building sector

Financing

Incentives

Soft loans

Tax incentives

On-bill financing