This is a preview of subscription content, log in to check access.
Access options
Buy single article
Instant access to the full article PDF.
US$ 39.95
Tax calculation will be finalised during checkout.
Subscribe to journal
Immediate online access to all issues from 2019. Subscription will auto renew annually.
US$ 99
Tax calculation will be finalised during checkout.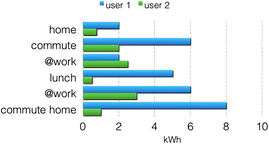 References
Allcott, H. (2011). Social norms and energy conservation. Journal of Public Economics, 95(9-10), 1082–1095.

Baard, P. P., Deci, E. L., & Ryan, R. M. (2004). Intrinsic need satisfaction: a motivational basis of performance and well-being in two work settings. Journal of Applied Social Psychology, 34(10), 2045–2068.

Batey, M., Bull, R., & Decorme, R. (2013). "Living labs: Successful engagement on energy efficiency by participatory innovation." Innovating in Global Markets: Challenges for sustainable growth. Helsinki, Finland: Proceedings of the XXIV ISPIM conference. June, 2013.

Batey, M., & Garcia, J. (2014). "Innovative use of ICT to uncover space-usage patterns & improve energy-efficiency." EESAP5 Proceedings. San-Sebastian, Spain: Energy-Efficiency and Sustainability in Architecture and Planning. July, 2014.

Bauwens, M. (2013). De wereld redden: Met peer-to-peer naar een postkapitalistische samenleving. Antwerp, Belgium: Uitgeverij Houtekiet.

Bloomfield, D., Collins, K., Fry, C., & Munton, R. (2001). "Deliberation and inclusion: vehicles for increasing trust in UK public governance?". Environment and Planning C: Government and Policy, 19, 501–513.

Brafman, O., & Brafman, R. (2008). Sway: The irresisteble pull of irrational behaviour. New York, N.Y.: Broadway Books.

Breukers, S., & Mourik, R. (2013). End-user engagement for flexible energy consumption patterns: towards tailored interventions for shifting and reducing household energy demand. Pathways, Transitions and Backcasting for Low-Carbon and Sustainable Lifestyles. Rotterdam, The Netherlands: SCORAI Europe Workshop Proceedings, In Context Scientific Workshop, 7-8 October, 2013.

Breukers, S., van Summeren, L., & Mourik, R.M. (2014). Eerst proces, dan prestatie. Naar een optimale afstemming tussen aanbieders, bewoners en de woning in renovaties richting energieneutraliteit. Hoofdrapportage in opdracht van Platform 31. Eindhoven, The Netherlands: DuneWorks BV.

Broennum, L., & Moeller, S. (2013). The dynamics and facilitation of a living lab construct. Innovating in global markets: Challenges for sustainable growth. Helsinki, Finland: Proceedings of the XXIV ISPIM conference. June, 2013.

Bull, R. J., Brown, N., & Faruk, F. (2011). Findings from the DUALL project: lessons in engaging building users in energy reduction in a UK University. In Proceedings of the ECEEE 2011 Summer Study. Energy efficiency first: the foundation of a low-carbon society. France: La Colle sur Loup.

Bull, R., Chang, N., & Fleming, P. (2012). The use of building energy certificates to reduce energy consumption in European public building. Energy and Buildings, 50, 103–110.

Burgess, J., & Nye, M. (2008). Re-materialising energy use through transparent monitoring systems. Energy Policy, 46, 4454–4459.

Campos, A., Marques, M., & Neves-Silva, R. (2010). A decision-support system for energy-efficient investments on building renovations. Manama, Bahrain: Proceedings of the 2010 IEEE International Energy Conference and Exhibition. 18-22 December.

Cialdini, R. B. (1988). Influence: Science and practice (2nd ed.). Glenview, Ill: Scott, Foresman.

Coleman, M., Irvine, K., Lemon, M., & Shao, L. (2012). Evaluating personalised energy feedback information for behaviour change in commercial buildings, evaluation: Key to delivery of energy efficiency. Rome, Italy: International Energy Program Evaluation Conference June.

Collinson, P. (2014). The energy efficiency 'savings' that are just hot air. The Guardian, January 18. London, UK: Guardian News and Media Limited.

Darby, S. (2006). The effectiveness of feedback on energy consumption. Report for DEFRA. Oxford, UK: Environmental Change Institute, University of Oxford.

Darby, S. (2010a). Smart metering: what potential for house-hold engagement? Building Research and Information, 38(5), 442–457.

Darby, S. (2010b). Literature review for the energy Demand Project. Oxford, UK: Environmental Change Institute, University of Oxford.

Directive 2012/27/EU of the European parliament and of the council of 25 October 2012 on energy efficiency, amending Directives 2009/125/EC and 2010/30/EU and repealing Directives 2004/8/EC and 2006/32/EC.

Dooley, K. (2011). New ways of working: Linking energy consumption to people. Helsinki, Finland: SB 2011 World Sustainable Building Conference Proceedings. 18-21 October, 2011.

DTI. (2006). The energy challenge: Energy review. London, UK: Department of Trade and Industry.

Edrich, B., Beagley, K., Webber, P., & Kelling, S. (2011). Kirklees warm zone: Final report 2007-2010. http://www.kirklees.gov.uk/community/environment/energyconservation/warmzone/Warm ZoneReport.pdf. Huddersfield, UK: Kirklees Council

Ek, K., & Soderholm, P. (2010). The devil is in the detail: household electricity saving behaviour and the role of information. Energy Policy, 38, 1578–1587.

Experientia (2011). Enabling sustainable lifestyles—Low2No concepts—Arup-Sauerbruch Hutton–Experientia http://www.experientia.com/blog/uploads/2011/09/L2N_Sustainable_Lifestyles_CONCEPT_BOOKLET_Phase2.pdf

Fioriono, D. J. (1990). Citizen participation and environ-mental risk: a survey of institutional mechanisms. Science and Technology & Human Values, 15(2), 226–243.

Fǿlstad, A. (2008). Living labs for innovation and development of communication technology: a literature review. The Electronic Journal for Virtual Organisations and Networks, 10, 99–131.

Gansky, L. (2010). The mesh: Why the future of business is sharing. New York: Portfolio Penguin.

Hargreaves, T., Nye, M., & Burgess, J. (2010). Making energy visible: a qualitative field study of how householders interact with feedback from smart energy monitors. Energy Policy, 38(2010), 6111–6119.

Jaffe, A. B., & Stavins, R. N. (1994). The energy paradox and the diffusion of conservation of technology. Resource and Energy Economics, 16(2), 91–122.

Lehrer, D., & Vasudev, J. (2010). Visualizing information to improve building performance: a study of expert users. In 2010 ACEEE Summer Study on Energy Efficiency in Buildings. Washington, D.C: ACEEE, 7:141–153.

Lockton, D., Bowden, F., Greene, C., Brass, C., & Gheerawo, R. (2013). People and energy: a design-led approach to understanding everyday energy use behaviour. EPIC 2013: Ethnographic Praxis in Industry Conference, 15-18 September 2013, Royal Institution, London. (doi:10.1111/j.1559-8918.2013.00029.x)

Lockton, D., Harrison, D., & Stanton, N. A. (2012). Models of the user: designers' perspectives on influencing sustainable behaviour. Journal of Design Research, 7, 27.

Lorenzoni, I., Nicholson-Cole, S., & Whitmarsh, L. (2007). Barriers perceived to engaging with climate change among the UK public and their policy implications. Global Environmental Change, 17(3-4), 445–459.

Malone, T. (2004). The future of work. Boston, MA: Harvard Business School Press.

Mourik, R.M., & Rotmann, S. (2013). Most of the time what we do is what we do most of the time. And sometimes we do something new. Analysis of Case-studies IEA DSM Task 24 Closing the Loop – Behaviour Change in DSM: from Theory to Practice. Deliverable 2 for IEA Implementing Agreement DSM Task 24. Paris, France: IEA.

Mourik, R.M., van Summeren, L.F.M., Breukers, S.B., & Rotmann, S. (2015). Did you behave as we designed you to? A positioning paper on monitoring & evaluation of behavioural change. IEA DSM Task 24, Subtask 3 Deliverable 3A. Paris, France: IEA

Norman, D. A. (2004). Emotional design: Why we love (or hate) everyday things. New York, N.Y.: Basic Books.

Owens, S. (2000). 'Engaging the Public': information and deliberation in environmental policy. Environment and Planning A, 32(7), 1141–1148.

Pianosi, M., Bull, R., & Rieser, M. (2012). Enhancing environmental citizenship and reducing energy consumption through creative engagement with building users. Evaluation: Key to delivery of energy efficiency. Rome, Italy: International Energy Program Evaluation Conference. June, 2012.

Recommendation 2014/724/EU: Commission Recommendation of 10 October 2014 on the Data Protection Impact Assessment Template for Smart Grid and Smart Metering Systems.

Rosenow, J., & Eyre, N. (2014). Residential energy efficiency programmes in the UK: A roadmap for recovery. Oxford, UK: 10th BIEE Academic Conference. Balancing Competing Energy Policy Goals, September, 2014.

Schultz, P. W., Nolan, J. M., Cialdini, R., Goldstein, N. J., & Griskevicious, V. (2007). The constructive, destructive, and reconstructive power of social norms. Psychological Science, 18(5), 429–34.

Shove, E. (2010). Beyond the ABC: climate change policy and theories of social change. Environment and Planning, 42, 1273–1285.

van den Hoff, R. (2013). Mastering the global transition on our way to Society 3.0. Rotterdam, The Netherlands: The Society 3.0 Foundation.

Weber, L. (1997). Some reflections on barriers to the efficient use of energy. Energy Policy, XXV(10), 833–835.

Weiss, A., & Francia, G. (2013). Organisational models for energy renovations in buildings: application to the Italian scenario. Energy forum: Advanced building skins. Bressanone, Italy: Economic Forum. November, 2013.

Weiss, M., Loock, C., Staake, T., Mattem, F., & Fleisch, E. (2010). Evaluating mobile phones as energy consumption devices. Proceedings of Mobiquitous 2010. Sydney, Australia: 7th International ICST Conference on Mobile and Ubiquitous Systems. 6-9 December, 2010.
About this article
Cite this article
Batey, M., Mourik, R. From calculated to real energy savings performance evaluation: an ICT-based methodology to enable meaningful do-it-yourself data collection. Energy Efficiency 9, 939–950 (2016). https://doi.org/10.1007/s12053-015-9415-6
Received:

Accepted:

Published:

Issue Date:
Keywords
Energy efficiency

Behaviour change

IEA

User-involvement

Measured impact evaluation