Abstract
As renewable energy sources and net-zero energy homes become increasingly pervasive within the residential building industry, further reductions in consumption patterns will occur through demand side management (DSM). DSM can include measures such as energy-efficient system design, automated control and energy management systems, or policies and monitoring systems intended to alter user behavior. For an energy-efficient modern residence designed within a tropical context, several DSM strategies are considered for reductions in operational-phase energy consumption: a lightweight, thermally high-performing building envelope, installation of light dimmers to enhance user control of lighting, and comparison of a solar hot water system versus a point-of-use electric water heater to produce hot water for bathing demands. The energy-consumption savings associated with the three DSM strategies are simulated and normalized to an energy savings per cost of implementation basis in kWh per 1000 Thai Baht (THB) for comparison. The results show that financial investments in low-energy hot water heaters (i.e., solar water heating systems) result in relatively higher energy savings per unit financial investment than the other two strategies. Conversely, the installation of a lightweight, well-insulated envelope is highly expensive relative to its associated energy savings over a 25-year time frame. The savings associated with the insulated envelope, light dimmers, and hot water production strategies are evaluated at 80, 609 and 657 kWh/1000 THB investment, respectively.
We're sorry, something doesn't seem to be working properly.
Please try refreshing the page. If that doesn't work, please contact support so we can address the problem.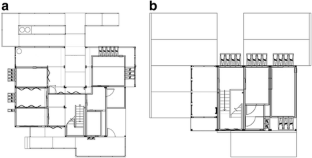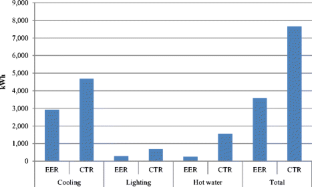 References
Adkins, E., Eapen, S., Kaluwile, F., Nair, G., & Modi, V. (2010). Off-grid energy services for the poor: introducing LED lighting in the Millennium Villages Project in Malawi. Energy Policy, 38(2010), 1087–1097.

Alstone, P., Lai, P., Mills, E., & Jacobson, A. (2014). High life cycle efficiency explains fast energy payback for improved off-grid lighting systems. Journal of Industrial Ecology. doi:10.1111/jiec.12117.

Chaosuangaroen, P., & Limmeechokchai, B. (2008). Scenario-based assessment of energy savings in Thailand: a long-range energy alternative planning approach. Thammasat International Journal of Science Technology, 13(2), 11–19.

Chirarattananon, S., Chaiwiwatworakul, P., & Kidhen, J. (2011). Development of energy conservation programs for residential and small commercial buildings in Thailand. International Journal of Renewable Energy Research, 1(2011), 17–24.

Chua, K. J., & Chou, S. K. (2010). Energy performance of residential buildings in Singapore. Energy, 35(2010), 667–678.

Department of Alternative Energy Development and Efficiency (DEDE). (2013). Energy in Thailand: facts & figures 2013. Bangkok: Ministry of Energy of Thailand.

Foran, T., du Pont, P. T., Parinya, P., & Phumaraphand, N. (2010). Securing energy efficiency as a high priority: scenarios for common appliance electricity consumption in Thailand. Energy Efficiency, 3(4), 347–364.

Graus, W., Blomen, W., & Worrell, E. (2011). Global energy efficiency improvement in the long term: a demand and supply-side perspective. Energy Efficiency, 4(2011), 435–463.

IEA (International Energy Agency). (2013). Southeast Asia energy outlook: world energy outlook special report. international energy agency: organization for economic cooperation and development. http://www.iea.org/publications/freepublications/publication/southeastasiaenergyoutlook_weo2013specialreport.pdf. Accessed 29 May 2014.

Isaac, M., & van Vuuren, D. P. (2009). Modeling global residential sector energy demand for heating and air conditioning in the context of climate change. Energy Policy, 37(2), 507–521.

Keoleian, G. A., Blanchard, S., & Reppe, P. (2001). Life-cycle energy, costs, and strategies for improving a single-family home. Journal of Industrial Ecology, 4(2), 135–156.

Kofoworola, O. F., & Gheewala, S. H. (2009). Life cycle energy assessment of a typical office building in Thailand. Energy and Buildings, 41(2009), 1076–1083.

Kraines, S. B., Ishida, T., & Wallace, D. R. (2010). Integrated environmental assessment of supply-side and demand-side measures for carbon dioxide mitigation in Tokyo, Japan. Journal of Industrial Ecology, 14(5), 808–825.

Kubota, T., Chyee, D. T. H., & Ahmad, S. (2009). The effects of night ventilation technique on indoor thermal environment for residential buildings in hot-humid climate of Malaysia. Energy and Buildings, 41(2009), 829–839.

Liping, W., & Hien, W. N. (2007). The impacts of ventilation strategies and facade on indoor thermal environment for naturally ventilated residential building in Singapore. Buildings and Environment, 42(2007), 4006–4015.

Mahlia, T. M. I., Razak, H. A., & Nursahida, M. A. (2011). Life cycle cost analysis and payback period of lighting retrofit at the University of Malaya. Renewable and Sustainable Energy Reviews, 15(2011), 1125–1132.

Nguyen, T. A., & Aiello, M. (2013). Energy intelligent buildings based on user activity: a survey. Energy and Buildings, 56(2013), 244–257.

Pagnarith, K., & Limmeechokchai, B. (2010). Demand side management and CO2 mitigation in selected GMS countries: the household sector. Thammasat International Journal of Science Technology, 15(4), 19–30.

Palensky, P., & Dietrich, D. (2011). Demand side management: demand response, intelligent energy systems, and smart loads. Institute of Electrical and Electronics Engineers Transactions of Industrial Informatics, 7(3), 381–388.

Pérez-Lombard, L., Ortiz, J., & Pout, C. (2008). A review on buildings energy consumption information. Energy and Buildings, 40(2008), 394–398.

Pérez-Lombard, L., Ortiz, J., & Valázquez, D. (2013). Revisiting energy efficiency fundamentals. Energy Efficiency, 6(2), 239–254.

Qi, R., Lu, L., & Yang, H. (2012). Investigation on air-conditioning load profile and energy consumption of desiccant cooling system for commercial buildings in Hong Kong. Energy and Buildings, 49(2012), 509–518.

Sahakian, M. D., & Steinberger, J. K. (2011). Energy reduction through a deeper understanding of household consumption: staying cool in metro Manila. Journal of Industrial Ecology, 15(1), 31–48.

Simoes, S., Seixas, J., Fortes, P., & Huppes, G. (2014). The savings of energy saving: interactions between energy supply and demand-side options—quantification for Portugal. Energy Efficiency, 7(2), 179–201.

Singh, J., & Mulholland, C. (2000). DSM in Thailand: a case study. Joint UNDP/World Bank Energy Sector Management Assistance Programme (ESMAP). http://www-wds.worldbank.org/external/default/WDSContentServer/WDSP/IB/2001/04/24/000094946_01012505311523/Rendered/PDF/multi0page.pdf. Accessed 3 Jul 2014.

Sreedharan, P. (2013). Recent estimates of energy efficiency potential in the USA. Energy Efficiency, 6(3), 433–445.

Strbac, G. (2008). Demand side management: benefits and challenges. Energy Policy, 36(2008), 4419–4426.

TGO (Thailand Greenhouse Gas Management Organization). (2013). Emissions factors by industry: electricity, grid mix.

Tso, G. K. F., & Yau, K. K. W. (2003). A study of domestic energy usage patterns in Hong Kong. Energy, 28(15), 1671–1682.

Tummu, P., Chirarattananon, S., Hien, V. D., Chaiwiwatworakul, P., & Rakkwamsuk, P. (2013). Thermal performance of insulated walls enclosing residential spaces in Thailand. Energy and Buildings, 61(2013), 323–332.

UN (United Nations). (2012). World Urbanization Prospects: The 2011 Revision. United Nations Economic and Social Affairs. http://www.ctc-health.org.cn/file/World%20Urbanization%20Prospect%20The%202011%20Revision%20Highlights.pdf. Accessed 14 Jun 2014.

UNEP-SBCI (United Nations Environmental Programme – sustainable buildings and climate initiative). (2009). Buildings and climate change. Summary for decision-makers. United Nations Environmental Program Division of Technology, Industry and Economics: Sustainable Consumption and Production Branch. http://www.unep.org/sbci/pdfs/sbci-bccsummary.pdf. Accessed 20 Jun 2014.

Utama, A., & Gheewala, S. H. (2009a). Influence of material selection on energy demand in residential houses. Materials and Design, 30(2009), 2173–2180.

Utama, A., & Gheewala, S. H. (2009b). Indonesian residential high rise buildings: a life cycle energy assessment. Energy and Buildings, 41(2009), 1263–1268.

Vahl, F. P., Campos, L. M. S., & Filho, N. C. (2013). Sustainability constraints in techno-economic analysis of general lighting retrofits. Energy and Buildings, 67(2013), 500–507.

Wijaya, M. E., & Limmeechokchai, B. (2010). Demand side management options in the household sector through lighting efficiency improvement for Java-Madura-Bali Islands in Indonesia. Journal of Sustainable Energy & Environment, 1(2010), 111–115.

Wijaya, M. E., & Tezuka, T. (2013). A comparative study of households' electricity consumption characteristics in Indonesia: a techno-socioeconomic analysis. Energy for Sustainable Development, 17(2013), 596–604.
Acknowledgments
The authors would like to gratefully acknowledge the support of the Solar Decathlon Europe—King Mongkut's University of Technology Thonburi organization—as well as the School of Architecture and Design at King Mongkut's University of Technology Thonburi. Additionally, the authors would like to acknowledge the intellectual input of two anonymous reviewers in improving the clarity and readability of this article.
About this article
Cite this article
Bukoski, J.J., Chaiwiwatworakul, P. & Gheewala, S.H. Energy savings versus costs of implementation for demand side management strategies within an energy-efficient tropical residence. Energy Efficiency 9, 473–485 (2016). https://doi.org/10.1007/s12053-015-9374-y
Received:

Accepted:

Published:

Issue Date:
Keywords
Energy conservation

Operational energy

Green buildings

Tropical residences

Building envelope efficiency