Abstract
The need for energy efficient technological solutions is becoming ever more prevalent in today's world. However, current advances are failing to offer end-consumers with a flexible solution that can be widely implemented in domestic or business environments. This is particularly relevant at the user interface level where energy consumers should be allowed to easily engage in effective energy saving technology. With the help of semantically linked data, we aim to actively assist end-consumers in making well-informed decisions in order to successfully control their energy consumption. By integrating smart metering and home automation functionality, our SESAME system offers end-consumers energy-efficient and cost-cutting options for their homes or businesses. The developed SESAME system conceptualizes, demonstrates and evaluates a variety of innovative end-consumer services, here focusing specifically on their user interface paradigms. In this paper, we present three types of interactive participatory user interfaces, all of which enable users to interact with the house automation settings modelled as semantic rules, as well their evaluation in user studies based on the demonstrator system. We show that the proposed interfaces have the potential for broad acceptance, and provide a detailed analysis of the effectiveness of their varying design principles and features.
Access options
Buy single article
Instant access to the full article PDF.
US$ 39.95
Tax calculation will be finalised during checkout.
Subscribe to journal
Immediate online access to all issues from 2019. Subscription will auto renew annually.
US$ 79
Tax calculation will be finalised during checkout.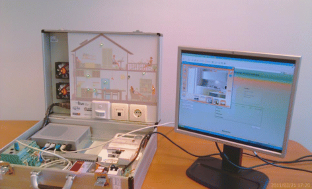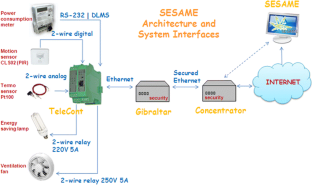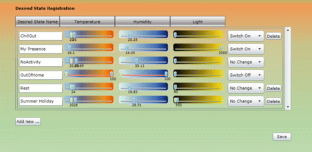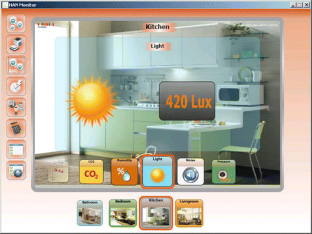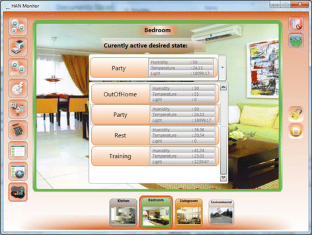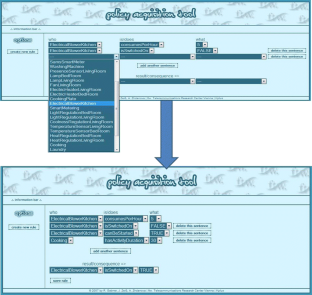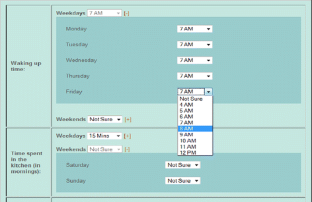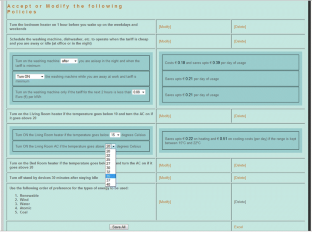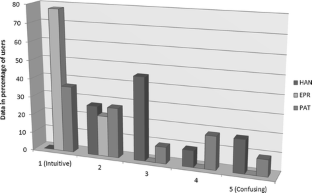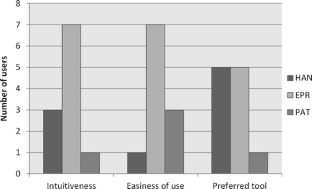 References
AlertMe. (2010). http://www.alertme.com/products/energy/how-it-works.

Apple Reveals Smart-Home Energy Management Dashboard System. (2010). http://www.patentlyapple.com/patently-apple/2010/01/apple-reveals-smart-home-energy-management-dashboard-system.html.

Berners-Lee, T., Hendler, J., Lassila, O. (2001). The semantic web. Scientific American 284(5), pp. 34-43, 2001.

Bizer, C., Heath, T., & Berners-Lee, T. (2009). Linked data-the story so far. International Journal on Semantic Web and Information Systems (IJSWIS), 5(3), 1-22.

Bonino, D., Castellina, E., Corno, F. (2008). "DOG: an ontology-powered OSGi domotic gateway". ICTAI '08: 20th IEEE International Conference on Tools with Artificial Intelligence, vol. 1, no., pp.157-160, 3-5 Nov. 2008.

Cisco's Home Energy Controller. (2010). http://www.cisco.com/web/consumer/products/hem.html.

Connected Urban Development. (2010). http://www.connectedurbandevelopment.org.

EU climate and energy "20-20-20" package. (2010). http://ec.europa.eu/clima/policies/brief/eu/package_en.htm.

"Energy Roadmap 2050", European Union (2012). http://ec.europa.eu/energy/publications/doc/2012_energy_roadmap_2050_en.pdf.

Fensel, A., Tomic, S., Kumar, V., Stefanovic, M., Aleshin, S., Novikov, D. (2013). "SESAME-S: semantic smart home system for energy efficiency", Informatik-Spektrum, Springer, Vol. 36, Iss. 1, pp. 46-57, 2013.

Friedman-Hill, E. (2003). Jess in action: java rule-based systems, Manning Publications Company, June 2003, ISBN 1930110898, http://herzberg.ca.sandia.gov/jess/.

Google's Power Meter. (2011). http://www.google.com/powermeter/.

Gray, A. J. G., Garcia-Castro, R., Kyzirakos, K., Karpathiotakis, M., Calbimonte, J.-P., Page, K. R., Sadler, J., Frazer, A., Galpin, I., Fernandes, A. A. A., Paton, N. W., Corcho, Ó, Koubarakis, M., De Roure, D., Martinez, K., Gómez-Pérez, A. (2011). A semantically enabled service architecture for mashups over streaming and stored data. In Proc. of 8th Extended Semantic Web Conference, ESWC 2011, Heraklion, Crete, Greece, May 29 - June 2, 2011, Proceedings, Part II. LNCS 6644 Springer 2011, pp. 300-314.

Hall, K., Puglise, F., Sawhney, S., Michaud, P. (2005). "The next generation of energy trading", IBM Business Consulting Services, white paper, 2005, http://www-304.ibm.com/easyaccess/fileserve?contentid=77765.

Hippel, E. (1986). Lead users: a source of novel product concepts. Management Science, 32, 791–805.

Hu, H., Yang, D., Fu, L.; Xiang, H., Fu, C., Sang, J., Ye, C., Li, R. (2011). "Semantic web-based policy interaction detection method with rules in smart home for detecting interactions among user policies," Communications, IET, vol.5, no.17, pp.2451,2460, November 25 2011.

Kimura, H., Nakajima, T. (2011). Designing persuasive applications to motivate sustainable behavior in collectivist cultures. PsychNology Journal, 9(1), 7-28. Retrieved November 1, 2011, www.psychnology.org.

Konnex Association. (2006). KNX handbook for home and building control, 5th ed., 2006.

Kumar, V., Fensel, A., Lazendic, G., Lehner, U. (2012). "Semantic policy-based data management for energy efficient smart buildings". In Proceedings of On the Move to Meaningful Internet Systems: OTM 2012 Workshops, Springer LNCS 7567, pp. 272-284, 10-14 September 2012, Rome, Italy (2012).

Loseto, G., Scioscia, F., Ruta, M., Di Sciascio, E. (2012). "Semantic-based smart homes: a multi-agent approach". 13th Workshop on Objects and Agents (WOA 2012), Volume 892, page 49-55, Sep 2012.

Loviscach, J. (2011). The design space of personal energy conservation assistants. PsychNology Journal, 9(1), 29 - 41. Retrieved December 11, 2011, from www.psychnology.org.

"Making Service Science Mainstream", a white paper based on the 2009 Service Science Summit (2009). http://www.servicefactory.aalto.fi/fi/wp-content/themes/default/Service_Science_Summit_White_Paper.pdf.

Open Energy Information Initiative (OpenEI), http://en.openei.org.

Real-time open data web service for the Internet of things – Pachube, 2011, https://pachube.com.

Schulz, S. (2010). "Smarthome-Konzepte - Schalt die Heizung mit dem Handy aus", Spiegel, Jan 2010, http://www.spiegel.de/wirtschaft/unternehmen/0,1518,667932,00.html.

Schwanzer, M., and Fensel, A. (2010). "Energy consumption information services for smart home inhabitants". In Proceedings of the 3rd Future Internet Symposium (FIS'10), 20-22 September 2010, Berlin, Germany; Springer Verlag, LNCS 6369, pp. 78-87.

SESAME project, 2009-2010, http://sesame-s.ftw.at.

SESAME-S project, 2011-2012, http://sesame-s.ftw.at.

Spohrer, J. and Maglio, P.P. (2008). The emergence of service science: toward systematic service innovations to accelerate co-creation of value", white paper, 2008, http://www.almaden.ibm.com/asr/resources/jspm.pdf.

Tang, Y., Ciuciu, I. (2012). "Semantic decision support models for energy efficiency in smart-metered homes". In Proceedings of 11th IEEE International Conference on Trust, Security and Privacy in Computing and Communications, TrustCom 2012, Liverpool, United Kingdom, June 25-27, 2012, IEEE Computer Society, pp. 1777-1784.

Tomic, S., Fensel, A., Schwanzer, M., Kojic Veljovic, M., Stefanovic, M. (2011). "Semantics for energy efficiency in smart home environments". Applied Semantic Technologies: Using Semantics in Intelligent Information Processing (Eds.: Sugumaran, V. & Gulla, J.A.), Taylor and Francis, August 2011.

Xu, J., Lee, Y., Tsai, W.-T., & Li, W. (2009). Ontology-based smart home solution and service composition (pp. 297–304). Hangzhou, China: Proc. Int. Conf. on Embedded Software and Systems.

Zapico, J. L., Guath, M., & Turpeinen, M. (2011). Kilograms or cups of tea: comparing footprints for better CO2 understanding. PsychNology Journal, 9(1), 43–54.

Zeiss, J., Gabner, R., Zhdanova, A.V., Bessler S. (2008). "A semantic policy management environment for end-users". In Proceedings of International Conference on Semantic Systems (I-SEMANTICS'08), 3-5 September 2008, Graz, Austria, J.UCS, pp. 67-75.
Acknowledgments
This work is supported by the FFG COIN funding line, within the SESAME and SESAME-S projects. FTW is supported by the Austrian government and the City of Vienna within the competence centre programme COMET. The authors thank the whole SESAME project team for their valuable contributions—especially colleagues from Experimental Factory of Scientific Engineering (EZAN), Russia, for the SESAME hardware development and E-Smart Systems d.o.o., Serbia, for the development of the HAN interfaces, as well as Amy Strub for the editing and English proofreading of this paper.
Appendix: User trial tasks descriptions
Appendix: User trial tasks descriptions
Case study 1: HAN simulator
(1)

Aim: Scheduling a device.

Parts of this software can be used to schedule operation of certain devices at desired times of day based on, for example, when the tariff is low compared to peak consumption hours or (potentially) when you are away at work.

(i).

In this respect, your first task is to check the status of the laundry machine. If it is switched on, then turn it off on the interface. Now you are ready to schedule this device and set it to start at a desired time of day.

(ii).

In this step, you need to set the device plan for washing according to your preference. Try to set the plan for laundry washing in a way in which the time interval coincides with the current time.

(iii).

If you have correctly set the plan to coincide with the current time as suggested in the above step, you should now see that the LED denoting the washing machine is lit. You can cross check this in the interface you used in step (a).

(2)

Aim: Observe and familiarize yourself with concept of desired state.

Another important feature of this system is that it allows you to save your preferred temperature, humidity, lighting, etc. in the form of "Desired States." You can create several of these desired states and set them in advance to be activated at various times of the day/day of the week.

(i).

Your first task is to check the currently active "Desired state" in the living room and note down its active parameters (temperature, humidity, etc.). This software also allows you to classify your days in advance as weekdays (working days), weekends, and holidays. Classifying your days in advance allows you to set different desired states to be activated on different days. You can, for example, set 26 October as a holiday and tell the system to activate a holiday specific desired state for days marked as holidays.

(ii).

To experiment with this feature, set today's date as a "holiday" in the system.

(iii).

Now, set the current living room profile for holiday to a different value than the currently active desired state observed in (i). Check if the desired state was activated.

(iv).

On the demonstrator (suitcase), you will find two temperature sensors which look like thin metal sticks protruding out of the part of the demonstrator where the picture of a house is shown. Gently hold the temperature sensor for the living room till the temperature rises by almost 1 °C. At this point, the small fan (and an LED representing the same) should automatically be switched on, indicating that when the temperature rises above the comfort zone you set in task 2 (b), the system automatically intervenes in order to bring the conditions back to your comfort level.

(3)

Aim: Understanding the SESAME simulator.

(i).

Set your presence and absence conditions and change various environmental conditions of various rooms in the SESAME simulator. Observe and understand the changes taking place on the demonstrator.
Case study 2: Questionnaire-based policy acquisition (EPR)
Aim: Understanding the tool
This tool has been developed to give you a jump start into the SESAME system. One of the highlights of our project is that it enables you to create smart policies (rules) for the activation/deactivation of various appliances in your home which you can store in the system, and the system will behave accordingly.As a first step in this direction, we ask you to give us some information about your daily habits and mundane routines to the best of your knowledge and based on your input, we instantiate several pre-defined policies customized according to your day-to-day habits. You can either accept or reject these policies as you choose. We also allow you to tweak these policies further in case you do not wish to accept them, as it is but in a modified format.
(a)

Your first task is to input your habits in the introduction page to the best of your knowledge.

(b)

In the next task, you are invited to play with the policies that we have created based on our perception of what would be convenient for you as per your input in the previous task. You can accept/modify/reject these policies. Go through each of them and see how you could make your home automation work in a more eco-friendly way.

(c)

Save the rules after you are done with all the modifications.
Case study 3: Policy acquisition tool (PAT)
Aim: Creating and saving a complex policy
a)

Introduction: This tool allows you to create smart policies/rules aimed at providing a smart home experience while also reducing the overall costs of energy usage. Each rule starts with a triple of fields represented by (i) Who (ii) is/does (iii) what. You are required to input under "precondition" which field you would expect the rule to be triggered. This is followed by a "result/consequence" field where you should put the actions that need to be performed if the "precondition" you specified is met and the rule is triggered.

b)

Create a rule whose precondition consists of three sentences (represented by three sets of triples) for example:

(i).

The cooking activity has a duration of 30 min, and

(ii).

The electric blower in the kitchen is switched on (its status is true),

(c)

In the post-condition, (the triple followed by result/consequence) put the action to be done as

(i).

Electric blower is switched on is set to true.
About this article
Cite this article
Fensel, A., Kumar, V. & Tomic, S.D.K. End-user interfaces for energy-efficient semantically enabled smart homes. Energy Efficiency 7, 655–675 (2014). https://doi.org/10.1007/s12053-013-9246-2
Received:

Accepted:

Published:

Issue Date:
Keywords
Smart home

Semantics

Energy efficiency

User interfaces