Abstract
Artificial lighting has transformed how humans relate to the world, by improving productivity and making spaces habitable. The adoption of energy-efficient solid-state lighting, light emitting diodes (LED), has been suggested as a way of reducing energy used for lighting. Such predictions rest on the assumptions of constant light density and time of use in the future, assumptions not supported by past trends. In order to better understand how consumers choose to adopt energy-efficient artificial lighting for their homes; a survey was administered in four major urban areas: Chicago, Houston, New York, and San Francisco. Major insights from the survey indicate that if lighting becomes less expensive through adopting energy-efficient light sources, there is the potential for consumers to use considerably more, and the point at which the price for LED lighting yields broad market penetration is about one half of current prices. Regional factors such as lighting subsidies, taxation policies, laws, and educational information are also explored.
Access options
Buy single article
Instant access to the full article PDF.
USD 39.95
Price excludes VAT (USA)
Tax calculation will be finalised during checkout.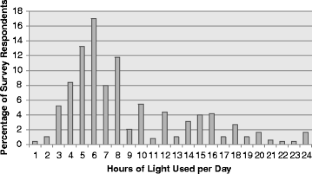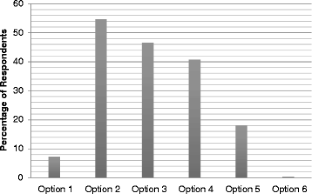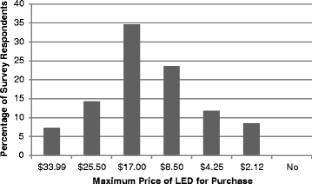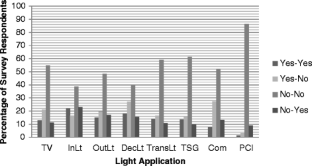 Abbreviations
ComEd:

Commonwealth Edison

CFL:

Compact fluorescent light

ConEd:

Consolidated Edison

CRT:

Cathode ray tube

LCD:

Liquid crystal display

LED:

Light emitting diode

Quads:

Quadrillion British Thermal units

Tlmhr:

Teralumen hour

TWh:

Terawatt hour
References
Anderson, S., Wandersee, S., Arcenas, A., & Baumgartner, L. (Retrieved 2013). Craigslist samples of convenience: recruiting hard-to-reach populations. From University of California Santa Barbara: http://fiesta.bren.ucsb.edu/~sanderson/CraigslistSurvey.pdf. Accessed 13 February 2013.

Attari, S. Z., DeKay, M. L., Davidson, C. I., & de Bruin, W. (2010). Public perception of energy consumption and savings. PNAS, 107(37), 16054–16059.

Azevedo, I. L., Morgan, M. G., & Morgan, F. (2009). The transition to solid-state lighting. Proceedings of the IEEE, 97(3), 481–510.

Bulbs.com. http://www.bulbs.com/Light_Bulbs/results.aspx. Accessed 11 July 2-12.

CenterPoint Energy. Advanced lighting program—residential. (CenterPoint Energy) http://www.centerpointenergy.com/services/electricity/residential/energyefficiencyprograms/advancedlightingAccessed 14 August 2012.

Chicago climate action plan. (2008). http://www.chicagoclimateaction.org/pages/savings_challenge/39.php. Accessed 31 October 2012.

City of Houston. (2012). Energy efficiency. Green Houston: http://www.greenhoustontx.gov/energy2.html. Accessed 19 October 2012.

ComEd. Light your way to energy savings. (ComEd) https://www.comed.com/home-savings/rebates-incentives/Pages/lighting-discounts.aspx. Accessed 14 August 2012.

ConEd. Use less energy and save money with Con Edison Multi-Family Energy Efficiency Program. (Con Edison) http://www.aeanyc.org/atf/cf/%7B25EB3A12-0F4D-46E3-8B7A-F8D05BDBBEE4%7D/MF-FactSheet2010FinalLR.pdf. Accessed 14 August 2012.

Dahmus, J., & Gutowski, T. (2010) Can efficiency improvements reduce resource consumption? A historical analysis of ten activities. http://stuf.mit.edu/afs/athena.mit.edu/course/2/2.813/OldFiles/www/readings/DahmusGutowskiEfficiency.pdf. Accessed 25 January 2012.

Druckman, A., Chitnis, M., Sorrell, S., & Jackson, T. (2011). Missing carbon reductions? Exploring rebound and backfire effects in UK households. Energy Policy, 39, 3572–3581.

Duncan, G. (2006, October 23). LCD TVs take lead by 2007. http://www.digitaltrends.com/home-theater/lcds-tvs-to-take-lead-by-2007/. Accessed 20 December 2012.

Energy Star. (2012) Product retrospective: televisions. http://www.energystar.gov/ia/products/downloads/TVs_Highlights.pdf. Accessed 3 January 2013.

Entergy. (2012). Residential/hard-to-reach/AC & HP standard offer programs. (Entery Texas, Inc.) http://www.entergytexas.com/Your_Home/energy_efficiency/res_hard_to_reach.aspx. Accessed 14 August 2012.

Fouquet, R., & Pearson, P. J. (2006). Seven centuries of energy services: the price and use of Light in the United Kingdom (1300–2000). The Energy Journal, 27(1), 139–178.

Greening, L. A., Greene, D. L., & Difiglio, C. (2000). Energy efficiency and consumption—the rebound effect—a survey. Energy Policy, 28, 389–401.

Hsee, C. K., Yu, F., Zhang, J., & Zhang, Y. (2003). Medium maximization. The Journal of Consumer Research, Inc, 3(1), 1–14.

Lighting Facts. (2012). LED lighting facts. http://www.lightingfacts.com/default.aspx?content/efficiency/summary. Accessed 12 October 2012

Magennis, N. (2011, November 1). TV buying guide. http://www.reviews.cnet.uk/tvs/tv-buying-guide-50005874/. Accessed 31 December 2012.

Navigant. (2010). Energy savings potential of solid-state lighting in general illumination applications 2010–2030. United States Department of Energy

Navigant. (2012a). Life-cycle assessment of energy and environmental impacts of LED lighting products—Part 1. United States Department of Energy

Navigant. (2012b), 2010 US lighting market characterization. United States Department of Energy

NYC Department of Sanitation. (2012). Lighting. http://www.nyc.html/nycwasteless/html/wasteless/athome_tips_shopping_lighting_shtml. Accessed 19 October 2012.

NYSERDA. (2012). Residential. http://www.nyserda.ny.gov/en/Residential/Energy-Saving-Tips/Residential.aspx. Accessed 31 October 2012.

Pacific Northwest National Laboratory. (2006). Compact fluorescent lighting in America: lessons learned on the way to market.

Paczkowski, J. (2012, March 27). Flat-panel TV sales flatten in US. All Things D. http://allthingsd.com/20120327/flat-panel-tv-sales-flatten-in-u-s/. Accessed 19 December 2012.

PG&E. (2012). Rebates for Your Home. (Pacific Gas and Electric) Retrieved August 14, 2012, from http://www.pge.com/myhome/saveenergymoney/rebates/

Pierce, J., Schinao, D. J., & Paulos, E. (2010). Home, habits, and energy: examining domestic interactions and energy consumption. CHI 2010.

PlaNYC (2007). Green Buildings and Energy Efficiency. http://www.nyc.gov/html/gbee/html/home/home.shtml. Accessed 31 October 2012.

RTINGS. (2012) RTINGS. http://www.rtings.com. Accessed 31 2012.

San Francisco (2004). Climate action plan. http://www.sfenvironment.org/sites/default/files/fliers/files/climateactionplan.pdf. Accessed 31 October 2012.

Saunders, H. (1992). The Khazzon–Brookes postulate and neoclassical growth. The Energy Journal, 13(4), 131–148.

Sorrel, S. (2007, October). The rebound effect: an assessment of the evidence for economy-wide energy savings from improved energy efficiency. UK Energy Research Centre. http://www.ukerc.ac.uk/Downloads/PDF/07/0710ReboundEffect/0710ReboundEffectReport.pdf. Accessed 18 February 2013.

Tael, R. (2010, December 9). First decline in annual U.S. LCD sales in 2010. iSuppli: http://www.isuppli.com/Display-Materials-and-Systems/MarketWatch/Pages/First-Decline-in-Annual-US-LCD-TV-Sales-in-2010.aspx. Accessed 20 December 2012.

Tsao, J., Saunders, H., Creighton, J., Coltrin, M., & Simmons, J. (2010). Solid-state lighting: an energy economics perspective. Journal of Physics D: Applied Physics, 43, 1–17.

Tsao, J., & Waide, P. (2010). The world's appetite for light: empirical data and trends spanning three centuries and six continents. Leukos, 6(4), 259–281.

Turner, K. (2012, July). 'Rebound' effects from increased energy efficiency: a time to pause and reflect. Stirling Economics Discussion Paper 2012–15. http://www.management.stir.ac.uk/research/economics/working-papers. Accessed 14 February 2013.

U.S. Department of Energy. (2012). DSIRE. Energy Efficiency and Renewable Energy: http://www.dsireusa.org/. Accessed 19 October 2012.

U.S. Energy Information Administration. (2011). Annual Energy Review 2010

Wertenbroch, K., Soman, D., & Chattopadhyay, A. (2007). On the perceived value of money: the reference dependence of currency numerosity effects. Journal of Consumer Research, 34(1), 1–10.
Acknowledgments
The authors would like to acknowledge the following funding sources at the University of Illinois at Chicago for support of this work: Chancellor's Graduate Research Fellowship, Provost's Award for Graduate Research, and the Institute for Environmental Science and Policy Predoctoral Fellowship. Additionally, we thank the Survey Research Laboratory of the University of Illinois at Chicago for assistance with the design of the survey instrument used in this study. The authors respectfully thank the anonymous reviewers for their comments on this article.
Electronic supplementary material
Below is the link to the electronic supplementary material.
About this article
Cite this article
Hicks, A.L., Theis, T.L. Residential energy-efficient lighting adoption survey. Energy Efficiency 7, 323–333 (2014). https://doi.org/10.1007/s12053-013-9226-6
Received:

Accepted:

Published:

Issue Date:

DOI: https://doi.org/10.1007/s12053-013-9226-6
Keywords
Artificial lighting

LED

Residential

Lighting consumption

Energy efficiency

Survey