Abstract
Due to mounting concerns related to fossil fuel use and problems with their supply, the use of alternative sources of energy is increasing. One of the alternative sources is biomass and the European Union has adopted a biofuel directive that describes targets for the use of biofuels in the transport sector. The majority of biofuels produced in Europe comes from rapeseed. In this study, we focused on analyzing the efficiency of rapeseed biodiesel production. Energy efficiency in terms of Energy Return On Energy Invested (EROEI) was analyzed for two EU countries (Poland and The Netherlands) with different agro-ecological systems. Life Cycle Inventory (LCI) accounted for inputs, processes and outputs of energy in the biodiesel production system. Input parameters were derived from literature as well as from farmer's interviews. The use of the outputs—straw, meal, and glycerin—were included in the LCI system boundary. The EROEI values ranged from 1.73 to 2.36 in Poland and from 2.18 to 2.60 in the Netherlands. The low number of respondents makes it risky to draw hard conclusions about these values but the patterns observed show that intensifying the production process and increasing yield bears very little or no benefit in terms of energy produced. Due to a higher amount of organic manure and consequently lower amount of artificial fertilizers used in crop growth in the Netherlands, the rapeseed biodiesel production system in the Netherlands is more efficient than in Poland. In both cases, the EROEI is quite low. More detailed spatial energy efficiency assessments are required to determine if and where sustainable production may be possible.
Access options
Buy single article
Instant access to the full article PDF.
USD 39.95
Price excludes VAT (USA)
Tax calculation will be finalised during checkout.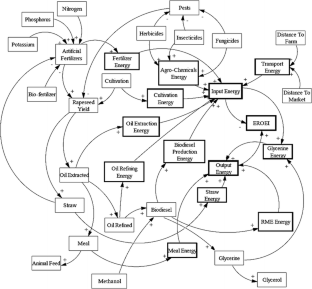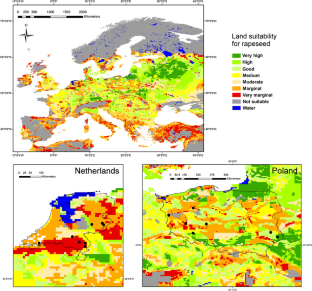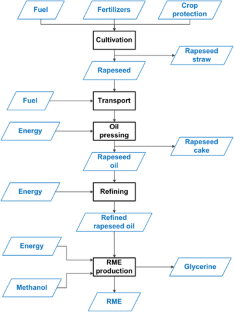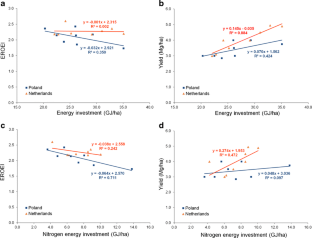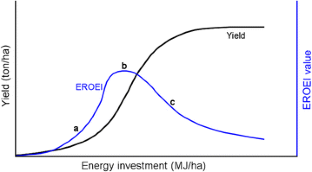 Notes
It would make sense to assume that trucks instead of tractors would be used to deliver the yield to markets, especially over longer distances. This may be the case but it hardly changes our results, because fuel consumption of heavy trucks is almost the same as for tractors. Natural Resources Canada reports in a 2000 survey that the average fuel consumption of its fleet was 39.5 l/100 km (http://oee.nrcan.gc.ca/transportation/business/documents/case-studies/fuel-effic-benchm.cfm?attr=16). Even assuming that this has improved over the past 12 years, we get results similar to what we have for tractors.
References
Ajanovic, A. (2011). Biofuels versus food production: does biofuels production increase food prices? Energy, 36(4), 2070–2076. doi:10.1016/j.energy.2010.05.019.

Arvidsson, R., Persson, S., Fröling, M., & Svanström, M. (2011). Life cycle assessment of hydrotreated vegetable oil from rape, oil palm and Jatropha. Journal of Cleaner Production, 19(2–3), 129–137. doi:10.1016/j.jclepro.2010.02.008.

Baka, J., & Roland-Holst, D. (2009). Food or fuel? What European farmers can contribute to Europe's transport energy requirements and the Doha Round. Energy Policy, 37(7), 2505–2513. doi:10.1016/j.enpol.2008.09.050.

Batchelor, S. E., Booth, E. J., & Walker, K. C. (1995). Energy analysis of rape methyl ester (RME) production from winter oilseed rape. Industrial Crops and Products, 4(3), 193–202. doi:10.1016/0926-6690(95)00032-8.

Bernesson, S., Nilsson, D., & Hansson, P.-A. (2004). A limited LCA comparing large- and small-scale production of rape methyl ester (RME) under Swedish conditions. Biomass and Bioenergy, 26(6), 545–559. doi:10.1016/j.biombioe.2003.10.003.

Bomb, C., McCormick, K., Deurwaarder, E., & Kåberger, T. (2007). Biofuels for transport in Europe: lessons from Germany and the UK. Energy Policy, 35(4), 2256–2267. doi:10.1016/j.enpol.2006.07.008.

Börjesson, P. (2009). Good or bad bioethanol from a greenhouse gas perspective—what determines this? Applied Energy, 86(5), 589–594. doi:10.1016/j.apenergy.2008.11.025.

Börjesson, P., Tufvesson, L., & Lantz, M. (2010). Life Cycle Assessment of Biofuels in Sweden. http://www.miljo.lth.se/svenska/internt/publikationer_internt/pdf-filer/Report%2070%20-%20LCA%20of%20Biofuels%20(1).pdf. Report Number: 70, Lund University Department of Technology and Society Environmental and Energy Systems Studies. Accessed 18 May 2011.

Börjesson, P., & Tufvesson, L. M. (2011). Agricultural crop-based biofuels—resource efficiency and environmental performance including direct land use changes. Journal of Cleaner Production, 19(2–3), 108–120. doi:10.1016/j.jclepro.2010.01.001.

Brecha, R. J. (2008). Emission scenarios in the face of fossil-fuel peaking. Energy Policy, 36(9), 3492–3504. doi:10.1016/j.enpol.2008.05.023.

Bureau, J. C., Disdier, A. C., Gauroy, C., & Treguer, D. (2010). A quantitative assessment of the determinants of the net energy value of biofuels. Energy Policy, 38(5), 2282–2290. doi:10.1016/j.enpol.2009.11.089.

Campbell, A., & McCurdy, M. (2008). Primary Energy and Greenhouse Gas Emissions from Biodiesel Made from Southland Rapeseed.: Report No. 08–11583. CRL Energy Ltd. Lower Hutt, New Zealand.

Cherubini, F., Bird, N. D., Cowie, A., Jungmeier, G., Schlamadinger, B., & Woess-Gallasch, S. (2009). Energy- and greenhouse gas-based LCA of biofuel and bioenergy systems: key issues, ranges and recommendations. Resources, Conservation and Recycling, 53(8), 434–447.

Cherubini, F., & Strømman, A. H. (2011). Life cycle assessment of bioenergy systems: state of the art and future challenges. Bioresource Technology, 102(2), 437–451. doi:10.1016/j.biortech.2010.08.010.

Cleveland, C. J. (2008). Energy return on investment (EROI). In C. J. Cleveland (Ed.), Encyclopedia of the Earth. Washington: National Council for Science and the Environment (NCSE).

Crutzen, P. J., Mosier, A. R., Smith, K. A., & Winiwarter, W. (2008). N2O release from agro-biofuel production negates global warming reduction by replacing fossil fuels. Atmospheric Chemistry and Physics, 8(2), 389–395. doi:10.5194/acp-8-389-2008.

Davis, S. C., Anderson-Teixeira, K. J., & DeLucia, E. H. (2009). Life-cycle analysis and the ecology of biofuels. Trends in Plant Science, 14(3), 140–146.

Demirbas, A. (2008). Biofuels sources, biofuel policy, biofuel economy and global biofuel projections. Energy Conversion and Management, 49(8), 2106–2116. doi:10.1016/j.enconman.2008.02.020.

Downs, H.W., & Hansen, R.W. (1998). Estimating Farm Fuel Requirements. Colorado State University Extension. Fact Sheet No. 5.006, www.ext.colostate.edu. Accessed 22 January, 2013.

EIA U.S. Energy Information Administration (2010). International Energy Outlook 2010—Highlights. Report DOE/EIA-0484(2010) U.S. Energy Information Administration. Washington, USA.

European Biodiesel Board (2011). What is biodiesel? http://www.ebb-eu.org/biodiesel.php#whatis. Accessed 17 May 2011.

European Commission (2005). PURSUANT TO ARTICLE 4(1) OF DIRECTIVE 2003/30/EC: on the promotion of the use of biofuels or other renewable fuels for transport. Brussels, Belgium.

FAOSTAT (2011). Data related to Food and Agriculture (2011). FAO. http://faostat.fao.org/. Accessed 20 May 2011.

Farrell, A. E., Plevin, R. J., Turner, B. T., Jones, A. D., O'Hare, M., & Kammen, D. M. (2006). Ethanol can contribute to energy and environmental goals. Science, 311(5760), 506–508. doi:10.1126/science.1121416.

Fischer, G., van Velthuizen, H., Shah, M., & Nachtergaele, F. (2002). Global Agro-ecological Assessment for Agriculture in the 21st Century: Methodology and Results. Report RR-02-02. International Institute for Applied Systems Analysis (IIASA) in collaboration with FAO. Laxenburg, Austria.

Gärtner, S. O., & Reinhardt, G. A. (2003). Life Cycle Assessment of biodiesel: update and new aspects. Heidelberg, Germany: Institute for Energy and Environmental Research (IFEU).

Grisso, R., Perumpral, J.V., Vaughan, D., Roberson, G.T., & Pitman, R. (2010). Predicting Tractor Diesel Fuel Consumption. Virginia Cooperative Extension, PUBLICATION 442–073.

Hall, C., Balogh, S., & Murphy, D. (2009). What is the minimum EROI that a sustainable society must have? Energies, 2(1), 25–47.

Halleux, H., Lassaux, S., Renzoni, R., & Germain, A. (2008). Comparative life cycle assessment of two biofuels ethanol from sugar beet and rapeseed methyl ester. International Journal of Life Cycle Assessment, 13(3), 184–190. doi:10.1065/Ica2008.03.382.

Hammond, G. P., Kallu, S., & McManus, M. C. (2008). Development of biofuels for the UK automotive market. Applied Energy, 85(6), 506–515. doi:10.1016/j.apenergy.2007.09.005.

Horne, R., Grant, T., & Verghese, K. (2009). Life cycle assessment; principles, practice and prospects. Australia: CSIRO.

ISO 14040 (2006). Environmental management—Life cycle assessment—Principles and framework. Geneva, Switzerland: International Organization for Standardization, Switzerland.

ISO 14044 (2006). Environmental management—Life cycle assessment—Requirements and guidelines. Geneva, Switzerland: International Organization for Standardization, Switzerland.

Janulis, P. (2004). Reduction of energy consumption in biodiesel fuel life cycle. Renewable Energy, 29(6), 861–871. doi:10.1016/j.renene.2003.10.004.

Jenssen T.K., & Kongshaug G. (2003). Energy consumption and greenhouse gas emissions in fertiliser production. Proceedings No. 509. Paper presented to The International Fertiliser Society at a Meeting in London, on 3rd April 2003. The International Fertiliser Society, York, United Kingdom. ISBN 0 85310 145 0. ISSN 1466–1314. www.fertiliser-society.org.

Johnston, M., Foley, J. A., Holloway, T., Kucharik, C., & Monfreda, C. (2009). Resetting global expectations from agricultural biofuels. [doi: 10.1088/1748-9326/4/1/014004]. Environmental Research Letters, 4(1).

Kavalov, B. (2004). Biofuel potentials in the EU. Technical Report Series, EUR21012.: European Commission Joint Research Center.

Kutas, K., Lindberg, C., & Steenblik, R. (2007). Biofuels: At What Cost? Government Support for Ethanol and Biodiesel in the European Union. Report for the Global Subsidies Initiative (GSI) of the International Institute for Sustainable Development (IISD) Geneva, Switzerland.

Lewis, C. A. (1997). Fuel and Energy Production Emission Factors. MEET Project: Methodologies for Estimating Air Pollutant Emissions from Transport. Task No 3.4. Deloverable No. 20. Didcot, UK.: AEA Technology plc.

Mc Alister, S., & Horne, R. (2009). Climate change responses: carbon offsets, biofuels and the life cycle assessment contribution. In T. Grant, R. Horne, & K. Verghese (Eds.), Life cycle assessment: principles, practice and prospects. Australia: CSIRO.

Molenaar, K. (2007). Promotion plan for the Field Fact project. PPO. http://www.fieldfact.com/LinkClick.aspx?fileticket=ZTHNdEnbZqE%3D&tabid=588&mid=1307. Accessed 9 December 2012.

Mortimer, N. D., Cormack, P., Elsayed, M. A., & Horne, R. E. (2003). Evaluation of the comparative energy, global warming and socio-economic costs and benefits of biodiesel. Sheffield: Resources research unit, School of Environment and Development, Sheffield Hallam University. Final Report.

Mulder, K., & Hagens, N. J. (2008). Energy return on investment: toward a consistent framework. Ambio, 37(2), 74–79.

Murphy, D. J., & Hall, C. A. S. (2010). Year in review—EROI or energy return on (energy) invested. Annals of the New York Academy of Sciences, 1185(1), 102–118. doi:10.1111/j.1749-6632.2009.05282.x.

Murphy, R., Woods, J., Black, M., & McManus, M. (2011). Global developments in the competition for land from biofuels. Food Policy, 36, S52–S61. doi:10.1016/j.foodpol.2010.11.014.

Nanaki, E. A., & Koroneos, C. J. (2009). Comparative LCA of the use of biodiesel, diesel and gasoline for transportation. Paper presented at the 1st International Exergy, Life Cycle Assessment, and Sustainability Workshop & Symposium (ELCAS), 4–6 June, 2009, Nisyros, Greece.

Netherlands Environmental Assessment Agency (2010). Serious indirect effects of some biofuels on global biodiversity and greenhouse gas emissions. http://www.pbl.nl/en/news/pressreleases/2010/20100531-Serious-indirect-effects-of-some-biofuels-on-global-biodiversity-and-greenhouse-gas-emissions. Accessed 12 May 2011.

Thamsiriroj, T., & Murphy, J. D. (2010). Can rapeseed biodiesel meet the European Union sustainability criteria for biofuels? Energy & Fuels, 24(3), 1720–1730. doi:10.1021/ef901432g.

The Offshore Valuation Group The Offshore Valuation (2010). A valuation of the UK's offshore renewable energy resource. Public Interest Research Centre. Public Interest Research Centre, Machynlleth, Wales, UK. http://offshorevaluation.org/downloads/offshore_valuation_full.pdf. Accessed 9 December 2012.

VROM (2010). Biofuels. http://international.vrom.nl/pagina.html?id=37483. Accessed 15 October 2010.

Wu, J. Y., & Sardo, V. (2010). Sustainable versus organic agriculture. In: Sociology, Organic Farming, Climate Change and Soil Science. [doi: 10.1007/978-90-481-3333-8_3]. Sustainable Agriculture Reviews 3, eds. E. Lichtfouse, 41–76. Dordrecht, Netherlands: Springer Science+Business Media B.V.
Acknowledgments
This study was enabled by European funding in the form of an Erasmus Mundus Scholarship for the first author. We are highly indebted to the Polish and Dutch rapeseed farmers, who participated in this research. We also would like to thank Antoon Kleverkamp (Colzaco) and Joep Hermans (Carnola) for their valuable information on rapeseed farming and rapeseed biofuel production. Joanna Sopyło is acknowledged for translating the questionnaire into Polish and assisting in interviewing farmers during the study. A. Voinov was partially supported by the BE2.0 (Bioenergy for Overijssel) project. We also thank the reviewers for their valuable comments on the manuscript.
About this article
Cite this article
Firrisa, M.T., van Duren, I. & Voinov, A. Energy efficiency for rapeseed biodiesel production in different farming systems. Energy Efficiency 7, 79–95 (2014). https://doi.org/10.1007/s12053-013-9201-2
Received:

Accepted:

Published:

Issue Date:

DOI: https://doi.org/10.1007/s12053-013-9201-2
Keywords
Biofuel

Energy efficiency

EROEI

LCA

LCI

RME