Abstract
Providing homeowners with real-time feedback on their electricity consumption through a dedicated display device has been shown to reduce consumption by approximately 6–10 %. However, recent advances in smart grid technology have enabled larger sample sizes and more representative sample selection and recruitment methods for display trials. By analyzing these factors using data from current studies, this paper argues that a realistic, large-scale conservation effect from feedback is in the range of 3–5 %. Subsequent analysis shows that providing real-time feedback may not be a cost effective strategy for reducing carbon emissions in Australia, but that it may enable additional benefits such as customer retention and peak-load shift.
Access options
Buy single article
Instant access to the full article PDF.
US$ 39.95
Tax calculation will be finalised during checkout.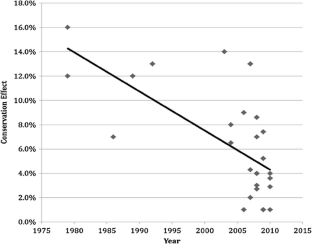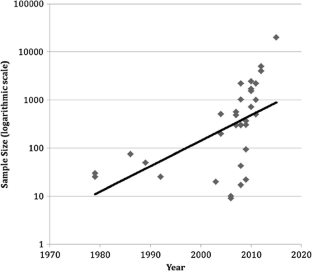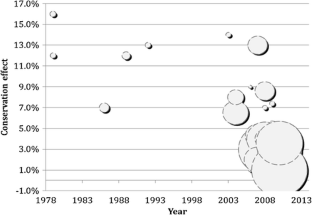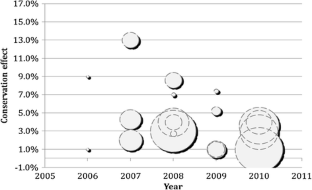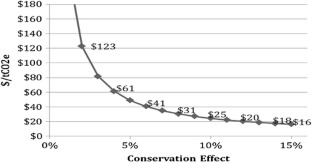 Notes
1.

Project life and cost estimates include hardware and program administration costs for a large-scale roll-out (10,000+ units). Prices in Australian dollars.

2.

From highest to lowest: UK, China, US, Japan, Australia, South Korea.

3.

The appropriate personal discount rate for energy consuming appliances is beyond the scope of this paper and the figure of 10 % is used for illustrative purposes only. There is evidence that consumers may apply very high discount rates in this context. One study found an implicit discount rate of 25 % for the purchase of air conditioners (Hausman 1979).
References
Abrahamse, W., Steg, L., Vlek, C., & Rothengatter, T. (2005). A review of intervention studies aimed at household energy conservation. Journal of Environmental Psychology, 25, 273–291.

AECOM. (2011). Energy demand research project: final analysis. Hertfordshire: AECOM House (prepared for Ofgem).

Ai He, H., Greenberg, S., Huang, E. (2010). One size does not fit all: applying the transtheoretical model to energy feedback technology design. In CHI '10-Proceedings, 28th International Conference on Human Factors in Computing Systems.

Allen, D., Janda, K. (2006). The effects of household characteristics and energy use consciousness on the effectiveness of real-time energy use feedback: a pilot study. ACEE Summer Study on Energy Efficiency in Buildings. Washington, DC: American Council for an Energy Efficient Economy.

Amos, C. (2009). Energy Australia's experience with smart metering. Proceedings of the 2nd Annual National Smart Metering and AMI Conference. Melbourne, Australia.

Brandon, G., & Lewis, A. (1999). Reducing household energy consumption: a qualitative and quantitative field study. Journal of Environmental Psychology, 19, 75–85.

Caroll, E., Hatton, E., & Brown, M. (2009). Residential energy use behaviour change pilot—CMFS project code B21383. Wisconsin: Franklin Energy.

Cunningham, W., Joseph, B. (1978). Energy conservation, price increases and payback periods. In H.K. Hunt (ed.), Advances in Consumer Research, 5 pp. 201–205.

Darby, S. (2000). Making it obvious: designing feedback into energy consumption. Proceedings, 2nd International Conference on Energy Efficiency in Household Appliances and Lighting. Italian Association of Energy Economists/ EC-SAVE programme.

Darby, S. (2006). The effectiveness of feedback on residential energy consumption. A review for DEFRA of the literature on metering, billing and direct displays. Environmental Change Institute, University of Oxford.

Darby, S. (2008). Energy feedback in buildings—improving the infrastructure for demand reduction. Building Research and Information, 36, 499–508.

Darby, S. (2010). Smart metering: what potential for householder engagement? Building Research and Information, 38, 442–457.

De Bortoli, D. (2009). Adelaide Solar City: innovative solutions to engage consumers and facilitate behavioural change. Proceedings of the ISES Solar World Congress, 2009. Johannesburg, South Africa.

Department of Climate Change and Energy Efficiency (2011a). National Greenhouse Accounts (NGA) Factors. Barton, Australia: Commonwealth Copyright Administration—Department of Climate Change and Energy Efficiency.

Department of Climate Change and Energy Efficiency (2011b). Carbon Pricing—Think Change [online] available at <http://www.climatechange.gov.au/government/reduce/carbon-pricing.aspx> [Accessed 24 July 2011]

Distributech (2011). Distributech—the leading annual smart grid event [online] available at <http://www.distributech.com> [Accessed 17 June 2011].

Dobson, J., Griffin, J. (1992). Conservation effect of immediate electricity cost feedback on residential energy consumption behaviour. Ontario, Canada: Ontario Hydro.

Egan, C. (1999). Graphical displays and comparative energy information: what do people understand and prefer. Proceedings of the ECEEE 1999 Summer Study on Energy Efficiency, 2 (13). European Council for an Energy Efficient Economy.

Ehrhardt-Martinez, K. Donnelly, K., Laitner, S. (2010). Advanced metering initiatives and residential feedback programs; a meta-review for household electricity saving opportunities. Washington, DC: American Council for an Energy-Efficient Economy.

EMCA- Energy Marketing Consulting Associates (2009). Smart Meter Consumer Impact: initial analysis—a report to the Ministerial Council on Energy. NSW, Australia: Energy Marketing Consulting Associates.

Enel (2011). Smart Metering System. [online] available at <http://www.enel.com/en-GB/innovation/project_technology/zero_emission_life/smart_networks/smart_meters.aspx?it=0> [Accessed 1 August 2011].

Environment Victoria (2011). Australia's Electricity Generation Mix 1960-2009. Victoria, Australia: Environment Victoria. [online] available at <http://www.environmentvictoria.org.au/library/australia%E2%80%99s-electricity-generation-mix-1960-2009> [Accessed 27 July 2011].

Farhat, A., & Ismet Ugursal, V. (2010). Greenhouse gas emissions intensity factors for marginal generation in Canada. International Journal of Energy Research, 34, 1309–1327.

Faruqui, A., Sergici, S., Sharif, A. (2009). The Impact of Informational Feedback on Energy Consumption- A Survey of the Experimental Evidence. Washington, DC: The Brattle Group. Available online at < www.brattle.com/_documents/uploadlibrary/upload772.pdf >

Fischer, C. (2008). Feedback on household energy consumption: a tool for saving energy. Energy Efficiency, 1, 79–104.

General Electric (2010). GE Home Energy Manager, Energy Monitor: GE Nucleus. [online] available at <http://www.geappliances.com/home-energy-manager/index.htm> [Accessed July 28, 2011].

Greentech Media (2011). NV Energy Picks Control4 for Residential Demand Response. [online] available at <http://www.greentechmedia.com/articles/read/nv-energy-picks-control4-for-residential-demand-reponse/> [Accessed 25 July 2011]

Hausman, J. (1979). Individual discount rates and the purchase and utilization of energy-using durables. Bell Journal of Economics, 10, 33–54.

Hong, J., Johnstone, C., Torriti, J., & Leach, M. (2012). Discrete demand side control performance under dynamic building simulation: a heat pump application. Renewable Energy, 39, 85–95.

Hutton, B., Mauser, G., Filiatrault, P., & Ahtola, O. (1986). Effects of cost related feedback on consumer knowledge and consumption behaviour: a field experimental approach. Journal of Consumer Research, 13, 327–336.

Hydro Tasmania (2011). Our power stations [online] available at <http://www.hydro.com.au/energy/our-power-stations> [Accessed 28 July 2011].

Kantola, S., Syme, G., & Campbell, N. (1984). Cognitive dissonance and energy conservation. Journal of Applied Psychology, 69, 416–421.

Lenzen, M. (2006). Primary energy and greenhouse gases embodied in Australian final consumption: an input-output analysis. Energy Policy, 26, 495–506.

Lette, S. (2009). Integral's metering and pricing trials. Proceedings of the 2nd Annual National Smart Metering and AMI Conference. Melbourne, Australia.

MacLennan, D. (2008). PowerCost Monitor Pilot- NSTAR. Proceedings of the 2008 Behaviour, Energy and Climate Change Conference.

Massoud, A. S., & Wollenburg, B. (2005). Toward A smart grid: power delivery for the 21st century. Power and Energy Magazine, IEEE, 3, 34–41.

McClelland, L., & Cook, S. (1979). Energy conservation effects of continuous in-home feedback in all-electric homes. Journal of Environmental Systems, 9, 169–173.

Mountain, D. (2008). Real-time feedback and residential electricity consumption: British Columbia and Newfoundland and Labrador Pilot. Ontario, Canada: Mountain Economic Consulting and Associates.

National Appliance and Equipment Energy Efficiency Committee (1998). Household Energy Use in Australia- End Uses, Greenhouse Gas Emissions and Energy Efficiency Program Coverage. Australia: George Wilkenfeld and Associates. Available online at < www.energyrating.gov.au/library/pubs/hhenergy1998.pdf >

Navigant Consulting (2011). Evaluation Report: OPOWER SMUD Pilot Year 2. Chicago, IL: Navigant Consulting. Available online at <http://opower.com/uploads/library/file/6/opower_smud_yr2_eval_report_-_final-1.pdf >

Nielsen, L. (1993). How to get the birds in the bush into your hand: results from a Danish research project on electricity savings. Energy Policy, 21, 1133–1144.

Parker, D., Hoak, D., Meier, A., & Brown, R. (2006). How much energy are we using? Potential of residential energy demand feedback devices. Proceedings of the ACEEE 2006. Summer Study on Energy Efficiency in Buildings, 1, 211–222.

Peacock, M. (2011). In Home Display Background and Program Logistics- E Source. [online] available at <www.esource.com> [Accessed 02 August, 2011].

Perth Solar City (2011). In Home Displays- Perth Solar City- An Australian Government Solar City. [online] available at <http://www.perthsolarcity.com.au/get-involved/technical-trials/in-home-displays> [Accessed 23 July 2011].

Connecticut Light and Power Company (2009). Results of CL&P Plan-It-Wise Energy Pilot. Docket 05-10-03 RE01 [online] available at <www.env.state.ma.us/dpu/docs/electric/09-34/21210wmrspag1a4.pdf> [Accessed 25 July 2011].

Roberts, S., Baker, W. (2003). Towards effective energy information: improving consumer feedback on energy consumption. A report to Ofgem. Bristol, UK: Centre for Sustainable Energy.

Scott, K. (2008). Energy Trust of Oregon Home Energy Monitor Pilot. Proceedings of the 2008 Behaviour, Energy and Climate Change Conference.

Seligman, C., Darley, J. M., & Becker, L. J. (1978). Behavioural approaches to residential energy conservation. Energy and Buildings, 1, 325–337.

Simshauser, P., Laochumnanvanit, K. (2011). The price-suppression domino effect and the political economy of regulating retail electricity prices in a rising cost environment. Working paper No. 20. Sydney, Australia: AGL Energy Applied Economic and Policy Research.

Smart Grid Australia (2011). Smart Grid Australia News. [online] available at <http://www.smartgridaustralia.com.au> [Accessed 14 June, 2011].

Stavins, R. (2002). Experience with market-based environmental policy instruments. Brussels: Fondazione Eni Enrico Mattei.∝

Stromback, J., Dromacque, C., Jassin, M. (2001). The potential of smart meter enabled programs to increase energy and system efficiency: a mass pilot comparison. Report prepared by VaasaETT Global Energy Think Tank.

Sulyma, I., et al. (2008). Experimental evidence: a residential time of use pilot. Proceedings of the ACEEE 2008. Summer Study on Energy Efficiency in Buildings, 2, 292–304.

Torriti, J., Hassan, M. G., & Leach, M. (2010). Demand response experience in Europe: policies, programmes and implementation. Energy, 35, 1575–1583.

Ueno, T., Sano, F., Saeki, O., & Tsuji, K. (2006). Effectiveness of an energy consumption information system on energy savings in residential houses based on monitored data. Applied Energy, 83, 166–183.

United States Department of Energy (2011). Department of Energy—Smart Grid Investment Grant Awards. [online] available at <http://www.oe.energy.gov/recovery/1249.htm> [Accessed 20 July 2011].

Utilimetrics (2011). Utilimetrics Autovation—The Smart Utility Conference and Exposition [online] available at <http://www.utilimetrics.org/Autovation2011i.aspx> [Accessed 17 June 2011].

Van Houwelingen, J., & Van Raaij, F. (1989). The effect of goalsetting and daily electronic feedback on in-home energy use. Journal of Consumer Research, 16, 98–105.

Vivid Economics (2010). Executive summary: the implicit price of carbon in the electricity sector of six major economies. Report prepared for the Climate Institute.

Western Australia Department of Environment and Conservation (2008). Assessment of Greenhouse Gas Abatement Potential and Cost in Key Sectors of the Western Australia Economy. Perth, Australia: The Nous Group.

Wilhite, H., Ling, R. (1992). The person behind the meter: an ethnographic analysis of residential energy consumption in Oslo, Norway, ACEEE 1999 Summer Study on Energy Efficiency in Buildings, Washington, DC: American Council for an Energy Efficient Economy.

Wilhite, H., Hoivik, A., Olsen, J. (1999). Advances in the use of consumption feedback information in energy billing: the experiences of a Norwegian energy utility. Proceedings, European Council for an Energy-Efficient Economy/Panel III, 02.

Wilkenfeld, G. (2002). Australia's national greenhouse gas inventory, 1990, 1995 and 1999: end use allocation of emissions: report to the Australian Greenhouse office. Canberra, Australia: Australian Greenhouse Office.

Wood, G., & Newborough, M. (2003). Dynamic energy-consumption indicators for domestic appliances: environment, behaviour and design. Energy and Buildings, 35, 821–841.

Zigbee Alliance (2011). Zibgee Smart Energy Overview. [online] available at <http://www.zigbee.org/Standards/ZigBeeSmartEnergy/Overview.aspx> [Accessed 27 July 20.]
Appendix A
Appendix A
About this article
Cite this article
McKerracher, C., Torriti, J. Energy consumption feedback in perspective: integrating Australian data to meta-analyses on in-home displays. Energy Efficiency 6, 387–405 (2013). https://doi.org/10.1007/s12053-012-9169-3
Received:

Accepted:

Published:

Issue Date:
Keywords
Electricity consumption

In-home displays

Real-time feedback

Smart meters