Abstract
In this paper, we developed the fractional-order finance system transmission model. The main objective of this paper is to construct and evaluate a fractional derivative to track the shape of the dynamic chaotic financial system of fractional order. The numerical solution for fractional-order financial system is determined using the Atangana–Baleanu–Caputo (ABC) and Caputo derivatives. Picard–Lindelof's method shows the existence and uniqueness of the solution. Numerical techniques show that ABC derivative strategy can be used effectively to overcome the risk of investment. An active control strategy for controlling chaos is used in this system. The stabilisation of equilibrium is obtained by both theoretical analysis and simulation results.
Access options
Buy single article
Instant access to the full article PDF.
US$ 39.95
Tax calculation will be finalised during checkout.
Subscribe to journal
Immediate online access to all issues from 2019. Subscription will auto renew annually.
US$ 79
Tax calculation will be finalised during checkout.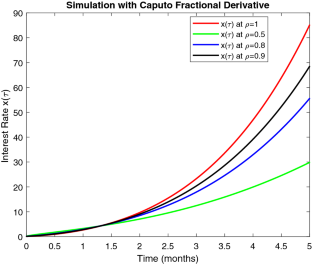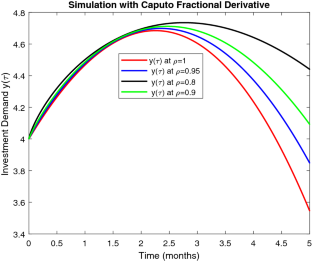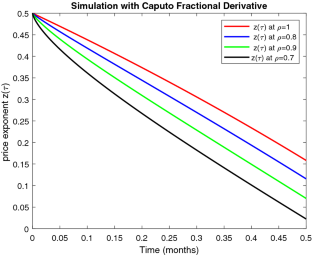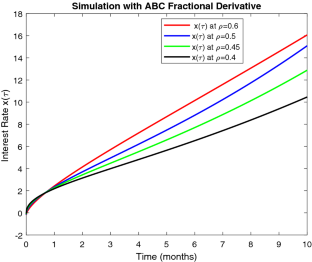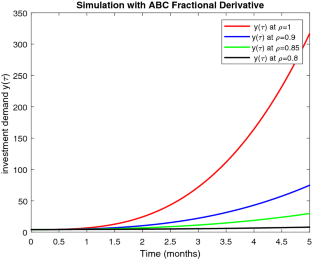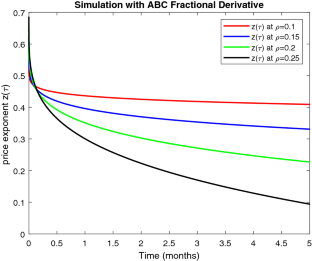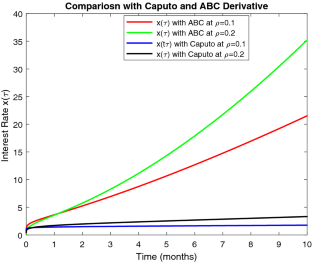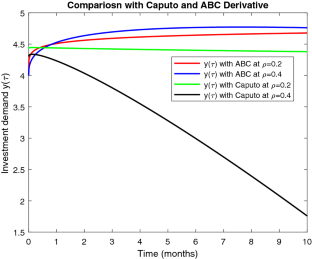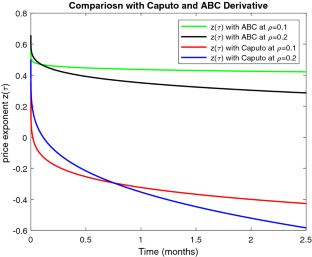 References
1.

J H Ma and Y S Chen, Appl. Math. Mech. 22(11), 1240 (2001)

2.

J H Ma and Y S Chen, Appl. Math. Mech. 22(12), 1375 (2001)

3.

I Podlubny, Fractional differential equations (Academic Press, San Diego, California, USA, 1999) Vol. 198

4.

A A Kilbas, H M Srivastava and J J Trujillo, Theory and applications of fractional differential equations (Elsevier, Amsterdam, The Netherlands, 2006) Vol. 204

5.

K Diethelm, The analysis of fractional differential equations (Springer, Berlin, Germany, 2010) Vol. 2004

6.

Y Xu and Z He, Comput. Math. Appl. 62(12), 4796 (2011)

7.

Y F Xu and Z M He, J. Appl. Math. Comput. 43(1–2), 295 (2013)

8.

A Kirman and G Teyssiere, Stud. Nonlinear Dynam. Econometrics 5(4), 281 (2002)

9.

K Yamasaki, L Muchnik, S Havlin, A Bunde and H E Stanley, Proc. Natl Acad. Sci. USA 102(26), 9424 (2005)

10.

V Anh and A Inoue, Stoch. Anal. Appl. 23(2), 275 (2005)

11.

F Garzarelli, M Cristelli, A Zaccaria and L Pietronero, Memory effects in stock price dynamics: Evidences of technical trading, preprint (2011)

12.

W C Chen, Chaos Solitons Fractals 36(5), 1305 (2008)

13.

S Dadras and H R Momeni, Physica A 389(12), 2434 (2010)

14.

M Salah Abd-Elouahab, N E Hamri and J Wang, Math. Probl. Eng. 2010, Article ID 270646 (2010)

15.

Z Wang, X Huang and G Shi, Comput. Math. Appl. 62(3), 1531 (2011)

16.

M Dehghan, J Manafian and A Saadatmandi, Z. Naturforsch. A 65(11), 935 (2010)

17.

H Jafari, S Das and H Tajadodi, J. King Saud Univ. Sci. 23(2), 151 (2011)

18.

V F Morales et al, Adv. Differ. Equ. 2016, 164 (2016)

19.

R M Ganji, H Jafari and D Baleanu, Chaos Solitons Fractals 130, 109405 (2020)

20.

A Babaei, H Jafari and A Liya, Eur. Phys. J. Plus 135, 395 (2020)

21.

S Sadeghi, H Jafari and S Nemati, Chaos Solitons Fractals 135, 109736 (2020)

22.

R M Ganji and H Jafari, Adv. Math. Models Appl. 4(1), 64–9 (2019)

23.

H Jafari, H Tajadodi and R M Ganji, Comput. Math. Methods, https://doi.org/10.1002/cmm4.1055 (2019)

24.

M Caputo, The Geophys. J. R. Astron. Soc. 13, 529 (1967)

25.

V F Morales-Delgadoa, J F Aguilarb, M A Taneco and R F Escobar, J. Nonlinear Sci. Appl. 11, 994 (2018)

26.

A Atangana and D Baleanu, Therm. Sci. 20, 763 (2016)

27.

A Atangana and I Koca, Chaos Solitons Fractals 117, 161 (2018)
About this article
Cite this article
Farman, M., Akgül, A., Saleem, M.U. et al. Dynamical behaviour of fractional-order finance system. Pramana - J Phys 94, 164 (2020). https://doi.org/10.1007/s12043-020-02030-8
Received:

Revised:

Accepted:

Published:
Keywords
Finance system

fractional derivative

Picard–Lindelof

stability analysis

price index
PACS nos