Abstract
In this paper, we study a model of two two-level atoms interacting with a quantum field. An analytical solution is obtained which is used to study the information entropy of the system. It is shown that the nonlinear term plays a significant role in the behaviour of the minimum uncertainty (MU) compared with the concurrence (C). Our extensive study of information entropy of atoms–field interaction demonstrates that using the coupling strength between the atoms and the field as a controller parameter, one can control the dynamics of the system by increasing the lower bound of the entropic uncertainty relation or decreasing the entanglement.
Access options
Buy single article
Instant access to the full article PDF.
USD 39.95
Price includes VAT (USA)
Tax calculation will be finalised during checkout.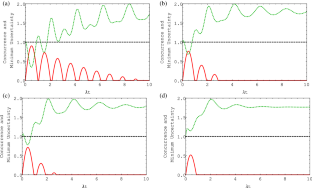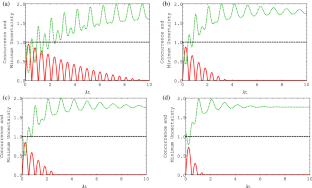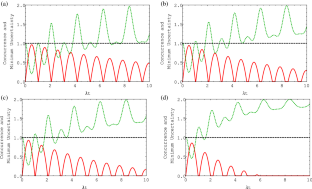 References
1.

R Prevedel, D R Hamel, R Colbeck, K Fisher and K J Resch, Nat. Phys. 7, 757 (2011)

2.

C F Li, J S Xu, X Y Xu, K Li and G C Guo, Nat. Phys. 7, 752 (2011)

3.

J Shi, Z Ding, T Wu, J He, L Yu, W Sun, D Wang and L Ye, Laser Phys. Lett. 14, 125208 (2017)

4.

H M Zou, M F Fang, B Y Yang, Y N Guo, W He and S Y Zhang, Phys. Scr. 89, 115101 (2014)

5.

M Tomamichel, C C W Lim, N Gisin and R Renner, Nat. Commun. 3, 634 (2012)

6.

D P DiVincenzo, M Horodecki, D W Leung, J A Smolin and B M Terhal, Phys. Rev. Lett. 92, 067902 (2004)

7.

P Nataf, M Dogan and K L Hur, Phys. Rev. A 86, 043807 (2012)

8.

M O Hu and H Fan, Phys. Rev. A 86, 032338 (2012)

9.

R Horodecki, P Horodecki, M Horodecki and K Horodecki, Rev. Mod. Phys. 81, 865 (2009)

10.

C H Bennett, G Brassard, C Crepeau, R Jozsa, A Peres and W K Wootters, Phys. Rev. Lett. 70, 1895 (1993)

11.

S Sazim, S Adhikari, S Banerjee and T Pramanik, Quantum Inf. Process. 13, 863 (2014)

12.

S J Devitt, W J Munro and K Nemoto, Rep. Prog. Phys. 76, 076001 (2013)

13.

S Omkar, R Srikanth and S Banerjee, Phys. Rev. A 91, 012324 (2015)

14.

M Abdel-Aty, J. Phys. A 41, 185304 (2008)

15.

M Abdel-Aty, Eur. Phys. J. D 46, 537 (2008)

16.

N Zidan, M Abdel-Aty and A-S F Obada, Chaos Solitons Fractals 13, 1421 (2002)

17.

M Abdel-Aty, Laser Phys. 11, 781 (2001)

18.

T M El-shahat, S Abdel-Khalek, M Abdel-Aty and A-S F Obada, J. Mod. Opt. 50, 2013 (2003)

19.

M Abdel-Aty, J. Phys. A 38, 8589 (2005)

20.

M Abdel-Aty, J. Mod. Opt. 50, 161 (2003)

21.

M Abdel-Aty, J. Math. Phys. 44, 1457 (2003)

22.

S Abdel-Khalek, Y S El-Saman and M Abdel-Aty, Opt. Commun. 283, 1826 (2010)

23.

M Abdel-Aty, Progr. Quant. Electr.31, 1 (2007)

24.

T M El-Shahat, S Abdel-Khalek, M Abdel-Aty and A-S F Obada, Chaos Solitons Fractals18, 289 (2003)

25.

N Zidan, Physica A391, 401 (2012)

26.

M Abdel-Aty, M S Abdalla, and A-S F Obada, J. Opt. B: Quantum Semiclass. Opt.4, S133 (2002)

27.

H Bakry, A S Mohamed and N Zidan, Int. J. Theor. Phys.57, 539 (2018)

28.

M S Abdalla, S S Hassan and M Abdel-Aty, Opt. Commun.244, 431 (2005)

29.

M Abdel-Aty, M S Abdalla and A-S F Obada, J. Phys. B35, 4773 (2002)

30.

N Zidan, S Abdel-Khalek and M Abdel-Aty, Int. J. Quantum Inf.10, 1250007 (2012)

31.

S Abdel-Khalek, Y S El-Saman and M Abdel-Aty, Pramana – J. Phys.90: 1 (2018)

32.

M Q Lone, Pramana – J. Phys.87: 16 (2016)

33.

S Ahmed, P N Wasnik, S Singh and P A Lakshmi, Pramana – J. Phys.87: 85 (2016)

34.

N Zidan, Can. J. Phys.92, 406 (2014)

35.

N H Abdel-Wahab and A Salah, Pramana – J. Phys.89: 87 (2017)

36.

M Abdel-Aty and N Zidan, Pramana – J. Phys.61, 553 (2003)

37.

A-S F Obada, D A M Abo-Kahla, N Metwally and M Abdel-Aty, Physica E43, 1792 (2011)

38.

N Zidan, Appl. Math.5, 2485 (2014)

39.

N Metwally, M Abdel-Aty and A-S F Obada, Opt. Commun.250, 148 (2005)

40.

M Abdel-Aty, J. Opt. B: Quantum Semiclass. Opt.6, 201 (2004)

41.

N Zidan, Int. J. Quantum Inf.8, 1121 (2010)

42.

M Abdel-Aty, Physica A313, 471 (2002)

43.

L Pezze and A Smerzi, Phys. Rev. Lett.102,100401 (2009)

44.

F Jensen, Introduction to computational chemistry (Wiley, Hoboken, 2017)

45.

S B Zheng and G C Guo, Phys. Rev. Lett.85, 2392 (2000)

46.

E Solano, G S Agarwal and H Walther, Phys. Rev. Lett.90, 027903 (2003)

47.

W Heisenberg, Z. Phys.43, 172 (1927)

48.

I Bialynicki-Birula and J Mycielski, Commun. Math. Phys.44, 129 (1975)

49.

I Bialynicki-Birula, Phys. Lett. A103, 253 (1984)

50.

D Deutsch, Phys. Rev. Lett.50, 631 (1983)

51.

K Kraus, Phys. Rev. D35, 3070 (1987)

52.

H Maassen and J B Uffink, Phys. Rev. Lett.60, 1103 (1988)

53.

M Berta, M Christandl, R Colbeck, J M Renes and B Benner, Nat. Phys.6, 659 (2010)

54.

J M Renes and J C Boilean, Phys. Rev. Lett.103, 020402 (2009)

55.

M A Nielsen and I L Chuang, Quantum computation and quantum information (Cambridge University Press, Cambridge, 2000)

56.

N J Cerf and C Adami, Phys. Rev. Lett.79, 5194 (1997)

57.

K G H Vollbrecht and M M Wolf, J. Math. Phys.43, 4299 (2002)

58.

I Devetak and A Winter, Proc. R. Soc. Lond. Ser. A 461, 207 (2005)

59.

W K Wootters, Phys. Rev. Lett.80, 2245 (1998)
About this article
Cite this article
Bakry, H., Zidan, N. Control-based verification of multiatoms in a cavity. Pramana - J Phys 94, 96 (2020). https://doi.org/10.1007/s12043-020-01978-x
Received:

Revised:

Accepted:

Published:
Keywords
Entanglement

minimum uncertainty

intensity-dependent coupling
PACS Nos
03.65.Ud

03.65.yz

03.67.Mn

32.80.Qk