Abstract
We present an experimental study on measurement of nonlinear refractive index (n 2) of organic liquids when the thermo-optic effects manifest into large nonlinear phase shifts (Δϕ 0) in an open-aperture Z-scan configuration. Although we do not obtain the familiar peak–valley normalized transmittance curve as in the case of closed-aperture Z-scan technique, we use a theoretical model using Gaussian beam decomposition (GD) technique to estimate the value of n 2. Using this recipe, we obtain the nonlinear refractive index n 2 = −(4.90 ± 1.20) × 10−15 cm2/W for toluene (organic solvent) and n 2 = −(10.60 ± 2.10) × 10−15 cm2/W for an organic polymer solution (10−4 M in toluene). By carrying out absorption measurements directly with an unfocussed Gaussian beam, we found nonlinear absorptions β tol = (2.42 ± 0.20) × 10−13 m/W and β poly = (2.79 ± 0.24) × 10−13 m/W which are close to the expected results.
Access options
Buy single article
Instant access to the full article PDF.
US$ 39.95
Tax calculation will be finalised during checkout.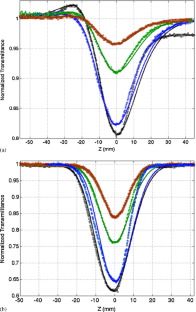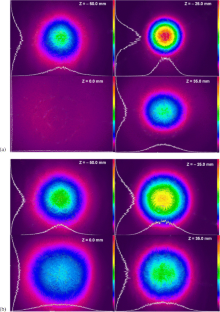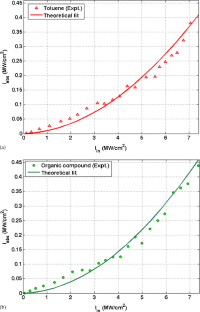 References
[1]

M Sheik-Bahae, A A Said and E W Stryland, Opt. Lett. 14, 955 (1989)

[2]

M Sheik-Bahae, A A Said, T Wei, D J Hagan and E W Stryland, IEEE J. Quantum Electron. 26, 760 (1990)

[3]

S Q Chen, Z B Liu, W P Zang, J G Tian, W Y Zhou, F Song and C P Zhang, J. Opt. Soc. Am. B 22, 1911 (2005)

[4]

J Wei and M Xiao, J. Opt. A: Pure Appl. Opt. 10, 115102 (2008)

[5]

Y Chenga, Y Maoa, J Liua, S Fenga and T Hea, J. Mod. Opt. 54, 2763 (2007)

[6]

X Liu, S Geo, H Wang, H Wang and L Hou, Opt. Commun. 197, 431 (2009)

[7]

T Hea and C Wanga, J. Mod. Opt. 55, 3013 (2008)

[8]

G Tsigaridas, I Polyzos, P Persephonis and V Giannetas, Opt. Commun. 266, 284 (2006)

[9]

M Samoc, A Samoc, B L Davies, Z Bao, L Yu, B Hsieh and U Scherf, J. Opt. Soc. Am. B 15, 817 (1998).

[10]

G L Wood, M J Miller and A G Mott, Opt. Lett. 20, 973 (1995)

[11]

M Falconieri, J. Opt. A: Pure Appl. Opt. 1, 662 (1999)

[12]

A Gnoli, L Razzari and M Righini, Opt. Express 13, 7976 (2005)

[13]

S Couris, M Renard, O Faucher, B Lavorel, R Chaux, E Koudoumas and X Michaut, Chem. Phys. Lett. 369, 318 (2003)

[14]

R D Nalda, R D Coso, J R Isidro, J Olivares, A S Garcia, J Solis and C N Afonso, J. Opt. Soc. Am. B 19, 289 (2002)

[15]

A Garai, W Sinha, C S Purohit, R Das and S Kar, unpublished work (2014)

[16]

B Yao, L Ren and X Hou, J. Opt. Soc. Am. B 20, 12901294 (2003)

[17]

S Kedenburg, M Vieweg, T Gissibl and H Giessen, Opt. Mat. Express 2, 1588 (2012)

[18]

R Wang, J Wei and M Xiao, J. Opt. 15, 025204 (2013)

[19]

Q Lin, J Zhang, G Piredda, R W Boyd, P M Fauchet and G P Agrawal, Appl. Phys. Lett. 91, 021111 (2013)

[20]

X L Zhang, Z B Liu, X C Li, Q Ma, X D Chen, J G Tian, Y F Xu and Y S Chen, Opt. Express 21, 7511 (2013)
About this article
Cite this article
DAS, R., SHUKLA, M.K. Measurement of nonlinear refractive index in open-aperture Z-scan experiments. Pramana - J Phys 83, 985–994 (2014). https://doi.org/10.1007/s12043-014-0819-1
Received:

Revised:

Accepted:

Published:

Issue Date:
Keywords
Nonlinear refractive index

nonlinear phase

Gaussian beam
PACS Nos