Abstract
Peanut (Arachis hypogaea) is amongst the most important legume crops in the world. One of its main yield constraints is the root-knot nematode Meloidogyne arenaria. A number of wild Arachis species, including A. stenosperma, are resistant to nematodes, and are a potential source of new resistance alleles for cultivated peanut. Using in silico subtraction of ESTs and macroarray analysis, we identified genes differentially expressed in A. stenosperma roots during its resistance response to M. arenaria. The three most differentially expressed genes [Auxin Repressed Protein (AsARP), Cytokinin Oxidase (AsCKX) and Metallothionein Type 2 (AsMET2)] were further analyzed using northern-blot and showed distinct expression profiles in the resistant A. stenosperma and susceptible A. hypogaea, both after, and sometimes even before, challenge with nematodes. Of the three most differentially expressed genes, AsARP and AsCKX are potentially involved in plant hormonal balance, and AsMET2 may be related to the reactive oxygen reaction triggered by the hypersensitive response (HR).
Access options
Buy single article
Instant access to the full article PDF.
USD 39.95
Price excludes VAT (USA)
Tax calculation will be finalised during checkout.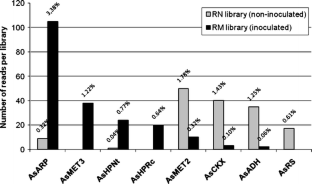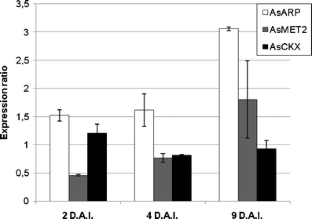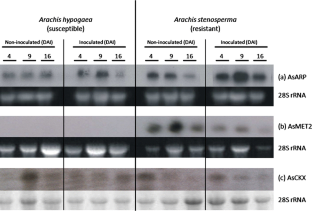 References
Abad P, Gouzy J, Aury JM, Castagnone-Sereno P, Danchin EGJ, Deleury E, Perfus-Barbeoch L, Anthouard V, Artiguenave F, Blok VC et al (2008) Genome sequence of the metazoan plant-parasitic nematode Meloidogyne incognita. Nat Biotechnol 26:909–915

Ashikari M, Sakakibara H, Lin SY, Yamamoto T, Takashi T, Nishimura A, Angeles ER, Qian Q, Kitano H, Matsuoka M (2005) Cytokinin oxidase regulates rice grain production. Science 309:741–745

Aval'baev AM, Yuldashev RA, Vysotskaya LB, Shakirova FM (2006) Regulation of gene expression and activity of cytokinin oxidase in the roots of wheat seedlings by 24-Epibrassinolide. Dokl Biochem Biophys 410:317–319

Barcala M, Garcia A, Cabrera J, Casson S, Lindsey K, Favery B, Garcia-Casado G, Solano R, Fenoll C, Escobar C (2010) Early transcriptomic events in microdissected Arabidopsis nematode-induced giant cells. Plant J 61:698–712

Barthels N, van der Lee FM, Klap J, Goddijn OJM, Karimi M, Puzio P, Grundler FMW, Ohl SA, Lindsey K, Robertson L et al (1997) Regulatory sequences of Arabidopsis drive reporter gene expression in nematode feeding structures. Plant Cell 9:2119–2134

Bertioli DJ, Moretzsohn MC, Madsen LH, Sandal N, Leal-Bertioli SCM, Guimaraes PM, Hougaard BK, Fredslund J, Schauser L, Nielsen AM et al (2009) An analysis of synteny of Arachis with Lotus and Medicago sheds new light on the structure, stability and evolution of legume genomes. BMC Genomics 10

Bird DM (2004) Signaling between nematodes and plants. Curr Opin Plant Biol 7:372–376

Brugiere N, Jiao SP, Hantke S, Zinselmeier C, Roessler JA, Niu XM, Jones RJ, Habben JE (2003) Cytokinin oxidase gene expression in maize is localized to the vasculature, and is induced by cytokinins, abscisic acid, and abiotic stress. Plant Physiol 132:1228–1240

Camps C, Kappel C, Lecomte P, Leon C, Gomes E, Coutos-Thevenot P, Delrot S (2010) A transcriptomic study of grapevine (Vitis vinifera cv. Cabernet-Sauvignon) interaction with the vascular ascomycete fungus Eutypa lata. J Exp Bot 61:1719–1737

Church GM, Gilbert W (1984) Genomic sequencing. Proc Natl Acad Sci USA 81:1991–1995

Church G, Simpson C, Burow M, Paterson A, Starr J (2000) Use of RFLP markers for identification of individuals homozygous for resistance to Meloidogyne arenaria in peanut. Nematology 2:575–580

De Meutter J, Vanholme B, Bauw G, Tytgat T, Gheysen G, Gheysen G (2001) Preparation and sequencing of secreted proteins from the pharyngeal glands of the plant parasitic nematode Heterodera schachtii. Mol Plant Pathol 2:297–301

De Nardi B, Dreos R, Del Terra L, Martellossi C, Asquini E, Tornincasa P, Gasperini D, Pacchioni B, Raihinavelu R, Pallavicini A, Graziosi G (2006) Differential responses of Coffea arabica L. leaves and roots to chemically induced systemic acquired resistance. Genome 49:1594–1605

Dickson DW, Waele DD (2005) Nematode parasites of peanut nematode parasites of cotton and other tropical fibre crops. In: Luc M, Sikora RA, Bridge J (eds) Plant parasitic nematodes in tropical and subtropical agriculture, 2nd edn. CAB International, Wallingford

Doyle EA, Lambert KN (2003) Meloidogyne javanica chorismate mutase 1 alters plant cell development. Mol Plant-Microb Interact 16:123–131

Engler JD, De Vleesschauwer V, Burssens S, Celenza JL, Inze D, Van Montagu M, Engler G, Gheysen G (1999) Molecular markers and cell cycle inhibitors show the importance of cell cycle progression in nematode-induced galls and syncytia. Plant Cell 11:793–807

FAOSTAT (2006) http://faostatfaoorg/site/567/defaultaspx

Fosu-Nyarko J, Jones MGK, Wang ZH (2009) Functional characterization of transcripts expressed in early-stage Meloidogyne javanica-induced giant cells isolated by laser microdissection. Mol Plant Pathol 10:237–248

Gheysen G, Fenoll C (2002) Gene expression in nematode feeding sites. Annu Rev Phytopathol 40:191–219

Goellner M, Wang XH, Davis EL (2001) Endo-beta-1, 4-glucanase expression in compatible plant-nematode interactions. Plant Cell 13:2241–2255

Goverse A, Engler JD, Verhees J, van der Krol S, Helder J, Gheysen G (2000) Cell cycle activation by plant parasitic nematodes. Plant Mol Biol 43:747–761

Guilfoyle T, Hagen G, Ulmasov T, Murfett J (1998) How does auxin turn on genes? Plant Physiol 118:341–347

Guimarães PM, Garsmeur O, Proite K, Leal-Bertioli SCM, Seijo G, Chaine C, Bertioli DJ, D'Hont A (2008) BAC libraries construction from the ancestral diploid genomes of the allotetraploid cultivated peanut. BMC Plant Biology 8

Hammond-Kosack KE, Jones JDG (1996) Resistance gene-dependent plant defense responses. Plant Cell 8:1773–1791

Heath MC (2000) Nonhost resistance and nonspecific plant defenses. Curr Opin Plant Biol 3:315–319

Hirose N, Kentaro T, Kuroha T, Kamada-Nobusada T, Hayashi H, Sakakibara H (2007) Regulation of cytokinin biosynthesis, compartmentalization and translocation. J Exp Bot 1–9

Hwang EW, Kim KA, Park SC, Jeong MJ, Byun MO, Kwon HB (2005) Expression profiles of hot pepper (Capsicum annuum) genes under cold stress conditions. J Biosci 30:657–667

Jung HW, Hwang BK (2000) Isolation, partial sequencing, and expression of pathogenesis-related cDNA genes from pepper leaves infected by Xanthomonas campestris pv. vesicatoria. Mol Plant-Microb Interact 13:136–142

Kaloshian I, Lawn D, Williamson VM, Westerdahl B, Miyao G (1996) Resistance-breaking nematodes identified in California tomatoes. Calif Agric 50:18–19

Klink VP, Hosseini P, MacDonald MH, Alkharouf NW, Matthews BF (2009a) Population-specific gene expression in the plant pathogenic nematode Heterodera glycines exists prior to infection and during the onset of a resistant or susceptible reaction in the roots of the Glycine max genotype Peking. BMC Genomics 10

Klink VP, Hosseini P, Matsye P, Alkharouf NW, Matthews BF (2009b) A gene expression analysis of syncytia laser microdissected from the roots of the Glycine max (soybean) genotype PI 548402 (Peking) undergoing a resistant reaction after infection by Heterodera glycines (soybean cyst nematode). Plant Mol Biol 71:525–567

Klink VP, Hosseini P, Matsye PD, Alkharouf NW, Matthews BF (2010a) Syncytium gene expression in Glycine max([PI 88788]) roots undergoing a resistant reaction to the parasitic nematode Heterodera glycines. Plant Physiol Biochem 48:176–193

Klink VP, Overall CC, Alkharouf NW, MacDonald MH, Matthews BF (2010b) Microarray detection call methodology as a means to identify and compare transcripts expressed within syncytial cells from soybean (Glycine max) roots undergoing resistant and susceptible reactions to the soybean cyst nematode (Heterodera glycines). J Biomed Biotechnol

Koltai H, Dhandaydham M, Opperman C, Thomas J, Bird D (2001) Overlapping plant signal transduction pathways induced by a parasitic nematode and a rhizobial endosymbiont. Mol Plant-Microb Interact 14:1168–1177

Leal-Bertioli SCM, Guimaraes PM, Bertioli DJ (2007) Targeting and genotyping RGAs in a mapping population of the AA genome of wild Arachis. Crop Breed Appl Biotechnol 7:179–185

Leal-Bertioli SCM, Jose ACVF, Alves-Freitas DMT, Moretzsohn MC, Guimaraes PM, Nielen S, Vidigal BS, Pereira RW, Pike J, Favero AP et al (2009) Identification of candidate genome regions controlling disease resistance in Arachis. BMC Plant Biol 9:112

Lee Y, Kim MW, Kim SH (2007) Cell type identity in Arabidopsis roots is altered by both ascorbic acid-induced changes in the redox environment and the resultant endogenous auxin response. J Plant Biol 50:484–489

Lohar DP, Schaff JE, Laskey JG, Kieber JJ, Bilyeu KD, Bird DM (2004) Cytokinins play opposite roles in lateral root formation, and nematode and Rhizobial symbioses. Plant J 38:203–214

Luo M, Dang P, Bausher MG, Holbrook CC, Lee RD, Lynch RE, Guo BZ (2005a) Identification of transcripts involved in resistance responses to leaf spot disease caused by Cercosporidium personatum in peanut (Arachis hypogaea). Phytopathology 95:381–387

Luo M, Dang P, Guo BZ, He G, Holbrook CC, Bausher MG, Lee RD (2005b) Generation of expressed sequence tags (ESTs) for gene discovery and marker development in cultivated peanut. Crop Sci 45:346–353

Mazarei M, Elling AA, Maier TR, Puthoff DP, Baum TJ (2007) GmEREBP1 is a transcription factor activating defense genes in soybean and Arabidopsis. Mol Plant-Microb Interact 20:107–119

McCarter JP, Mitreva MD, Martin J, Dante M, Wylie T, Rao U, Pape D, Bowers Y, Theising B, Murphy CV et al (2003) Analysis and functional classification of transcripts from the nematode Meloidogyne incognita. GenomeBiology 4

Mittler R (2002) Oxidative stress, antioxidants and stress tolerance. Trends Plant Sci 7:405–410

Moretzsohn MC, Leoi L, Proite K, Guimaraes PM, Leal-Bertioli SCM, Gimenes MA, Martins WS, Valls JFM, Grattapaglia D, Bertioli DJ (2005) A microsatellite-based, gene-rich linkage map for the AA genome of Arachis (Fabaceae). Theor Appl Genet 111:1060–1071

Mur LAJ, Kenton P, Lloyd AJ, Ougham H, Prats E (2008) The hypersensitive response; the centenary is upon us but how much do we know? J Exp Bot 59:501–520

Nagy ED, Chu Y, Guo Y, Khanal S, Tang S, Li Y, Dong WB, Timper P, Taylor C, Ozias-Akins P et al (2010) Recombination is suppressed in an alien introgression on chromosome 5A of peanut harboring Rma, a dominant root-knot nematode resistance gene. Mol Breed, in press

Niebel A, de Almeida EJ, Hemerly A, Ferreira P, Inzé D, Van Montagu M, Gheysen G (1996) Induction of cdc2a and cyc1At expression in Arabidopsis thaliana during early phases of nematode-induced feeding cell formation. Plant J 10:1037–1043

Oostenbrink M (1966) Major characteristics of the relation between nematodes and plants. Med Landbouwhogeschool Wageningen 66:1–46

Park S, Han KH (2003) An auxin-repressed gene (RpARP) from black locust (Robinia pseudoacacia) is posttranscriptionally regulated and negatively associated with shoot elongation. Tree Physiol 23:815–823

Portillo M, Lindsey K, Casson S, Garcia-Casado G, Solano R, Fenoll C, Escobar C (2009) Isolation of RNA from laser-capture-microdissected giant cells at early differentiation stages suitable for differential transcriptome analysis. Mol Plant Pathol 10:523–535

Potenza C, Thomas SH, Sengupta-Gopalan C (2001) Genes induced during early response to Meloidogyne incognita in roots of resistant and susceptible alfalfa cultivars. Plant Sci 161:289–299

Proite K, Leal-Bertioli SCM, Bertioli DJ, Moretzsohn MC, da Silva FR, Martins NF, Guimaraes PM (2007) ESTs from a wild Arachis species for gene discovery and marker development. BMC Plant Biol 7

Proite K, Carneiro R, Falcao R, Gomes A, Leal-Bertioli S, Guimaraes P, Bertioli D (2008) Post-infection development and histopathology of Meloidogyne arenaria race 1 on Arachis spp. Plant Pathol 57:974–980

Reddy ASN, Poovaiah BW (1990) Molecular cloning and sequencing of a cDNA for an auxin-repressed mRNA: correlation between fruit growth and repression of the auxin-regulated gene. Plant Mol Biol 14:127–136

Roze E, Hanse B, Mitreva M, Vanholme B, Bakker J, Smant G (2008) Mining the secretome of the root-knot nematode Meloidogyne chitwoodi for candidate parasitism genes. Mol Plant Pathol 9:1–10

Salvianti F, Bettini PP, Giordani E, Sacchetti P, Bellini E, Buiatti M (2008) Identification by suppression subtractive hybridization of genes expressed in pear (Pyrus spp.) upon infestation with Cacopsylla pyri (Homoptera:Psyllidae). J Plant Physiol 165:1808–1816

Seijo JG, Lavia GI, Fernandez A, Krapovickas A, Ducasse D, Moscone EA (2004) Physical mapping of the 5S and 18S–25S rRNA genes by fish as evidence that Arachis duranensis and A. ipaensis are the wild diploid progenitors of A. hypogaea (Leguminosae). Am J Bot 91:1294–1303

Simpson CE (2001) Use of wild Arachis species/introgression of genes into Arachis hypogaea. Peanut Sci 28:114–116

Simpson CE, Starr JL, Church GT, Burow MD, Paterson AH (2003) Registration of 'NemaTAM' peanut. Crop Sci 43:1561–1561

Sobczak M, Avrova A, Jupowicz J, Phillips MS, Ernst K, Kumar A (2005) Characterization of susceptibility and resistance responses to potato cyst nematode (Globodera spp.) infection of tomato lines in the absence and presence of the broad-spectrum nematode resistance Hero gene. Mol Plant-Microb Interact 18:158–168

Song YJ, Joo JH, Ryu HY, Lee JS, Bae YS, Nam KH (2007) Reactive oxygen species mediate IAA-induced ethylene production in mungbean (Vigna radiata L) hypocotyls. J Plant Biol 50:18–23

Stafstrom JP, Ripley BD, Devitt ML, Drake B (1998) Dormancy-associated gene expression in pea axillary buds. Planta 205:547–552

Stalker HT (1997) Peanut (Arachis hypogaea L). Field Crops Res 53:205–217

Starr JL, Morgan ER, Simpson CE (2002) Management of the peanut root-knot nematode, Meloidogyne arenaria, with host resistance. Online Plant Health Progress

Steiner C, Bauerb J, Amrheinc N, Buchera M (2003) Two novel genes are differentially expressed during early germination of the male gametophyte of Nicotiana tabacum. Biochim Biophys Acta 1625:123–133

van der Eycken W, de Almeida J, Inzé D, Montagu MV, Gheysen G (1995) A molecular study of root-knot nematode-induced feeding sites. Plant J 9:45–54

Walker L, Estelle M (1998) Molecular mechanisms of auxin action. Curr Opin Plant Biol 1:434–439

Wittwer S (1981) The 20 crops that stand between man and starvation. Farm Chem 144:17–28

Wong HL, Sakamoto T, Kawasaki T, Umemura K, Shimamoto K (2004) Down-regulation of metallothionein, a reactive oxygen scavenger, by the small GTPase OsRac1 in rice. Plant Physiol 135:1447–1456
Acknowledgements
The authors gratefully acknowledge The Challenge Program Generation, Tropical Legume Improvement (TL1), CNPq, FAP-DF and host institutions for funding this research. The authors also wish to thank Dr. Regina D.G. Carneiro (Embrapa Recursos Genéticos e Biotecnologia, Brazil) for providing nematodes.
Additional information
Communicated by: John Manners
Electronic Supplementary Material
Below is the link to the electronic supplementary material.
List of 75 genes selected for macroarray analysis from A. stenosperma RM and RN cDNA libraries by the following criteria: (A) Putative constitutively expressed clones; (B) Clones differentially expressed (P ≤ 0.05); (C) Clones exclusive to RM library and related to plant-pathogen interaction; (D) Clones responsive to plant stress. (XLSX 19 kb)
About this article
Cite this article
Guimarães, P.M., Brasileiro, A.C.M., Proite, K. et al. A Study of Gene Expression in the Nematode Resistant Wild Peanut Relative, Arachis stenosperma, in Response to Challenge with Meloidogyne arenaria . Tropical Plant Biol. 3, 183–192 (2010). https://doi.org/10.1007/s12042-010-9056-z
Received:

Accepted:

Published:

Issue Date:

DOI: https://doi.org/10.1007/s12042-010-9056-z
Keywords
Meloidogyne arenaria

Peanut

Root-knot nematode

Resistance genes