Abstract
A genotypic analysis of 79 finger millet accessions (E. coracana subsp. coracana) from 11 African and five Asian countries, plus 14 wild E. coracana subsp. africana lines collected in Uganda and Kenya was conducted with 45 SSR markers distributed across the finger millet genome. Phylogenetic and population structure analyses showed that the E. coracana germplasm formed three largely distinct subpopulations, representing subsp. africana, subsp. coracana originating from Africa and subsp. coracana originating from Asia. A few lines showed admixture between the African and Asian cultivated germplasm pools and were the result of either targeted or accidental intercrossing. Evidence of gene flow was also seen between the African wild and cultivated subpopulations, indicating that hybridizations among subspecies occur naturally where both species are sympatric. The genotyping, combined with phylogenetic and population structure analyses proved to be very powerful in predicting the origin of breeding materials. The genotypic study was complemented by a phenotypic evaluation. The wild and cultivated accessions differed by a range of domestication-related characters, such as tiller number, plant height, peduncle length, seed color and grain yield. Significant differences in plant architecture and yield were also identified between the Asian and African subpopulations. The observed population structure within cultivated finger millet is consistent with the theory that, after the introduction of finger millet from Africa into India via the trade routes some 3000 years ago, the two germplasm pools remained largely isolated until recent times. The significantly lower diversity present within the Asian subpopulation also suggests that it arose from a relatively small number of founder plants.
Access options
Buy single article
Instant access to the full article PDF.
USD 39.95
Price excludes VAT (USA)
Tax calculation will be finalised during checkout.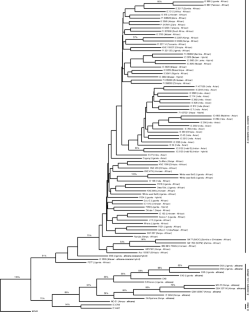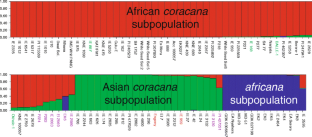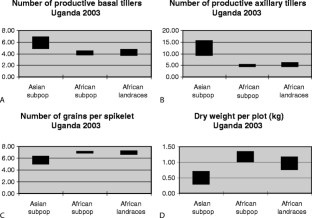 References
Barbeau WE, Hilu KW (1993) Protein, calcium, iron and amino acid content of selected wild and domesticated cultivars of finger millet. Plant Foods Hum Nutr 43:97–104

Bondale KV (1993) Present status of small millets production in India. In: Riley KW, Gupta SC, Seetharam A, Mushonga JN (eds) Advances in small millets. Oxford & IBH Publishing Co. Pvt. Ltd., New Delhi, pp 117–121

de Wet JMJ, Prasada Rao KE, Brink DE, Mengesha MH (1984) Systematics and evolution of Eleusine coracana (Gramineae). Am J Bot 71:550–557

Dida MM, Srinivasachary, Ramakrishnan S, Bennetzen JL, Gale MD, Devos KM (2007) The genetic map of finger millet, Eleusine coracana. Theor Appl Genet 114:321–332

Esele JP (1989) Cropping systems, production technology, pests and diseases of finger millet in Uganda. In: Segal A, Riley KW, Harinarayana G (eds) Small millets in global agriculture. Oxford & IBH Publishing Co. Pvt. Ltd., New Delhi, pp 293–300

FAOSTAT data (2006) FAO Statistical Databases (http://faostat.fao.org)

Felsenstein J (1993) PHYLIP (Phylogeny Inference Package) version 3.5c.

Gowda BTS, Seetharam A, Viswanath S, Sannegowda S (1986) Incorporation of blast resistance to Indian elite finger millet cultivars from African cultivar IE 1012. SABRAO J 18:119–120

Harinarayana G, Seetharam A (1985) Descriptors for finger millet. IBPGR Secretariat, Rome

Hilu KW, de Wet JMJ (1976) Racial evolution in Eleusine coracana ssp. coracana (finger millet). Am J Bot 63:1311–1318

Hilu KW, de Wet JMJ, Harlan JR (1979) Archaeobotanical studies of Eleusine coracana ssp. coracana. Am J Bot 66:330–333

Hilu KW, Johnson JL (1992) Ribosomal DNA variation in finger millet and wild species of Eleusine (Poaceae). Theor Appl Genet 83:895–902

Liu K, Muse SV (2005) PowerMarker: an integrated analysis environment for genetic marker analysis. Bioinformatics 21:2128–2129

M'Ragwa LRF, Watson CE Jr (1994) Registration of 'KAT/FM-1' finger millet. Crop Sci 34:1690–1691

Mushonga JN, Muza FR, Dhiwayo HH (1993) Development, current and future research strategies on finger millet in Zimbabwe. In: Riley KW, Gupta SC, Seetharam A, Mushonga JN (eds) Advances in small millets. Oxford & IBH Publishing Co. Pvt. Ltd., New Delhi, pp 11–19

Muza FR, Lee DJ, Andrews DJ, Gupta SC (1995) Mitochondrial DNA variation in finger millet (Eleusine coracana). Euphytica 81:199–205

National Research Council (1996) Lost crops of Africa, volume I. Grains. National Academy Press, Washington, DC

Neves SS, Swire-Clark G, Hilu KW, Baird WV (2005) Phylogeny of Eleusine (Poaceae: Chloridoideae) based on nuclear ITS and plastid trnT-trnF sequences. Mol Phylogenet Evol 35:395–419

Odelle SE (1993) Improvement of finger millet in Uganda. In: Riley KW, Gupta SC, Seetharam A, Mushonga JN (eds) Advances in small millets. Oxford & IBH Publishing Co. Pvt. Ltd., New Delhi, pp 75–83

Prasada Rao KE, de Wet JMJ (1997) Small millets. In: Fuccillo D, Sears L, Stapleton P (eds) Biodiversity in trust. University Press, Cambridge, UK, pp 259–272

Pritchard JK, Stephens M, Donnelly P (2000) Inference of population structure using multilocus genotype data. Genetics 155:945–959

Salimath SS, de Oliveira AC, Godwin ID, Bennetzen JL (1995) Assessment of genome origins and genetic diversity in the genus Eleusine with DNA markers. Genome 38:757–763

Seetharam A, Patel DP, Halaswamy BH (2006) Small millets. In: Dhillon BS, Saxena S, Agrawal A, Tyagi RK (eds) Plant genetic resources: foodgrain crops. Narosa Publishing House, New Delhi, pp 204–222

Tanksley SD, McCouch SR (1997) Seed banks and molecular maps: unlocking genetic potential from the wild. Science 277:1063–1066

Tanksley SD, Nelson JC (1996) Advanced backcross QTL analysis: a method for the simultaneous discovery and transfer of valuable QTLs from unadapted germplasm into elite breeding lines. Theor Appl Genet 92:191–203

Werth CR, Hilu KW, Langner CA (1994) Isozymes of Eleusine (Gramineae) and the origin of finger millet. Am J Bot 81:1186–1197
Acknowledgments
We thank KARI, SAARI, ICRISAT and PGRCU-USDA-ARS for providing seed of the finger millet accessions. We also thank Jim Leebens–Mack for assisting with the phylogenetic analysis and critical reading of this manuscript. This research was achieved with funding from USAID, the McKnight Foundation and the Kirkhouse Trust.
Electronic supplementary material
Below is the link to the electronic supplementary material.
Diversity statistics based on individual SSRs (DOC 218 KB)
Means, variance and 95% confidence limits (CL) of the means for the traits analyzed (DOC 253 KB)
The country of origin, collection site and seed source for the accessions used in the diversity analysis (DOC 147 KB)
About this article
Cite this article
Dida, M.M., Wanyera, N., Harrison Dunn, M.L. et al. Population Structure and Diversity in Finger Millet (Eleusine coracana) Germplasm. Tropical Plant Biol. 1, 131–141 (2008). https://doi.org/10.1007/s12042-008-9012-3
Received:

Accepted:

Published:

Issue Date:

DOI: https://doi.org/10.1007/s12042-008-9012-3
Keywords