Abstract
The Juglans plants are economically important as they provide nuts, wood and garden trees. They also play an important ecological role by supplying food for wild insects and animals. The decoding of genome sequences has fundamental values for understanding the evolution of Juglans plants and molecules, and is also a prerequisite for molecular breeding. During the last three years, the rapid development of sequencing technology has made walnut research into the genome era. Here, we reviewed the progress of genome sequencing of six Juglans species, the resequencing of four Juglans populations as well as the genome sequencing of the closely related species Pterocarya stenoptera. The analysis of the Juglans regia genome uncovers a whole genome duplication (WGD) event. Based on the molecular dating of the divergence time of six Juglans species, we proposed this WGD event was associated with Cretaceous–Palaeogene (K-Pg) boundary occurred \(\sim \)65 million years ago. Genomic sequences also provide clear details for understanding the evolution and development of GGT and PPO genes involved in fruit development. The decoding of these genomes has made it easier for us to understand and enhance the use of walnuts. We expect that the functional genomics research of walnut will also develop rapidly in the near future.
This is a preview of subscription content, log in to check access.
Access options
Buy single article
Instant access to the full article PDF.
US$ 39.95
Price includes VAT for USA
Subscribe to journal
Immediate online access to all issues from 2019. Subscription will auto renew annually.
US$ 99
This is the net price. Taxes to be calculated in checkout.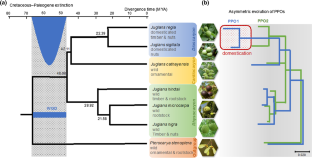 References
Chen F., Dong W., Zhang J., Guo X., Chen J., Wang Z. et al. 2018 The sequenced angiosperm genomes and genome databases. Front. Plant Sci. 9, 418.

Luo M., You F. M., Li P., Wang J., Zhu T., Dandekar A. M. et al. 2015 Synteny analysis in Rosids with a walnut physical map reveals slow genome evolution in long-lived woody perennials. BMC Genomics 16, 707.

Martínez-García P. J., Crepeau M. W., Puiu D., Gonzalez-Ibeas D., Whalen J., Stevens K. A. et al. 2016 The walnut (Juglans regia) genome sequence reveals diversity in genes coding for the biosynthesis of non-structural polyphenols. Plant J. 87, 507–532.

Stevens K. A., Woeste K., Chakraborty S., Crepeau M. W., Leslie C. A., Martínez-García P. J. et al. 2018 Genomic variation among and within six Juglans species. G3-Genes Genomes Genet. 8, 2153–2165.

Wegrzyn J. L., Lee J. M., Tearse B. R. and Neale D. B. 2008 TreeGenes: a forest tree genome database. Int. J. Plant Genomics 2008, 412875.
Acknowledgements
FC is supported by a grant from National Natural Science Foundation, China (31801898), a grant from the State Key Laboratory of Ecological Pest Control for Fujian and Taiwan crops (SKB2017004) and a grant from the Natural Science Foundation of Fujian Province (2018J01603). LZ is supported by the open funds of the State Key Laboratory of Crop Genetics and Germplasm Enhancement (ZW201909), State Key Laboratory of Tree Genetics and Breeding (TGB2018004) and Outstanding Youth Program of Fujian Agriculture and Forestry University.
Additional information
Corresponding editor: Qingpo Liu
About this article
Cite this article
Chen, F., Chen, J., Wang, Z. et al. Genomics: cracking the mysteries of walnuts. J Genet 98, 33 (2019). https://doi.org/10.1007/s12041-019-1084-3
Received:

Revised:

Accepted:

Published:
Keywords
walnut

genome sequencing

resequencing

divergence time

whole genome duplication

fruit development

Juglans spp