Abstract
Extreme weather events have become remarkably more evident in recent decades. Heat waves and cold waves are anomalous weather events resulting from excessive heat and cold conditions, respectively, in the near-surface atmosphere. They may last from a few days to a few weeks, depending on the geography and climatology of the region. In this study, we have used the India Meteorological Department (IMD) daily maximum and minimum temperature data over the period from 1970 to 2019 to investigate the decadal variability and trends in the frequency of heat waves and cold waves over the four broad climatic zones of India. We found opposite trends in the heat wave and cold wave events over India. The frequency of the occurrence of heat waves increased by about 0.6 events per decade, while cold waves decreased by about 0.4 events per decade. Although most of northwest India is highly vulnerable to heat wave conditions, central peninsular India is also experiencing frequent heat waves in the recent decade. Concurrently, the average duration of cold waves decreased over montane, arid and semi-arid, and tropical wet and dry climate zones. But, cold wave events frequency showed an increasing trend over the subtropical humid climatic zone of India. When compared to IMD observations, the CMIP6 models generally failed to capture the observed spatial features in the heat wave frequency trend and cold wave frequency trend. This suggests that CMIP6 model output data should be used cautiously to predict future changes in the heat wave and cold wave events frequency. This emphasizes the need for an improved process-level understanding of these extreme events.
This is a preview of subscription content,
to check access.
Access this article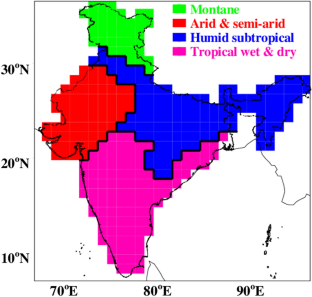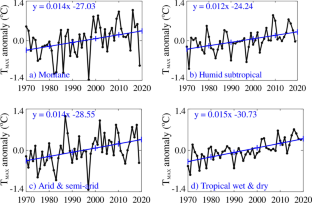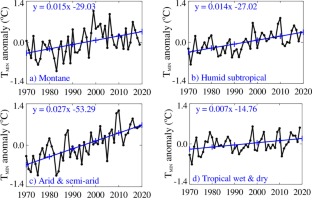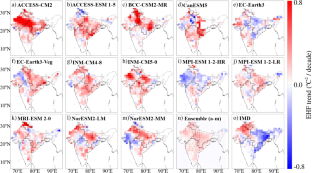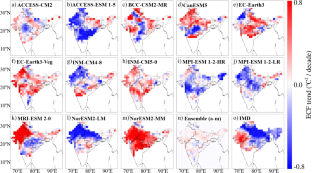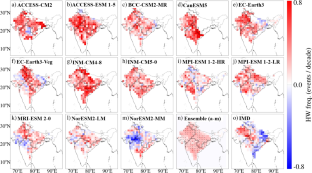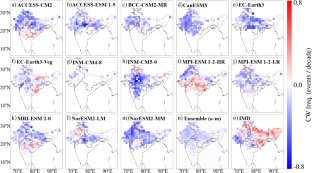 Similar content being viewed by others
References
Babu S S, Manoj M, Moorthy K K, Gogoi M M, Nair V S, Kompalli S K, Satheesh S, Niranjan K, Ramagopal K, Bhuyan P K and Singh D 2013 Trends in aerosol optical depth over Indian region: Potential causes and impact indicators; J. Geophys. Res. Atmos. 118(20) 11,794–11,806.

Bhatla R, Pant M, Singh D, Verma S and Mandal B 2020 Evaluation of cold wave events over Indo-Gangetic Plain in India; J. Agrometeorol. 22(2) 233–238.

Bitencourt D P, Fuentes M V, Franke A E, Silveira R B and Alves M P A 2020 The climatology of cold and heat waves in Brazil from 1961 to 2016; Int. J. Climatol. 40(4) 2464–2478.

Cheng J, Xu Z, Bambrick H, Prescott V, Wang N, Zhang Y, Su H, Tong S and Hu W 2019 Cardiorespiratory effects of heatwaves: A systematic review and meta-analysis of global epidemiological evidence; Environ. Res. 177(108610).

Chowdhury B 2022 Trends, intensification, attribution and uncertainty of projected heatwaves in India; Int. J. Climatol. 1–20, https://doi.org/10.1002/joc.7665.

Das J and Umamahesh N V 2022 Heat wave magnitude over India under changing climate: Projections from CMIP5 and CMIP6 experiments; Int. J. Climatol. 42(1) 331–351.

Dash S and Mamgain A 2011 Changes in the frequency of different categories of temperature extremes in India; J. Appl. Meteorol. Climatol. 50(9) 1842–1858.

Dave P, Bhushan M and Venkataraman C 2020 Absorbing aerosol influence on temperature maxima: An observation based study over India; Atmos. Environ. 223 117237.

De U S and Mukhopadhyay R K 1998 Severe heat wave over the Indian subcontinent in 1998, in perspective of global climate; Curr. Sci. 75(12) 1308–1311.

Dimri A P and Chevuturi A 2014 Model sensitivity analysis study for western disturbances over the Himalayas; Meteorol. Atmos. Phys. 123(3) 155–180.

Fu S H, Gasparrini A, Rodriguez P and Jha P 2018 Mortality attributable to hot and cold ambient temperatures in India: A nationally representative case-crossover study; PLoS Med. 15(7) e1002619.

Hirsch A L, Ridder N N, Perkins-Kirkpatrick S E and Ukkola A 2021 CMIP6 multi-model evaluation of present-day heatwave attributes; Geophys. Res. Lett. 48(22) e2021GL095161.

Hunt K M, Turner A G and Shaffrey L C 2019 Falling trend of western disturbances in future climate simulations; J. Clim. 32(16) 5037–5051.

IPCC 2021 Climate change 2021: The physical science basis. Contribution of Working Group I to the Sixth Assessment Report of the Intergovernmental Panel on Climate Change, Cambridge University Press, Cambridge, United Kingdom and New York, NY, USA.

Jenamani R 2012 Analysis of ocean-atmospheric features associated with extreme temperature variation over east coast of India – A special emphasis to Orissa heat waves of 1998 and 2005; MAUSAM 63(3) 401–422.

Kumar P and Sarthi P P 2019 Surface temperature evaluation and future projections over India using CMIP5 models; Pure Appl. Geophys. 176(11) 5177–5201.

Lu L, Wang Z and Shi P 2015 Mapping cold wave risk of the world, World Atlas of Natural Disaster Risk, Springer, pp. 189–207.

Ma S and Zhu C 2019 Extreme cold wave over East Asia in January 2016: A possible response to the larger internal atmospheric variability induced by Arctic warming; J. Clim. 32(4) 1203–1216.

Mahdi S S and Dhekale B S 2016 Long term climatology and trends of heat and cold waves over southern Bihar, India; J. Earth Syst. Sci. 125(8) 1557–1567.

Mazdiyasni O, AghaKouchak A, Davis S J, Madadgar S, Mehran A, Ragno E, Sadegh M, Sengupta A, Ghosh S and Dhanya C J S 2017 Increasing probability of mortality during Indian heat waves; Sci. Adv. 3(6) e1700066.

Mishra V, Mukherjee S, Kumar R and Stone D A 2017 Heat wave exposure in India in current, 1.5°C, and 2.0°C worlds; Environ. Res. Lett. 12(12) 124012.

Mishra V, Bhatia U and Tiwari A D 2020 Bias-corrected climate projections for South Asia from Coupled Model Intercomparison Project-6; Sci. Data 7(1) 338.

Mondal A, Sah N, Sharma A, Venkataraman C and Patil N 2021 Absorbing aerosols and high-temperature extremes in India: A general circulation modelling study; Int. J. Climatol. 41(S1) E1498–E1517.

Nairn J R and Fawcett R J B 2015 The excess heat factor: A metric for heatwave intensity and its use in classifying heatwave severity; Int. J. Environ. Res. Public Health 12(1) 227–253.

Namroodi M, Hamidianpour M and Poodineh M 2021 Spatio-temporal analysis of changes in heat and cold waves across Iran over the statistical period 1966–2018; Arab. J. Geosci. 14(10) 1–14.

Pai D S and Nair S 2022 Impact of El-Niño-Southern Oscillation (ENSO) on extreme temperature events over India; MAUSAM 73(3) 597–606.

Pai D, Srivastava A and Nair S A 2017 Heat and cold waves over India, observed climate variability and change over the Indian Region, Springer, pp. 51–71.

Piticar A, Croitoru A E, Ciupertea F A and Harpa G-V 2018 Recent changes in heat waves and cold waves detected based on excess heat factor and excess cold factor in Romania; Int. J. Climatol. 38(4) 1777–1793.

Ratnam J, Behera S K, Ratna S B, Rajeevan M and Yamagata T 2016 Anatomy of Indian heatwaves; Sci. Rep. 6(1) 1–11.

Ray K, Giri R, Ray S, Dimri A and Rajeevan M 2021 An assessment of long-term changes in mortalities due to extreme weather events in India: A study of 50 years' data, 1970–2019; Wea. Clim. Extrem. 32(100315).

Rohini P, Rajeevan M and Srivastava A K 2016 On the variability and increasing trends of heat waves over India; Sci. Rep. 6(1) 1–9.

Sandeep A and Prasad V S 2020 On the variability of cold wave episodes over Northwest India using an NGFS retrospective analysis; Pure Appl. Geophys. 177(2) 1157–1166.

Saranya J S, Roxy M K, Dasgupta P and Anand A 2022 Genesis and trends in marine heatwaves over the Tropical Indian Ocean and their interaction with the Indian Summer Monsoon; J. Geophys. Res.: Oceans 127(2) e2021JC017427.

Spinoni J, Lakatos M, Szentimrey T, Bihari Z, Szalai S, Vogt J and Antofie T 2015 Heat and cold waves trends in the Carpathian Region from 1961 to 2010; Int. J. Climatol. 35(14) 4197–4209.

Srivastava A, Rajeevan M and Kshirsagar S R 2009 Development of a high resolution daily gridded temperature data set (1969–2005) for the Indian region; Atmos. Sci. Lett. 10(4) 249–254.

Thomas A, Sarangi C and Kanawade V P 2019 Recent increase in winter hazy days over Central India and the Arabian Sea; Sci. Rep. 9(1) 17406.

Unkašević M and Tošić I 2015 Seasonal analysis of cold and heat waves in Serbia during the period 1949–2012; Theor. Appl. Climatol. 120 29–40, https://doi.org/10.1007/s00704-014-1154-7.

Van Oldenborgh G J, Mitchell-Larson E, Vecchi G A, De Vries H, Vautard R and Otto F 2019 Cold waves are getting milder in the northern midlatitudes; Environ. Res. Lett. 14(11) 114004.
Acknowledgements
The authors are thankful to the India Meteorological Department, Ministry of Earth Sciences, for providing daily gridded temperature data. VPK would like to thank the University Grants Commission, Government of India for the UGC-Faculty Recharge Programme Fellowship [Ref. No. F.4-5(230-FRP/2015/BSR)]. AT was supported by University Grants Commission Junior Research Fellowship. The authors are thankful to anonymous reviewers for constructive comments and suggestions.
Supplementary Information
Below is the link to the electronic supplementary material.
About this article
Cite this article
Bhattacharya, A., Thomas, A., Soni, V.K. et al. Opposite trends in heat waves and cold waves over India. J Earth Syst Sci 132, 67 (2023). https://doi.org/10.1007/s12040-023-02069-2
Received:

Revised:

Accepted:

Published:

DOI: https://doi.org/10.1007/s12040-023-02069-2
Keywords