Abstract
Groundwater salinization has become a worldwide problem, impacting further agricultural advancements and thereby economic progress in various parts of the globe. Understanding the mechanism and processes behind groundwater salinization is crucial, especially in arid and semi-arid regions, where groundwater quality makes up the basic necessity for agriculture due to low rainfall with little to no surface water. To understand the salinity of groundwater, a monthly climatic water balance is calculated using climatological parameters. Change in the hydrochemistry between pre-monsoon and post-monsoon seasons with reference to local rainfall was used to assess the salinity change for the study period. Stable isotope (oxygen-18 and hydrogen-2) data of groundwater and rainfall was used to assess the groundwater recharge conditions in the study area. Climatic water balance studies show that cyclic dry and wet climatic conditions are favourable to accumulate salts on the surface of the soil, which later migrate to the water table during the monsoon season. Increased electrical conductivity values in most of the bore wells during the post-monsoon season further prove the migration of salts during the rainfall recharge, resulting in high salinity of the groundwater.
Access options
Buy single article
Instant access to the full article PDF.
USD 39.95
Price includes VAT (USA)
Tax calculation will be finalised during checkout.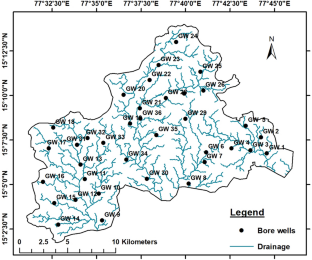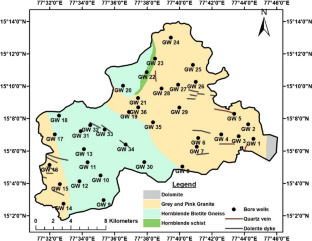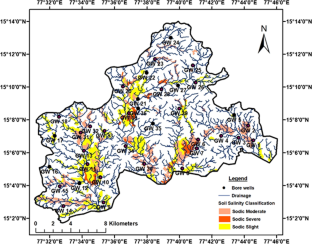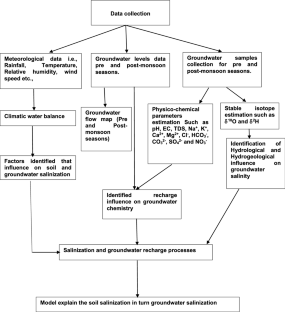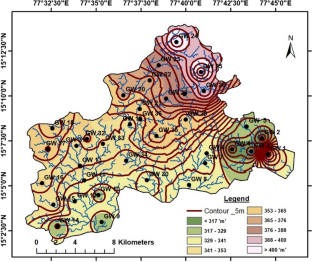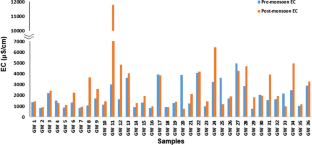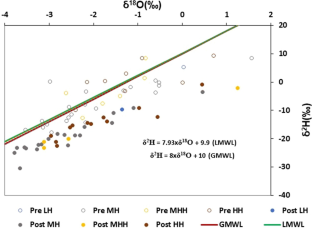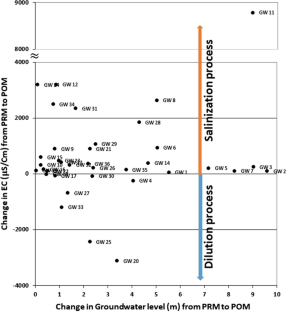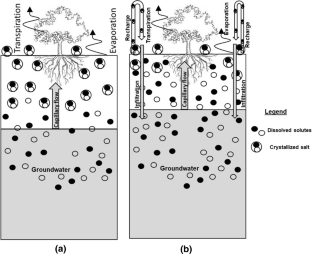 References
Al-Katheeri E S 2008 Towards the establishment of water management in Abu Dhabi Emirate; Water Resour. Manag. 22 205–215.

AWWA 1971 Water quality and treatment; Mc Graw Hill, New York, 654p.

Bahir M, Ouazar D and Ouhamdouch S 2019 Hydrogeochemical mechanisms and recharge mode of the aquifers under semiarid climate from Morocco; Appl. Water Sci. 9 103.

Balugani E, Lubczynski M W, Reyes-Acosta L, Van der Tol C, Frances A P and Metselaar G K 2017 Groundwater and unsaturated zone evaporation and transpiration in a semi-arid open woodland; J. Hydrol. 547 54–66.

Ben Cheikh N, Zouari K and Abidi B 2014 A hydrogeochemical approach for identifying salinization processes in the Cenomanian–Turonian aquifer, south–eastern Tunisia; Carbonate. Evaporite. 29(2) 193–201.

Bryan G H, Donald A H, Robert G S, Jason W E and Dan M S 2007 Managing irrigation water quality for crop production in the pacific northwest; A Pacific Northwest Extension Publication 597-E.

Choudhary O P and Kharche V K 2018 Soil salinity and sodicity; In: Soil Science: An introduction, pp. 354–384.

Craig H 1961 Isotopic variations in meteoric waters; Science 133 1702–1703.

GSI 1995 Geological Quadrangle map 57 F; Printed at Info Maps, Madras.

GSI 2004 Geological Quadrangle map 57 E; Printed at the Map Printing Division, Hyderabad.

He J, Ma J, Zhang P, Tian L, Zhu G, Edmunda W M and Zhang Q 2012 Groundwater recharge environments and hydrogeochemical evolution in the Jiuquan Basin, Northwest China; Appl. Geochem. 27 866–878.

Herczeg A L, Dogramaci S S and Leaney F W J 2001 Origin of dissolved salts in a large, semi-arid groundwater system: Murray Basin, Australia; Mar. Freshw. Res. 52 41–52.

Kelly W R, Panno S V and Hackley K 2012 The sources, distribution and trends of chloride in the waters of Illinois; University of Illinois at Urbana–Champaign, Illinois, Bulletin, B-74.

Li J, Wang Y and Xie X 2016 Cl/Br ratios and chlorine isotope evidences for groundwater salinization and its impact on groundwater arsenic, fluoride and iodine enrichment in the Datong basin, China; Sci. Total Environ. 544 158–167.

Mandal A K, Sharma R C, Singh G and Dagar J C 2010 Computerized database of salt affected soils in India; Technical Bulletin, CSSRI/Karnal/2/2010, 28p.

Martinez B J and Manzur C L 2005 Overview of salinity problems in the world and FAI strategies to address the problem; In: Proceedings of the International Salinity Forum (Riverside), pp. 311–313.

McCabe G J and Markstrom S L 2007 A monthly water-balance model driven by a graphical user interface; US Geological Survey Open File Report 2007–1088 6p.

Nachshon U 2018 Cropland soil salinization and associated hydrology: Trends, processes and examples; Water 10(8) 1030.

Narany T S, Ramli M F, Aris A Z, Sulaiman W N A, Juahir H and Fakharian K 2014 Identification of the hydrogeochemical processes in groundwater using classic integrated geochemical methods and geostatistical techniques, in Amol-Babol plain, Iran; Sci. World J. 2014 419058.

NRSC 2014 Salt-affected and water logged areas of India; NRSC-RSAA-LRUMG-SLRAD-Jan 2014-TR/SAWL.

Rengasamy P 2006 World salinization with emphasis on Australia; J. Exp. Biol. 57(5) 1017–1023.

Rukmani R and Manjula M 2009 Designing rural technology delivery system for mitigating agricultural distress: A study of Anantapur district; MSSRF/RR/10/24.

Schofield R V and Kirkby M J 2003 Application of salinization indicators and initial development of potential global soil salinization scenario under climate change; Global Biogeochem. Cycle. 17(3) 1078.

Sreedevi P D, Ahmed S and Reddy D V 2017 Mechanism of fluoride and nitrate enrichment in hard-rock aquifers in Gooty Mandal, south India; Environ. Process. 4(3) 625–644.

Tweed S, Leblanc M, Cartwright I, Favreau G and Leduc C 2011 Arid zone groundwater recharge and salinization processes; an example from the Lake Eyre Basin, Australia; J. Hydrol. 333(1) 47–57.

UNDP 2001 What is desertification? Fact sheet, New York.

UNEP 1992 World Atlas of Desertification; Edward Arnold, London.

Zahid A, Rahman A, Rashidul M and Hazrat Ali M 2016 Determining sources of groundwater salinity in the multi-layered aquifer system of the Bengal Delta, Bangladesh; BRAG Univ. J. 11(2) 37–51.
Acknowledgements
The authors are grateful to the Director, CSIR – National Geophysical Research Institute, for the permission and encouragement to publish this work. The first author gratefully acknowledges Dr V M Tiwari, Mentor, and Director, CSIR-NGRI, and Dr Shakeel Ahmed, Retired Chief Scientist, CSIR-NGRI for their support and encouragement throughout this project and also to the Department of Science and Technology (DST) New Delhi, for financial assistance in the form of Women Scientists Scheme (WOS-A) Projects (Nos. SR/WOS-A/ES-20/2013(G) and SR/WOS-A/EA-08/2017(G)). The authors are thankful to the editor, associate editor, and two anonymous reviewers for their valuable suggestions and constructive comments that greatly enhanced the quality of the manuscript.
Additional information
Communicated by Dipankar Saha
About this article
Cite this article
Sreedevi, P.D., Sreekanth, P.D. & Reddy, D.V. Influence of hydrological and hydrogeological factors on inland groundwater salinity in a hard rock aquifer, south India. J Earth Syst Sci 130, 215 (2021). https://doi.org/10.1007/s12040-021-01715-x
Received:

Revised:

Accepted:

Published:
Keywords
Rainfall

potential evapotranspiration

major ion chemistry

stable isotopes

salinity process