Abstract
Excessive water use in the agricultural sector in the Betwa–Dhasan basin of the Bundelkhand region is becoming the cause of irrepressible drawdown in the groundwater level. These changing dynamics are becoming the cause of water scarcity in the basin and increasing difficulty in fulfilling the water demand of the area. For incorporating the water-saving agricultural practices in the region, it is essential to have a precise estimation of the crop water productivity (CWP) and evapotranspiration (ET) at the basin scale. In this analysis, the Kharif and Rabi seasons of 2004–2005, 2009–2010, and 2013–2014 have been included. The ET and CWP have been calculated for all the seasons. The MODIS satellite imageries have been used for calculating the ET using the surface energy balance algorithm for land (SEBAL) algorithm. The highest CWP has been recorded as 2.56 kg/m3 for the Rabi season 2014. With the increase in the demand for water for irrigation and agricultural purposes, the groundwater gets depleted. The decadal groundwater fluctuation map of the Rabi season (2005–2014) shows that groundwater gets depleted by more than 30 m within this period in some of the river basin regions situated in the Jhansi and Tikamgarh districts.
Research highlights
CWP is more in the Rabi season as compared to the Kharif season.

The yield also has the same trend as that of CWP.

Groundwater depleted less in the Kharif season as compared to the Rabi season.

During the decadal Rabi season (2005–2014), the groundwater depleted most in some of the areas in the Tikamgarh and Jhansi districts.
Access options
Buy single article
Instant access to the full article PDF.
USD 39.95
Price includes VAT (USA)
Tax calculation will be finalised during checkout.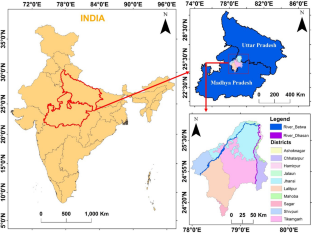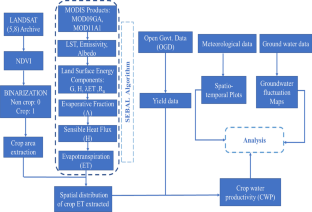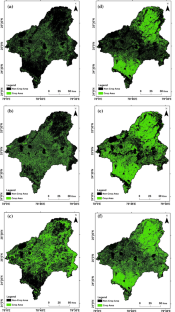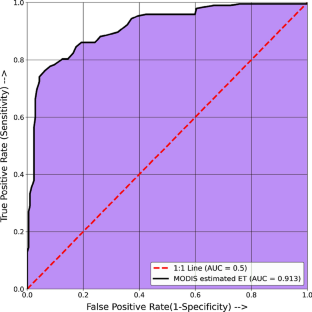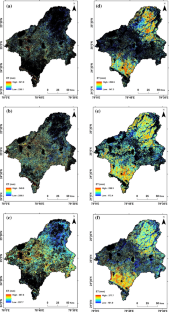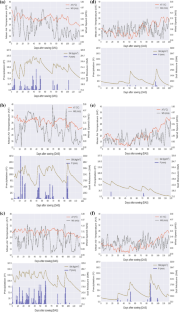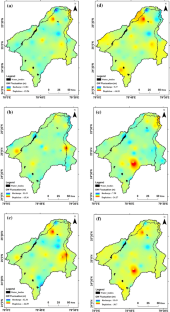 References
Allen R G 1996 Assessing integrity of weather data for reference evapotranspiration estimation; J. Irrig. Drain. Eng. 122 97–106.

Allen R G, Pereira L S, Raes D and Smith M 1998 Crop evapotranspiration – Guidelines for computing crop water requirements – FAO Irrigation and drainage paper 56; FAO, Rome 300 D05109.

Avtar R, Singh C K, Shashtri S and Mukherjee S 2011 Identification of erosional and inundation hazard zones in Ken-Betwa river linking area, India, using remote sensing and GIS; Environ. Monit. Assess. 182 341–360.

Bastiaanssen W G 2000 SEBAL-based sensible and latent heat fluxes in the irrigated Gediz Basin, Turkey; J. Hydrol. 229 87–100.

Bastiaanssen W G, Menenti M, Feddes R A and Holtslag A A M 1998a A remote sensing surface energy balance algorithm for land (SEBAL). Part 1. Formulation; J. Hydrol. 212 198–212.

Bastiaanssen W G, Pelgrum H, Wang J, Ma Y, Moreno J F, Roerink G J and Van der Wal T 1998b A remote sensing surface energy balance algorithm for land (SEBAL): Part 2. Validation; J. Hydrol. 212 213–229.

Bastiaanssen W G, Noordman E J, Pelgrum H, Davids G, Thoreson B P and Allen R G 2005 SEBAL model with remotely sensed data to improve water-resources management under actual field conditions; J. Irrig. Drain Eng. 131 85–93.

Chinnasamy P and Agoramoorthy G 2015a Groundwater storage and depletion trends in Tamil Nadu State, India; Water Resour. Manag. 29(7) 2139–2152.

Chinnasamy P and Agoramoorthy G 2015b Groundwater storage and depletion trends in Tamil Nadu State, India; Water Resour. Manag. 29 2139–2152.

Danodia A, Patel N R, Chol C W, Nikam B R and Sehgal V K 2019 Application of S-SEBI model for crop evapotranspiration using Landsat-8 data over parts of North India; Geocarto Int. 34 114–131.

Dige K T 2020 Precision Agriculture in India: Opportunities and Challenges; Int. J. Res. Eng. Manag. 3 395–397.

Ensor L A and Robeson S M 2008 Statistical characteristics of daily precipitation: Comparisons of gridded and point datasets; J. App. Met. Clim. 47 2468–2476.

Ferreira Júnior P, Sousa A M, Vitorino M I, De Souza E B and De Souza P J O P 2013 Estimate of evapotranspiration in the eastern Amazon using SEBAL; Revista de Ciências Agrárias/Amazonian J. Agric. Environ. Sci. 56 33–39.

Flexas J, Bota J, Cifre J, Mariano Escalona J, Galmés J, Gulías J, Lefi E K, Sara Florinda M-C, Teresa M M, Ribas-Carbó M and Riera D 2004 Understanding down-regulation of photosynthesis under water stress: Future prospects and searching for physiological tools for irrigation management; Annal. Appl. Biol. 144 273–283.

Hazra M 2018 Population growth of India: Causes and impact; Int. J. Soc. Sci. Eco. Res. 3 2119–2133.

Idso S B and Brazel A J 1984 Rising atmospheric carbon dioxide concentrations may increase streamflow; Nature 312 51–53.

Idso S B, Jackson R D and Reginato R J 1977 Remote-sensing of crop yields; Science 196 19–25.

Jackson R D, Slater P N and Pinter J P J 1983 Discrimination of growth and water stress in wheat by various vegetation indices through clear and turbid atmospheres; Remote Sens. Environ. 13 187–208.

Jeet P, Singh D K and Sarangi A 2019 Groundwater potential in a drought prone Betwa river basin, Bundelkhand; Indian J. Agr. Sci. 89 1623–1627.

Kalinina O, Cherkinsky A, Chertov O, Goryachkin S, Kurganova I, de Gerenyu V L, Lyuri D, Kuzyakov Y and Giani L 2019 Post-agricultural restoration: Implications for dynamics of soil organic matter pools; Catena 181 104096.

Kiptala J K, Mohamed Y, Mul M L and Van der Zaag P 2013 Mapping evapotranspiration trends using MODIS and SEBAL model in a data scarce and heterogeneous landscape in Eastern Africa; Water Resour. Res. 49 8495–8510.

Li H, Zheng L, Lei Y, Li C, Liu Z and Zhang S 2008 Estimation of water consumption and crop water productivity of winter wheat in North China Plain using remote sensing technology; Agr. Water Manag. 95 1271–1278.

Mahto S S and Mishra V 2019 Does ERA-5 outperform other reanalysis products for hydrologic applications in India?; J. Geophys. Res. Atmos. 124 9423–9441.

Mali S S, Singh D K, Sarangi A, Khanna M and Parihar S S 2019 Assessment of water footprints in Betwa River Basin under limited data availability; J. Agr. Eng. 56 122–135.

Mallick K, Bhattacharya B K, Chaurasia S, Dutta S, Nigam R, Mukherjee J, Banerjee S, Kar G, Rao V U M, Gadgil A S and Parihar J S 2007 Evapotranspiration using MODIS data and limited ground observations over selected agroecosystems in India; Int J. Remote Sens. 28 2091–2110.

Mondal S, Jeganathan C, Sinha N K, Rajan H, Roy T and Kumar P 2014 Extracting seasonal cropping patterns using multi-temporal vegetation indices from IRS LISS-III data in Muzaffarpur District of Bihar, India; Egyptian J. Remote Sens. Space Sci. 17 123–134.

Mu Q, Zhao M and Running S W 2011 Improvements to a MODIS global terrestrial evapotranspiration algorithm; Remote Sens. Environ. 115 1781–1800.

Nagler P L, Glenn E P, Kim H, Emmerich W, Scott R L, Huxman T E and Huete A R 2007 Relationship between evapotranspiration and precipitation pulses in a semiarid rangeland estimated by moisture flux towers and MODIS vegetation indices; J. Arid Environ. 70 443–462.

Nouri S 2010 Evaluation of actual ET using SEBAL algorithm and MODIS images in Mashhad catchment; Thesis, Ferdowsi University of Mashhad, M.Sc.

Padhee S K, Nikam B R, Dutta S and Aggarwal S P 2017 Using satellite-based soil moisture to detect and monitor spatiotemporal traces of agricultural drought over Bundelkhand region of India; GIS Remote Sens. 54 144–166.

Pokorny J 2019 Earth Systems and Environmental Sciences; 2nd edn. Academic press, Oxford, UK, pp. 292–303.

Rahimi S, Gholami Sefidkouhi M A, Raeini-Sarjaz M and Valipour M 2015 Estimation of actual evapotranspiration by using MODIS images (a case study: Tajan catchment); Arch. Agron. Soil Sci. 61 695–709.

Rodell M, Houser P R, Jambor U E A, Gottschalck J, Mitchell K, Meng C J, Arsenault K, Cosgrove B, Radakovich J, Bosilovich M and Entin J K 2004 The global land data assimilation system; Bull. Am. Met. Soc. 85 381–394.

Rodell M, Velicogna I and Famiglietti J S 2009 Satellite-based estimates of groundwater depletion in India; Nature 460 999–1002.

Romaguera M, Hoekstra A Y, Su Z, Krol M S and Salama M 2010 Potential of using remote sensing techniques for global assessment of water footprint of crops; Remote Sens. 2 1177–1196.

Sett T, Nikam B R, Nandy S, Danodia A, Bhattacharjee R and Dugesar V 2018 Estimation of instantaneous evapotranspiration using remote sensing based energy balance technique over parts of North India; Int. Arch. Photogram., Remote Sens. Spatial Inform. Sci.

Singh D, Gupta P K, Pradhan R, Dubey A K and Singh R P 2017 Discerning shifting irrigation practices from passive microwave radiometry over Punjab and Haryana; J. Water Clim. Change 8 303–319.

Starks P J, Norman J M, Blad B L, Walter-Shea E A and Walthall C L 1991 Estimation of shortwave hemispherical reflectance (albedo) from bidirectionally reflected radiance data; Remote Sens. Environ. 38 123–134.

Sungmin O, Foelsche U, Kirchengast G, Fuchsberger J, Tan J and Petersen W A 2017 Evaluation of GPM IMERG Early, Late, and Final rainfall estimates using WegenerNet gauge data in southeastern Austria; Hydrol. Earth Sys. Sci. 21 6559–6572.

Stellman K M, Fuelberg H E, Garza R and Mullusky M 2001 An examination of radar and rain gauge–derived mean areal precipitation over Georgia watersheds; Weather Forecast. 16 133–144.

Tarek M, Brissette F P and Arsenault R 2020 Evaluation of the ERA5 reanalysis as a potential reference dataset for hydrological modelling over North America; Hydrol. Earth Syst. Sci. 24 2527–2544.

Tasumi M, Allen R G and Trezza R 2008 At-surface reflectance and albedo from satellite for operational calculation of land surface energy balance; J. Hydrol. Eng. 13 51–63.

Tetzner D, Thomas E and Allen C 2019 A validation of ERA5 reanalysis data in the southern Antarctic peninsula – Ellsworth Land region, and its implications for ice Core studies; Geosciences 9 289.

Tiwari V M, Wahr J and Swenson S 2009 Dwindling groundwater resources in northern India, from satellite gravity observations; Geo. Res. Lett. 36 1–5.

Venancio L P, Eugenio F C, Filgueiras R, França da Cunha F, Argolo dos Santos R, Ribeiro W R and Mantovani E C 2020 Mapping within-field variability of soybean evapotranspiration and crop coefficient using the Earth Engine Evaporation Flux (EEFlux) application; Plos One 15 0235620.

Xiaoying L, Yuzhong L and Qingsuo W 2006 Evaluation on several temperature-based methods for estimating reference crop evapotranspiration; Trans. Chinese Soc. Agr. Eng. 6.

Yong B, Liu D, Gourley J J, Tian Y, Huffman G J, Ren L and Hong Y 2015 Global view of real-time TRMM multisatellite precipitation analysis: Implications for its successor global precipitation measurement mission; Bull. Am. Met. Soc. 96 283–296.

Yunhao C, Xiaobing L, Jing L, Peijun S and Wen D 2005 Estimation of daily evapotranspiration using a two-layer remote sensing model; Int. J. Remote Sens. 26 1755–1762.

Zhang S, Lei Y, Li H and Wang Z 2010 Temporal-spatial variation in crop evapotranspiration in Hebei Plain, China; J. Food Agr. Environ. 8 672–677.

Zhang X C, Wu J W, Wu H Y and Li Y 2011 Simplified SEBAL method for estimating vast areal evapotranspiration with MODIS data; Water Sci. Eng. 4 24–35.

Zwart S J and Bastiaanssen W G 2004 Review of measured crop water productivity values for irrigated wheat, rice, cotton and maize; Agr. Water Manag. 69 115–133.
Acknowledgements
The authors would like to take this opportunity to pay gratitude to CGWB and the Ministry of Electronics and Information Technology for providing groundwater data and yield data, respectively. The authors would like to express their thankfulness towards Dr Prabhat Kumar Singh Dixit, HoD of Civil Engineering Department, IIT (BHU), for assigning Geoinformatics Engineering Laboratory to perform this analysis. Satellite datasets had been accessed through GEE platform https://earthengine.google.com.
Additional information
Communicated by Aparna Shukla
About this article
Cite this article
Bhattacharjee, R., Choubey, A., Das, N. et al. Analysis of the groundwater scenario with respect to the crop water productivity for the Betwa–Dhasan river basin, Bundelkhand using remote sensing techniques. J Earth Syst Sci 130, 205 (2021). https://doi.org/10.1007/s12040-021-01709-9
Received:

Revised:

Accepted:

Published:
Keywords
Betwa–Dhasan basin

ET

CWP

SEBAL

MODIS