Abstract
This study focuses on finding the causes for the collapse of Sun temple, Konark, Odisha, India and the disappearance of the ancient Chandrabhaga river using satellite imagery and geophysical data. Gravity and magnetic anomalies near the Sun temple reveal the presence of two sets of faults trending NW–SE and NE–SW. The 3D gravity inversion depth model reveals an uplift-depression structure associated with these faults, which are steeply dipping in the proximity of the Sun temple. Reactivation of these faults is supported by evidences such as shifting of river channels, asymmetric arrangement of ox-bow lakes and combing features along the river bank, changes in the sinuosity index (SI) of the Kushabhadra, Kadua and Patharbuha rivers, all distributaries of the Mahanadi, against these faults. The most notable feature is the truncation of older channels by the present Patharbuha river, which instead of flowing towards the sea, meets the Kadua river to the east; this is interpreted to be linked to the reactivation of the NW–SE fault which results in the extinction of River Chandrabhaga. Remnants of River Chandrabhaga are present near the Sun temple. The timing of sediment deposition due to channel shifting, as well as fluvial morphological changes along the coast are found to be contemporaneous with the building and collapse of the Konark temple.
Access options
Buy single article
Instant access to the full article PDF.
USD 39.95
Price includes VAT (USA)
Tax calculation will be finalised during checkout.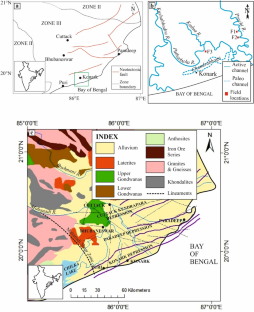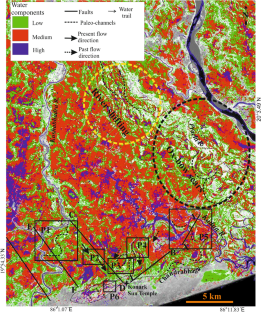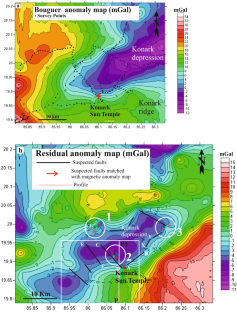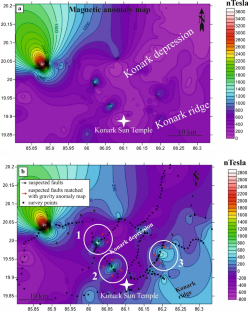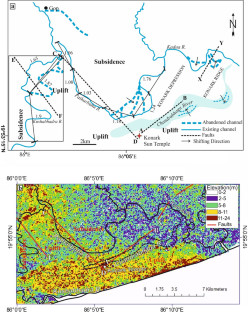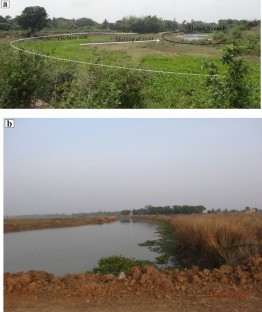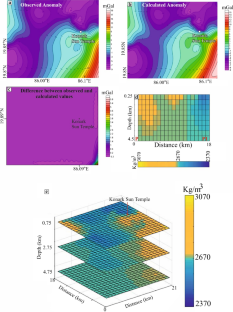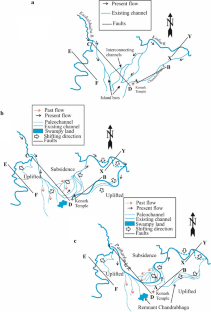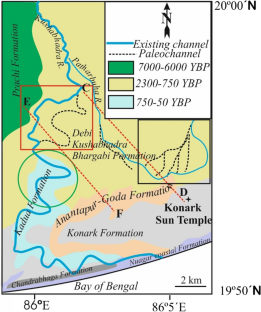 References
Agocs W B 1951 Least-squares residual anomaly determination; Geophysics 16 686–696.

Baishya N C and Singh S N 1986 DSS profiling in Mahanadi on shore areas: A case study; In: Deep seismic soundings and crustal tectonics (eds) Kaila K L and Tewari H C, Assoc. Explor. Geophys., Hyderabad, India, pp. 1–9.

Baksi A K 1995 Petrogenesis and timing of volcanism in the Rajmahal flood basalt province, northeastern India; Chem. Geol. 121 73–90.

Behera L, Sain K, Reddy P R, Rao I B P and Sarma V Y N 2002 Delineation of shallow structure and the Gondwana graben in the Mahanadi delta, India, using forward modeling of first arrival seismic data; J. Geodyn. 34 127–139.

Behera L, Sain K and Reddy P R 2004 Evidence of underplating from seismic and gravity studies in the Mahanadi delta of eastern India and its tectonic significance; J. Geophys. Res. 109 1–25.

Bharali B, Rath S and Sarma R 1991 A brief review of Mahanadi delta and the deltaic sediments in Mahanadi basin: Quaternary deltas of India; Geol. Soc. India Memoir 22 31–49.

Bhattacharjee D, Jain V, Chattopadhyay A, Biswas R H and Singhvi A K 2016 Geomorphic evidences and chronology of multiple neotectonic events in a cratonic area: Results from the Gavilgarh Fault Zone, central India; Tectonophys. 677–678 199–217.

BIS 1893–2002 Indian Standard criteria for earthquake resistant design of structure. Part 1: General provisions and buildings; Bureau of Indian standards, New Delhi.

Dhar S, Rai A K and Nayak P 2017 Estimation of seismic hazard in Odisha by remote sensing and GIS techniques; Nat. Hazards 86 695–709.

Friend P F and Sinha R 1993 Braiding and meandering parameters; In: Braided rivers (eds) Best J L and Bristow C S, Geol. Soc. London Spec. Publ. 75 105–111.

Fuloria R C 1993 Geology and hydrocarbon prospects of Mahanadi basin, India; In: Proceedings of the Second Seminar on Petroliferous Basins in India (eds) Biswas S K et al., Indian Petrol., Dehradun, India 3 355–369.

Geller G A, Weissel J K and Anderson R N 1983 Heat transfer and intraplate deformation in the central Indian Ocean; J. Geophys. Res. 88 1018–1032.

Hofmann J 1996 Fragmente intragondwanischer rifte als werkzeug der Gondwana reconstrucktion-das beispiel des Lambert–Mahanadi riftes (Ostantarktika–Peninsular Indien); Neues Jahrb. Geol. Palaeontol. Abh. 199 33–48.

Holbrook J and Schumm S A 1999 Geomorphic and sedimentary response of rivers to tectonic deformation: A brief review and critique of a tool for recognizing subtle epeirogenic deformation in modern and ancient settings; Tectonophys. 305 287–306.

International Geomagnetic Reference Field 1590–2024 National Oceanic and Atmospheric Administration (NOAA), U.S. Department of Commerce, Washington (www.ngdc.noaa.gov/geomag).

Jana S, Mohanty W K, Gupta S, Rath C S, Behera R R and Patnaik P 2016 Multi-pronged search for paleo-channels near Konark temple, Odisha – implications for the mythical river Chandrabhaga; Curr. Sci. 111 1387–1393.

Jana S, Mohanty W K, Gupta S, Rath C S and Patnaik P 2018 Palaeo-Channel Bisecting Puri Town, Odisha: Vestige of the Lost river 'Saradha'?; Curr. Sci. 115(2) 300–309.

Kaila K L, Tewari H C and Mall D M 1987 Crustal structure and delineation of Gondwana sediments in the Mahanadi delta area, India, from deep seismic soundings; J. Geol. Soc. India 29 293–308.

Keller E A and Pinter N 2002 Active Tectonics; Prentice Hall Earth Science Series, New Jersey, 361p.

Last B J and Kubik K 1983 Compact gravity inversion; Geophysics 48 713–721.

Mahalik N K 2006 Geology and mineral resources of Orissa; 3rd edn. Odisha, Society of Geoscientists and Allied Technologies, Bhubaneswar, pp. 27–44.

Mahalik N K, Das C and Maejima W 1996 Geomorphology and evolution of the Mahanadi Delta, India; J. Geosci. 39 111–122.

Maitra A, Chatterjee A, Keesari T and Gupta S 2020 Forming topography in granulite terrains: Evaluating the role of chemical weathering; J. Earth Syst. Sci. 129(17) 1–13.

Mandal A 2013 Integrated geophysical studies for Delineation of subsurface structures and mineral deposits in the eastern Indian shield; PhD thesis, Dept. of Geology and Geophysics, IIT Kharagpur, Kharagpur.

Mandal A, Gupta S, Mohanty W K and Misra S 2015 Sub-surface structure of a craton–mobile belt interface: Evidence from geological and gravity studies across the Rengali Province–Eastern Ghats Belt boundary, eastern India; Tectonophys. 662 140–152.

Misra B 2003 Surya Kshetra Konark; Media Press, Bhubaneswar, 168p.

Mohanty W K, Mandal A, Sharma S P, Gupta S and Misra S 2011 Integrated geological and geophysical studies for delineation of chromite deposits: A case study from Tangarparha, Orissa, India; Geophysics 76(5) B173–185.

Murthy K S R, Subrahmanyam V, Subrahmanyam A S, Murty G P S and Sarma K V L N S 2010 Land-ocean tectonics (LOTs) and the associated seismic hazard over the Eastern continental margin of India (ECMI); Nat. Hazards 55 167–175.

Nayak G K, Rao C R and Rambabu H V 2006 Aeromagnetic evidence for the arcuate shape of Mahanadi Delta, India; Earth Planets Space 58 1093–1098.

Oldham C H G and Sutherland D B 1955 Orthogonal polynomials and their use in estimating the regional effect; Geophysics 20 295–306.

Rai A K, Tripathy S and Sahu S C 2015 The May 21st, 2014 Bay of Bengal earthquake: Implications for intraplate stress regime; Curr. Sci. 108(9) 300–309.

Rao S G, Radhakrishna M and Murthy K S R 2015 A seismotectonic study of the 21 May 2014 Bay of Bengal intraplate earthquake: Evidence of onshore–offshore tectonic linkage and fracture zone reactivation in the northern Bay of Bengal; Nat. Hazards 78 895–913.

Raymahashay B C and Sharma S 1993 Decay of building stones: A mineralogical model for Konark Sun temple, India; Quart. J. Eng. Geol. Hydrogeol. 26 155–157.

Skeels D C 1967 What is residual gravity?; Geophysics 32 872–876.

Telford W M, Geldart L P and Sheriff R E 1990 Applied geophysics; 2nd edn, Cambridge University Press, pp. 6–48.

Vaidyanadhan R and Ghosh R N 1993 Quaternary of the East Coast of India; Curr. Sci. 64 804–816.

Venkatarathnam K 1970 Formation of the barrier spit and other sand ridges near Chilka Lake on the east coast of India; Mar. Geol. 9 101–116.

Weissel J K, Andreson R N and Geller C A 1980 Deformation of the Indo-Australian plate; Nature 287 284–291.

Wiens D A 1986 Historical seismicity near Chagos: A complex deformation zone in the equatorial Indian ocean; Earth Planet. Sci. Lett. 76 350–360.

Zamolyi A, Szekely B, Draganits E and Timar G 2010 Neotectonic control on river sinuosity at the western margin of the Little Hungarian Plain; Geomorphology 122 231–243.
Acknowledgements
The author is thankful to the US Geological Survey for providing satellite data for research purpose. They also thank two anonymous reviewers for their comments and suggestions which greatly helped in improving the manuscript. This work is a part of a larger project being undertaken under the SANDHI initiative at IIT Kharagpur, funded by the Ministry of Human Resource Development (Now Ministry of Education, Government of India). We express our thanks to Minisrty of Education for the funding.
Supplementary Information
Below is the link to the electronic supplementary material.
About this article
Cite this article
Jana, S., Mohanty, W.K., Kumar, P. et al. Neotectonic activity along the Odisha coast, India: Implications for the collapse of the Konark Sun temple and extinction of the ancient River Chandrabhaga. J Earth Syst Sci 130, 213 (2021). https://doi.org/10.1007/s12040-021-01708-w
Received:

Revised:

Accepted:

Published:
Keywords
Chandrabhaga

Konark Sun temple

Patharbuha

residual gravity anomaly

sinuosity index