Abstract
In the present study, an attempt has been made to develop a modified genesis potential index (GPI) by considering the atmospheric parameters of relative humidity (RH), thermal instability (TI), relative vorticity (RV), vertical wind shear (WS) and the ocean parameters of sea surface height (SSH) and upper ocean heat content (UOHC). The new genesis potential index (GPI) is a modified version of the currently used GPI by the India Meteorological Department (IMD), New Delhi for the North Indian Ocean which does not consider the ocean parameters. The main objective of the present study is to examine and improve our earlier GPI (Suneeta and Sadhuram 2018), during southwest monsoon (June–September) and post-monsoon (October–December) seasons for the period 1995–2018, over Bay of Bengal. In addition to UOHC and atmospheric parameters, we have introduced a new term, sea surface height (SSH) to compute the new GPI. Correlations have been computed between GPI and TNDC (total number of depressions, cyclones and severe cyclones) during both the seasons. This new index displayed very high correlation coefficient (CC) r = 0.85 (significant at a level greater than 99%) with the TNDC for the post-monsoon season. But it showed low correlation during SW monsoon season in which the GPI (Kotal et al. 2009) (which considers only atmospheric parameters) showed a correlation of 0.5 which is significant at 95% level. From this, it is inferred that the atmospheric parameters are important during southwest monsoon, while both atmospheric and ocean parameters (UOHC and SSH) appear to be playing important role during post-monsoon season. In this paper, the SSH has been included or the first time in the GPI which showed better performance during post-monsoon season.
Access options
Buy single article
Instant access to the full article PDF.
USD 39.95
Price includes VAT (USA)
Tax calculation will be finalised during checkout.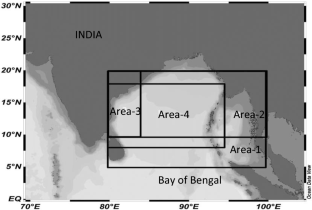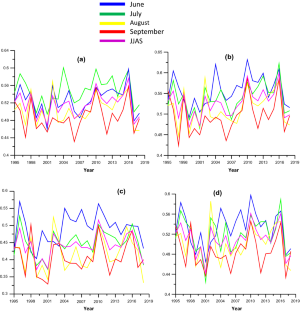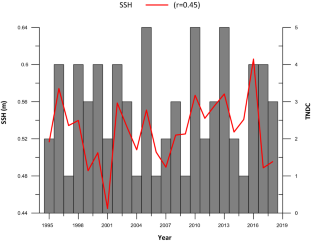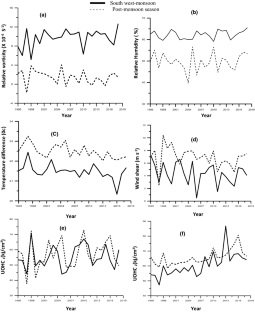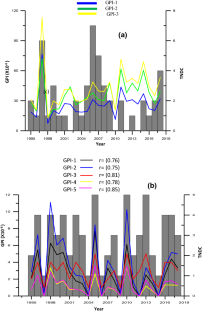 References
Ali M M, Sinha P, Jain S and Mohanty U C 2007 Impact of sea surface height anomalies on cyclone track; Nature Proceedings, https://doi.org/10.1038/npre.2007.1001.1.

Ali M M, Jagadeesh P S V, Lin I I and Hsu J Y 2012 A neural network approach to estimate tropical cyclone heat potential in the Indian Ocean; IEEE Geosci. Remote Sens. Lett. 6 1114–1117.

Balachandran S and Geetha B 2012 Statistical prediction of seasonal cyclone activity over north Indian Ocean; Mausam 63 17–28.

Behringer D W and Xue Y 2004 Evaluation of the global ocean data assimilation system at NCEP the Pacific Ocean; Eighth Symposium on Integrated Observing and Assimilation Systems for Atmosphere, Oceans, and Land Surface, AMS 84th Annual Meeting, Washington State Convention and Trade Center Seattle, Washington; pp. 11–15.

Camargo S J, Sobel A H, Barnston A G and Emanuel K A 2007a Tropical cyclone genesis potential index in climate models; Tellus. Ser. 59A 428–443.

Camargo S J, Emanuel K A and Alt Sobal 2007b Use of a genesis potential index to diagnose ENSO effects on tropical cyclone genesis; J. Clim. 20 4819–4834.

Chu P S 2004 ENSO and tropical cyclone activity; Hurricanes and typhoons: Past, present, and future; Columbia University Press, pp. 297–332.

Emanuel K 1987 The dependence of hurricane intensity on climate; Nature 326 483–485.

Felton C S, Subrahmanyam B and Murty V S N 2013 ENSO-modulated cyclogenesis over the Bay of Bengal; J. Clim. 26 9806–9818.

Ghetiya S and Nayak R K 2020 Genesis potential parameter using satellite derived daily tropical cyclone heat potential for North Indian Ocean; Int. J. Remote Sens. 41 1–15.

Gray G M 1979 Hurricanes their formation structure and likely role in the tropical circulation; Meteorol. Tropic. Ocean. 77 155–218.

Kalnay K, Kanamitsu M, Kistlar R, Collins W, Deaven D, Gandin L, Iredell M, Saha S, White G, Woollen J, Zhu Y, Leetmaa A, Reynolds B, Chelliah M, Ebisuzaki W, Higgins W, Janowiak J, Mo K C, Ropelewski C and Wang J 1996 The NCEP/NCAR 40-year reanalysis project; Bull. Am. Meteorol. Soc. 77 437–471.

Kotal S D, Kundu P K and Roy Bhowmik S K 2009 Analysis of cyclogenesis parameter for developing and non-developing low-pressure systems over the India Sea; Nat. Hazards 50 389–402.

Krishnamurthy V and Ajaya mohan R S 2010 Composite structure of monsoon low pressure systems and its relation to Indian rainfall; J. Clim. 23 4285–4305.

Kuleshov Y, Qi L, Fawcett R and Jones D 2009 Improving preparedness to natural hazards tropical cyclone prediction for the Southern Hemisphere; Adv. Geosci. 127–143, https://doi.org/10.1142/9789812836168_0010.

Kuleshov Y, Qi L, Fawcett R and Jones D 2008 On tropical cyclone activity in the Southern Hemisphere: Trends and the ENSO connection; Geophys. Res. Lett. 35 1–5.

Leipper D and Volgenau D 1972 Hurricane heat potential of the Gulf of Mexico; J. Phys. Oceanogr. 14 727–746.

Lisan Yu 2003 Variability of the depth of the 20°C isotherm along 6°N in the Bay of Bengal its response to remote and local forcing and its relation to satellite SSH variability; Deep-Sea Res. Part II: Topical Stud. Oceanogr. 50 2285–2304.

Li T, Wang B, Chang C P and Zhang Y 2003 A theory for the Indian Ocean dipole-zonal mode; J. Atmos. Sci. 60 2119–2135.

Maneesha K 2013 Role of upper ocean in the intensification and movement of tropical cyclones and their associated biogeochemical response in the Bay of Bengal; Ph.D. Thesis, Visakhapatnam, India: Andhra University, 238p.

Maneesha K, Sadhuram Y and Prasad K V S R 2015 Role of upper ocean parameters in the genesis, intensification and tracks of cyclones over Bay of Bengal; J. Operat. Oceanogr. 8(2) 133–146.

Maneesha Sebastain and Manasa Ranjan Behera 2015 impact of SST on Tropical Cyclones in the north Indian Ocean; Proc. Eng. 116 1072–1077.

Moon J Y, Wang B, Lee S S L and Ha K J 2018 An intrapersonal genesis potential index for tropical cyclones during Northern Hemisphere summer; J. Clim. 31 9055–9071.

Murakami H and Wang B 2010 Future change of north Atlantic tropical cyclone tracks, Projection by a 20 km mesh global atmospheric model; J. Clim. 23 2699–2721.

Nicholls N 1984 The southern oscillation, sea surface temperature and inter annual fluctuations in Australian seasonal cyclone activity; J. Climatol. 4 661–670.

Nicholls N 1992 Recent performance of a method for forecasting Australian seasonal tropical cyclone activity; Aust. Met. Mag. 40 105–110.

Pun I F, Lin I I and Lo M H 2013 Recent increase in high tropical cyclone heat potential area in the Western North Pacific Ocean; Geophys. Res. Lett. 40 4680–4684.

Revell C G and Goulter S W 1986 Lagged relationships between the southern oscillation and numbers of tropical cyclones in the southern pacific region; Mon. Wea. Rev. 114 2669–2670.

Roy Bhowmik S K 2003 An evolution of cyclone genesis parameter over Bay of Bengal using Model Analysis; Mausam 54 351–358.

Sadhuram Y, Rao B P, Sastry P N M and Subrahmanyam M V 2004 Seasonal variability of Cyclone Heat Potential in the Bay of Bengal; Nat. Hazards 32 191–209.

Sadhuram Y, RamanaMurty T V and Somayajulu Y K 2006 Estimation of cyclone heat potential in the Bay of Bengal and its role in the genesis and intensification of the storms in Bay of Bengal; Ind. J. Mar. Sci. 35(2) 132–138.

Sadhuram Y, Maneesha K and RamanaMurty T V 2010 Importance of upper ocean heat content in the intensification and translation speed of cyclones over the Bay of Bengal; Curr. Sci. 99(9) 1191–1193.

Sarah D, Ditchek and William R Boos 2016 A genesis index for monsoon disturbances; J. Climate 29(14), https://doi.org/10.1175/JCLI-D-15-0704.1.

Saji N H, Goswami B N and Vinaya chandran P N and Yamageta T 1999 A dipole mode in the tropical Indian Ocean; Nature 401 360–363.

Singh O P, Khan T M A and Rahman M S 2001 Probable reasons for enhanced cyclogenesis in the Bay of Bengal during July–August of ENSO years; Global Planet. Change 29 135–147.

Singh V K, Roxy M K and Medha D 2020 The unuasal long track and rapid intensification cyclones Ockhi; Curr. Sci. 119 771–779.

Suneeta P and Sadhuram Y 2018 Tropical cyclone genesis potential index for Bay of Bengal during peak post-monsoon (October–November) season including atmosphere-ocean parameters; Mar. Geod. 41 86–97.

Wang B and Moon J Y 2017 An anomalous genesis potential index for MJO modulation of tropical cyclones; J. Clim. 30 4021–4035.

Webster P J, Moore A W, Loschnigg J P and Leben R R 1999 Coupled ocean–atmosphere dynamics in the Indian Ocean during 1997–1998; Nature 401 356–360.

Yuan J P and Cao J 2013 North Indian Ocean tropical cyclone activities influenced by the Indian Ocean Dipole Mode; Sci. China Earth Sci. 56 855–865.

Zhang L, Kristopher B K, Donnelly J P and Emanuel K 2017 Response of the North Pacific Tropical cyclone climatology to global warming: Application of down Scaling to CMIP5 models; J. Clim. 30 1233–1243.

Zhang M, Zhou L, Chen D and Wang C 2016 A genesis potential index for Western North Pacific Tropical cyclones by using ocean parameters; J. Geophys. Res. (Oceans) 121 7176–7191.
Acknowledgements
The first author is deeply indebted to the Department of Science and Technology (DST), Government of India for providing the Women Scientist award and the financial support, and the Department of Meteorology and Oceanography Visakhapatnam for providing the research facilities. The authors are thankful to all the project teams of NCEP/NCAR for providing datasets. Thanks to IMD, New Delhi for providing the data on cyclones in the public domain.
Additional information
Communicated by Parathasarathi Mukhopadhyay
About this article
Cite this article
Suneeta, P., Ramakrishna, S.S.V.S. Modified tropical cyclone genesis potential index over the Bay of Bengal during southwest and post-monsoon seasons. J Earth Syst Sci 130, 196 (2021). https://doi.org/10.1007/s12040-021-01700-4
Received:

Revised:

Accepted:

Published:
Keywords
Tropical cyclones

genesis potential index

Bay of Bengal

upper ocean heat content

sea surface height