Abstract
We used 57Fe Mössbauer spectroscopic measurements on untreated and controlled thermally treated Ararki, Didwana, and Bhawad ordinary chondritic meteorites to understand the evolution of different iron phases with temperature. The samples were subjected to different heating temperatures and room temperature Mössbauer spectra were collected after cooling down these samples. The untreated meteorite samples showed the presence of olivine, pyroxene, troilite, and Fe–Ni alloy (kamacite/taenite) minerals. The decomposition of such iron based minerals started at or above 600°C towards hematite iron phase for all these meteorites. More interestingly, at about 1000°C or above, all initial mineral phases got converted into either hematite and/or magnetite. The present study provides a clue to understand the mechanism of conversion of minerals in ordinary chondrites.
Access options
Buy single article
Instant access to the full article PDF.
US$ 39.95
Tax calculation will be finalised during checkout.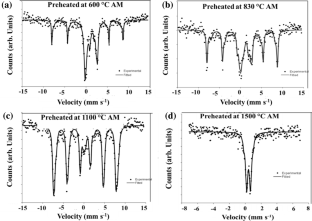 References
Barcova K, Mashlan I R, Zboril R and Martinee I R 2003 Mössbauer study of transformation mechanism of Fe cations in olivine after thermal treatments in air; J. Radioanal. Nucl. Chem. 255 529–533.

Bhandari N, Murty S V S, Shukla P N, Mahajan R R, Shukla A D, Lashkari G, Sisodia M S, Tripathi R P, Parthasarathy G, Verma H C and Frachi I A 2008 Ararki (L5) chondrite: The first meteorite find in Thar Desert of India; Meteor. Planet. Sci. 43 761–770.

Bhatia B, Patel K R, Tripathi R P, Layek S and Verma H C 2015 Implication of Mössbauer spectra on the mixing model of eucrites and diogenites (resulting in howardites); Curr. Sci. 109 333–336.

Bland P A, Berry F J and Pillinger C T 2010 Rapid weathering in Holbrook: An iron-57 Mössbauer spectroscopy study; Meteor. Planet. Sci. 33 127–129.

Bland P A, Berry F J, Jull A J T, Smith T B, Bevan A W R, Cadogan J M, Sexton A S, Franchi L A and Pillinger C T 2002 57Fe Mössbauer spectroscopy studies of meteorites: Implications for weathering rates, meteorite flux, and early solar system processes; Hyperfine Interact. 141 481–494.

Cadogan J M, Rebbouh L, Mills J V J and Bland P A 2013 An 57Fe Mössbauer study of three Australian L5 ordinary-chondrite meteorites dating Kinclaven-001; Hyperfine Interact. 222 91–98.

Galazka-Friedman J, Wozniak M, Duda P, Rzepecka P, Jakubowska M and Karwowski L 2017 Mössbauer spectroscopy – a useful method for classification of meteorites?; Hyperfine Interact. 238(67) 1–11.

Galazka-Friedman J, Szlachta K, Karwowski L and Woznaik M 2014 Mössbauer studies of Soltmany and Shisr 176 meteorites – comparison with other ordinary chondrites; Hyperfine Interact. 226 593–600.

Guda L V, Kravtsova A N, Guda A A, Kubrin S P, Mazuritskiy M I and Soldatov A V 2019 Comprehensive Investigation of some ordinary chondrites based on X-ray methods and Mössbauer spectroscopy; J. Surf. Invest.: X-Ray, Synchrotron Neutron Tech. 11 3–13.

Kuzmann E, Nagy S and Vertes A 2003 Critical review of analystical applications of Mössbauer spectroscopy illustrated by mineralogical and geological examples; Pure Appl. Chem. 75 801–858.

Maksimova A A, Oshtrakh M I, Petrova E V, Grokhovsky V I and Semionkin V A 2017 Comparison of iron-bearing minerals in ordinary chondrites from H, L and LL groups using Mössbauer spectroscopy with a high velocity resolution; Spectrochim. Acta Part A: Mol. Biomol. Spectrosc. 172 65–76.

Maksimova A A, Oshtrakh M I, Klencsar Z, Petrova E V, Grokhovsky V I, Kuzmann E, Homonnay Z and Semionkin V A 2014 A comparative study of troilite in bulk ordinary chondrites Farmington L5, Tsarev L5 and Chelyabinsk LL5 using Mössbauer spectroscopy with a high velocity resolution; J. Mol. Struct. 1073 196–201.

Paliwal B S, Tripathi R P, Verma H C and Sharma S K 2000 Classification of the Didwana-Rajod meteorite: A Mössbauer spectroscopic study; Meteor. Planet. Sci. 35 639–642.

Paliwal S, Sisodia M S and Tripathi R P 2002 Bhawad L(LL) 6 chondrite: Petrography and Mössbauer study; Curr. Sci. 83 1071–1072.

Tominga T and Minai Y 1984 Application of Mossbauer spectroscopy to environmental and geochemical studies; Nucl. Sci. Appl. 1 749–791, Harwood Publishers, Gmbh (USA).

Tripathi R P, Chandra U, Chandra R and Lokanathan S 1978 A Mössbauer study of the effect of heating Biotite, Phlogopite and Vermiculite; J. Inorg. Nucl. Chem. (GB) 40 1293–1298.

Tripathi R P, Sharma S K, Srivastava K L and Verma H C 2000 Mössbauer spectroscopic studies of the Piplia Kalan (Eucrite) and Lohawat (Howadite) meteorites; Meteor. Planet. Sci. 35 201–204.

Tripathi R P, Dixit A and Bhandari N 2018 Characterization of Mukundpura carbonaceous chondrite; Curr. Sci. 114 214–217.

Verma H C, Rawat A, Paliwal B S and Tripathi R P 2002 Mössbauer spectroscopic studies of an oxidized ordinary chondrite fallen at Itawa-Bhopji, India; Hyperfine Interact. 142 643–652.

Verma H C, Kavi J and Tripathi R P 2003 Systematics of Mössbauer areas in ordinary chondrites and application to a newly fallen meteorite in Jodhpur, India; Meteor. Planet. Sci. 38 963–967.

Verma H C and Tripathi R P 2004 Anomalous Mössbauer parameters in the second generation regolith Ghubara meteorite; Meteor. Planet. Sci. 39 1755–1759.

Verma H C, Vijlani N, Tripathi A and Tripathi R P 2008 Mössbauer spectroscopic study of simulated weathering of Didwana ordinary chondrite; Hyperfine Interact. 186 141–145.

von Meerwall E D 1975 A Fortran code for automatic spectrum analysis on medium-scale computers; Comput. Phys. Commun. 9 351–359.
Acknowledgements
Authors would like to acknowledge Prof N N Bhandari for providing technical inputs and suggestions for the manuscript.
Additional information
Communicated by N V Chalapathi Rao
About this article
Cite this article
Dixit, A., Bhatia, B. & Tripathi, R.P. Evolution of hematite and/or magnetite iron phases with thermal heating in ordinary chondrites: A generic characteristic. J Earth Syst Sci 130, 191 (2021). https://doi.org/10.1007/s12040-021-01699-8
Received:

Revised:

Accepted:

Published:
Keywords
Meteorites

ordinary chondrites

thermal treatment

Mössbauer spectroscopy