Abstract
Comparison of chlorophyll data of three sets of CMIP5 models for RCP 4.5 (MPI-ESM-MR, HadGEM2-ES and GFDL-ESM2M) and RCP 6.0 (IPSL-CM5A-LR, HadGEM2-ES and GFDL-ESM2M) were done with satellite derived data (OC-CCI) for the period of 1998–2017 along four Indian coastal regions. The monthly, yearly and zone-wise seasonal comparison between model and satellite data were carried out. Analysis of monthly variations of chlorophyll during 1998–2017 reveals that the satellite data show maximum value of 0.53 mg/m3 in September, whereas all other models show maximum in August. Yearly analysis indicates maximum satellite data in the year 2004, while minimum was observed in 2015. HadGEM2-ES exhibited maximum model value and the lowest was found for IPSL-CM5A-LR. It was observed that the maximum chlorophyll value of 2.56 mg/m3 for satellite data was in the monsoon season and the lowest value of 0.14 mg/m3 was in the pre-monsoon. Seasonal analysis reveals no clear match among model and satellite values in any of the coastal regions. In northwest and northeast regions, the satellite values were found higher than the model values in most of the years, whereas in other regions, the model values were found fluctuating with the satellite values. Owing to the mismatch of the model and the satellite values, the work cautions to apply biases or corrections on usage of RCP model data for regional marine climate change research.
Research Highlights
Regional and seasonal chlorophyll variations for Indian coastal regions were elucidated for three decades from CMIP5 models and satellite derived data and compared.

The northwest region of India exhibits maximum chlorophyll values and variations compared to the southern coasts.

The discrepancies among satellite and model chlorophyll data were evidenced from the respective shift of chlorophyll maximum values from September to August.

The research emphasis the need to apply necessary bias corrections in regional marine climate forecasts.
Access options
Buy single article
Instant access to the full article PDF.
USD 39.95
Price excludes VAT (USA)
Tax calculation will be finalised during checkout.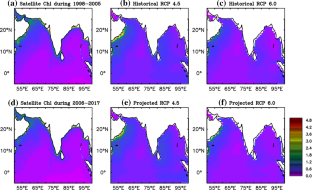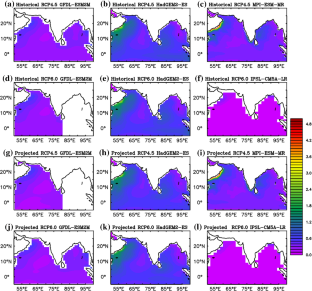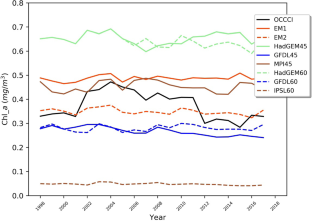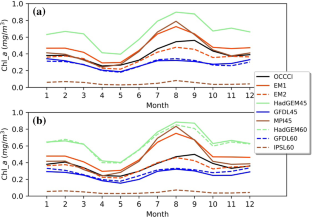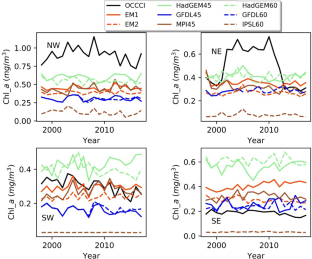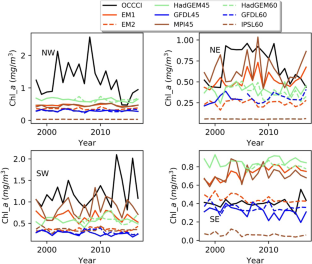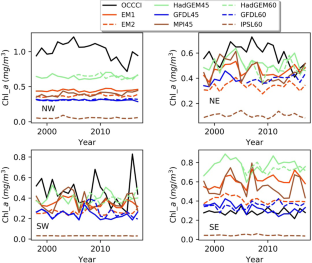 References
Akhiljith P J, Liya V B, Rojith G, Zacharia P U, Grinson G, Ajith S, Lakshmi P M, Sajna V H and Sathianandan T V 2019 Climatic projections of Indian Ocean during 2030, 2050, 2080 with implications on fisheries sector; J. Coast. Res. 86(SI) 198–208.

Anav A, Friedlingstein P, Kidston M, Bopp L, Ciais P, Cox P, Jones C, Jung M, Myneni R and Zhu Z 2013 Evaluating the land and ocean components of the global carbon cycle in the CMIP5 earth system models; J. Climate 26(18) 6801–6843.

Banse K and English D C 2000 Geographical differences in seasonality of CZCS-derived phytoplankton pigment in the Arabian Sea for 1978–1986 Deep Sea Research Part II; Topical Studies in Oceanography 47(7–8) 1623–1677.

Barange M, Bahri T, Beveridge M C, Cochrane K L, Funge-Smith S and Poulain F 2018 Impacts of climate change on fisheries and aquaculture: Synthesis of current knowledge, adaptation and mitigation options; United Nations' Food and Agriculture Organization, Rome.

Bharti V, Jayasankar J, Shukla S P, George G, Ambrose T V, Augustine S K, Sathianandan T V and Shafeeque M 2020 Study on sea surface temperature and chlorophyll-a concentration along the south-west coast of India; Indian J. Geo-Mar. Sci. 49 51–56.

Bhaskar T U, Jayaram C and Rao K H 2016 Spatio-temporal evolution of chlorophyll-a in the Bay of Bengal: A remote sensing and bio-argo perspective; In: Remote sensing of the oceans and inland waters: Techniques, applications, and challenges; Int. Soc. Optics Photonics 9878 98780Z1–98780Z6.

Bhushan R, Bikkina S, Chatterjee J, Singh S P, Goswami V, Thomas L C and Sudheer A K 2018 Evidence for enhanced chlorophyll-a levels in the Bay of Bengal during early north-east monsoon; J. Oceanogr. Mar. Sci. 9 15–23.

Bindoff N L, Cheung W W L, Kairo J G, Arístegui J, Guinder V A, Hallberg R, Hilmi N, Jiao N, Karim M S, Levin L, O'Donoghue S, Purca Cuicapusa S R, Rinkevich B, Suga T, Tagliabue A and Williamson P 2019 Changing ocean, marine ecosystems, and dependent communities; In: IPCC Special Report on the Ocean and Cryosphere in a Changing Climate (eds) Pörtner H O, Roberts D C, Masson Delmotte V, Zhai P, Tignor M, Poloczanska E, Mintenbeck K, Alegría A, Nicolai M, Okem A, Petzold J, Rama B, Weyer N M, Intergovernmental Panel on Climate Change, Switzerland, pp. 477–587.

Booth B B B, Dunstone N J, Halloran P R, Andrews T and Bellouin N 2012 Aerosols implicated as a prime driver of twentieth century North Atlantic climate variability; Nature 484 228–232.

Bopp L, Resplandy L, Orr J C, Doney S C, Dunne J P, Gehlen M, Halloran P, Heinze C, Ilyina T, Seferian R and Tjiputra J 2013 Multiple stressors of ocean ecosystems in the 21st century: Projections with CMIP5 models; Biogeosci. 10 6225–6245.

Brennan C E, Blanchard H and Fennel K 2016 Putting temperature and oxygen thresholds of marine animals in context of environmental change: A regional perspective for the Scotian Shelf and Gulf of St. Lawrence; PloS One 11(12) e0167411.

Cheung A H, Mann M E, Steinman B A, Frankcombe L M, England M H and Miller S K 2017 Comparison of low-frequency internal climate variability in CMIP5 models and observations; J. Climate 30(12) 4763–4776.

Dhanya J, Liya V B, Rojith G, Zacharia P U, Sajna V H and Grinson G 2019 Time series analysis of CMIP5 Model and observed sea surface temperature anomaly along Indian Coastal Zones; J. Coast. Res. 86(SI) 239–247.

Doney S C, Ruckelshaus M, Duffy J E, Barry J P, Chan F, English C A, Galindo H M, Grebmeier J M, Hollowed A B, Knowlton N and Polovina J 2011 Climate change impacts on marine ecosystems; Ann. Rev. Mar. Sci. 4 11–37.

Dufresne J L, Foujols M A, Denvil S, Caubel A, Marti O, Aumont O, Balkanski Y, Bekki S, Bellenger H, Benshila R and Bony S 2013 Climate change projections using the IPSL-CM5 Earth System Model: From CMIP3 to CMIP5; Clim. Dyn. 40(9) 2123–2165.

Dunstan P K, Foster S D, King E, Risbey J, O'Kane T J, Monselesan D, Hobday A J, Hartog J R and Thompson P A 2018 Global patterns of change and variation in sea surface temperature and chlorophyll a; Scientific Reports 8(1) 1–9.

Ehret U, Zehe E, Wulfmeyer V, Warrach-Sagi K and Liebert J 2012 HESS opinions "Should we apply bias correction to global and regional climate model data?"; Hydrol. Earth Syst. Sci. 16(9) 3391–3404.

Galbraith E D, Carozza D A and Bianchi D 2017 A coupled human-Earth model perspective on long-term trends in the global marine fishery; Nature Commun. 8(1) 1–7.

Gebrechorkos S H, Hülsmann S and Bernhofer C 2019 Statistically downscaled climate dataset for East Africa; Scientific Data 6(1) 1–8.

Gregg W W, Rousseaux C S and Franz B A 2017 Global trends in ocean phytoplankton: A new assessment using revised ocean colour data; Remote Sens. Lett. 8(12) 1102–1111.

Gu H, Yu Z, Wang J, Wang G, Yang T, Ju Q, Yang C, Xu F and Fan C 2015 Assessing CMIP5 general circulation model simulations of precipitation and temperature over China; Int. J. Climatol. 35(9) 2431–2440.

Hand book on fisheries statistics 2018 Fishery Survey of India on behalf of Department of Fisheries Onlooker Press, Mumbai.

Hawkins E, Osborne T M, Ho C K and Challinor A J 2013 Calibration and bias correction of climate projections for crop modelling: An idealised case study over Europe; Agr. Forest Meteorol. 170 19–31.

Herr D and Galland G R 2009 The ocean and climate change: Tools and guidelines for action; IUCN, Gland, Switzerland, 72p.

Hoegh-Guldberg O and Bruno J F 2010 The impact of climate change on the world's marine ecosystems; Science 328(5985) 1523–1528.

Hogan E and Sriver R L 2019 The effect of internal variability on ocean temperature adjustment in a low-resolution CESM initial condition ensemble; J. Geophys. Res.: Oceans 124(2) 1063–1073.

IPCC 2001 Climate Change 2001, Synthesis Report; A Contribution of Working Groups I, II, and III to the Third Assessment Report of the Intergovernmental Panel on Climate Change; Cambridge University Press, Cambridge, UK.

Jakob Themeßl M, Gobiet A and Leuprecht A 2011 Empirical-statistical downscaling and error correction of daily precipitation from regional climate models; Int. J. Climatol. 31(10) 1530–1544.

Jalota S K, Vashisht B B, Sharma S and Kaur S 2018 Understanding climate change impacts on crop productivity and water balance; Academic Press, pp. 55–86, ISBN 9780128095201, https://doi.org/10.1016/B978-0-12-809520-1.00002-1.

Khan N, Shahid S, Ahmed K, Ismail T, Nawaz N and Son M 2018 Performance assessment of general circulation model in simulating daily precipitation and temperature using multiple gridded datasets; Water 10 1793–1810.

Kravtsov S 2017 Pronounced differences between observed and CMIP5-simulated multidecadal climate variability in the twentieth century; Geophys. Res. Lett. 44(11) 5749–5757.

Lévy M, Shankar D, André J M, Shenoi S S C, Durand F and de Boyer Montégut C 2007 Basin-wide seasonal evolution of the Indian Ocean's phytoplankton blooms; J. Geophys. Res.: Oceans 112(C12).

Liu L, Feng L, Yu W, Wang H, Liu Y and Sun S 2013 The distribution and variability of simulated chlorophyll concentration over the tropical Indian Ocean from five CMIP5 models; J. Ocean Univ. China 12(2) 253–259.

Lupo A, Kininmonth W, Armstrong J S and Green K 2013 Global climate models and their limitations; In: Climate change reconsidered II; Phys. Sci. 9 7–148.

Macpherson E 2002 Large-scale species-richness gradients in the Atlantic Ocean; Proc. Roy. Soc. London Ser. B: Biol. Sci. 269(1501) 1715–1720.

Madhupratap M, Kumar S P, Bhattathiri P M A, Kumar M D, Raghukumar S, Nair K K C and Ramaiah N 1996 Mechanism of the biological response to winter cooling in the northeastern Arabian Sea; Nature 384(6609) 549–552.

Marra J and Barber R T 2005 Primary productivity in the Arabian Sea: A synthesis of JGOFS data; Prog. Oceanogr. 65(2–4) 159–175.

Moss R H, Edmonds J A, Hibbard K A, Manning M R, Rose S K, Van Vuuren D P, Carter T R, Emori S, Kainuma M, Kram T and Meehl G A 2010 The next generation of scenarios for climate change research and assessment; Nature 463(7282) 747–756.

Murphy L N, Bellomo K, Cane M and Clement A 2017 The role of historical forcings in simulating the observed Atlantic multidecadal oscillation; Geophys. Res. Lett. 44(5) 2472–2480.

Navarro-Racines C, Tarapues J, Thornton P, Jarvis A and Ramirez-Villegas J 2020 High-resolution and bias-corrected CMIP5 projections for climate change impact assessments; Scientific Data 7(1) 1–4.

Nieto K and Mélin F 2017 Variability of chlorophyll-a concentration in the Gulf of Guinea and its relation to physical oceanographic variables; Prog. Oceanogr. 151 97–115.

Olesen J E, Carter T R, Diaz-Ambrona C H, Fronzek S, Heidmann T, Hickler T, Holt T, Minguez M I, Morales P, Palutikof J P and Quemada M 2007 Uncertainties in projected impacts of climate change on European agriculture and terrestrial ecosystems based on scenarios from regional climate models; Climatic Change 81(1) 123–143.

Palomares M L D and Pauly D 2019 Coastal fisheries: The past, present, and possible futures; In: Coasts and Estuaries; Elsevier, pp. 569–576.

Praveen V, Ajayamohan R S, Valsala V and Sandeep S 2016 Intensification of upwelling along Oman coast in a warming scenario; Geophys. Res. Lett. 43(14) 7581–7589.

Qian Y, Jackson C, Giorgi F, Booth B, Duan Q, Forest C, Higdon D, Hou Z J and Huerta G 2016 Uncertainty quantification in climate modeling and projection; Bull. Am. Meteorol. Soc. 97(5) 821–824.

Roxy M K, Modi A, Murtugudde R, Valsala V, Panickal S, Prasanna Kumar S, Ravichandran M, Vichi M and Lévy M 2016 A reduction in marine primary productivity driven by rapid warming over the tropical Indian Ocean; Geophys. Res. Lett. 43(2) 826–833.

Sajna V H, Zacharia P U, Liya V B, Rojith G, Somy K, Joseph D and Grinson G 2019 Effect of climatic variability on the fishery of Indian oil sardine along Kerala coast; J. Coast. Res. 86(SI) 184–192.

Sarangi R K, Nayak S and Panigrahy R C 2008 Monthly variability of chlorophyll and associated physical parameters in the southwest Bay of Bengal water using remote sensing data; Indian J. Mar. Sci. 37(3) 256–266.

Sarma Y V B, Al Azri A and Smith S L 2012 Inter-annual variability of chlorophyll-a in the Arabian Sea and its Gulfs; Int. J. Mar. Sci. 2 1–11.

Sathyendranath S, Brewin R J, Brockmann C, Brotas V, Calton B, Chuprin A, Cipollini P, Couto A B, Dingle J, Doerffer R and Donlon C 2019 An ocean-colour time series for use in climate studies: The experience of the ocean-colour climate change initiative (OC-CCI); Sensors 19(19) 4285.

Schneider B, Bopp L, Gehlen M, Segschneider J, Frölicher T L, Cadule P, Friedlingstein P, Doney S C, Behrenfeld M J and Joos F 2008 Climate-induced interannual variability of marine primary and export production in three global coupled climate carbon cycle models; Biogeosci. 5 597–614.

Seguí P Q, Ribes A, Martin E, Habets F and Boé J 2010 Comparison of three downscaling methods in simulating the impact of climate change on the hydrology of Mediterranean basins; J. Hydrol. 383 111–124.

Taylor K E, Stouffer R J and Meehl G A 2009 A summary of the CMIP5 experiment design; PCDMI Rep, 33p.

Taylor K E, Stouffer R J and Meehl G A 2012 An overview of CMIP5 and the experiment design; Bull. Am. Meteorol. Soc. 93(4) 485–498.

Van Vuuren D P, Edmonds J, Kainuma M, Riahi K, Thomson A, Hibbard K, Hurtt G C, Kram T, Krey V, Lamarque J F and Masui T 2011 The representative concentration pathways: An overview; Clim. Change 109 5–31.

Vivekanandan E 2011 Marine fisheries policy brief-3; climate change and Indian marine fisheries; CMFRI Spec. Publ. 105 1–97.

Wang C, Zhang L, Lee S K, Wu L and Mechoso C R 2014 A global perspective on CMIP5 climate model biases; Nature Climate Change 4(3) 201–205.

Zacharia P U, Gopalakrishnan A, George G, Muralidhar M and Vijayan K K 2016 Climate change impact on coastal fisheries and aquaculture in the SAARC region: Country paper – India; In: Climate Change Impact on Coastal Fisheries and Aquaculture in South Asia, SAARC Agriculture Centre (SAC), Dhaka, pp. 1–25.
Acknowledgements
This research was funded by the ICAR sponsored National Innovations in Climate Resilient Agriculture Project (NICRA) carried out at ICAR-Central Marine Fisheries Research Institute Kochi. The authors are grateful to the Director ICAR-CMFRI, Kochi, for providing facilities. CMIP5 data employed in this study are available at the Program Climate Model Diagnosis and Intercomparison (PCMDI) and satellite chlorophyll data from European Space Agency's Ocean Color-Climate Change Initiative (OC-CCI) and the authors are grateful to the data providers. The authors are also thankful to the research scholars in the NICRA project for the support extended.
Additional information
Communicated by Maripi Dileep
About this article
Cite this article
Joseph, D., Rojith, G., Zacharia, P.U. et al. Spatio-temporal variations of chlorophyll from satellite derived data and CMIP5 models along Indian coastal regions. J Earth Syst Sci 130, 153 (2021). https://doi.org/10.1007/s12040-021-01663-6
Received:

Revised:

Accepted:

Published:

DOI: https://doi.org/10.1007/s12040-021-01663-6
Keywords
Chlorophyll

CMIP5

Indian Ocean

climate change

Indian coastal regions

RCP scenarios