Abstract
The rocks of Raialo Group in the Alwar sub-basin of North Delhi Fold Belt were investigated with a focus on meta-basic lava flows of the Tehla Formation. The basaltic rocks, now occurring as amphibolites, are medium- to fine-grained and show evidence of greenschist to lower amphibolite facies metamorphism, characterized by dominant plagioclase, hornblende, actinolite, chlorite, and minor, epidote, opaque, and Fe–Ti oxide mineral assemblage. The presence of amygdules and vesicles, well preserved primary igneous texture, and relict pyroxenes, at places, confirm their basaltic lineage. In a single outcrop, located to the northeast of Tehla village, well-preserved pillow structures have been discovered. The pillow structures vary in size (few cm to >1 m) and shape (spheroid, elongate and kidney-shaped), and inter-pillow spaces are filled up with chert, at places. This is the first report of pillow basalt occurrence from the North Delhi Fold Belt. In addition to offering evidence of submarine basaltic volcanism, the mega-pillows, gabbroic lenses, and presence of ultramafic rocks in the region suggest a possible ophiolite setting that needs a detailed petrographic and geochemical evaluation.
Research highlights
First report of pillow structures from North Delhi Fold Belt.

Identification of mafic- ultramafic association and possibility of an ophiolite setting.
Access options
Buy single article
Instant access to the full article PDF.
US$ 39.95
Tax calculation will be finalised during checkout.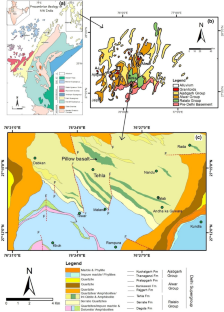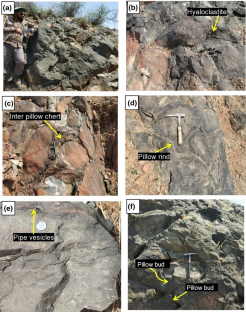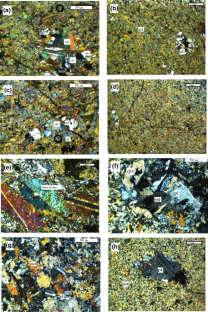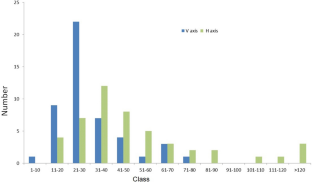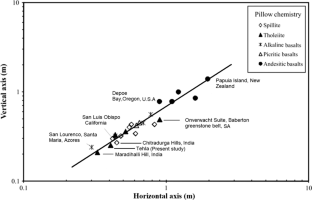 References
Allaart J H 1976 The pre-3760 m.y. old supracrustal rocks of the Isua Area, Central West Greenland, and the associated occurrence of quartz-banded ironstone; In: The Early History of the Earth (ed.) Windley B, John Wiley, London, pp. 177–189.

Banerjee A K and Singh S P 1977 Sedimentary tectonics of Bayana sub-basin of northeastern Rajasthan; J. Indian Assoc. Sedim. 1 74–85.

Banerjee N R, Furnes H, Muehlenbachs K, Staudigel H, Heaman L, Van Martin J and Kranendonk M J V 2007 Direct dating of Archean microbial ichnofossils; Geol. Soc. Am. Bull. 35 487–490.

Biju-Sekhar S, Yokoyama K, Pandit M K, Okudaira T, Yoshida M and Santosh M 2003 Late Paleoproterozoic magmatism in Delhi Fold Belt, NW India and its implication: Evidence from EPMA chemical ages of zircons; J. Asian Earth Sci. 22 89–207.

Bose U, Mathur A K, Sahoo K C, Bhattacharya S, Dutt Krishan, Kumar A V, Sarkar S S, Choudhary S and Choudhary I 1996 Event stratigraphy and physicochemical characters of B.G.C. and associated supracrustals in the south Mewar plains of Rajasthan; J. Geol. Soc. India 47 325–338.

Chaudhary A K, Gopalan K and Sastry C A 1984 Present status of the geochronology of the Precambrian rocks of Rajasthan; Tectonophys. 105 131–140.

Chore S A and Mohanty M 1998 Stratigraphy and tectonic setting of the Trans-Aravalli Neoproterozoic volcano-sedimentary sequences in Rajasthan; J. Geol. Soc. India 51 57–68.

Deb M, Thorpe R I, Kristic D, Corfu F and Davis D W 2001 Zircon U-Pb and galena Pb–isotope evidence for an approximate 1.0 Gaterrane constituting the western margin of the Aravalli-Delhi orogenic belt northwestern India; Precamb; Res. 108 195–213.

de Wall H, Pandit M K, Donhauser I, Schobel S, Wang W and Sharma K K 2018 Evolution and tectonic setting of the Malani–Nagarparkar Igneous Suite: A Neoproterozoic Silicic-dominated Large Igneous Province in NW India–SE Pakistan; J. Asian Earth Sci. 160 136–151.

Duraiswami R A, Inamdar M M and Shaikh T N 2013 Emplacement of pillow lavas from the ~2.8 Ga Chitradurga Greenstone Belt, South India: A physical volcanological, morphometric and geochemical perspective; J. Volcanol. Geotherm Res. 264 134–149.

Fareeduddin and Banerjee D M 2020 Aravalli Craton and Mobile Belt; Episodes 43 88–108.

Furnes H, Banerjee N R, Muehlenbachs K, Staudigel H and de Wit M J 2004 Early life recorded in Archean pillow lavas; Science 304 578–581.

Furnes H, de Wit M J, Brian R and Sandsta N R 2011 Volcanic evolution of the upper Onverwacht Suite Barberton Greenstone Belt South Africa; Precamb. Res. 186 28–50.

Gupta S N, Arora Y K, Mathur R K, Iqballuddin P B, Sahai T N and Sharma S B 1980 Lithostratigraphic Map of the Aravalli region; Geological Survey of India, Calcutta.

Gupta S N, Mathur R K and Arora Y K 1992 Lithostratigraphy of Proterozoic rocks of Rajasthan – a review; Rec. Geol. Surv. India 115 63–85.

Heron A M 1917 The geology of north-eastern Rajputana and adjacent district; Geol. Surv. India Memoir 45 1–128.

Heron A M 1953 Geology of central Rajasthan; Geol. Surv. India Memoir 79 389.

Just J, Schulz B, de Wall H, Jourdan F and Pandit M K 2011 Monazite CHIME/EPMA dating of the Erinpura granitoid deformation: Implications for Neoproterozoic tectonothermal evolution of NW India; Gondwana Res. 19 402–412.

Kaur P, Chaudhri N, Okrusch M and Koepke J 2006 Palaeoproterozoic A-type felsic magmatism in the Khetri Copper Belt Rajasthan, northwestern India: Petrologic and tectonic implications; Mineral. Petrol. 87 81–122.

Kaur P, Chaudhri N, Hofmann A W, Raczek I, Okrusch M, Skora S and Baumgartner L 2012 Two-stage extreme albitization of A-type granites from Rajasthan, NW India; J. Petrol. 53 919–948.

Kaur P, Zeh A, Chaudhri N and Eliyas N 2017 Two distinct sources of 1.73–1.70 Ga A-type granites from the northern Aravalliorogen, NW India: Constraints from in-situ zircon U–Pb ages and Lu–Hf isotopes; Gondwana Res. 49 164–181.

Malviya V P, Arima M, Pati J K and Kaneko Y 2004 First report of metamorphosed pillow lava in the central part of Bundelkhand craton: An Island arc setting of possible late Archean age; Gondwana Res. 7 1338–1340.

McKenzie N R, Hughes N C, Myrow P M, Banerjee D M, Deb M and Planavsky N J 2013 New age constraints for the Proterozoic Aravalli–Delhi successions of India and their implications; Precamb. Res. 238 120–128.

Naqvis M and Rogers J J W 1987 Precambrian Geology of India; Oxford Monographs on Geology and Geophysics, Oxford University Press, Oxford, New York 6 223.

Pandit M K and Khatatneh M K 2003 Alkali exchange as a possible mechanism for the genesis of low-K granite: Evidence from Ajitgarh Pluton, Proterozoic Delhi Fold Belt, NW India; J. Geol. Soc. India 62 696–707.

Pandit M K, Kumar H and Wang W 2021 Geochemistry and geochronology of A-type basement granitoids in the northcentral Aravalli Craton: Implications on Paleoproterozoic geodynamics of NW Indian block; Geosci. Front. 12 101084 (in Press).

Radhakrishna B P 1984 Archean granite-greenstone terrain of the South Indian shield; Geol. Soc. India Memor 4 1–46.

Ramakrishan M and Vaidyanadhan R 2008 Geology of India; Geological Society of India, Bangalore 1 556.

Rastogi S K, Ghosh S, Das S and Sinha A K 2016 Specialized thematic mapping of Delhi supergroup rocks in KhoDariba–Tehla–Bhighota–Dewati area, Dausa and Alwar district, Rajasthan with special emphasis on the mineral potential of the area; Unpublished report of FSP 2015–2016, Geological Survey of India, Kolkata.

Roy A and Paliwal B S 1981 Evolution of lower Proterozoic epicontinental deposits Stromatolite bearing Aravalli rocks of Udaipur, Rajasthan, India; Precamb. Res. 14 49–74.

Roy A B and Kataria P 1999 Precambrian geology of the Aravalli Mountain and neighbourhood: Analytical update of recent studies; Proc. Sem. Geology of Rajasthan: Status and Perspective, MLS University, Udaipur, pp. 1–56.

Roy A B and Jakhar S R 2002 Geology of Rajasthan (northwestern India) Precambrian to Recent; Scientific Publishers (India), Jodhpur, 421p.

Singh S P 1988 Sedimentation patterns of the Proterozoic Delhi Supergroup northeastern Rajasthan India and their tectonic implications; Sedim. Geol. 58 79–94.

Sinha-Roy S 1984 Precambrian folded unconformity in Rajasthan; Curr. Sci. 53 1205–1207.

Sinha-Roy S, Malhotra G and Mohanty M 1998 Geology of Rajasthan; Geological Society of India, Bangalore, 278p.

van Lente B, Ashwal L D, Pandit M K, Bowring S A and Torsvik T H 2009 Neoproterozoic hydrothermally altered basaltic rocks from Rajasthan, northwest India: Implications for late Precambrian tectonic evolution of the Aravalli craton; Precamb. Res. 170 202–222.

Walker G P L 1992 Morphometric study of pillow-size spectrum among pillow lavas; Bull. Volcanol. 54 459–474.

Wang W, Cawood P A, Pandit M K, Zhou M F and Chen T C 2017 Zircon U–Pb age and Hf isotope evidence for an Eoarchean crustal remnant and episodic crustal reworking in response to supercontinent cycles in NW India; J. Geol. Soc. 174 759–772.

Zhao J-H, Pandit M K, Wang W and Xia X-P 2018 Neoproterozoic tectonothermal evolution of NW India: Evidence from geochemistry and geochronology of granitoids; Lithos 316–317 330–347.
Acknowledgements
We are thankful to two anonymous reviewers for their valuable comments on an earlier version of the manuscript that have improved presentation and interpretation.
Additional information
Communicated by N V Chalapathi Rao
About this article
Cite this article
Bairwa, M.K., Pandit, M.K. Mafic volcanics of Raialo Group in Tehla area, Alwar sub-basin: First report of pillow lavas from the North Delhi Fold Belt, northwest India. J Earth Syst Sci 130, 142 (2021). https://doi.org/10.1007/s12040-021-01658-3
Received:

Revised:

Accepted:

Published:
Keywords
Pillow basalt

Proterozoic

pillow morphometry

ophiolite

Tehla Formation

North Delhi Fold Belt

northwest India