Abstract
Knowledge of relations among ocean biogeochemical and cloud properties will help to plan experiments necessary to understand the mechanisms and processes underlying the links between ocean and atmosphere interactions. Here, we explored the associations between ocean biogeochemical and cloud properties in a region that seasonally experiences polluted and pristine atmospheric conditions in winter and summer, respectively. The implications of ocean surface chlorophyll-a and biogeochemical fluxes (sea salt, dimethyl sulphide and organic fraction in sea spray) to cloud properties (cloud effective radii (Re), cloud optical thickness, and cloud droplet number concentration (CDNC)) were studied using MODIS (Terra, Collection 6, L3) monthly data from 2001 to 2015 along with reanalysis information. We have adopted a climatological averaging approach in time (monthly, seasonal and annual) and space (coastal, open and total (basin) Arabian Sea). This approach was used to minimize incompatibility, if any, between ocean and cloud properties arising from spatio-temporal lags due to different dynamics in the respective boundary layers. The trends in monthly means suggest decreases in chlorophyll-a and CDNC, while Re increased over the Arabian Sea basin during 2001–2015. Variability at the basin scale (expressed as standard deviation in each month, SD) exceeded mean values of respective months for chlorophyll-a, whereas it was nearly half of the mean values for CDNC. An increase in Re seems facilitated more during warmer 2011–2015 than in the 2001–2010 period, which coincided with the decrease in CDNC. Fifteen-year monthly mean climatologies suggest considerable associations among ocean biogeochemical indices and cloud properties, which is more conspicuous during summer monsoon. Increase in sea salt flux appears to account for the higher values of Re in June–July over the basin due to strong monsoon wind. Inverse relations between chlorophyll-a and Re are indicative of smaller droplets that resulted from new particles formed from and/or facilitated by marine biogeochemical emissions. Decline in new particle production due to decrease in surface chlorophyll-a and the growth of particles facilitated by increase in warming, seem responsible for increase in Re and decrease in CDNC from 2001 to 2015. Using chlorophyll-a as the main proxy for ocean biogeochemical indices, we demonstrated that connections between ocean biogeochemistry and clouds are sustained in both small and large scales in space and time over the Arabian Sea.
Access options
Buy single article
Instant access to the full article PDF.
US$ 39.95
Tax calculation will be finalised during checkout.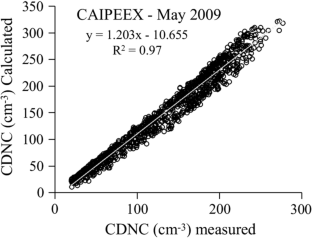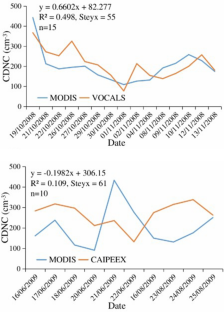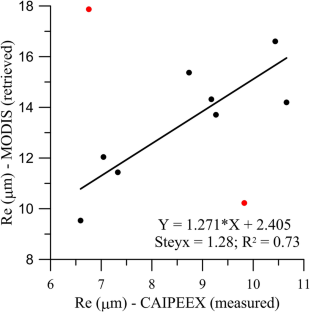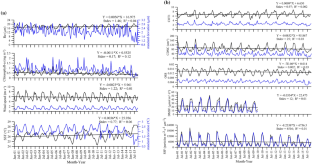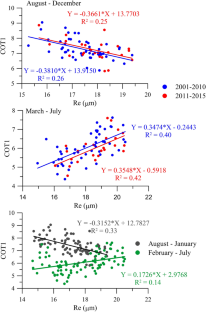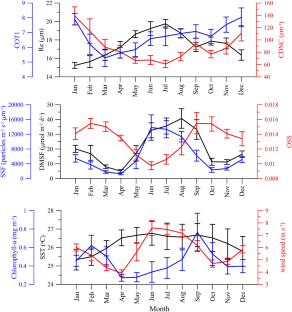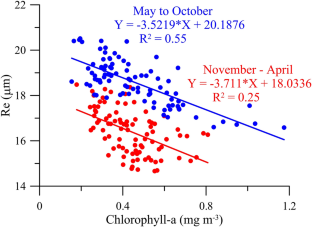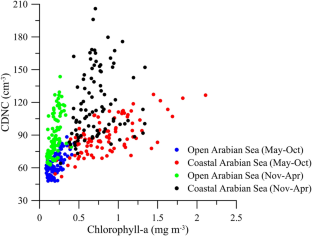 References
Anderson T R, Spall S A, Yool A, Cipollini P, Chellenor G and Fasham M J R 2001 Global fields of sea surface dimethylsulphide predicted from chlorophyll, nutrients and light; J. Mar. Syst. 30 1–20.

Andreas E L 2002 A review of the sea spray generation function for the open ocean; In: Atmosphere–Ocean interactions, vol. 1 (ed.) Perrie W, WIT, Southampton, UK, pp. 1–46.

Arnold S R, Spracklen D V, Gebhardt S, Custer T, Williams J, Peeken I and Alvain S 2010 Relationships between atmospheric organic compounds and air–mass exposure to marine biology; Environ. Chem. 7 232–241.

Arun Kumar S V V, Babu K N and Shukla A K 2015 Comparative analysis of chlorophyll-a distribution from SeaWiFS, MODIS-Aqua, MODIS-Terra and MERIS in the Arabian Sea; Mar. Geodesy 38 40–57.

Banse K 1994 On the coupling of hydrography, phytoplankton, zooplankton, and settling organic particles offshore in the Arabian Sea; In: Biogeochemistry of the Arabian Sea (ed.) Lal D, Indian Academy of Sciences, Bangalore, pp. 27–63.

Cantrell W, Shaw G, Cass G R, Chowdhury Z, Huges L S, Prather K A, Guazzotti S A and Coffee K R 2001 Closure between aerosol particles and cloud condensation nuclei at Kaashidhoo Climate Observatory; J. Geophys. Res. 106 28,711–28,718.

Chakraborty S and Maitra A 2013 Interrelation between microphysical and optical properties of cloud and rainfall in the Indian region; Ind. J. Radio Space Phys. 42 105–112.

Das S, Dey S and Dash S K 2014 Inter-annual variations in natural and anthropogenic aerosol loadings over the seas adjoining India using a hybrid approach; Atmos. Sci. Lett. 15 58–64.

Eytan E, Koren I and Altaratz O et al. 2020 Longwave radiative effect of the cloud twilight zone; Nature Geosci. 13 669–673, https://doi.org/10.1038/s41561-020-0636-8.

Fiehn A, Quack B, Stemmler I, Ziska F and Krüger K 2018 Importance of seasonally resolved oceanic emissions for bromoform delivery from the tropical Indian Ocean and west Pacific to the stratosphere; Atmos. Chem. Phys. 18 11973–11990, https://doi.org/10.5194/acp-18-11973-2018.

Finkelstein Y and Tamir A 1976 Interfacial heat transfer coefficients of various vapors in direct contact condensation; Chem. Eng. J. 12 199–209.

Fossum K N, Ovadnevaite J, Ceburnis D, Preißler J, Snider J R, Huang R-J, Zuend A and O'Dowd C 2020 Sea-spray regulates sulfate cloud droplet activation over Oceans; Climate Atmos. Sci. 3 14, https://doi.org/10.1038/s41612-020-0116-2.

Gantt B, Meskhidze N, Facchini M C, Rinaldi M, Ceburnis D and O'Dowd C D 2011 Wind speed dependent size-resolved parameterization for the organic mass fraction of sea spray aerosol; Atmos. Chem. Phys. 11 8777–8790.

Han Q, Rossow W and Lacis A 1994 Near-global survey of effective droplet radii in liquid water clouds using ISCCP data; J. Clim. 7 465–497.

Han Q, Rossow W, Chou J and Welch R M 1998 Global survey of the relationships of cloud albedo and liquid water path with droplet size using ISCCP; J. Clim. 11 1516–1528.

Hutchison K D 2002 The retrieval of cloud base heights from MODIS and 3-dimensional cloud fields from NASA's EOS Aqua mission; Int. J. Remote Sens. 23 5247–5263.

Jia H, Ma X, Quaas J, Yin Y and Qiu T 2019 Is positive correlation between cloud droplet effective radius and aerosol optical depth over land due to retrieval artifacts or real physical processes?; Atmos. Chem. Phys. 19 8879–8896.

Jose S, Nair V S and Babu S S 2020 Anthropogenic emissions from South Asia reverses the aerosol indirect effect over the northern Indian Ocean; Nat. Sci. Rep. 10 18360, https://doi.org/10.1038/s41598-020-74897-x.

Kedia S and Ramachandran S 2009 Variability in aerosol optical and physical characteristics over the Bay of Bengal and the Arabian Sea deduced from Angstrom exponents; J. Geophys. Res. 114 D14207, https://doi.org/10.1029/2009JD011950.

Kulkarni J R, Maheskumar R S, Morwal S B, Padma Kumari B, Konwar M, Deshpande C G, Joshi R R, Bhalwankar R V, Pandithurai G, Safai P D, Narkhedkar S G, Dani K K, Nath A, Nair Sathy, Sapre V V, Puranik P V, Kandalgaonkar S S, Mujumdar V R, Khaladkar R M, Vijayakumar R, Prabha T V and Goswami B N 2012 The Cloud Aerosol Interaction and Precipitation Enhancement Experiment (CAIPEEX): Overview and preliminary results; Curr. Sci. 102 413–425.

Kumar M D 2006 Biogeochemistry of the North Indian Ocean; IGBO-WCRP-SCOPE Report Series: 1, Indian National Science Academy, New Delhi, 25p.

Kumar M D, Shenoy D M, Sarma V V S S, George M D and Dandekar M 2002 Export fluxes of dimethylsulfoniopropionate and its break down gases at the air–sea interface; Geophys. Res. Lett. 29 8-1–8-3, doi: https://doi.org/10.1029/2001GL013967.

Lana A, Simo R, Vallina S M and Dachs J 2012 Potential for a biogenic influence on cloud microphysics over the ocean: a correlation study with satellite-derived data; Atmos. Chem. Phys. 12 7977–7993.

Lelieveld J, Bourtsoukidis E, Brühl C, Fischer H, Fuchs H, Harder H, Hofzumahaus A, Holland F, Marno D, Neumaier M, Pozzer A, Schlager H, Williams J, Zahn A and Ziereis H 2018 The South Asian monsoon – pollution pump and purifier; Science 361 270–273, https://doi.org/10.1126/science.aar2501.

Marchant B, Platnick S, Meyer K, Arnold G T and Riedi J 2016 MODIS Collection 6 shortwave-derived cloud phase classification algorithm and comparisons with CALIOP; Atmos. Meas. Tech. 9 1587–1599, https://doi.org/10.5194/amt-9-1587-2016.

Marek R and Straub J 2001 Analysis of the evaporation coefficient and the condensation coefficient of water; Int. J. Heat Mass. Transfer 44 39–53.

Martin G M, Johnson D W and Spice A 1994 The measurement and parameterization of effective radius of droplets in warm stratocumulus clouds; J. Atmos. Sci. 51 1823–1840.

McCoy D T, Burrows S M, Wood R, Grosvenor D P, Elliott S M, Ma P-L, Rasch P J and Hartmann D L 2015 Natural aerosols explain seasonal and spatial patterns of Southern Ocean cloud albedo; Sci. Adv. 1 e1500157, https://doi.org/10.1126/sciadv.1500157.

McCoy D T, Bender F A-M, Grosvenor D P, Mohrmann J K, Hartmann D L, Wood R and Field P R 2018 Predicting decadal trends in cloud droplet number concentration using reanalysis and satellite data; Atmos. Chem. Phys. 18 2035–2047, https://doi.org/10.5194/acp-18-2035-2018.

Meerkotter R and Bugliaro L 2009 Diurnal evolution of cloud base heights in convective cloud fields from MSG/SEVIRI data; Atmos. Chem. Phys. 9 1767–1778.

Meskhidze N and Nenes A 2006 Phytoplankton and cloudiness in the Southern Ocean; Science 314 1419–1423.

Miller M A and Yuter S E 2008 Lack of correlation between chlorophyll a and cloud droplet effective radius in shallow marine clouds; Geophys. Res. Lett. 35 L13807, https://doi.org/10.1029/2008GL03435.

Min Q, Joseph E, Lin Y, Min L, Yin B, Daum P H, Kleinman L L, Wang J and Lee Y N 2012 Comparison of MODIS cloud microphysical properties with in-situ measurements over the Southeast Pacific; Atmos. Chem. Phys. 12 11,261–11,273.

Monahan E C, Spiel D E and Davidson K L 1986 A model of marine aerosol generation via whitecaps and wave disruption; In: Oceanic White-caps (eds) Monahan E and Niocaill G M, D. Reidel, Norwell, Mass, pp. 167–174.

Moorthy K K, Suresh Babu S and Satheesh S K 2005 Aerosol characteristics and radiative impacts over the Arabian Sea during the Intermonsoon Season: Results from ARMEX Field Campaign; J. Atmos. Sci. 62 192–206.

Nair V S, Krishna Moorthy K and Suresh Babu S 2013 Influence of continental outflow and ocean biogeochemistry on the distribution of fine and ultrafine particles in the marine atmospheric boundary layer over Arabian Sea and Bay of Bengal; J. Geophys. Res. 118 7321–7331, https://doi.org/10.1002/jgrd.50541.

Nair V S, Jayachandran V N, Kompalli S K, Gogoi M M and Suresh Babu S 2020 Cloud condensation nuclei properties of South Asian outflow over the North Indian Ocean during winter; Atmos. Chem. Phys. 20 3135–3149, https://doi.org/10.5194/acp-20-3135-2020.

Nakajima T and Nakajima T 1995 Wide-area determination of cloud microphysical properties from NOAA AVHRR measurements for FIRE and ASTEX regions; J. Atmos. Sci. 52 4043–4059.

O'Dowd C D 2000 New particle formation and fate in the coastal environment (PARFORCE): Objectives and initial achievements; Rep. Ser. Aerosol Sci. 48 5–11.

O'Dowd C D 2001 Biogenic coastal aerosol production and its influence on aerosol radiative properties; J. Geophys. Res. 106 1545–1548.

O'Dowd C D and de Leeuw G 2007 Marine aerosol production: A review of the current knowledge; Phil. Trans. Roy. Soc. A 365 1753–1774.

Patil N, Dave P and Venkataraman C 2017 Contrasting influences of aerosols on cloud properties during deficient and abundant monsoon years; Nature Sci. Rep. 7 44996, https://doi.org/10.1038/srep44996.

Platnick S, Meyer K G, King M D, Wind G, Amarasinghe N, Marchant B, Arnold G T, Zhang Z, Hubanks P A, Holz R E, Yang P, Ridgway W L and Riedi J 2017 The MODIS cloud optical and microphysical products: Collection 6 updates and examples from Terra and Aqua; IEEE Trans. Geosci. Remote Sens. 55 502–525, https://doi.org/10.1109/TGRS.2016.2610522.

Quinn P K and Bates T S 2011 The case against climate regulation via oceanic phytoplankton sulphur emissions; Nature 480 51–56.

Ramanathan V, Crutzen P J, Lelieveld J, Mitra A P, Althausen D, Anderson J, Andreae M O, Cantrell W, Cass G R, Chung C E, Clarke A D, Coakley J A, Collins W D, Conant W C, Dulac F, Heintzenberg J, Heymsfield A J, Holben B, Howell S, Hudson J, Jayaraman A, Kiehl J T, Krishnamurti T N, Lubin D, McFarquhar G, Novakov T, Ogren J A, Podgorny I A, Prather K, Priestley K, Prospero J M, Quinn P K, Rajeev K, Rasch P, Rupert S, Sadourny R, Satheesh S K, Shaw G E, Sheridan P and Valero F P J 2001 Indian Ocean Experiment: An integrated analysis of the climate forcing and effects of the great Indo-Asian haze; J. Geophys. Res. 106 28,371–28,398.

Rao P S P, Praveen P S, Chate D M, Ali K, Safai P D and Momin G A 2005 Physical and chemical characteristics of aerosols over Arabian Sea during ARMEX 2002–03; Mausam 56 293–300.

Rao S and Dey S 2020 Consistent signal of aerosol indirect and semi-direct effect on water clouds in the oceanic regions adjacent to the Indian subcontinent; Atmos. Res. 232 104677, https://doi.org/10.1016/j.atmosres.2019.104677.

Riccobono F, Schobesberger S, Scott C E, Dommen J, Ortega I K, Rondo L, Almeida J, Amorim A, Bianchi F, Breitenlechner M, David A, Downard A, Dunne E M, Duplissy J, Ehrhart S, Flagan R C, Franchin A, Hansel A, Junninen H, Kajos M, Keskinen H, Kupc A, Kürten A, Kvashin A N, Laaksonen A, Lehtipalo K, Makhmutov V, Mathot S, Nieminen T, Onnela A, Petäjä T, Praplan A P, Santos F D, Schallhart S, Seinfeld J H, Sipilä M, Spracklen D V, Stozhkov Y, Stratmann F, Tomé A, Tsagkogeorgas G, Vaattovaara P, Viisanen Y, Vrtala A, Wagner P E, Weingartner E, Wex H, Wimmer D, Carslaw K S, Curtius J, Donahue N M, Kirkby J, Kulmala M, Worsnop D R and Baltensperger U 2014 Oxidation products of biogenic emissions contribute to nucleation of atmospheric particles; Science 344 717–721.

Rinaldi M, Facchini M C, Decesari S, Carbone C, Finessi E, Mircea M, Fuzzi S, Ceburnis D, Ehn M, Kulmala M, de Leeuw G and O'Dowd C D 2009 On the representativeness of coastal aerosol studies to open ocean studies: Mace Head – a case study; Atmos. Chem. Phys. 9 9635–9646.

Saltzman E S, King D B, Holmen K and Leck C 1993 Experimental determination of the diffusion coefficient of dimethylsulfide in water; J. Geophys. Res. 98C 16,481–16,486.

Sarin M M, Kumar A, Bikkina S, Sudheer A K and Rastogi N 2011 Anthropogenic sulphate aerosols and large Cl-deficit in marine atmospheric boundary layer of tropical Bay of Bengal; J. Atmos. Chem. 66 1–10, https://doi.org/10.1007/s10874-011-9188-z.

Satheesh S K and Srinivasan J 2002 Enhanced aerosol loading over Arabian Sea during the pre-monsoon season: Natural or anthropogenic?; Geophys. Res. Lett. 29 1874, https://doi.org/10.1029/2002GL015687.

Shenoy D M and Kumar M D 2007 Variability in abundance and fluxes of dimethylsulphide in the Indian Ocean; Biogeochemistry 83 277–292.

Shenoy D M, Joseph S, Kumar M D and George M D 2002 Control and interannual variability of dimethyl sulfide in the Indian Ocean; J. Geophys. Res. 107 8008, https://doi.org/10.1029/2001JD000371.

Turner S M, Malin G, Nightingale G D and Liss P S 1996 Seasonal variation of dimethyl sulphide in the North Sea and an assessment of fluxes to the atmosphere; Mar. Chem. 54 243–262.

Tyagi G and Babu K N 2018 Validation and inter-sensor comparison of chlorophyll-a concentration from OCM-2 and MODIS data over Indian CAL-VAL site; Indian J. Geo-Mar. Sci. 47 2147–2154.

United Nations Environment Programme 2008 Wide Spread and Complex Climatic Changes Outlined in New UNEP Project Atmospheric Brown Cloud Report; http://www.unep.org/documents.multilingual/default.asp?DocumentID=550&ArticleID=5978&l=en.

Vinoj V and Satheesh S K 2004 Direct and indirect radiative effects of sea-salt aerosols over Arabian Sea; Curr. Sci. 86 1381–1390.

Wernand M R, van der Woerd H J and Gieskes W W C 2013 Trends in ocean colour and chlorophyll concentration from 1889 to 2000, worldwide; PLoS ONE 8(6) e63766, https://doi.org/10.1371/journal.pone.0063766.

Wilson T W, Ladino L A, Alpert P A, Breckels M N, Brooks I M, Browse J, Burrows S M, Carslaw K S, Huffman J A, Judd C, Kilthau W P, Mason R H, McFiggans G, Miller L A, Nájera J J, Polishchuk E, Rae S, Schiller C L, Si M, Temprado J V, Whale T F, Wong J P S, Wurl O, Yakobi-Hancock J D, Abbatt J P D, Aller J Y, Bertram A K, Knopf D A, Murray B J 2015 A marine biogenic source of atmospheric ice nucleating particles; Nature 525 234–238, PNNL-SA-109270, https://doi.org/10.1038/nature14986.
Acknowledgements
We thank the Council of Scientific and Industrial Research (CSIR), New Delhi, Science and Engineering Research Board (SERB-DST), New Delhi, and the Directors of CSIR-NIO, Goa and SIC, Regional Centre in Visakhapatnam, and NCCR (MoES), Chennai, for support. MDK acknowledges the support for this project through JC Bose National Fellowship grant by SERB. We are grateful to various data sources and service providers (MODIS (NASA, USA), Reanalysis, CAIPEEX (IITM-MoES, India), VOCALS (EOL-NSF, USA)) for facilitating this study. We are indebted to the reviewer for constructive criticism that helped improve the manuscript considerably. This is CSIR-NIO Contribution no. 6704 supported by Department of Science and Technology (SERB Grant No. SB/S2/JCB-78/2014).
Supplementary Information
Below is the link to the electronic supplementary material.
About this article
Cite this article
Rao, V.D., Kumar, M.D., Sridevi, B. et al. Relations between marine biogeochemical indices and cloud properties over the Arabian Sea. J Earth Syst Sci 130, 143 (2021). https://doi.org/10.1007/s12040-021-01638-7
Received:

Revised:

Accepted:

Published:
Keywords
Dimethyl sulphide

cloud droplet number

ocean–atmosphere links

Arabian Sea

biogeochemistry