Abstract
This paper is based on the spatio-temporal analysis of daily, monthly and seasonal rainfall variability over Maharashtra state of the Indian region, for the period 1901–2017 during summer monsoon, viz., June through September. This analysis is carried out over Maharashtra's four sub-divisions, where mean rainfall received for JJAS (1901–2017) is more over Konkan and Goa and east Vidarbha and less over Madhya Maharashtra. Coefficient of variation is considered to understand spatial variability of total rainfall received during JJAS by the state. The percentage of rainy days is found to be more for July and August months compared to June and September months as per the advancement of monsoonal flow noticeable through this study. Hence, contribution to JJAS rainfall more from July month proceeded with August month is considerable. September month contribution is the least; nevertheless its contribution is prominent from south Madhya Maharashtra. Rainfall variability is linked with El Niño and La Niña, by calculating composites of standardized rainfall anomalies and % rainy days during El Niño and La Niña years, which show that monthly and seasonal rainfall, are modulated by variations in SSTs of equatorial central Pacific Ocean. Thus this study aims to analyze the changing pattern of rainfall over Maharashtra and its sub-division as linking El-Niño and La-Niña events with rainfall received over small domain is the need of the hour as each region behaves differently during El-Niño or La-Niña.
Access options
Buy single article
Instant access to the full article PDF.
US$ 39.95
Tax calculation will be finalised during checkout.
Subscribe to journal
Immediate online access to all issues from 2019. Subscription will auto renew annually.
US$ 79
Tax calculation will be finalised during checkout.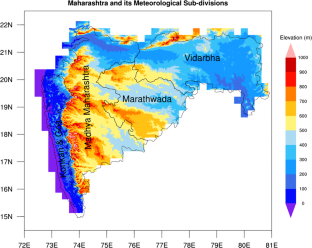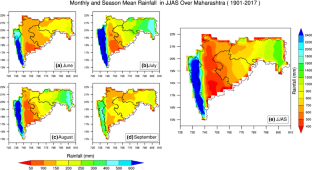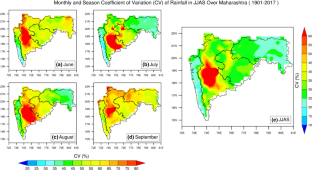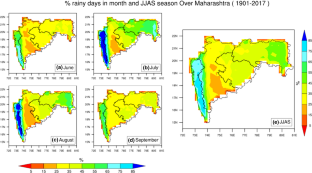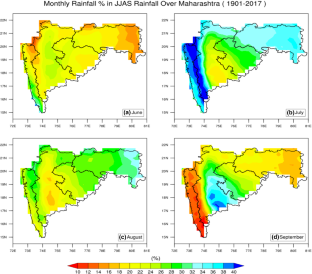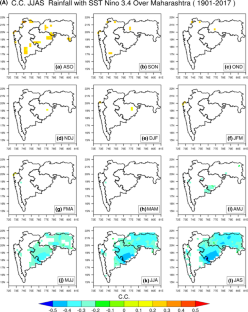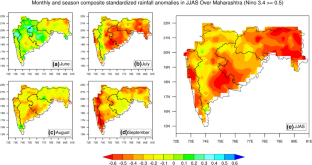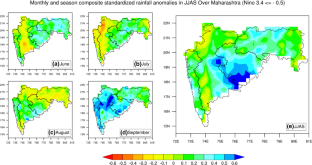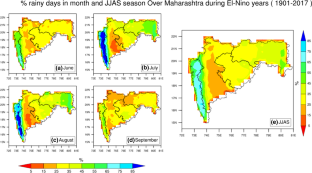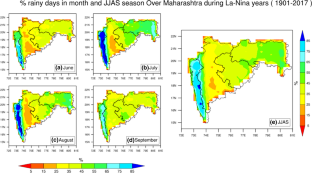 References
Ashok K, Guan Z and Yamagata T 2001 Impact of the Indian Ocean dipole on the relationship between the Indian monsoon rainfall and ENSO; Geophys. Res. Lett. 28(23) 4499–4502.

Ashok K and Saji N H 2007 On the impacts of ENSO and Indian Ocean dipole events on sub-regional Indian summer monsoon rainfall; Nat. Hazards 42(2) 273–285.

Bhatla R, Singh A K, Mandal B, Ghosh S, Pandey S N and Sarkar A 2016 Influence of North Atlantic oscillation on Indian summer monsoon rainfall in relation to quasi-binneal oscillation; Pure Appl. Geophys. 173(8) 2959–2970.

Boos W R, Hurley J V and Murthy V S 2015 Adiabatic westward drift of Indian monsoon depressions; Quart. J. Roy. Meteor. Soc. 141(689) 1035–1048.

Chavadekar A U and Kashid S S 2019 Meteorological drought prediction of marathwada subdivision based on hydro-climatic inputs using genetic programming; Ish. J. Hydraul. Eng. 1–13, https://doi.org/10.1080/09715010.2019.1620647.

Daggupaty S M and Sikka D R 1977 On the vorticity budget and vertical velocity distribution associated with the life cycle of a monsoon depression; J. Atmos. Sci. 34(5) 773–792.

Francis P A and Gadgil S 2006 Intense rainfall events over the west coast of India; Meteorol. Atmos. Phys. 94(1–4) 27–42.

Gadgil S, Vinayachandran P N, Francis P A and Gadgil S 2004 Extremes of the Indian summer monsoon rainfall, ENSO and equatorial Indian Ocean oscillation; Geophys. Res. Lett. 31(12) L12213.

George P A 1956 Effect of off-shore vortices on rainfall along the west coast of India; Indian J. Meteorol. Geophys. 7 225–240.

Ghosh S, Luniya V and Gupta A 2009 Trend analysis of Indian summer monsoon rainfall at different spatial scales; Atmos. Sci. Lett. 10(4) 285–290.

Godbole R V 1977 The composite structure of the monsoon depression; Tellus 29(1) 25–40.

Golekar R, Patil S, Arjun J and Someshwar P 2016 Spatial and temporal variability of summer monsoon rainfall from the period of 1971 to 2011 over Maharashtra State, India; J. Water Resour. Pollut. Stud. 1 1–10.

Goswami B N and Chakravorty S 2017 Dynamics of the Indian summer monsoon climate; In: Oxford Research Encyclopedia of Climate Science.

Guhathakurta P, Sreejith O P and Menon P A 2011 Impact of climate change on extreme rainfall events and flood risk in India; J. Earth Syst. Sci. 120(3) 359.

Guhathakurta P and Saji E 2012 Trends and variability of monthly, seasonal and annual rainfall for the districts of Maharashtra and spatial analysis of seasonality index in identifying the changes in rainfall regime; National Climate Centre Research Report, (1).

Hartmann D L and Michelsen M L 1989 Intraseasonal periodicities in Indian rainfall; J. Atmos. Sci. 46(18) 2838–2862.

Houze Jr R A 2012 Orographic effects on precipitating clouds; Rev. Geophys. 50(1) RG1001.

Hughes M, Hall A and Fovell R G 2009 Blocking in areas of complex topography, and its influence on rainfall distribution; J. Atmos. Sci. 66(2) 508–518.

Hunt K M, Turner A G, Inness P M, Parker D E and Levine R C 2016 On the structure and dynamics of Indian monsoon depressions; Mon. Weather Rev. 144(9) 3391–3416.

IMD, Meteorological terminologies and glossary; India Meteorological Department; http://www.imdpune.gov.in/Weather/Reports/glossary.pdf.

Kane R P 1998 Extremes of the ENSO phenomenon and Indian summer monsoon rainfall; Int. J. Climatol. 18(7) 775–791.

Kane R P 1999 Periodicities and ENSO relationships of the seasonal precipitation over six major sub-divisions of India; Mausam 50(1) 43–54.

Kane R P 2006 Unstable ENSO relationship with Indian regional rainfall; Int. J. Climatol. 26(6) 771–783.

Kanellopoulou E A 2002 Spatial distribution of rainfall seasonality in Greece; Weather 57(6) 215–219.

Keshavamurty R N 1982 Response of the atmosphere to sea surface temperature anomalies over the equatorial Pacific and the teleconnections of the southern oscillation; J. Atmos. Sci. 39(6) 1241–1259.

Kishtawal C M, Niyogi D, Tewari M, Pielke Sr R A and Shepherd J M 2010 Urbanization signature in the observed heavy rainfall climatology over India; Int. J. Climatol. 30(13) 1908–1916.

Kripalani R H, Kulkarni A, Sabade S S and Khandekar M L 2003 Indian monsoon variability in a global warming scenario; Nat. Hazards 29(2) 189–206.

Krishna Kumar K, Rupa Kumar K, Ashrit R G, Deshpande N R and Hansen J W 2004 Climate impacts on Indian agriculture; Int. J. Climatol. 24(11) 1375–1393.

Krishnamurthy V and Shukla J 2000 Intraseasonal and interannual variability of rainfall over India; J. Climate 13(24) 4366–4377.

Krishnamurthy V and Shukla J 2007 Intraseasonal and seasonally persisting patterns of Indian monsoon rainfall; J. Climate 20(1) 3–20.

Kumar O B 1988 Eurasian snow cover and seasonal forecast of Indian summer monsoon rainfall; Hydrol. Sci. J. 33(5) 515–525.

Kumar K K, Rajagopalan B and Cane M A 1999 On the weakening relationship between the Indian monsoon and ENSO; Science 284(5423) 2156–2159.

Kumar V, Jain S K and Singh Y 2010 Analysis of long-term rainfall trends in India; Hydrol. Sci. J. 55(4) 484–496.

Kumar S, Hazra A and Goswami B N 2014 Role of interaction between dynamics, thermodynamics and cloud microphysics on summer monsoon precipitating clouds over the Myanmar Coast and the Western Ghats; Clim. Dynam. 43(3–4) 911–924.

Lal M 2003 Global climate change: India's monsoon and its variability; J. Environ. Stud. Policy 6(1) 1–34.

Longley R W 1952 Measures of the variability of precipitation; Mon. Weather Rev. 80(7) 111–117.

Maheskumar R S, Narkhedkar S G, Morwal S B, Padmakumari B, Kothawale D R, Joshi R R, Deshpande C G, Bhalwankar R V and Kulkarni J R 2014 Mechanism of high rainfall over the Indian west coast region during the monsoon season; Clim. Dyn. 43(5–6) 1513–1529.

Mishra S K, Sahany S and Salunke P 2017 Linkages between MJO and summer monsoon rainfall over India and surrounding region; Meteorol. Atmos. Phys. 129(3) 283–296.

Mooley D A 1973 Some aspects of Indian monsoon depression and associated rainfall; Mon. Weather Rev. 101 271–280.

Mooley D A and Parthasarathy B 1984 Indian summer monsoon and the east equatorial Pacific sea surface temperature; Atmos. Ocean 22(1) 23–35.

Mukherjee A K, Rao M K and Shah K C 1978 Vortices embedded in the trough of low pressure off Maharashtra–Goa coasts during the month of July; Indian J. Met. Hydrol. Geophys. 29 61–65.

Pai D S 2003 Teleconnections of Indian summer monsoon with global surface air temperature anomalies; Mausam 54(2) 407–418.

Prasad K D and Singh S V 1988 Large-scale features of the Indian summer monsoon rainfall and their association with some oceanic and atmospheric variables; Adv. Atmos. Sci. 5(4) 499–513.

Rajeevan M, Bhate J, Kale J D and Lal B 2006 High resolution daily gridded rainfall data for the Indian region: Analysis of break and active; Curr. Sci. 91(3) 296–306.

Rasmusson E M and Carpenter T H 1983 The relationship between eastern equatorial Pacific sea surface temperatures and rainfall over India and Sri Lanka; Mon. Weather Rev. 111(3) 517–528.

Ratna S B 2012 Summer monsoon rainfall variability over Maharashtra, India; Pure Appl. Geophys. 169(1–2) 259–273.

Saha S K, Hazra A, Pokhrel S, Chaudhari H S, Sujith K, Rai A, Rahaman H and Goswami B N 2019 Unraveling the mystery of Indian summer monsoon prediction: Improved estimate of predictability limit; J. Geophys. Res.: Atmos. 124(4) 1962–1974.

Sikka D R 1978 Some aspects of the life history, structure and movement of monsoon depressions; In: Monsoon Dynamics, Birkhäuser, Basel, pp. 1501–1529.

Sikka D R 1980 Some aspects of the large scale fluctuations of summer monsoon rainfall over India in relation to fluctuations in the planetary and regional scale circulation parameters; Proc. Indian Acad. Sci. – Earth Planet. Sci. 89(2) 179–195.

Singh S, Rao V U M and Singh D 2005 Association of El Nino and La Nina episodes with local/regional monsoon rainfall in Haryana subdivision (India); J. Agrometeorol. 7(1) 1–13.

Sokol Jurković R and Pasarić Z 2013 Spatial variability of annual precipitation using globally gridded data sets from 1951 to 2000; Int. J. Climatol. 33(3) 690–698.
Acknowledgments
We sincerely thank all the anonymous reviewers who along with their suggestions helped in improving the work. During this correction discussion sessions, authors have learnt a lot and is grateful to all the anonymous reviewers. We are also thankful to climate monitoring and prediction group, India Meteorological Department (IMD), Pune for their encouragement and all the support in terms of data and completing the work.
Additional information
Communicated by A K Sahai
About this article
Cite this article
Takle, J., Pai, D.S. Analysis of summer monsoon rainfall over Maharashtra and its relation with SSTs. J Earth Syst Sci 129, 122 (2020). https://doi.org/10.1007/s12040-020-01388-y
Received:

Revised:

Accepted:

Published:
Keywords
Maharashtra monsoon

1901–2017 period

rainfall percentage

coefficient of variation

El-Niño

La-Niña