Abstract
Petrography and the geochemical attributes of the studied Mul granite pluton reveal mixed characteristics of A-type and I-type within-plate granites consistent with an extensional tectonic environment. The dominance of the primary biotite over the primary muscovite suggests its meta-aluminous nature. The dating of monazite from the Mul granitoid pluton by the in situ Th–U–Pb electron probe micro analyser chemical method indicates the tectonomagmatic event around \(1602 \pm 27\) Ma in the western Bastar craton, Chandrapur district, Maharashtra. The age data possibly represent the emplacement of large bodies of grey granite and attendant monazite crystallisation at \(\sim \)1600 Ma. This monazite age implies that Mesoproterozoic magmatism is coeval with the formation of the Pranhita Godavari rift in the eastern flank in Maharashtra and associated with the copper and barite mineralisation in Thanewasna and the adjoining areas.
Access options
Buy single article
Instant access to the full article PDF.
USD 39.95
Price excludes VAT (USA)
Tax calculation will be finalised during checkout.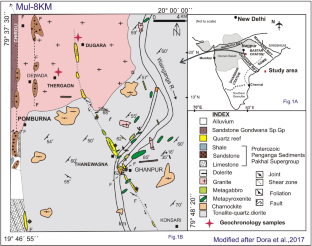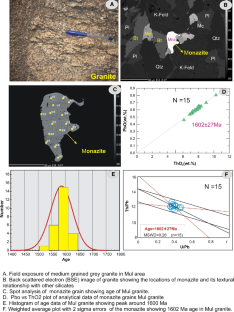 References
Catlos E J, Gilley L D and Harrison T M 2002 Interpretation of monazite ages obtained via in situ analysis; Chem. Geol. 188 193–215.

Cocherie A, Legendre O, Peucat J J and Kouamelan A N 1998 Geochronology of polygenetic monazites constrained by in situ electron microprobe Th–U-total lead determination: Implications for lead behavior in monazite; Geochim. Cosmochim. Acta 62 2475–2497.

Crookshank H 1963 Geology of southern Bastar and Jeypore from the Bailadila range to the Eastern Ghats; GSI Mem. 87 1–150.

Dora M L 2012 Host rock characteristics, control and genesis of copper-barite mineralization in Thanewasna area, Chandrapur district, Maharashtra; RTM University, Nagpur, unpublished PhD Thesis, 220p.

Dora M L and Randive K R 2015 Chloritisation along the Thanewasna shear zone, Western Bastar Craton, Central India: Its genetic linkage to Cu–Au mineralization; Ore Geol. Rev. 70 151–172.

Dora M L, Nair K K K and Sasidharan K 2011 Occurrence of platinum group minerals in the Western Bastar Craton, Chandrapur district, Maharashtra; Curr. Sci. 100(3) 339–404.

Dora M L, Randive K R, Ramachandra H M and Suresh G 2017 Iron oxide–copper–gold (IOCG) mineralization at Thanewasna, Western Bastar Craton; Curr. Sci. 112(112) 1045–1050.

Kaur P and Chaudhri N 2014 Metallogeny associated with the Palaeo-Mesoproterozoic Columbia supercontinent cycle: A synthesis of major metallic deposits; Ore Geol. Rev. 56 415–422.

Ludwig K R 2001 Ludwig, squid 1.02: A user manual; Berkeley Geochronol. Center Spec. Publ. 12 19.

Montel J M, Veschambre M and Nicollet C 1994 Datation de la monazite a' la microsonde e'lectronique; C.R. Acad. Sci. Paris 318 1489–1495.

Montel J M, Foret S, Veschambre M, Nicollet C and Provost A 1996 Electron microprobe dating of monazite; Chem. Geol. 131 37–53.

Mukherjee M K, Jeere D S, Tripathy S K and Singh A K 2007 Thematic mapping of gneiss-granulite terrain, Western Bastar Craton, Chandrapur district, Maharashtra, FSP-2004-07; Geological Survey of India Record 140.

Pandey B K, Gupta J N, Lall Y and Mahadevan T M 1986 Rb-Sr isochron and Sm-Nd model ages for soda granites from Singhbhum Shear Zone, Bihar and their bearing on crustal evolution; Indian J. Earth Sci. 13 17–128.

Panigrahi M K, Mishra K C, Bream B and Naik R K 2004 Age of granitic activity associated with copper molybdenum mineralization at Malanjkhand, Central India; Miner. Depos. 39 670–677.

Pant N C, Kundu A, Joshi S, Dey A, Bhandari A and Joshi A 2009 Chemical dating of monazite: Testing of an analytical protocol against independently dated standards; Indian J. Geosci. 63 311–318.

Pant N C, Kundu A, D'souza M J and Saikia A 2013 Petrology of the Neoproterozoic granulites from Central Dronning Maud Land, East Antarctica – Implications for southward extension of East African Orogen (EAO); Precamb. Res. 227 389–408.

Parrish R R 1990 U–Pb dating of monazite and its application to geological problems; Can. J. Earth Sci. 27 1435–1450.

Paul D C, Mishra B and Bemhardt H-J 2007 Mineralogy and geochemistry of pegmatite-hosted Sn-, Ta-Nb-, and Zr-Hf-bearing minerals from the southeastern part of the Bastar-Malkanjgiri pegmatite belt, central India; Ore Geol. Rev. 30 30–55.

Ramachandra H M 2004 A review of terrane evolution in the Precambrian Dharwar and Bastar craton; GSI Spec. Publ. 84 1–21.

Ramakrishnan M and Vaidyanadhan R 2008 Geology of India; Geological Society of India, Bangalore 1 556p. ISBN No: 978-81-85867-98-4.

Ramesh Babu P V 1993 Tin and rare metal pegmatites of the Bastar-Koraput Pegmatite Belt, Madhya Pradesh and Orissa, India: Characterisation and classification; J. Geol. Soc. India 42(2) 180–190.

Rao N K, Aggrawal S K and Rao G V U 1979 Lead isotope ratio of uraninites and age of mineralisation in the Singhbhum Shear Zone; J. Geol. Soc. India 20 124–127.

Sarkar S N, Gopalan K and Trivedi J R 1981 New data on Geochronology of Precambrian of Bhandara-Durg region, Central India; J. Earth Sci. 6 32–35.

Sarkar S N, Ghose D and Lambert R J S 1986 Rubidium-strontium and lead isotopic studies on the soda granites from Mosabani, Singhbhum copper belt, Eastern India; Indian J. Earth. Sci. 13 101–116.

Sashidharan K 2007 Petrology and geochemistry of Mul granite pluton, Western Bastar Craton, Chandrapur district, Maharashtra; Gond. Geol. Magz. 10 45–54.

Singh Y, Rai S D, Sinha R P and Kaul R 1991 Lithium pegmatites in parts of Bastar craton, central India; Exploration Res. Atomic Miner. 4 93–108.

Singh Y, Pandit P S C, Bagora S and Jain P K 2017 Mineralogy, geochemistry, and genesis of co-genetic granite-pegmatite-hosted rare metal and rare earth deposits of the Kawadgaon Area, Bastar Craton, Central India; J. Geol. Soc. India 89(2), 115–130. https://doi.org/10.1007/s12594-017-0574-2.

Stein H J, Hannah J L, Zimmerman A, Markey R J, Sarkar S C and Pal A B 2004 A 2.5 Ga porphyry Cu–Mo–Au deposit at Malanjkhand, central India: Implications for late Archean continental assembly; Precamb. Res. 134 189–226.

Suzuki K and Adachi M 1991 Precambrian provenance and Silurian metamorphism of the Tsubonasawa paragneiss in the South Kitakami terrane, Northeast Japan, revealed by the chemical Th–U-total leadisochron ages of monazite, zircon and xenotime; Geochem. J. 25 357–376.

Williams M L, Jercinovic M J and Hetherington C J 2007 Microprobe monazite geochronology: Understanding geologic processes by integrating composition and chronology; Annu. Rev. Earth Planet. Sci. 35 137–175.
Acknowledgements
We thank Shri. S Natesan, additional director general and HOD, Geological Survey of India (GSI), Nagpur, for his kind encouragement and permission to publish this short paper as rapid communication. We also extend our sincere thanks to Prof. N V C Rao, the chief editor of the Journal of Earth System Science and esteemed anonymous reviewers for their insightful reviews and useful suggestions. We also thank the internal GSI reviewer Shri. R Vijay Kumar, director, and Shri. Pravir Pankaj, superintending geologist, GSI, Nagpur, for their valuable suggestions that helped in improving the paper.
Additional information
Corresponding editor: N V Chalapathi Rao
About this article
Cite this article
Dora, M.L., Singh, Y., Joshi, S. et al. The first report on the chemical (Th–U–Pb) monazite age of the Mul granite pluton, Western Bastar craton, central India and its metallogenic significance. J Earth Syst Sci 128, 124 (2019). https://doi.org/10.1007/s12040-019-1165-y
Received:

Revised:

Accepted:

Published:

DOI: https://doi.org/10.1007/s12040-019-1165-y
Keywords