Abstract
This paper has developed a general Ts-NDVI triangle space with vegetation index time-series data from AVHRR and MODIS to monitor soil moisture in the Mongolian Plateau during 1981–2012, and studied the spatio-temporal variations of drought based on the temperature vegetation dryness index (TVDI). The results indicated that (1) the developed general Ts-NDVI space extracted from the AVHRR and MODIS remote sensing data would be an effective method to monitor regional drought, moreover, it would be more meaningful if the single time Ts-NDVI space showed an unstable condition; (2) the inverted TVDI was expected to reflect the water deficit in the study area. It was found to be in close negative agreement with precipitation and 10 cm soil moisture; (3) in the Mongolian Plateau, TVDI presented a zonal distribution with changes in land use/land cover types, vegetation cover and latitude. The soil moisture is low in bare land, construction land and grassland. During 1981–2012, drought was widely spread throughout the plateau, and aridification was obvious in the study period. Vegetation degradation, overgrazing, and climate warming could be considered as the main reasons.
This is a preview of subscription content, log in to check access.
Access options
Buy single article
Instant access to the full article PDF.
US$ 39.95
Tax calculation will be finalised during checkout.
Subscribe to journal
Immediate online access to all issues from 2019. Subscription will auto renew annually.
US$ 79
Tax calculation will be finalised during checkout.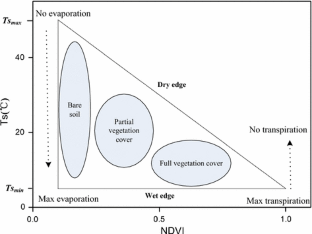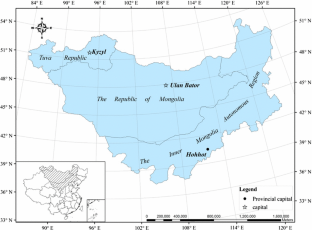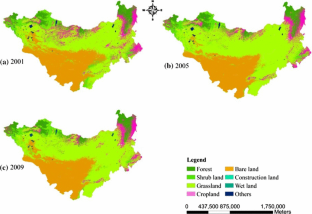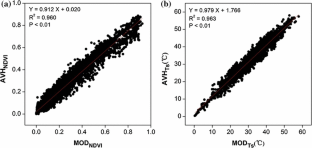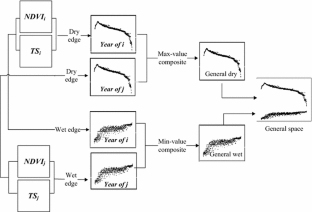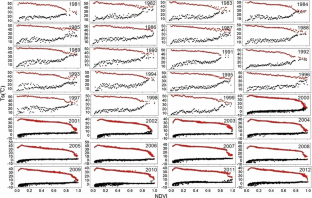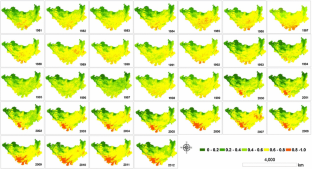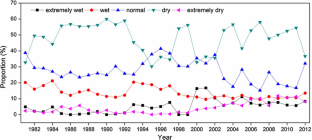 References
Anyamba A and Tucker C J 2005 Analysis of Sahelian vegetation dynamics using NOAA-AVHRR NDVI data from 1981–2003; J. Arid Environ. 63 596–614.

Bao G, Qin Z H and Bao Y H et al. 2013 Spatial-temporal changes of vegetation cover in Mongolian Plateau during 1982–2006; J. Desert Res. 33 918–927.

Becker F and Li Z L 1990 Towards a local split window method over land surface; Int. J. Remote Sens. 11 369–393.

Bi L G, Yin S and Bao Y L et al. 2011 Research on the drought during the vegetation growth period of inner Mongolia based on TVDI; J. Anhui. Sci. 39 5945–5948.

Caccamo G, Chilsholm L A and Bradstock R A et al. 2011 Assessing the sensitivity of MODIS to monitor drought in high biomass ecosystems; Remote Sens. Environ. 115 2626–2639.

Carlson T 2007 An overview of the triangle method for estimating surface evapotranspiration and soil moisture from satellite imagery; Sensors 7 1612–1629.

Chandrasekar K and Sai M V R S 2015 Monitoring of late-season agricultural drought in cotton-growing districts of Andhra Pradesh state, India, using vegetation, water and soil moisture indices; Nat. Hazards 75 1023–1046.

Chen X L, Zhao H M, Li P X and Yin Z Y 2006 Remote sensing image-based analysis of the relationship between urban heat island and land use/cover changes; Remote Sens. Environ. 104 133–146.

Cihlar J, Huang L Y and Li Z Q et al. 1997 multitemporal, multichannel AVHRR datasets for land biosphere studies – Artifacts and corrections; Remote Sens. Environ. 60 35–57.

Dogan S, Berkta A and Singh V P 2012 Comparison of multi-monthly rainfall-based drought severity indices with application to semi-arid Konya closed basin, Turkey;J. Hydrol. 4 255–268.

Du L T, Tian J and Tao Y et al. 2013 A comprehensive drought monitoring method integrating MODIS and TRMM data; Int. J. Appl. Earth. Obser. Geoinfo. 23 245–253.

Fensholt R and Sandholt I 2003 Derivation of a shortwave infrared water stress index from MODIS near- and shortwave infrared data in a semiarid environment; Remote Sens. Environ. 87 111–121.

Frey C M, Kuenzer C and Dech S 2012 Quantitative comparison of the operational NOAA-AVHRR LST product of DLR and the MODIS LST product V005; Int. J. Remote Sens. 33 7165–7183.

Fu B J, Cheng L D and Ma K M 1999 The effect of land use change on the regional environment in the Yang Juangou catchment in the Loess Plateau of China; Acta Geogr. Sin. 5 241–246.

Gallo K, Lei J and Reed B et al. 2004 Comparison of MODIS and AVHRR 160 day normalized difference vegetation index composite data; Geophys. Res. Lett. 31 73–95.

Gao Z, Gao W and Chang N B 2011 Integrating temperature vegetation dryness index (TVDI) and regional water stress index (RWSI) for drought assessment with the aid of LANDSAT TM/ETM+ images; J. Appl. Earth Obser. Geoinform. 13 495–503.

Goetz S J 1997 Multi-sensor analysis of NDVI, surface temperature and biophysical variables at a mixed grassland site; Int. J. Remote Sens. 18 71–94.

Guo L B 2010 Analyses the soil moisture of Mongolia Plateau with MODIS-TVDI Model and AMSR-E data; The master degree paper of Inner Mongolia Normal University.

Han L J, Atsushi T and Mitsuru T 2011 Effect of frozen ground on dust outbreaks in spring on the eastern Mongolian Plateau; Geomorphology 129 412–416.

Heim R R 2002 A review of twentieth-century drought indices used in the United States; Bull. Am. Meteor. Soc. 83 1149–1165.

Holben B 1986 Characteristics of maximum-value composite images from temporal AVHRR data; Int. J. Remote Sens. 4 1417–1434.

Huang Y L, Chen L D, Fu B J and Wang Y L 2005 Spatial pattern of soil water and its influencing factors in a gully catchment of the Loess Plateau; J. Nat. Res. 20 483–492.

Huber S and Fensholt R 2011 Analysis of teleconnections between AVHRR-based sea surface temperature and vegetation productivity in the semi-arid Sahel; Remote Sens. Environ. 115 3276–3285.

Keyantash J and Dracup J 2002 The quantification of drought: An evaluation of drought indices; Bull. Am. Meteor. Soc. 83 1167–1180.

Kogan F N 1995 Application of vegetation index and brightness temperature for drought detection; Adv. Space Res. 1 91–100.

Li X Z and Liu X D 2012 A modeling study on drought trend in the Sino-Mongolian arid andd semiarid regions in the 21st Century; Arid Zone Res. 29 262–272.

Li X Z, Liu X D and Ma Z G 2004 Analysis on the drought characteristics in the main arid regions in the world since recent hundred-odd years; Arid Zone Res. 21 97–103.

Liu H Z, Wang B M and Fu C B 2008 Relationships between surface albedo, soil thermal parameters and soil moisture in the semi-arid area of Tongyu, Northeastern China; Adv. Atmos. Sci. 25 757–764.

Liu L L, Liu L Y and Hu Y 2012 Comparative analysis of global vegetation phenology based on AVHRR and MODIS; Remote Sens. Technol. Appl. 27 754–762.

Liu Y L, Zhuang Q H and Chen M et al. 2013 Response of evapotranspiration and water availability to changing climate and land cover on the Mongolian Plateau during the 21st century; Global Planet. Change 108 85–99.

Ma Z G, Huang G G and Gan W G et al. 2005 Multi-scale temporal characteristics of the dryness/wetness over northern China during the last century; Chin. J. Atmos. Sci. 29 671—681.

Malo A R and Nicholson S E 1990 A study of rainfall and vegetation dynamics in the African Sahel using normalized difference vegetation index; J. Arid Environ.  19 1–24.

Mcffters S K 1996 The use of the normalized difference water index (NDWI) in the delineation of open water features; Int. J. Remote Sens. 17 1425–1432.

NASA-EOS 2006 NASA Earth observing system data gateway [online]; http://delenn.gsfc.nasa.gov/~imswww/pub/imswelcome/

Parinaz R B, Kenji O and Yo S 2012 Comparative evaluation of the Vegetation Dryness Index (VDI), the Temperature Vegetation Dryness Index (TVDI) and the improved TVDI (iTVDI) for water stress detection in semi-arid regions of Iran; ISPRS J. Photogramm. Remote Sens. 68 1–12.

Price J C 1990 Using spatial context in satellite data to infer regional scale evapotranspiration; IEEE Trans. Geosci. Remote Sens. 28 940–948.

Qi S H 2004 Drought monitoring models with remote sensing and spatio-temporal characteristics of drought in China; PhD thesis of Chinese Academy of Sciences. Phd

Rahimzadeh B P, Omasa K and Shimizum Y 2012 Comparative evaluation of the Vegetation Dryness Index (VDI), the Temperature Vegetation Dryness Index (TVDI) and the improved TVDI (iTVDI) for water stress detection in semi-arid regions of Iran; ISPRS J. Photogramm. Remote Sens. 68 1–12.

Rahimzadeh P B, Berg A A and Champagne C et al. 2013 Estimation of soil moisture using optical/thermal infrared remote sensing in the Canadian Prairies; ISPRS J. Photogramm. Remote Sens. 83 94–103.

Rhee J Y, Im J and Carbone G J 2010 Monitoring agricultural drought for arid and humid regions using multi-sensor remote sensing data; Remote Sens. Environ. 114 2875–2887.

Sa C L, Liu G X and Bao G et al. 2012 The spatial and temporal changes of snow cover of the Mongolian Plateau in Recent 10 years; J. Inner Mong. Norm. Univvers. 41 531–535.

Sandholt I, Rasmussen K and Andersen J 2002 A simple interpretation of the surface temperature/vegetation index space for assessment of surface moisture status; Remote Sens. Environ. 79 213–224.

Seneviratne S I, Pal J S and Eltahir E A B et al. 2002 Summer dryness in a warmer climate: A process study with a regional climate model; Clim. Dyn. 20 69–85.

Shi C and Liu X D 2012 Continent drought characteristics over the Eastern Hemisphere from 1947 to 2006: Analyses based on the SPEI dataset; J. Desert Res. 6 1691–1701.

Shi Y F and Shen Y P 2002 Preliminary study on signal impact and foreground of climate shift from warm-dry to warm-humid in northwest China; J. Glaciol. Geocryol. 24 219–223.

Shu Y Q, Stisen S, Jensen K H and Sandholt I 2011 Estimation of regional evapotranspiration over the North China Plain using geostationary satellite data; Int. J. Appl. Earth Obser. Geoinfo. 13 192–206.

Sobrino J A, Coll and Caselles V 1991 Atmospheric correction for land surface temperature using NOAA-11 AVHRR channel 4 and 5; Remote Sens. Environ. 38 19–34.

Steven M Q and Srinivasan G 2010 Evaluating the utility of the Vegetation Condition Index (VCI) for monitoring meteorological drought in Texas; Agric. Forest Meteorol. 150 330–339.

Stow D, Daeschner S and Hope A et al. 2003 Variability of the seasonally integrated normalized difference vegetation index across the north slope of Alaska in the 1990s; Int. J. Remote Sens. 24 1111–1117.

Sun and Kafatos 2007 Note on the NDVI-LST relationship and the use of temperature-related drought indices over North America; Geophys. Res. Lett. 34 497–507

Sun H, Zhao X, Chen Y et al. 2013 A new agricultural drought monitoring index combining MODIS NDWI and day-night land surface temperatures: A case study in China; Int. J. Remote Sens. 34 8986–9001.

Tian H, Wang C H and Wen J et al. 2012 Soil moisture estimation over an arid environment in Mongolia from passive microwave remote sensing based on a simplified parameterization method; Chinese J. Geophys. 55 415–427.

Tong S Q, Liu G X and Bao Y H et al. 2014 The drought monitoring research in Mongolian Plateau during 1982–2006; Info. Technol. Risk Anal. Crisis Response, pp. 169–176.

Tucker C J, Holben B N, Elgin J H and Mcmurtrey J E 1981 Remote-sensing of total dry-matter accumulation in winter-wheat; Remote Sens. Environ. 11 171–189.

Vicente-Serrano S M, Cuadrat-Prats J M and Romo A 2006 Aridity influence on vegetation patterns in the middle Ebro Valley (Spain): Evaluation by means of AVHRR images and climate interpolation techniques; J. Arid Environ. 66 353–375.

Wang C, Qi S, Niu Z and Wang J 2004 Evaluating soil moisture status in China using the temperature-vegetation dryness index (TVDI); Canadian J. Remote Sens. 30 671–679.

Wang D W, Zhao J and Yin D et al. 2013 Potential vegetation dynamic analysis of spatial and temporal characteristics of inner Mongolia's geographical pattern in recent 50 a; Pratacul. Sci. 30 1167–1173.

Wang H, Li X B and Long H L et al. 2010 Monitoring the effects of land use and cover type changes on soil moisture using remote-sensing data: A case study in China's Yongding River basin; Catena. 82 135–145.

Wang L, Zhen L and Liu X L et al. 2008 Comparative studies on climate changes and influencing factors in central Mongolian Plateau region; Geogr. Res. 1171–180.

Wang W and Feng Z D 2013 Holocene moisture evolution across the Mongolian Plateau and its surrounding areas: A synthesis of climatic records; Earth-Sci. Rev. 122 38–57.

Xu H 2006 Modification of normalized difference water index (NDWI) to enhance open water features in remotely sensed imagery; Int. J. Remote Sens. 273025–3033.

Xue Y K 1996 The impact of desertification in the Mongolian and inner Mongolian grassland on the regional climate;J. Climate 9 2173–2189.

Yang X H, Zhuo G and Luo B 2011 On MODIS data based drought monitoring in Northwest China; Pratac. Sci. 28 1420–1426.

Yu H Y, Lue D L E and Xu J C 2010 Winter and spring warming result in delayed spring phenology on the Tibetan Plateau; Proc. Nat. Acad. Sci. 107 22,151–22,156.

Yu M, Cheng M H and Liu H 2011 An improvement of the land surface temperature-NDVI space drought monitoring method and its applications; Acta Meteorol. Sin. 69 922–931.

Zhang A and Jia G 2013 Monitoring meteorological drought in semiarid regions using multi-sensor microwave remote sensing data; Remote Sens. Environ. 134 12–23.

Zhang F, Zhang L W and Wang X Z et al. 2013 Detecting agro-droughts in southwest of China using MODIS satellite data; J. Integra. Agric. 12 159–168.

Zhang J Y, Dong W J and Fu C B 2005 The effects of the degradation in northern China and southern Mongolia on the regional climate; Chin. Sci. Bull. 50 53–58.

Zhang X Y, Zhang G Y and Zhu G H et al. 1996 Elemental tracers for Chinese source dust; Science in China (Series D) 395 512–521.
Acknowledgements
The authors are grateful for the support by the National Key Basic Research and Development Program (973 Program) (Grant No. 2013CB429905-04), the Key Deployment Project of the Chinese Academy of Sciences (Grant No. KZZD-EW-08), the youth fund from the National Natural Science Foundation of China (Grant No. 41501477), the foundation of Chinese Academy of Forestry (Grant No. CAFYBB2016QB021), the special scientific research fund of forestry public welfare profession of China (Grant No. 201404304).
Additional information
Corresponding editor: Prashant K Srivastava
About this article
Cite this article
Cao, X., Feng, Y. & Wang, J. Remote sensing monitoring the spatio-temporal changes of aridification in the Mongolian Plateau based on the general Ts-NDVI space, 1981–2012. J Earth Syst Sci 126, 58 (2017). https://doi.org/10.1007/s12040-017-0835-x
Received:

Revised:

Accepted:

Published:
Keywords
General Ts-NDVI space

aridification

Mongolian Plateau

remote sensing