Abstract
The present study investigated the spatial and vertical distribution of organic carbon (OC), total nitrogen (TN), total phosphorus (TP) and biogenic silica (BSi) in the sedimentary environments of Asia's largest brackish water lagoon. Surface and core sediments were collected from various locations of the Chilika lagoon and were analysed for grain-size distribution and major elements in order to understand their distribution and sources. Sand is the dominant fraction followed by silt + clay. Primary production within the lagoon, terrestrial input from river discharge and anthropogenic activities in the vicinity of the lagoon control the distribution of OC, TN, TP and BSi in the surface as well as in the core sediments. Low C/N ratios in the surface sediments (3.49–3.41) and cores (4–11.86) suggest that phytoplankton and macroalgae may be major contributors of organic matter (OM) in the lagoon. BSi is mainly associated with the mud fraction. Core C5 from Balugaon region shows the highest concentration of OC ranging from 0.58–2.34%, especially in the upper 30 cm, due to direct discharge of large amounts of untreated sewage into the lagoon. The study highlights that Chilika is a dynamic ecosystem with a large contribution of OM by autochthonous sources with some input from anthropogenic sources as well.
This is a preview of subscription content, log in to check access.
Access options
Buy single article
Instant access to the full article PDF.
US$ 39.95
Price includes VAT for USA
Subscribe to journal
Immediate online access to all issues from 2019. Subscription will auto renew annually.
US$ 99
This is the net price. Taxes to be calculated in checkout.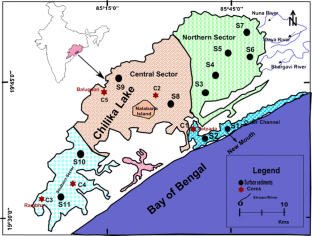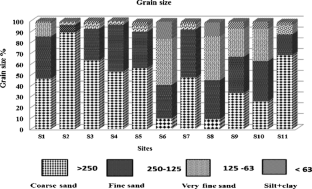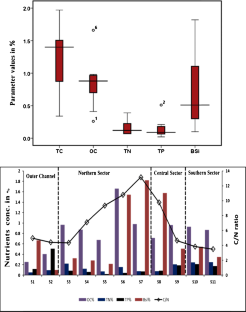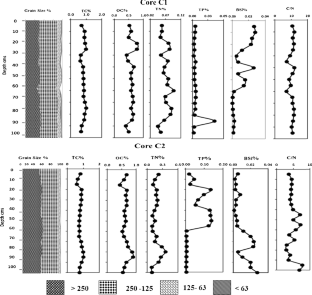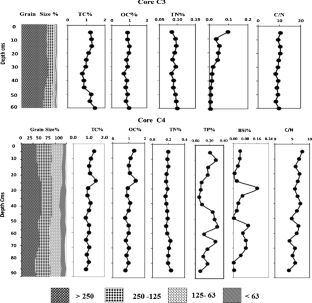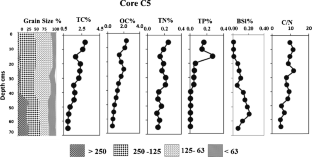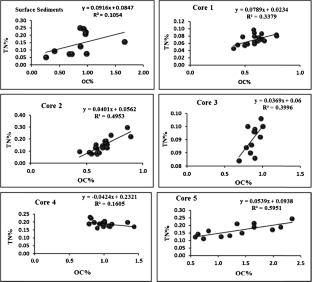 References
Anawar H M, Yoshioka T, Konohira E, Akai J, Freitas M C and Tareq S M 2010 Sources of organic carbon and depositional environment in the Bengal delta plain sediments during the Holocene period; Limnology 11(2) 133–142. doi:10.1007/s10201-009-0301.

Atkinson M J and Smith S V 1983 C:N:P ratios of benthic marine plants; Limnol. Oceanogr. 28 (3) 568–574.

Baijulal B, Sobha V, Jyothi S J, Padmalal D and Emmanuel J 2013 Depositional behaviour of C-org, N, P and K in the surface sediments of two shallow water bodies in a tropical coast, India; Environ. Monit. Assess. 185 7181–7193.

Bernardez P, Prego R, Francés G and González-Álvarez R 2005 Opal content in the Rła de Vigo and Galician continental shelf: Biogenic silica in the muddy fraction as an accurate paleoproductivity proxy; Cont. Shelf Res. 25 1249–1264.

Devesa-Rey R and Barral M T 2012 Allochthonous versus autochthonous naturally occurring organic matter in the Anllóns river bed sediments (Spain); Environ. Earth Sci. 66 773–782.

Das S N, Das R and Thakur R S 2005 Estimation of methane emitted by natural wetlands of Orissa: Based on case studies on three representative wetlands; Toxicol. Environ. Chem. 87 (3) 351–363.

Dunn R J K, Welsh D T, Teasdale P R, Lee S Y, Lemckert C J and Meziane T 2008 Investigating the distribution and sources of organic matter in surface sediment of Coombabah Lake (Australia) using elemental, isotopic and fatty acid biomarkers; Cont. Shelf Res. 28 2535– 2549.

Flindt M R, Pardal M Â, Lillebø A I, Martins I and Marques J C 1999 Nutrient cycling and plant dynamics in estuaries: A brief review; Acta Oecol. 20 (4) 237–248.

Gao X, Yang Y and Wang C 2012 Geochemistry of organic carbon and nitrogen in surface sediments of coastal Bohai Bay inferred from their ratios and stable isotopic signatures; Mar. Pollut. Bull. 64 1148–1155.

Ghosh A K, Pattnaik A K and Ballatore T J 2006 Chilika lagoon: Restoring ecological balance and livelihoods through re-salinization; Lake Reserv. Res. Manag. 11 239–255.

Gonneea M E, Paytana A, Jorge A and Herrera-Silveirab 2004 Tracing organic matter sources and carbon burial in mangrove sediments over the past 160 years; Estuar. Coast. Shelf Sci. 61 211–227.

Gupta G V M, Sarma V V S S, Robin R S, Raman A V, Kumar M J, Rakesh M and Subramanian B R 2008 Influence of net ecosystem metabolism in transferring riverine organic carbon to atmospheric CO 2 in a tropical coastal lagoon (Chilka Lake, India); Biogeochemistry 87 265–285.

Giffin D and Corbett D R 2003 Evaluation of sediment dynamics in coastal systems via short-lived radioisotopes; J. Marine Syst. 42 83–96.

Goni M A, Teixeira M J and Perkey D W 2003 Sources and distribution of organic matter in a river-dominated estuary (Winyah Bay, SC, USA); Estuar. Coast. Shelf Sci. 57 1023–1048.

Hedges J I and Keil R G 1995 Sedimentary organic matter preservation: An assessment and speculative synthesis; Mar. Chem. 49 81–115.

Hu L, Guo Z, Feng J, Yang Z and Fang M 2009 Distributions and sources of bulk organic matter and aliphatic hydrocarbons in surface sediments of the Bohai Sea, China; Mar. Chem. 113 197–211.

Ingram R L 1971 Sieve analysis; In: Procedures in sedimentary petrology (ed.) Carver R E, Wiley-Interscience, New York, pp. 49–94.

Jennerjahn T C, Ittekkot V, Klopper S, Adi S, Nugroho S P, Sudiana N, Yusmal A and Prinhartanto Gaye-Haake B 2004 Biogeochemistry of a tropical river affected by human activity in its catchment: Brantas River estuary and coastal waters of Madura Strait, Java, Indonesia; Estuar. Coast. Shelf Sci. 60 503–514.

Jennerjahn T C 2012 Biogeochemical response of tropical coastal systems to present and past environmental change; Earth-Sci. Rev. 114 19–41.

Jia J, Gao J H, Li Y F and Yang Y 2012 Environmental changes in Shamei Lagoon, Hainan Island, China: Interactions between natural processes and human activities; J. Asian Earth Sci. 52 158–168.

Kanuri V V, Muduli P R, Robin R S, Kumar B C, Lovaraju A, Ganguly D, Patra S, Rao G N, Raman A V and Subramanian B R 2013 Plankton metabolic processes and its significance on dissolved organic carbon pool in a tropical brackish water lagoon; Cont. Shelf Res. 61–62 52–61.

Lehtimäki M, Tallberg P and Virpi V 2013 Seasonal dynamics of amorphous silica in Vantaa River Estuary; Silicon 5 35–51.

Lijun H O U, Min L I U, Shiyuan X U, Huimin Y A N, Dongni O U, Shubo C and Xiao L I N 2008 Distribution and accumulation of biogenic silica in the intertidal sediments of the Yangtze Estuary; J. Environ. Sci. 20 543–550.

Liu S M, Li X N, Zhang J and Wei H 2007 Nutrient dynamics in Jiaozhou Bay; Water Air Soil Poll. Focus 7 625–643.

Liu E, Ji S, Zhang E, Wu Y and Yang L 2010 A geochemical record of recent anthropogenic nutrient loading and enhanced productivity in Lake Nansihu, China; J. Paleolimnol. 44 15–24.

Magni P, De F. G, Como S, Casu D and Floris A 2008 Distribution and ecological relevance of fine sediments in organic-enriched lagoons: The case study of the Cabras lagoon (Sardinia, Italy); Mar. Pollut. Bull. 56 549–564.

Meyers P A 1997 Organic geochemical proxies of paleooceanographic, paleolimnological, paleoclimatic process; Org. Geochem. 27 (5) 213–250.

Mohanty P K and Panda B U S 2009 Circulation and mixing processes in Chilika Lagoon; Indian J. Mar. Sci. 38 (2) 205–214.

Muduli P R, Kanuri V V, Robin R S, B Kumar C, Patra S, Raman A V, Rao G N and Subramanian B R 2012 Spatio-temporal variation of CO 2 emission from Chilika Lake, a tropical coastal lagoon, on the east coast of India; Estuar. Coast. Shelf Sci. 113 305–313.

Muduli P R, Kanuri V V, Robin R S, Kumar B C, Patra S, Raman A V, Rao G N and Subramanian B R 2013 Distribution of dissolved inorganic carbon and net ecosystem production in a tropical brackish water lagoon, India; Cont. Shelf Res. 64 75–87.

Nayak L and Behera D P 2004 Seasonal variation of some physiochemical process of the Chilika lagoon (east coast of India), after opening of new mouth near Sipakuda; Indian J. Mar. Sci. 33 (2) 206–208.

Paludan C and Morris J T 1999 Distribution and speciation of phosphorus along a salinity gradient in intertidal marsh sediments, 1984; Biogeochemistry 45 197–221.

Panda D, Subramanian V and Panigrahy R C 1995 Geochemical fractionation of heavy metals in Chilka Lake (east coast of India)– a tropical coastal lagoon; Environ. Geol. 26 199–210.

Panda U C, Rath P, Sahu K C, Majumdar S and Sundaray S K 2006 Study of geochemical association of some trace metals in the sediments of Chilika Lake: A multivariate statistical approach; Environ. Monit. Assess. 123 125–150.

Panigrahi S, Acharya B C, Panigrahy R C, Nayak B K, Banarjee K and Sarkar S K 2007 Anthropogenic impact on water quality of Chilika lagoon RAMSAR site: A statistical approach; Wetlands Ecol. Manag. 15 113–126.

Panigrahi S, Wikner J, Panigrahy R C, Satapathy K K and Acharya B C 2009 Variability of nutrients and phytoplankton biomass in a shallow brackish water ecosystem (Chilika Lagoon, India); Limnology 10 73–85.

Prasad M B K and Ramanathan A L 2008 Sedimentary nutrient dynamics in a tropical estuarine mangrove ecosystem; Estuar. Coast. Shelf Sci. 80 60–66.

Raju N J, Ram P and Sangita D. 2009 Groundwater quality in the Lower Varuna River Basin, Varanasi District, Uttar Pradesh; J. Geol. Soc. India 73 178–192.

Raju N J, Shukla U K and Ram P 2011 Hydrogeochemistry for the assessment of groundwater quality in Varanasi: A fast-urbanizing center in Uttar Pradesh, India; Environ. Monit. Assess. 173 279–300.

Ranjan R K, Routh J and Ramanathan A L 2010 Bulk organic matter characteristics in the Pichavaram mangrove – estuarine complex, south-eastern India; Appl. Geochem. 25 1176–1186.

Reotita J, Siringan F, Zhang J and Azanza R 2014 Paleoenvironment changes in Juag Lagoon, Philippines based on sedimentology, bulk geochemistry and stable isotopes and their implication to nutrification; Quat. Int. 333 110–121.

Rice D L and Tenore K R 1969 Dynamics of carbon and nitrogen during the decomposition of detritus derived from estuarine macrophytes; Estuar. Coast. Shelf Sci. 13 681–690.

Routh J, Choudhary P, Meyers P A and Kumar B 2009 A sediment record of recent nutrient loading and trophic state change in Lake Norrviken, Sweden; J. Paleolimnol. 42 325–341.

Ruttenberg K C and Goni M A 1997 Phosphorus distribution, C:N:P ratios and δ 13 C OC in arctic, temperate, and tropical coastal sediments: Tools for characterizing bulk sedimentary organic matter; Mar. Geol. 139 123–145.

Sappal S M, Ramanathan A L, Ranjan R K and Singh G 2014 Sedimentary geochemistry of Chorao Island, Mandovi mangrove estuarine complex, Goa; Indian J. Geo-Mar. Sci. 43 (6) 1085–1094.

Srichandan S, Kim J Y, Bhadury P, Barik S K, Muduli P R, Samal R N, Pattnaik A K and Rastogi G 2015 Spatiotemporal distribution and composition of phytoplankton assemblages in a coastal tropical lagoon: Chilika, India; Environ. Monit. Assess. 187 47.

Struyf E, Temmerman S and Meire P 2007 Dynamics of biogenic Si in freshwater tidal marshes: Si regeneration and retention in marsh sediments (Scheldt estuary); Biogeochemistry 82 41–53.

Sturyf E and Conley D J 2008 Silica: An essential nutrient in wetland biogeochemistry; Front. Ecol. Environ. 7 (2) 88–94.

Shapiro L 1975 Rapid analysis of silicate, carbonate and phosphate rocks; USGS Bulletin of 1401, US. Government Printing Office, Washington D.C.

Subramanian A N 2004 Status of Indian mangroves: Pollution status of the Pichavaram mangrove area, south-east coast of India; In: Mangrove Management & Conservation (ed.) Vannucci M, United Nations University Press, Tokyo, pp. 59–75.

Sundareshwar P V and Morris J T 1999 Phosphorus sorption characteristics of intertidal marsh sediments along an estuarine salinity gradient; Limnol. Oceannogr. 44 (7) 1693–1701.

Thornton S F and McManus J 1994 Application of organic carbon and nitrogen stable isotopes and C/N ratios as source indicators of organic matter provenance in estuarine systems: Evidence from the Tay estuary, Scotland; Estuar. Coast. Shelf Sci. 38 219–233.

Vandewiele S, Cowie G, Soetaert K and Middelburg J J 2009 Amino acid biogeochemistry and organic matter degradation state across the Pakistan margin oxygen minimum zone; Deep-Sea Res. II 56 318–334.

Wu Y, Zhang J, Liu S M, Zhang Z F, Yao Q Z, Hong G H and Cooper L 2007 Sources and distribution of carbon within the Yangtze River system; Estuar. Coast. Shelf Sci. 71 13–25.

Wu Y, Bao H, Unger D, Herbeck L S, Zhu Z, Zhang J and Jennerjahn T C 2013 Biogeochemical behavior of organic carbon in a small tropical river and estuary, Hainan, China; Cont. Shelf Res. 57 32–43.

Yamamuro M 2000 Chemical tracers of sediment organic matter origins in two coastal lagoons; J. Mar. Syst. 26 127–134.

Yamamuro M and Kamiya H 2014 Elemental (C, N, P) and isotopic (δ 13C, δ 15N) signature of primary producers and their contribution to the organic matter in coastal lagoon sediment; Landscape Ecol. Eng. 10 (1) 65–75.

Walkley A and Black I A 1934 An examination of Degtjareff method for determining soil organic matter and a proposed modification of the chromic acid titration method; Soil Sci. 37 29–37.

Yang B, Cao L, Liu S and Zhang G 2015 Biogeochemistry of bulk organic matter and biogenic elements in surface sediments of the Yangtze River Estuary and adjacent sea; Mar. Pollut. Bull. 96 471–484.

Ye X, Wang A and Chen J 2014 Distribution and deposition characteristics of carbon and nitrogen in sediments in a semi-closed bay area, southeast China; Cont. Shelf Res. 90 133–141.

Yilmaz Y and Koc C 2012 A study on seasonal changes of phosphorus fractions in marine sediments of the Akyaka Beach in Gokova Bay, Turkey; Clean Tech. Environ. Policy 14 299–307.

Zhou J, Wu Y, Kang Q and Zhang J 2007 Spatial variations of carbon, nitrogen, phosphorous and sulfur in the salt marsh sediments of the Yangtze Estuary in China; Estuar. Coast. Shelf Sci. 71 47–59.

Zachmann D W, Mohanti M, Treutler H C and Scharf B 2009 Assessment of element distribution and heavy metal contamination in Chilika Lake sediments (India); Lake Reserv. Res. Manag. 14 105–125.
Acknowledgements
Financial assistance under the Maulana Azad National Fellowship Program from the University Grants Commission (UGC), Govt. of India, is highly acknowledged. The first author is grateful to Mr. Arif Ahmad, Mr. Sughosh Madhav, Davesh Vashishta and Prerana Joshi for their help during the field and sampling campaign.
Additional information
Corresponding editor: N V Chalapathi Rao
About this article
Cite this article
Nazneen, S., Raju, N.J. Distribution and sources of carbon, nitrogen, phosphorus and biogenic silica in the sediments of Chilika lagoon. J Earth Syst Sci 126, 13 (2017). https://doi.org/10.1007/s12040-016-0785-8
Received:

Revised:

Accepted:

Published:
Keywords
Organic carbon

biogenic silica

seagrass

C/N ratio

Chilika lagoon