Abstract
Based on the daily maximum air temperature data from 176 stations in India from 1969 to 2013, the climatological distribution of the number of days with high temperature (HT) defined as days with maximum temperature higher than 37°C during summer season (March–June) are studied. With a focus on the regional variability and long-term trends, the impacts of HT days are examined by dividing the country into six geographical regions (North, West, North-central, East, South-central and South). Although the long-term (1969–2013) climatological numbers of HT days display well-defined spatial patterns, there is clear change in climatological mean and coefficient of variation of HT days in a recent period (1991–2013). The long period trends indicate increase in summer HT days by 3%, 5%, and 18% in north, west, and south regions, respectively and decrease by 4% and 9% in north-central and east regions respectively. However, spatial variations in HT days exist across different regions in the country. The data analysis shows that 2010 was the warmest summer year and 2013 was the coolest summer year in India. Comparison of spatial distributions of trends in HT days for 1969–1990 and 1991–2013 periods reveal that there is an abrupt increase in the number of HT days over north, west and north-central regions of India probably from mid 1990s. A steep increase in summer HT days in highly populated cities of Mumbai, New Delhi, Chennai, Jaipur, and Visakhapatnam is noticed during the recent period of 1991–2013. The summer HT days over southern India indicate significant positive correlation with Nino 3.4 index for three months' running mean (December–January–February, January–March, February–April, March–May and April–June).
Access options
Buy single article
Instant access to the full article PDF.
USD 39.95
Price excludes VAT (USA)
Tax calculation will be finalised during checkout.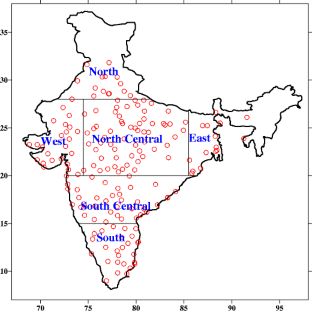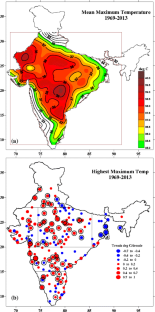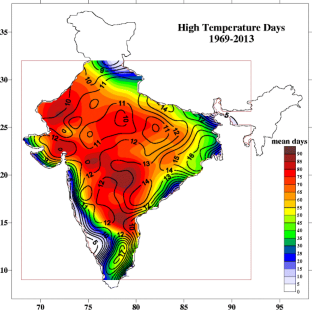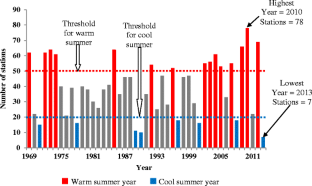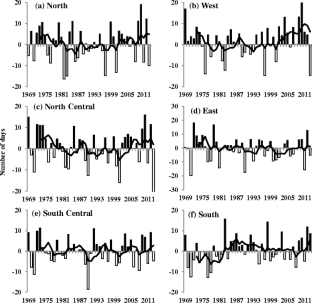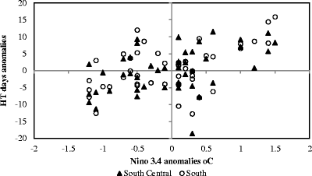 References
Aguilar E, Peterson T C, Ram'ı rez Obando P, Frutos R, Retana J A, Solera M, Gonz'alez Santos I, Araujo R M, Rosa Santos A, Valle V E, Brunet India M, Aguilar L, A'lvarez L, Bautista M, Castanõ'n C, Herrera L, Ruano R, Siani J J, Obed F, Hern'andez Oviedo G I, Salgado J E, V'asquez J L, Baca M, Guti'errez M, Centella C, Espinosa J, Mart'ınez D, Olmedo B, Ojeda Espinoza C E, Haylock M, N'unez R, Benavides H and Mayorga R 2005 Changes in precipitation and temperature extremes in central America and northern South America 1961–2003; J. Geophy. Res. Atmos. 110 D23107, doi: 10.1029/2005JD006119.

Alexander L V, Zhang X, Peterson T C, Caesar J, Gleason B, Klein Tank A M G, Haylock M, Collins D, Trewin B, Rahimzadeh F, Tagipour A, Ambenje P, Rupa Kumar K, Revadekar J and Griffiths G 2006 Global observed changes in daily climate extremes of temperature and precipitation; J. Geophys. Res. Atmos. 111 D05109, doi: 10.1029/2005JD006290.

Arora M, Goel N K and Pratap Singh 2005 Evaluation of temperature trends over India; Hydrol. Sci. J. 50 81–93.

Bartolini G, Morabito M, Crisci A, Grifoni D, Torrigiani T, Petralli M, Maracchi G and Orlandini S 2008 Recent trends in Tuscany (Italy) summer temperature and indices of extremes; Int. J. Climatol. 28 1751–1760, doi: 10.1002/joc.1673.

Chaudhury S K, Gore J M and Sinha Ray K C 2000 Impact of heat waves over India; Curr. Sci. 79(2) 153–155.

De U S 2001 Climate change impact: Regional scenario; Mausam 52 201–212.

De U S, Dube R K and Prakasa Rao G S 2005 Extreme weather events over India in the last 100 years; J. Indian Geophys. Union 9(3) 173–187.

DeGaetano A T and Allen R J 2002 Trends in twentieth-century temperature extremes across the United States; J. Clim. 15(22) 3188–3205.

Dash S K, Jenamani R K, Kalsi S R and Panda S K 2007 Some evidence of climate change in twentieth-century India; Climatic Change 85 299–321.

Easterling D R, Horton B, Jones P D, Peterson T C, Karl T R, Parker D E, Salinger M J, Razuvayev V, Plummer N, Jamason P and Folland C K 1997 Maximum and minimum temperature trends for the globe; Science 277 364–367.

Easterling D R, Meehl G A, Parmesan C, Changnon S A, Karl T R and Mearns L O 2000 Climate extremes: Observations, modeling, and impacts; Science 289(5487) 2068–2074, doi: 10.1126/science.289.5487.2068.

Frich P, Alexander L V, Della-Marta P, Gleason B, Haylock M, Klein Tank A M G and Peterson T 2002 Observed coherent changes in climatic extremes during the second half of the 20th century; Clim. Res. 19 193–212.

Gaffen D J and Ross R J 1998 Increased summertime heat stress in the US; Nature 36 529–530.

Griffiths G M, Chambers L E, Haylock M R, Manton M J, Nicholls N, Baek H -J, Choi Y, Della-Marta P M, Gosai A, Iga N, Lata R, Laurent V, Maitrepierre L, Nakamigawa H, Ouprasitwong N, Solofa D, Tahani L, Thuy D T, Tibig L, Trewin B, Vediapan K and Zhai P 2005 Change in mean temperature as a predictor of extreme temperature change in the Asia-Pacific region; Int. J. Climatol. 25 1301–1330, doi: 10.1002/joc.1194.

Haines A, Kovats R S, Campbell-Lendrum D and Corvalan C 2006 Climate change and human health: Impacts, vulnerability, and mitigation; The Lancet 367 2101–2109.

Hingane L S, Rupa Kumar K and Murty V R 1985 Long-term trends of surface air temperature in India; Int. J. Climatol. 5 521–528.

IPCC 2007 Climate change 2007–The physical science basis; Contribution of working group I to the fourth assessment report of the IPCC; Cambridge University Press, Cambridge,United Kingdom.

IPCC 2013 Climate Change 2013 – The physical science basis; Intergovernmental Panel on Climate Change; https://www.ipcc.ch/report/ar5/wg1.

Karl T R and Easterling D R 1999 Climate extremes: Selected review and future research directions; Clim. Change 42 309–325.

Klein Tank A M G, Peterson T C, Quadir D A, Dorji S, Zou X, Tang H, Santhosh K, Joshi U R, Jaswal A K, Kolli R K, Sikder A, Deshpande N R, Revadekar J V, Yeleuova K, Vandasheva S, Faleyeva M, Gomboluudev P, Budhathoki K P, Hussain A, Afzaal M, Chandrapala L, Anvar H, Amanmurad D, Asanova V S, Jones P D, New M G and Spektorman T 2006 Changes in daily temperature and precipitation extremes in central and south Asia; J. Geophys. Res. 111 D16105, doi: 10.1029/2005JD006316.

Kothawale D R and Rupa Kumar K 2005 On the recent changes in surface temperature trends over India; Geophys. Res. Lett. 32 L18714, doi: 10.1029/2005GL023528.

Kothawale D R, Munot A A and Krishna Kumar K 2010a Surface air temperature variability over India during 1901–2007 and its association with ENSO; Clim. Res. 42 89–104.

Kothawale D R, Revadekar J V and Rupa Kumar K 2010b Recent trends in pre-monsoon daily temperature extremes over India; J. Earth Syst. Sci. 119 51–65.

Luber G and McGeehin M 2008 Climate change and extreme heat events; Am. J. Prev. Med. 35(5) 429– 435.

Manton M J, Della-Marta P M, Haylock M R, Hennessy K J, Nicholls N, Chambers L E, Collins D A, Daw G, Finet A, Gunawan D, Inape K, Isobe H, Kestin T S, Lefale P, Leyu C H, Lwin T, Maitrepierre L, Ouprasitwong N, Page C M, Pahalad J, Plummer N, Salinger M J, Suppiah R, Tran V L, Trewin B, Tibig I and Yee D 2001 Trends in extreme daily rainfall and temperature in southeast Asia and the south Pacific: 1916–1998; Int. J. Climatol. 21 269– 284.

McMichael A J, Woodruff R E and Hales S 2006 Climate change and human health: Present and future risks; The Lancet 367(9513) 859–869.

Natarajan K K 1964 A note on the hot days of Madras (1875–1963); Ind. J. Meteorol. Geophys. 14 431–436.

New M, Hewitson B, Stephenson D B, Tsiga A, Kruger A, Manhique A, Gomez B, Coelho C A S, Masisi D N, Kululanga E, Mbambalala E, Adesina F, Saleh H, Kanyanga J, Adosi J, Bulane L, Fortunata L, Mdoka M L and Lajoie R 2006 Evidence of trends in daily climate extremes over southern and west Africa; J. Geophys. Res. Atmos. 111 D14102, doi: 10.1029/2005JD006289.

Pai D S, Thapliyal V and Kokate P D 2004 Decadal variation in the heat and cold waves over India during 1971–2000; Mausam 55(2) 281–292.

Pai D S, Nair S A and Ramanathan A N 2013 Long term climatology and trends of heat waves over India during the recent 50 years (1961–2010); Mausam 64(4) 585–604.

Pal I and Al-Tabbaa A 2010 Long-term changes and variability of monthly extreme temperatures in India; Theor. Appl. Climatol. 100 45–56.

Peterson T C, Taylor M A, Demeritte R, Duncombe D L, Burton S, Thompson F, Porter A, Mercedes M, Villegas E, Fils R S, Klein Tank A, Martis A, Warner R, Joyette A, Mills W, Alexander L and Gleason B 2002 Recent changes in climate extremes in the Caribbean region; J. Geophys. Res. Atmos. 107 4601, doi: 10.1029/2002JD002251.

Qian W and Qin A 2006 Spatial-temporal characteristics of temperature variation in China; Meteor. Atmos. Phys. 93 1–16.

Raghavan K 1966 Climatology of severe cold waves in India; Ind. J. Meteorol. Geophys. 18(1) 91–96.

Rao G S P, Krishna Murty M and Joshi U R 2005 Climate change over India as revealed by critical extreme temperature analysis; Mausam 56 601–608.

Ray K, Chincholikar J R and Mohanty M 2013 Analysis of extreme high temperature conditions over Gujarat; Mausam 64(3) 467–474.

Revadekar J V, Kothawale D R, Patwardhan S K, Pant G B and Rupakumar K 2012 About the observed and future changes in temperature extremes over India; Nat. Hazards 60(3) 1133–1155.

Rupa Kumar K, Krishankumar K and Pant G B 1994 Diurnal asymmetry of surface temperature trends over India; Geophys. Res. Lett. 21 677–680.

Sinha Ray K C and De U S 2003 Climate change in India as evidenced from instrumental records; WMO Bull. 52 53–59.

Srivastava H N, Dewan B N, Dikshit S K, Rao P G S, Singh S S and Rao K R 1992 Decadal trends in climate over India; Mausam 43 7–20.

Subbaramayya I and Surya Rao D A 1976 Heat wave and cold wave days in different states of India; Ind. J. Meteorol. Hydrol. Geophys. 27 436–440.

Tebaldi C, Hayhoe K, Arblater J M and Meehl G A 2006 Going to the extremes: An intercomparison of model- simulated historical and future changes in extreme events; Clim. Change 79 185–211, doi: 10.1007/s10584-006-9051-4.

Vincent L A, Peterson T C, Barros V R, Marino M B, Rusticucci M, Carrasco G, Ramirez E, Alves L M, Ambrizzi T, Berlato M A, Grimm A M, Marengo J A, Molion L, Moncunill D F, Rebello E, Anunciacao Y M T, Quintana J, Santos J L, Baez J, Coronel G, Garcia J, Trebejo I, Bidegain M, Haylock M R and Karoly D 2005 Observed trends in indices of daily temperature extremes in South America 1960–2000; J. Climate 18 5011–5023.

Wei K and Chen W 2009 Climatology and trends of high temperature extremes across China in summer; Atmos. Oceanic Sci. Lett. 2 153–158.

Yan Z, Jones P D, Davies T D, Moberg A, Bergstrom H, Camuffo D, Cocheo C, Maugeri M, Demaree G, Verhoeve T, Thoen E, Barriendos M, Rodriguez R, Martin-vide J and Yang C 2002 Trends of extreme temperatures in Europe and China based on daily observations; Clim. Change 53 355–392.

You Q, Kang S, Aguilar E and Yan Y 2008 Changes in daily climate extremes in the eastern and central Tibetan Plateau during 1961 to 2005; J. Geophys. Res. 113 D07101, doi: 10.1029/2007JD009389.

Zhai P and Pan X 2003 Trends in temperature extremes during 1951–1999 in China; Geophys. Res. Lett. 30 1913, doi: 1910.1029/2003GL018004.

Zhang X, Vincent L, Hogg W and Niitsoo A 2000 Temperature and precipitation trends in Canada during the 20th century; Atmos. Ocean 38 395–429.

Zhang X, Aguilar E, Sensoy S, Melkonyan H, Tagiyeva U, Ahmed N, Kutaladze N, Rahimzadeh F, Taghipour A, Hantosh T H, Alpert P, Semawi M, Ali M K, Al-Shabibi M H S, Al-Oulan Z, Zatari T, Al Dean Khelet I, Hamoud S, Sagir R, Demircan M, Eken M, Adiguzel M, Alexander L, Peterson T C and Wallis T 2005 Trends in Middle East climate extreme indices from 1950 to 2003; J. Geophys. Res. Atmos. 110 D22104, doi: 10.1029/2005JD006181.
Acknowledgements
Authors are grateful to Dr L S Rathore, Director General of Meteorology for the encouragement and support. They are also thankful to the unknown reviewers for the constructive suggestions that helped to improve the manuscript.
About this article
Cite this article
JASWAL, A.K., RAO, P.C.S. & SINGH, V. Climatology and trends of summer high temperature days in India during 1969–2013. J Earth Syst Sci 124, 1–15 (2015). https://doi.org/10.1007/s12040-014-0535-8
Received:

Revised:

Accepted:

Published:

Issue Date:

DOI: https://doi.org/10.1007/s12040-014-0535-8
Keywords
Extreme temperature

high temperature days

trend

mega cities

Nino 3.4.