One-pot synthesis of new water-soluble binuclear octahedral Ni(II) and mononuclear Ru(II) carbonyl complexes containing 2,6 pyridine dicarboxylic acid
Abstract
An attempt to synthesize mixed geometrical hetero binuclear complexes has been made by reacting 2,6 pyridinedicarboxylic acid with [NiCl2(PPh3)2] and [RuHCl(CO)(PPh3)3]. However, the reaction afforded a mononuclear complex [Ru(dipic)(CO)(PPh3)2].DMF (1) and homo binuclear complex [Ni2(dipic)2(H2O)5].2H2O (2) [dipic = 2,6-pyridinedicarboxylate] respectively. The new complexes (1 and 2) were characterized by elemental analyses, IR, UV-Vis, 1H-NMR and single-crystal X-ray diffraction studies. The complexes 1 and 2 crystallized in the monoclinic P21/c and triclinic P-1 space groups, respectively. Complex 2 displayed a three-dimensional (3D) network with lattice water molecules. The redox behaviour of the complexes was studied by cyclic voltammetry. The DNA and albumin binding studies of the complexes were done by taking CT-DNA and BSA as models. The new complexes exhibited significant binding efficiency with DNA and albumin.
Graphic abstract
A reaction of 2,6 pyridinedicarboxylic acid with [NiCl
2
(PPh
3
)
2
] and [RuHCl(CO)(PPh
3
)
3
] resulted in two structurally different complexes [Ru(dipic)(CO)(PPh
3
)
2
].DMF (
1
) and [Ni
2
(dipic)
2
(H
2
O)
5
].2H
2
O (
2
).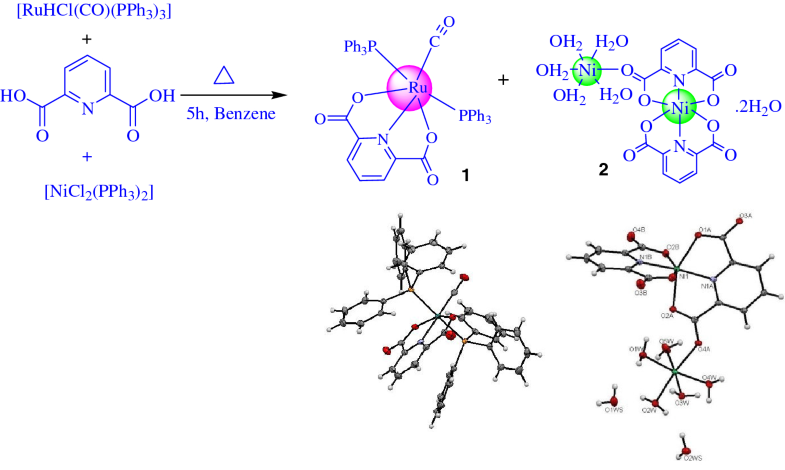 Keywords
Ruthenium(II) complex 
binuclear Ni(II) complex 
pyridine dicarboxylic acid 
NMR 
X-ray crystallography 
cyclic voltammetry 
CT-DNA 
BSA 
Notes
Acknowledgement
The author P. K. gratefully acknowledges Department of Science and Technology (DST-SERB), New Delhi, India (No. SB/FT/CS-056-/2014 dated 12.08.2015) for the financial support.
Copyright information
© Indian Academy of Sciences 2019