A review on transition-metal mediated synthesis of quinolines
Abstract
Quinoline is one of the important class of heterocyclic compounds which have gained considerable importance because of its high pharmaceutical efficacy and broad range of biological activities such as anti-cancer, anti-malarial, anti-microbial and anti-asthmatic. As a consequence, the desire for new versatile and efficient route for the synthesis of quinoline scaffolds remains an active and growing area of interest both in academia and industry. However, developments of transition-metal catalyzed synthetic methods have witnessed a dominant position over the past few years for the synthesis of diverse range of complex heterocyclics containing quinoline scaffolds. This review specifically provides an overview of the literature available on the transition–metal catalyzed synthetic methodologies for the synthesis of polysubstituted quinoline derivatives.
Graphical Abstract
Synopsis 
This review presents a systematic and comprehensive literature survey on the transition metal catalyzed synthesis of polysubstituted quinolines: A versatile building block of several biologically significant heterocycles and natural products.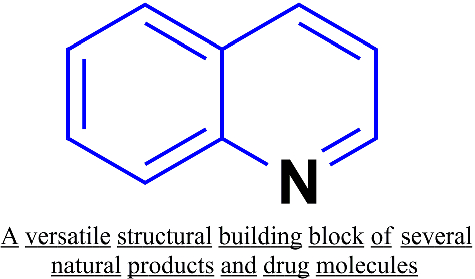 Keywords
Heterocycles 
quinolines 
transition-metal catalyst 
synthetic protocols 
biological activities 
Notes
Acknowledgements
R. S. thanks SMVD University for fellowship.
Copyright information
© Indian Academy of Sciences 2018