Bronsted acid-functionalized choline chloride-butane sultone for the catalytic decomposition of cumene hydroperoxide to phenol
Abstract
Choline chloride and 1,4-butane sultone were combined to obtain a sulphonic acid-functionalized ionic liquid. The structural properties of the ionic liquid were evaluated with AT-IR, NMR, mass and elemental analysis. The Bronsted acidity of the ionic liquid was confirmed from the AT-IR analysis of pyridine-adsorbed samples. The catalytic activity of the ionic liquid was studied for the preparation of phenol from cumene hydroperoxide by Hock process. Various reaction parameters were optimized and kinetics of the reaction was evaluated. This Bronsted acidic choline chloride-butane sultone-based ionic liquid was highly selective towards the conversion of cumene hydroperoxide to phenol. Ease of use and recovery, low environmental impact, and effective reduction of activation energy make it a potential candidate for industrial production of phenol.
Graphical Abstract
Synthesis of a Bronsted acid ionic liquid based on choline chloride and 1,4-butane sultone was described. This ionic liquid was selective in the conversion of cumene hydroperoxide to phenol. Simple synthetic procedure, immiscibility with reaction mixture, recyclability are the added advantages of this ionic liquid.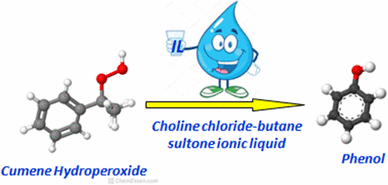 Keywords
Choline chloride 
1,4 butane sultone 
ionic liquid 
phenol 
hock process 
Notes
Acknowledgements
The authors thank the Department of Science and Technology and University Grants Commission, Government of India for DST-FIST and UGC-SAP-sponsored analytical instrumentation facilities at the Department of Chemistry, Anna University, Chennai. MPPP is thankful to Anna University, Chennai for providing financial aid through Anna Centenary Research Fellowship.
Copyright information
© Indian Academy of Sciences 2018