Unfolding intermediates of the mutant His-107-Tyr of human carbonic anhydrase II
Abstract
The mutant His-107-Tyr of human carbonic anhydrase II (HCA II) is highly unstable and has long been linked to a misfolding disease known as carbonic anhydrase deficiency syndrome (CADS). High temperature unfolding trajectories of the mutant are obtained from classical molecular dynamics simulations and analyzed in a multi-dimensional property space. When projected along a reaction coordinate these trajectories yield four distinguishable sets of structures that map qualitatively to folding intermediates of this mutant postulated earlier from experiments. We present in this article a detailed analysis of representative structures and proton transfer activity of these intermediates. It is also suggested that under suitable experimental conditions, these intermediates may be distinguished using circular dichroism (CD) spectroscopy.
Graphical Abstract. 
We present a novel computational methodology of extracting representative structures of putative unfolding intermediates of a large protein from high temperature classical MD simulations. The extracted structures are investigated to assess their aggregation propensity and projected catalytic activity.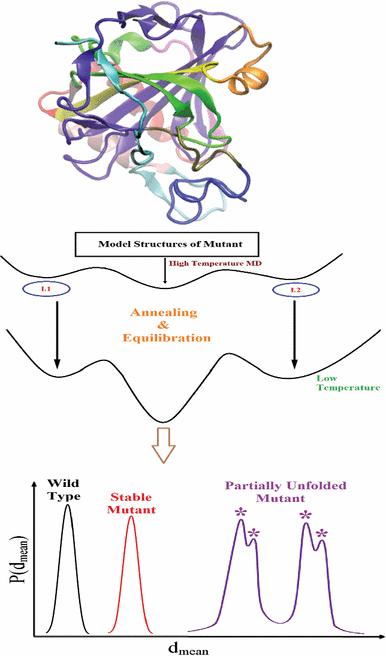 Keywords
Carbonic anhydrase 
unfolding 
marble brain disease 
mutant 
folding intermediates 
Notes
Acknowledgements
A part of this work has been funded by Council of Scientific and Industrial Research (CSIR), India, Grant number: 01(2485)/11/EMR-II. All computational studies were carried out using the high performance computing facility at Department of Chemistry, IIT Kharagpur, funded by DST-FIST (SR/FST/CSII-011/2005), India. Research fellowships from UGC, India (TKP) and IIT Kharagpur (SK) are gratefully acknowledged.
Copyright information
© Indian Academy of Sciences 2017