Employment of different spectroscopic tools for the investigation of chromium(VI) oxidation of acetaldehyde in aqueous micellar medium
Abstract
Different spectroscopic methods have been applied to investigate the chromic acid oxidation of acetaldehyde in aqueous media, catalysed by surfactants. Three representative heteroaromatic nitrogen base promoters, 2-picolinic acid (PA), 2,2'-bipyridine (bpy) and 1,10-phenanthroline (phen), have been associated along with surfactants as promoters to the kinetic study. Comparative studies of unpromoted and promoted reactions invoked that 2,2'-bipyridine produced maximum rate enhancement. The mechanism of the reaction path has been proposed with the help of kinetic results and spectroscopic studies. The observed net enhancement of rate effects has been explained with scientific manipulations and data obtained. The combination of TX-100 and1,10-phenanthroline is found to be most effective for acetaldehyde oxidation.
Graphical Abstract
Chromium(VI) oxidation of acetaldehyde in aqueous micellar media has been carried out. Micellar catalysis by TX-100 in association with a 'phen' promoter increases the rate of the reaction almost 60 fold. The combination of TX-100 and 'phen' is the most suitable one for chromic acid oxidation of acetaldehyde to acetic acid in aqueous media.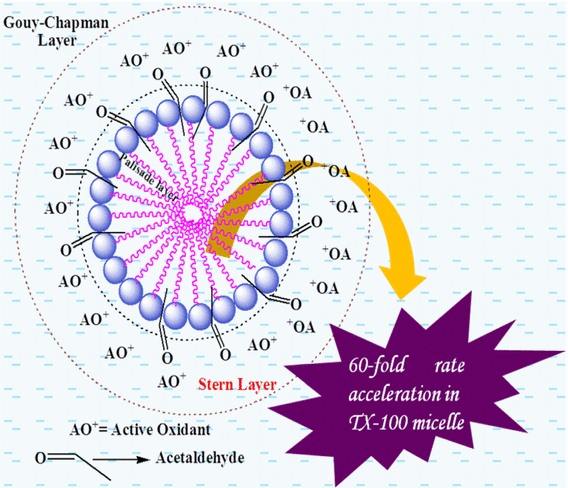 Keywords
Kinetics 
oxidation 
acetaldehyde 
micelle 
catalysis 
Notes
Acknowledgements
S. Malik acknowledges to UGC-RGNF (F1-17.1/2011-12/RGNF-SCWES- 6004/(SA-III), India for providing fund. B. Saha acknowledges the CSIR [(Grant- 01(2463)/11/EMR-II)], New Delhi, India, for providing funds in the form of project. Authors thank The University of Burdwan for providing the infrastructural facilities.
Copyright information
© Indian Academy of Sciences 2017