Abstract
We report the fabrication and characterization of a pHresponsive hydrogel with improved mechanical and dielectric properties from cellulose nanocrystals. X-ray diffraction and SEM observations were used to analyze the sample morphology. The resulting pH detector exhibits a pronounced change in their swelling index in response to variation in pH. It was used singly and in combination with other nanomaterials to optimize smart material designs. The applications of the developed material are anticipated in chemical, environmental and biological systems.

This is a preview of subscription content, log in to check access.
Access options
Buy single article
Instant access to the full article PDF.
US$ 39.95
Price includes VAT for USA
Subscribe to journal
Immediate online access to all issues from 2019. Subscription will auto renew annually.
US$ 99
This is the net price. Taxes to be calculated in checkout.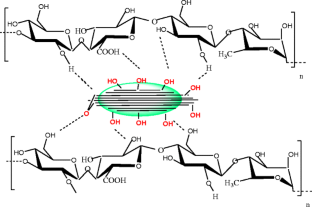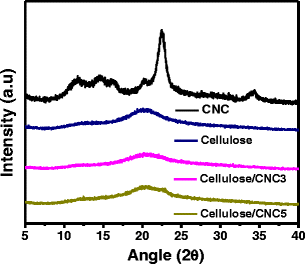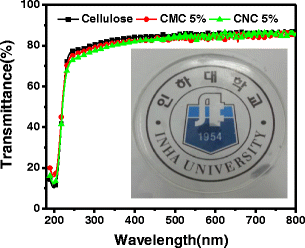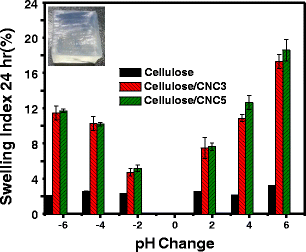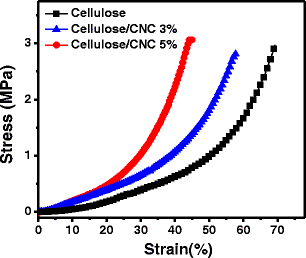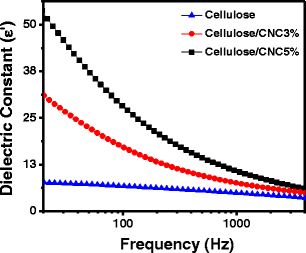 References
1.

Yin C Y, Li J B, Xu Q, Peng Q, Liu Y B and Shen X Y 2007 Carbohydr. Polym. 67 147

2.

Kim J Yun S and Ounaies Z 2006 Macromolecules 39 4202

3.

Mariano M, El Kissi N and Dufresne A 2014 J. Polym. Sci., Part B: Polym. Phys. 52 791

4.

Kumar S, Hofmann M, Steinmann B, Foster E J and Weder C 2012 ACS Appl. Mater. Interfaces 4 5399

5.

Azizi Samir M A, Alloin F and Dufresne A 2005 Biomacromolecules 6 612

6.

Mueller S, Weder C and Foster E J 2013 RSC Adv 10 907

7.

Marchessault R H, Morehead F F and Walter N M 1959 Nature 184 632

8.

Sadasivuni K K, Kafy A, Zhai L, Ko H U, Mun S and Kim J 2014 Small 10 1002

9.

Siqueira G., Bras J and Dufresne A 2009 Biomacromolecules 10 425

10.

Favier V, Chanzy H and Cavaille J Y 1995 Macromolecules 28 6365

11.

Samir M A S A, Alloin F, Sanchez J Y and Dufresne A 2004 Macromolecules 15 37

12.

Samir M A S A, Alloin F and Dufresne A 2005 Biomacromolecules 6 612

13.

Eichhorn S J, Dufresne A, Aranguren M, Marcovich N E, Capadona J R, Rowan S J, Weder C, Thielemans W, Roman M, Renneckar S, Gindl W, Veigel S, Keckes J, Yano H, Abe K, Nogi M, Nakagaito A N, Mangalam A, Simonsen J, Benight A S, Bismarck A, Berglund L A and Peijs T 2010 J. Mater. Sci. 45 1

14.

Orts W J, Shey J, Imam S H, Glenn G M, Guttman M E and Revol J F 2005 J. Polym. Environ. 13 301

15.

Henriksson M U Q, Liu X and Berglund L A 2007 Biomacromolecules 8 3687

16.

Renneckar S, Zink-Sharp A, Esker A R, Johnson R K and Glasser W G 2006 ACS Symp. Ser. 938 78

17.

Nielsen L J, Eyley S, Thielemans W and Aylott J W 2010 Chem. Commun. 47 4177

18.

Samuel J, Strinkovski A, Shalom S, Lieberman K, Ottolenghi M, Acnir D and Lewis A 1994 Mater. Lett. 21 431

19.

Roy S G, Haldar U and De P 2014 ACS Appl. Mater. Interfaces 6 4233

20.

Patil N, Soni J, Ghosh N and De P 2012 J. Phys. Chem. B 116 13913

21.

Seari L A and Seitz W R 1982 Anal. Chem. 54 821

22.

Fulati A, Usanman Ali S M, Riaz M, Amin G, Nur O and Roth M 2006 J. Electroanal. Chem. 586 72

23.

Lam C W, James J T, McCluskey R, Arepalli S and Hunter R L 2006 Crit. Rev. Toxicol. 36 189

24.

Clift M J D, Foster E J, Vanhecke D, Studer D, Wick P, Gehr P, Rothen-Rutishauser B and Weder C 2011 Biomacromolecules 12 3666

25.

Dong S, Hirani A A, Colacino K R, Lee Y W and Roman M 2012 Nano Life 2 11

26.

Edwards J V, Prevost N, French A, Concha M, DeLucca A and Wu Q 2013 Engineering 5 20

27.

Sadasivuni K K, Yadav M, Gao X, Mun S and Kim J 2014 Proc. SPIE 9060 Nanosensors, Biosensors, and Info-Tech Sensors and Systems 10 1117

28.

Shukla N B and Madras G 2011 Ind. Eng. Chem. Res. 50 10918

29.

Roy S G and De P 2014 Polymer 55 5425

30.

Chu Y, Varanasi P P, McGlade M J and Varanasi S 1995 J. Appl. Polymer Sci. 58 2161

31.

Grimshaw P E, Grodzinsky A J, Yarmush M L and Yarmush D M 1990 Chem. Eng. Sci. 45 2917

32.

Ruckenstein E and Sasidhar V 1984 Chem. Eng. Sci. 39 1185

33.

Sadasivuni K K, Ponnamma D, Kumar B, Strankowskie M, Cardinaels R, Moldenaers P, Thomas S and Grohens Y 2014 Compos. Sci. Technol. 104 18

34.

Sadasivuni K K, Castro M, Saiter A, Delbreilh L, Feller J F, Thomas S and Grohens Y 2013 Mater. Lett. 96 109

35.

Kafy A, Sadasivuni K K, Kim H-C, Akther A and Kim J 2014 Phys. Chem. Chem. Phys., DOI: 10.1039/C4CP05921B

36.

Sadasivuni K K, Saiter A, Gautier N, Thomas S and Grohens Y 2013 Colloid Polym. Sci. 291 1729

37.

Sadasivuni K K, Ponnamma D, Thomas S. and Grohens Y 2014 Prog. Polym. Sci. 39 749

38.

Ponnamma D, Sadasivuni K K, Grohens Y, Guo Q and Thomas S 2014 J. Mater. Chem. C 2 8446

39.

Yuan J, Yao S, Dong Z, Sylvestre A, Genestoux M and Bai J 2011 J. Phys. Chem. 115 5515
Acknowledgements
This work was supported by the National Research Foundation of Korea (NRF- 2013M3C1A3059586).
About this article
Cite this article
GAO, X., SADASIVUNI, K.K., KIM, H. et al. Designing pH-responsive and dielectric hydrogels from cellulose nanocrystals. J Chem Sci 127, 1119–1125 (2015). https://doi.org/10.1007/s12039-015-0873-3
Received:

Revised:

Accepted:

Published:

Issue Date:
Keywords
Cellulose

Cellulose Nanocrystals

Hydrogels

pH-responsive

Dielectric property