Abstract
Ecological niche modeling predicts the potential distribution areas of species and contributes to measuring the niche differentiation among taxa. Montivipera albizona and M. bulgardaghica are two mountain viper taxa distributed in Anatolia. In the present study, the habitat suitability of M. albizona and M. bulgardaghica was assessed, and ecological niche ranges between these taxa were compared. According to species distribution models, while the distribution area of M. albizona covers a relatively large region in central Anatolia, M. bulgardaghica has a relatively narrow distribution over the eastern Taurus mountains. The species distributional results showed that the annual temperature range and mean temperature of the coldest quarter were the highest contributing variables, with 62.5% for M. albizona and 67.9% for M. bulgardaghica. Montiverpa albizona prefers 13 different habitat types, while M. bulgardaghica prefers 6 different habitat types in their distribution areas. Niche differentiation analysis revealed that there was no overlap between the two taxa in terms of their ecological niches.
Access options
Buy single article
Instant access to the full article PDF.
USD 39.95
Price excludes VAT (USA)
Tax calculation will be finalised during checkout.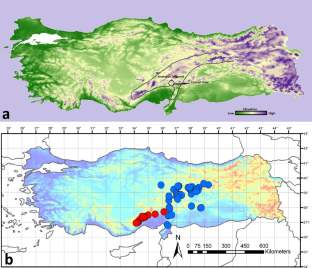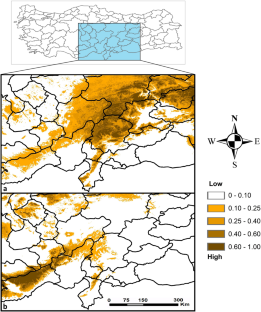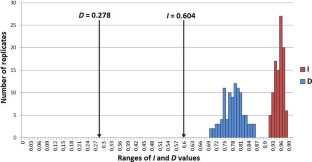 References
Agarwal I, Bauer AM, Jackman TR, et al. 2014 Insights into Himalayan biogeography from geckos: a molecular phylogeny of Cyrtodactylus (Squamata: Gekkonidae). Mol. Phylogenet. Evol. 80 145–155

Ahmadi M, Hemami MR, Kaboli M, et al. 2021 The legacy of Eastern Mediterranean mountain uplifts: rapid disparity of phylogenetic niche conservatism and divergence in mountain vipers. BMC Ecol. Evol. 21 130

Akpoti K, Kabo-Bah AT, Dossou-Yovo ER, et al. 2020 Mapping suitability for rice production in inland valley landscapes in Benin and Togo using environmental niche modeling. Sci. Total Environ. 709 136165

Ansari A 2020 Habitat evaluation of Levantine viper Macrovipera lebetina Linnaeus, 1758 in Haftad-Gholleh protected area, Iran. J. Wild. Biodivers. 4 https://doi.org/10.22120/jwb.2019.110511.1075

Arenas-Castro S, Goncalves JF, Moreno M, et al. 2020 Projected climate changes are expected to decrease the suitability and production of olive varieties in southern Spain. Sci. Total Environ. 709 136161

Baran İ, Avcı A, Kumlutaş Y, et al. 2021 Türkiye Amfibi ve Sürüngenleri, Palme Yayınevi, Ankara [in Turkish]

Brown JL 2014 SDM toolbox: A python-based GIS toolkit for landscape genetic, biogeographic and species distribution model analyses. Methods Ecol. Evol. 5 694–700

Chapman AD 2005 Principles and methods of data cleaning: Primary species and species-occurrence data, version 1.0. Report for the Global Biodiversity Information Facility 2004 (GBIF, Copenhagen)

Cobos ME, Peterson AT, Barve N, et al. 2019 kuenm: An R package for detailed development of ecological niche models using Maxent. PeerJ 7 e6281

Coskun Y, Coşkun M and Schweiger M 2012 A New locality record of the blunt-nosed viper, Macrovipera lebetina obtusa in central Anatolia, Turkey (Serpentes: Viperidae). Cumhuriyet Sci. J. 33 22–28

Doan TM 2003 A south-to-north biogeographic hypothesis for Andean speciation: evidence from the lizard genus Proctoporus (Reptilia, Gymnophthalmidae). J. Biogeogr. 30 361–374

Fick SE and Hijmans RJ 2017 WorldClim 2: new 1 km spatial resolution climate surfaces for global land areas. Inter. J. Clim. 37 4302–4315

Freitas I, Ursenbacher S, Mebert K, et al. 2020 Evaluating taxonomic inflation: towards evidence-based species delimitation in Eurasian vipers (Serpentes: Viperinae). Amphibia-Reptilia 41 285–311

Göçmen B, Arikan H, Yildiz MZ, et al. 2009 Serological characterization and confirmation of the taxonomic status of Montivipera albizona (Serpentes, Viperidae) with an additional new locality record and some phylogenetical comments. Anim. Biol. 59 87–96

Göçmen B, Mebert K, İğci N, et al. 2014 New locality records for four rare species of vipers (Reptilia: Viperidae) in Turkey. Zool. Middle East 60 306–313

Guedes TB, Sawaya RJ, Zizka A, et al. 2017 Patterns, biases and prospects in the distribution and diversity of Neotropical snakes. Glob. Ecol. Biogeogr. 27 14–21

Gür H 2017 Anadolu Diyagonali: Bir Biyocoğrafi Sınırın Anatomisi. Kebikec: Insan Bilimleri Icin Kaynak Arastirmali Dergisi 43 177–187 [in Turkish]

Heidari N 2021 Ecological niche differentiation between Lacerta media and Lacerta strigata (Sauria: Lacertidae) in Iran. Biologia 76 901–905

Hosseinian Yousefkhani SS, Rastegar-Pouyani E and Aliabadian M 2016 Ecological niche differentiation and taxonomic distinction between Eremias strauchi strauchi and Eremias strauchi kopetdaghica (Squamata: Lacertidae) on the Iranian Plateau based on ecological niche modeling. Italian J. Zool. 83 408–416

Hosseinzadeh MS, Farhadi QM, Naimi B, et al. 2018 Habitat suitability and modelling the potential distribution of the Plateau Snake Skink Ophiomorus nuchalis (Sauria Scincidae) on the Iranian Plateau. North-Western J. Zool. 4 60–63

Kafash A, Ashrafi S, Ohler A, et al. 2019 Environmental predictors for the distribution of the Caspian green lizard, Lacerta strigata Eichwald, 1831, along elevational gradients of the Elburz Mountains in northern Iran. Turk. J. Zool. 43 106–113

Kafash A, Ashrafi S, Yousefi M, et al. 2020 Reptile species richness associated to ecological and historical variables in Iran. Sci. Rep. 10 18167

Kurnaz M 2020 Species list of Amphibians and Reptiles from Turkey. J. Anim. Divers. 2 10–32

Kurnaz M 2022 Predicted current and future distribution of the fire salamander, Salamandra infraimmaculata in Turkey. J. Wild. Biodivers. 6 82–96

Kurnaz M and Eroğlu AE 2020 The potential distribution and westernmost record of Eremias strauchi Kessler, 1878 in Turkey. Commagene J. Biol. 4 82–85

Kurnaz M and Hosseinian Yousefkhani SS 2020 Ecological niche divergence between Darevskia rudis and D. bithynica (Lacertidae) in Turkey. Biologia 75 1307–1312

Kurnaz M and Hosseinian Yousefkhani SS 2021 A contribution to the biogeography of Ablepharus anatolicus and A. budaki (Squamata: Scincidae) using ecological niche modeling in Turkey. Folia Biol. 69 159–166

Kurnaz M and Şahin MK 2021 A contribution to the biogeography and taxonomy of two Anatolian Mountain brook newts, Neurergus barani and N. strauchii (Amphibia: Salamandridae) using ecological niche modeling. Turk. J. Zool. 45 54–64

Latifi M 2000 Snakes of Iran (Tehran, Iran: Department of the Environment)

Manel S, Williams HC and Ormerod SJ 2001 Evaluating presence–absence models in ecology: the need to account for prevalence. J. App. Ecol. 38 921–931

Maritz B, Penner J, Martins MC, et al. 2016 Identifying global priorities for the conservation of vipers. Biol. Conserv. 204 94–102

McCain CM 2010 Global analysis of reptile elevational diversity. Glob. Ecol. Biogeogr. 19 541–553

Mebert K, Göçmen B, İğci N, et al. 2020 Mountain vipers in central-eastern Turkey: Huge range extensions for four taxa reshape decades of misleading perspectives. Herpetol. Conserv. Biol. 15 169–187

Moss D 2008 EUNIS habitat classification–a guide for users (European Topic Centre on Biological Diversity)

Mulder J 1995 Herpetological observations in Turkey (1987–1995). Deinsea 2 51–66

Nakazato T, Warren DL and Moyle LC 2010 Ecological and geographic modes of species divergence in wild tomatoes. Am. J. Bot. 97 680–693

Nilson G and Andrén C 1985 Systematics of the Vipera xanthina complex (Reptilia: Viperidae). 3. Taxonomic status of the Bulgar Dagh Viper in south Turkey. J. Herpetol. 19 276–283

Nilson G, Andrén C and Flärdh B 1990 Vipera albizona, a new mountain viper from central Turkey, with comments on isolating effects of the Anatolian 'Diagonal.' Amphibia-Reptilia 11 285–294

Phillips SJ, Anderson RP and Schapire RE 2006 Maximum entropy modeling of species geographic distributions. Ecol. Model. 190 231–259

Phillips SJ, Dudík M and Schapire RE 2017 Maxent software for modeling species niches and distributions (Version 3.4. 1) (New York: Biodiversity Informatics)

Rajabizadeh M, Nilson G and Kami HG 2011 A new species of mountain viper (Ophidia: Viperidae) from the central Zagros Mountains, Iran. Russ. J. Herpetol. 18 235–240

Rodriguez MA, Belmontes JA and Hawkins BA 2005 Energy, water and large-scale patterns of reptile and amphibian species richness in Europe. Acta Oecol. 28 65–70

Saha A, McRae L, Dodd CK, et al. 2018 Tracking global population trends: population time-series data and a living planet index for reptiles. J. Herpetol. 52 259–268

Schätti B, Baran İ and Sigg H 1991 Rediscovery of the Bolkar viper: morphological variation and systematic implication on the 'Vipera xanthina complex'. Amphibia-Reptilia 12 305–327

Schoener TW and Gorman GC 1968 Some niche differences in three lesser Antillean lizards of the genus. Anolis. Ecology 49 819–830

Shapiro BJ, Leducq JB and Mallet J 2016 What is speciation? PLoS Genet. 12 e1005860

Stümpel N and Joger U 2009 Recent advances in phylogeny and taxonomy of Near and Middle Eastern Vipers - an update. ZooKeys 31 179–191

Stümpel N, Rajabizadeh M, Avcı A, et al. 2016 Phylogeny and diversification of mountain vipers (Montivipera, Nilson et al., 2001) triggered by multiple Plio-Pleistocene refugia and high-mountain topography in the Near and Middle East. Mol. Phylogenet. Evol. 101 336–351

Stümpel N, Zinenko O and Mebert K 2019 On elevation-related shifts of spring activity in male vipers of the genera Montivipera and Macrovipera in Turkey and Cyprus. Herpetozoa 31 125–132

Şahin MK, Candan K, Yildirim-Caynak E, et al. 2021 Ecological niche divergence contributes species differentiation in worm lizards (Blanus sp.) (Squamata: Amphisbaenia: Blanidae) in Mediterranean part of Anatolian peninsula and the Levantine region. Biologia 76 525–532

Sahin MK, Candan K, Karakasi K, et al. 2022 Ecological niche differentiation in the Anatolian rock lizards (Genus: Anatololacerta) (Reptilia: Lacertidae) of the Anatolian Peninsula and Aegean Islands. Acta Herpetol. 17 165–175

Taucare-Ríos A and Piel WH 2021 Ecological niche divergence between the brown recluse spiders Loxosceles laeta and L. surca (Sicariidae) in Chile. J. Nat. Hist. 55 1177–1193

Teynie A 1991 Observations herpétologiques en turquiE. 2ème partie. Bull. Soc. Herpétol. France 58 21–30

Warren DL, Glor RE and Turelli M 2008 Environmental niche equivalency versus conservatism: quantitative approaches to niche evolution. Evolution 62 2868–2883

Warren DL, Glor RE and Turelli M 2010 ENMTools: a toolbox for comparative studies of environmental niche models. Ecography 33 607–611

Wellenreuther M, Larson KW and Svensson EI 2012 Climatic niche divergence or conservatism? Environmental niches and range limits in ecologically similar damselflies. Ecology 93 1353–1366

Wiens JJ, Ackerly DD, Allen AP, et al. 2010 Niche conservatism as an emerging principle in ecology and conservation biology. Ecol. Lett. 13 1310–1324

Wiens JJ and Graham CH 2005 Niche conservatism: integrating evolution, ecology, and conservation biology. Annu. Rev. Ecol. Evol. Syst. 36 519–539

van Proosdij ASJ, Sosef MSM, Wieringa JJ, et al. 2016 Minimum required number of specimen records to develop accurate species distribution models. Ecography 39 542–552
Acknowledgements
The author would like to thank Mehmet Kürşat Şahin for his scientific and language review of the study. The author would also like to thank the anonymous reviewers for their valuable contributions to the manuscript.
Ethics declarations
Conflict of interest
The author has no conflict of interest.
Additional information
Corresponding editor: NG Prasad
Supplementary Information
Below is the link to the electronic supplementary material.
Rights and permissions
Springer Nature or its licensor (e.g. a society or other partner) holds exclusive rights to this article under a publishing agreement with the author(s) or other rightsholder(s); author self-archiving of the accepted manuscript version of this article is solely governed by the terms of such publishing agreement and applicable law.
About this article
Cite this article
Kurnaz, M. Geographic distribution of two Montivipera taxa using ecological niche modeling. J Biosci 48, 7 (2023). https://doi.org/10.1007/s12038-023-00333-7
Received:

Accepted:

Published:

DOI: https://doi.org/10.1007/s12038-023-00333-7
Keywords